Disclosure: Products and compensation were provided to me by Tom's of Maine, but my opinions are my own.
Over the years I have been trying to find high-quality natural personal care products for my family. I want to reduce the number of chemicals that we put on our skin, hair, and teeth. My kids and I have very sensitive skin and reducing irritants such as fragrances and artificial dyes have improved our complexions. I am trying out new products all the time and trying to find the best ones that work for my family and Tom's of Maine products are at the top of the list!

Why I Joined the Tom's of Maine Goodness Circle
When I think of high-quality natural personal care products for my family, I think of Tom's Of Maine. They have a wide variety of items from toothpaste to deodorant to shampoo and lotion products. They ensure that they are using the highest standards when choosing their ingredients, packaging and processing for their products. I know that my family is getting the best in natural care products from Tom's Of Maine.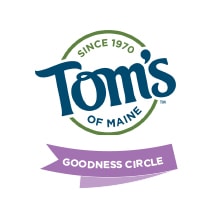 When they reached out asking if I would partner with them this year, I jumped at the chance. This year I will be talking a lot about some of our favorite Tom's of Maine products, why we love them, and if they are right for your family. Tom's of Maine is a company that I have supported over the years, not only for their products but because of what the company stands for.
Tom's of Maine has spent more than 48 years developing natural personal care products with a focus on natural, responsible and sustainable practices while giving 10% of its profits back to helping people and the planet. I believe in supporting companies that leave this earth a little better than they found it.

Some of the Tom's of Maine Products My Family is Trying this Month


Antiplaque and Whitening Peppermint Natural Toothpaste – A whitening toothpaste is essential for me and I am excited to try one that has no artificial dyes or sweeteners.  The nice peppermint flavor has left my mouth feeling clean and fresh.
Tom's of Maine Children's Natural Fluoride Toothpaste Silly Strawberry – My kids are into more fruity flavored toothpaste so the Silly Strawberry is a great option for them. I personally choose to use fluoride with my kids' toothpaste, but there is a fluoride free version for those families who chose not to use it. I love that this toothpaste is dye free!
Tom's of Maine Natural Deodorant Stick, Aluminum Free, Long Lasting, Wild Lavender – I have been on a search to find a natural deodorant that actually works for me and smells good, I am excited to give this one a try. In a few months I will be featuring many different Tom's of Maine deodorants, so be sure to check back.
Earth Month and Tom's of Maine

Do you ever stop and think about the values of the brands you support? Over the past few years, I have been thinking a lot about this and have taken it to heart when purchasing products for my family. This Earth month is a great time to support brands like Tom's of Maine that can help your family live a naturally healthy life and give back.
Tom's of Maine has supported and invested in hundreds of nonprofit efforts for over 45 years. They have given 10% of their profits back to organizations that support people and the planet. They also support their employees to volunteer by encouraging them to use 5% (12 days) of paid time to volunteer.
Tom's of Maine values partnering with its consumers, suppliers, and community organizations to
support lasting, positive change that is good for people and the planet. All of the packagings of Tom's Of Maine's products are recyclable through TerraCycle or participating municipalities.
In 2018, Tom's of Maine is taking action to make a positive impact on future generations and will donate $1,000,000 to The Nature Conservancy to help turn the tide toward better protecting, preserving and restoring our nation's waterways.Learn more and get involved by visiting www.TomsofMaine.com/turnthetide.com.
We are very excited to join the Goodness Circle and I hope you follow along here on the blog and our social channels all year as we share about Tom's of Maine products.
Happy Earth Month!