This is a post prepared under a contract funded by the Centers for Disease Control and Prevention (CDC) and written on behalf of the Mom It Forward Influencer Network for use in CDC's Be Antibiotics Aware educational effort. Opinions on this blog are my own and do not necessarily reflect the views of CDC.
CDC's Be Antibiotics Aware Educational Effort

As a mom, there is nothing worse than seeing your children sick. My immediate reaction is to do everything in my power to help my children feel better. Sometimes this involves bringing my children to the pediatrician to see if they need to be put on an antibiotic. Sometimes the doctor prescribes one, and sometimes he doesn't.
To be honest, I always wondered why he did or didn't give us an antibiotic. There have been times when I expected that we would leave with a prescription, but didn't. It has left me a little confused about when my child should be taking an antibiotic.
I am not the only confused parent. Recently, the Centers for Disease Control and Prevention (CDC) launched Be Antibiotics Aware, an educational effort to inform people about what antibiotics treat (bacteria) and what they don't treat (viruses).
How Do Antibiotics Work?
Like most of us, I have been on antibiotics several times in my life. My kids have been prescribed antibiotics when they have had bacterial infections, such as some ear infections. Antibiotics work by killing bacterial infections in your body. They are used to treat bacteria and not viruses.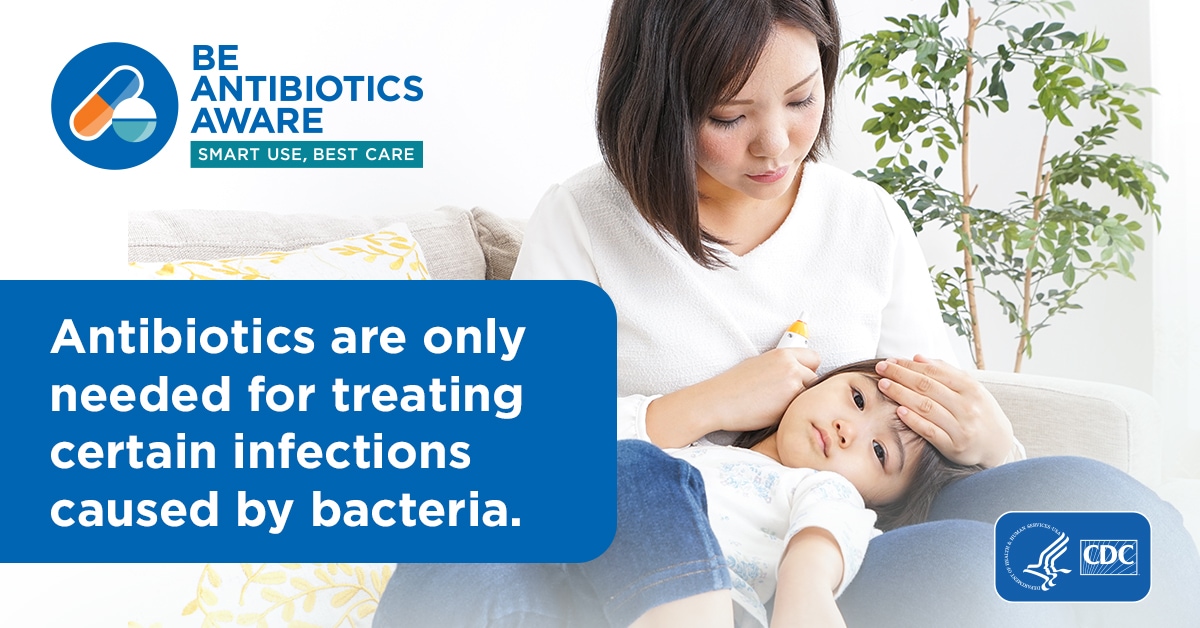 Antibiotics save lives. They are critical to treat serious infections, such as pneumonia or sepsis, the body's extreme response to an infection.
When a patient needs antibiotics, the benefits usually outweigh the risks of side effects or antibiotic resistance. Side effects range from minor problems, like a rash, to very severe health problems, such as a C. difficile (C. diff) infection.
Antibiotic resistance
Antibiotic resistance is a big deal and can cause big problems. Every time you take an antibiotic it can lead to antibiotic resistance. That does not mean the body is becoming resistant to antibiotics; it means that bacteria develop the ability to defeat the antibiotics designed to kill them. When bacteria become resistant, antibiotics cannot fight them, and the bacteria multiply. Some resistant bacteria can be harder to treat and can spread to other people, so this issue affects all of us!
To help guard against antibiotic resistance, it is important to know when your family does and doesn't need antibiotics.

When do you need antibiotics?
It can be confusing when you go to the doctor, and you or your child are not feeling well, and the doctor does not give you any medicine to make you feel better. I admit that in the past I have been a little frustrated by this. However, it is important to understand that antibiotics are only needed for treating certain infections caused by bacteria. Antibiotics do not work on viruses that cause colds and flu, bronchitis, or runny noses, even if the mucus is thick, yellow, or green. Antibiotics won't help some common infections caused by bacteria, including many sinus infections and some ear infections. When antibiotics aren't needed, they won't help you, and the side effects could still hurt you.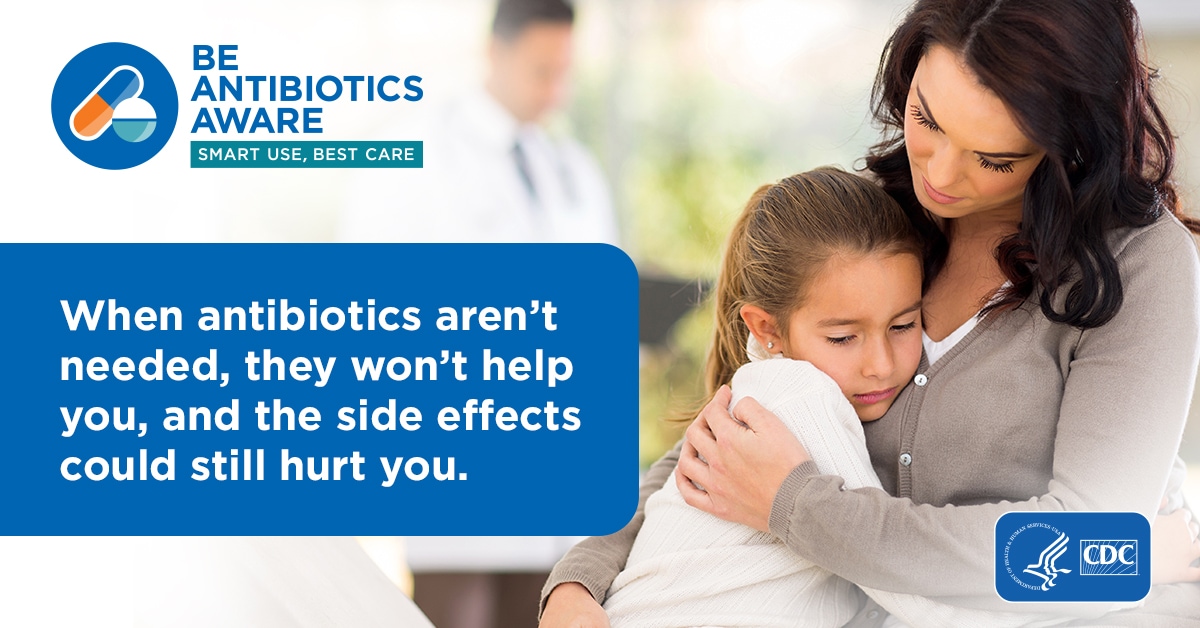 How you can Be Antibiotics Aware
Side effects and antibiotic resistance are scary, but there are things you can do to be antibiotics aware.
If you need antibiotics, take them exactly as prescribed. Talk with your doctor if you have any questions about your antibiotics or if you develop any side effects, especially diarrhea, since that could be a C. diff infection.
Stay healthy and keep others healthy by cleaning hands, covering coughs, staying home when sick, and getting recommended vaccines—for the flu, for example. To protect against illnesses, follow the CDC immunization schedule for you and/or your loved ones.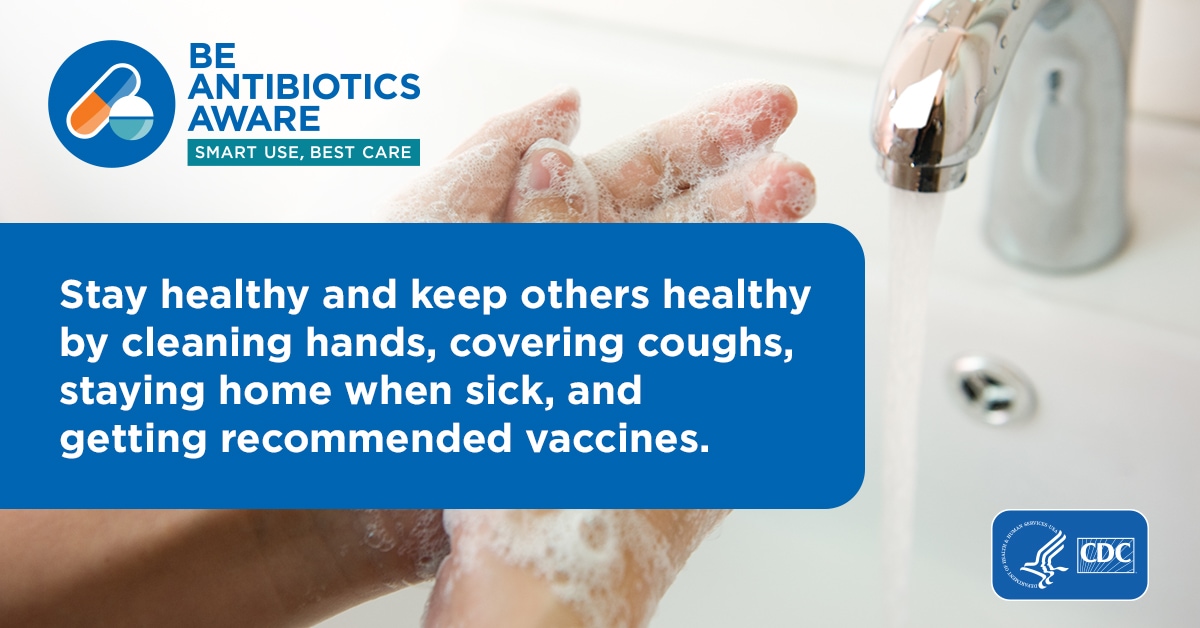 Being a mom and taking care of my family is the most important job I can ever have. My family's health is my first priority. I am grateful to CDC for making me more aware of antibiotic resistance and how I can protect my loved ones.
It is important to understand that antibiotics aren't always the answer. Improving the way we take antibiotics helps keep us healthy now, helps fight antibiotic resistance, and ensures that life-saving antibiotics will be available for future generations.
To learn more about antibiotic prescribing and use, visit www.cdc.gov/antibiotic-use.
To learn more about sepsis, a life-threatening condition that is treated with antibiotics, visit www.cdc.gov/sepsis.