The lovable Cars characters are back in a new adventure, Cars 3!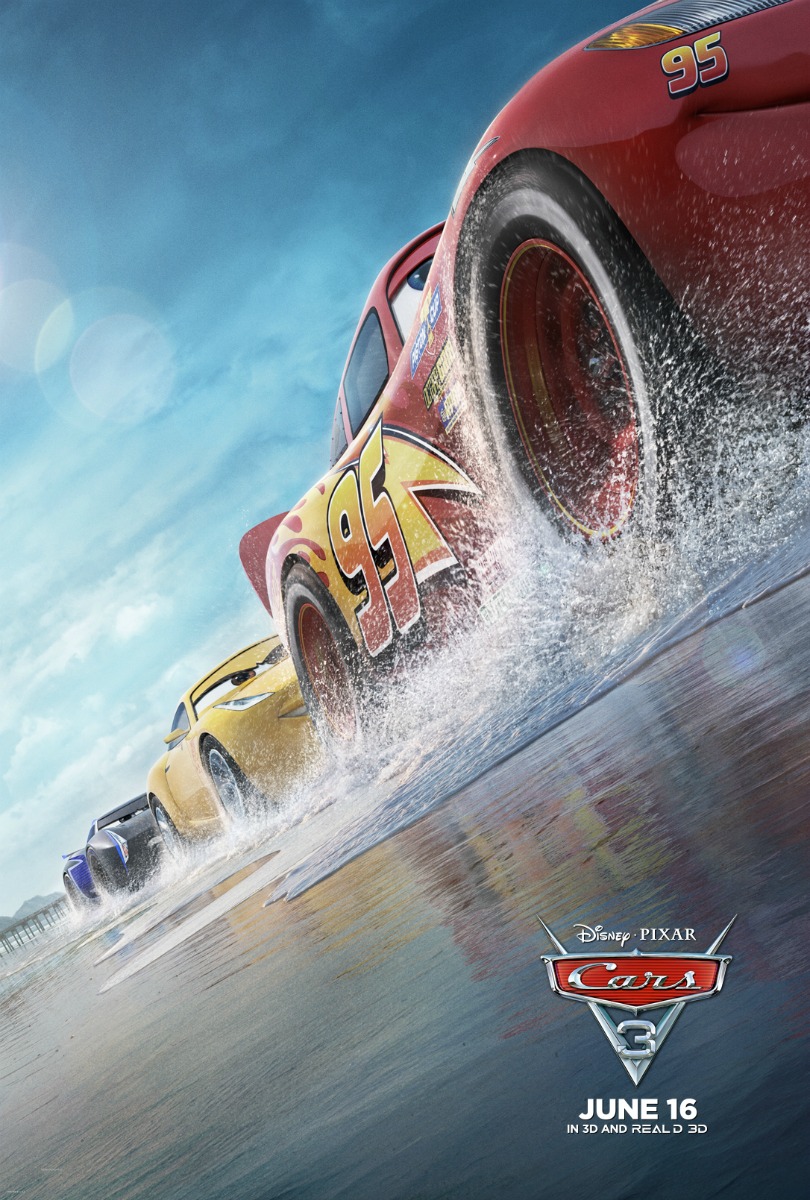 Cars 3 is now in theaters.  My son loved the first two Cars movies.  I think he watched Cars 2 about a million times when it came out on DVD.  When we were invited to attend a screening of the newest film in the franchise, we jumped at the chance.  Cars 3 takes us back to Route 66, and back to Radiator Springs. While Cars 2 took us on a whirlwind world
Cars 3 reunites us with some of our beloved characters from Radiator Springs including Mater, Sally, Luigi, Guido, and Mack. Cars 2 focused a lot on Mater, he has a smaller role in this film.  The focus is back on Lightning McQueen and his racing career.
The story revolves around Lightning and if he can be competitive as new rookies arrive with new technology that blows some of the "old-timers" out of the water. His new sponsor, Sterling, connects him with a new trainer, Cruz Ramirez, and gives him an ultimatum that he must win the next race or be forced to retire.
McQueen and Ramirez team up with some untraditional training exercises to hopefully get McQueen ready for the race.  In the process, McQueen has to come to terms with his future in racing. Along the way we meet some fun new characters like Miss Fritter and Jackson Storm.
My son laughed throughout the entire film.  I loved seeing him giggle and enjoy his friends from the past. My daughter, who was too young to go to the first few movies, also enjoyed herself.  She thought that the cars were very silly.  She loved Cruz Ramirez, a strong female character that the series really needed.
Our Thoughts
I love Pixar movies.  They all seem to appeal to both kids and adults and Cars 3 is no exception.  I laughed right along with my kids and loved the story.  As I am approaching the big 4-0, I find myself comparing my life to much younger moms.  I really felt connected to the storyline.
I enjoyed Cruz Ramirez's character.  I was connected with her from the moment we learned about her back story.  Without spoiling anything from the movie, I related to her struggle to believe in herself.  If I am going to love a movie, I have to care about the characters in it and I most definitely did in this one.
I think Pixar did it right by returning to the roots of Lightning McQueen and to tell his story about what life is like as you age and are not on top of your game anymore.  You should run to see this film this weekend with your family.
For now, enjoy one of my favorite clips from the movie!

Cars 3" cruises into theaters on June 16, 2017.
Facebook | Twitter | Instagram | YouTube | Official CARS 3 website