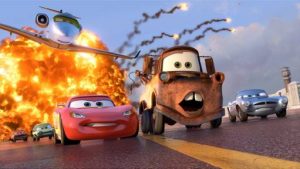 About a month ago, a movie came in the mail that changed my little boy's life!  Cars 2 came out on DVD on November 1 and ever since TJ watched it for the first time he has become obsessed with race cars.  We have since had to get him some little matchbox cars that he uses to race around the coffee table during all of the racing scenes in the movie.  It is rather adorable!
Here is a brief synopsis of the movie:
Star racecar Lightning McQueen (voice of Owen Wilson) and the incomparable tow truck Mater (voice of Larry the Cable Guy) take their friendship to exciting new places in "Cars 2" when they head overseas to compete in the first-ever World Grand Prix to determine the world's fastest car.  But the road to the championship is filled with plenty of potholes, detours and hilarious surprises when Mater gets caught up in an intriguing adventure of his own: international espionage.  Mater finds himself torn between assisting Lightning McQueen in the high-profile race and towing the line in a top-secret mission orchestrated by master British super spy Finn McMissile (voice of Michael Caine) and the stunning rookie field spy Holley Shiftwell (voice of Emily Mortimer).  Mater's action-packed journey leads him on an explosive chase through the streets of Japan and Europe, trailed by his friends and watched by the whole world.  The fast-paced fun includes a colorful new all-car cast, complete with menacing villains and international racing competitors.
My husband and I differ slightly on our opinions of the movie.  I thought it was fun, action packed, and engaging.  My husband thought that the animation was amazing and visually stunning, but that the plot line was confusing and difficult to follow.  The movie is a lot more violent than the first with talks of "killing cars", but I don't think that it was too violent for kids.  While I believe this movie is geared towards older kids, I still think it is a fun movie that families can all enjoy together.  The main character in this movie is not Lightening McQueen but the tow truck Mater.  Their friendship is put to the test while traveling around the world.  As the story unfolds, the lessons learned about friendship is a beautiful part of the movie.

As I mentioned before, beware because your child may fall in love with the movie and you might have to sit and watch in a hundred times.  I think I have seen it over 70 times already!  It is sure to be another Pixar classic.
This product review was made possible by Disney and  Click Communications.  I was not compensated for this review other than a product sample provided by the company or PR firm. All opinions are 100% mine.