We have been super busy in the past few months.  I have a lot I need to update, but that is a whole separate post.  A month ago we celebrated Jonah's fourth birthday!  I am still in utter shock that I am a mom to a four year old boy.  It seems just yesterday I was bringing him home from the hospital, completely clueless about parenthood.  Now, I am an old pro with two little ones!  While I am not really excited about my babies growing up so fast, I will say that I was a little eager to put the terrible twos and the even terribler threes behind me.  My sweet little angle turns into a devil at times and I was told that he should really mellow out after he turns four…
… I am still waiting!
One event that Jonah doesn't fight me over is bath time.  He loves playing with his toys and splashing around.  We were recently sent a Caillou bath toy that has made him even ask for a bath!  Are you familiar with Caillou?  Here is a little background:
Discovery, learning, growing.  In Caillou's world, these things are paramount. Being 4 years old means life is full of little challenges – and sometimes BIG ones too! Caillou meets these challenges eagerly; exploring his world, discovering new things, and often learning from his mistakes. With a focus on healthy nutrition, exercise, safety, and the environment, each "Caillou" episode is grounded in an everyday experience – one that inspires children to grow emotionally as they explore the world around them. As Caillou overcomes life's obstacles and makes healthy choices, children are inspired to do the same – making him an everyday hero!
All-new episodes of Caillou are now airing on PBS and Sprout.  I love when my son watches Caillou because the things that are in the program are things that my son deals with on a daily basis.  As many times as I tell Jonah about healthy foods and how he needs to be eating them, if Caillou tells him he actually listens.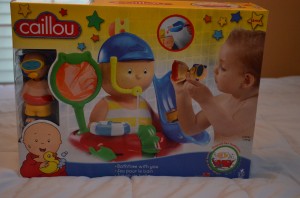 A few weeks ago we received the Caillou Bathtime with You Activity Set and we have been playing with it non stop since.  The activity set includes a small Caillou doll that comes apart and will "sit" inside a floaty ring.  It also comes with a net and a giant slide that works by pouring water inside of the large Caillou's head.  He will "spit" out the water to make the water wheel move (my daughters favorite part).  The small Caillou is made to go down the waterside.  Normally  I can't stand bath toys that attach using a suction cup.  Most of the time the suction cups don't work and the toy falls off of our bathtub.  I was a little disappointed to see that the toy attached with suction cups.  However, this toy has a long band that will go over the side of the tub and attach on the outside of the tub making it perfectly stable!  I love this feature.  We have not had a problem with the toy falling down!
Bottom line:  This toy is great for a wide range of children.  From boys to girls, from toddlers to preschoolers, this toy will entertain them all!  I highly recommend it for families looking to add a little excitement to their bath time!
Win it
One (1) winner will receive:
Caillou Bathtime with You Activity Set ($19.99)