We are partnering today with Bob Evans Restaurants for this fun picnic post.  All opinions are 100% mine.
The first few weeks of school are over!  I think that we are finally starting to get into a routine. My daughter adapted pretty quickly to the whole getting on the bus and getting into her kindergarten class.  A couple weekends ago she was telling me that she loves school but is disappointed that they don't get to play as much as she got to in preschool. As she was telling me this I got to thinking, sometimes we need a little more play in our life.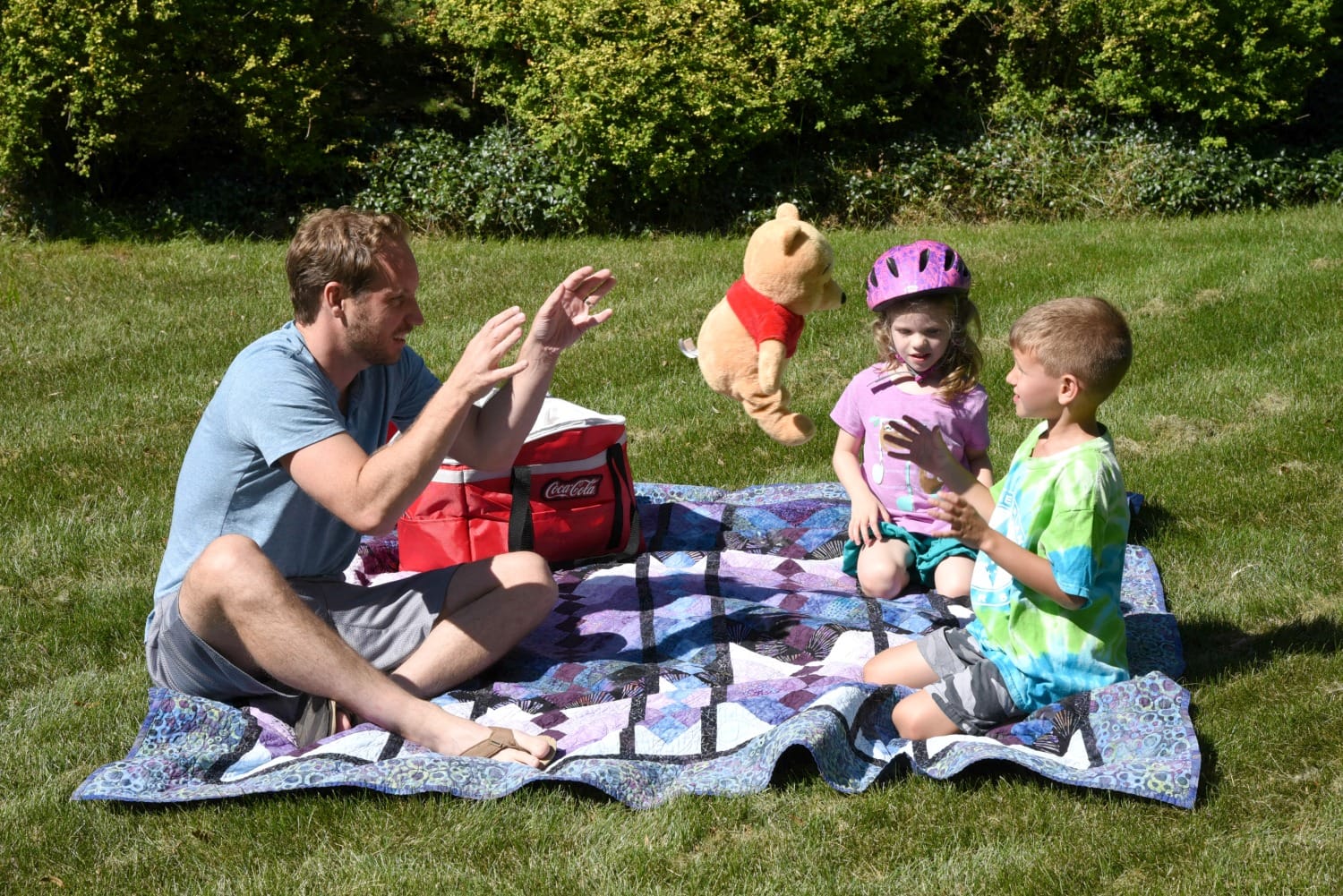 One day after school I surprised the kids with a special picnic in the backyard. There are so many ways to have a picnic, it's not just your average go to the park and eat out anymore.  We often enjoy picnics in our backyard or our screened in porch. All you need to do to make a staycation picnic is a blanket, some great food, and the people you love!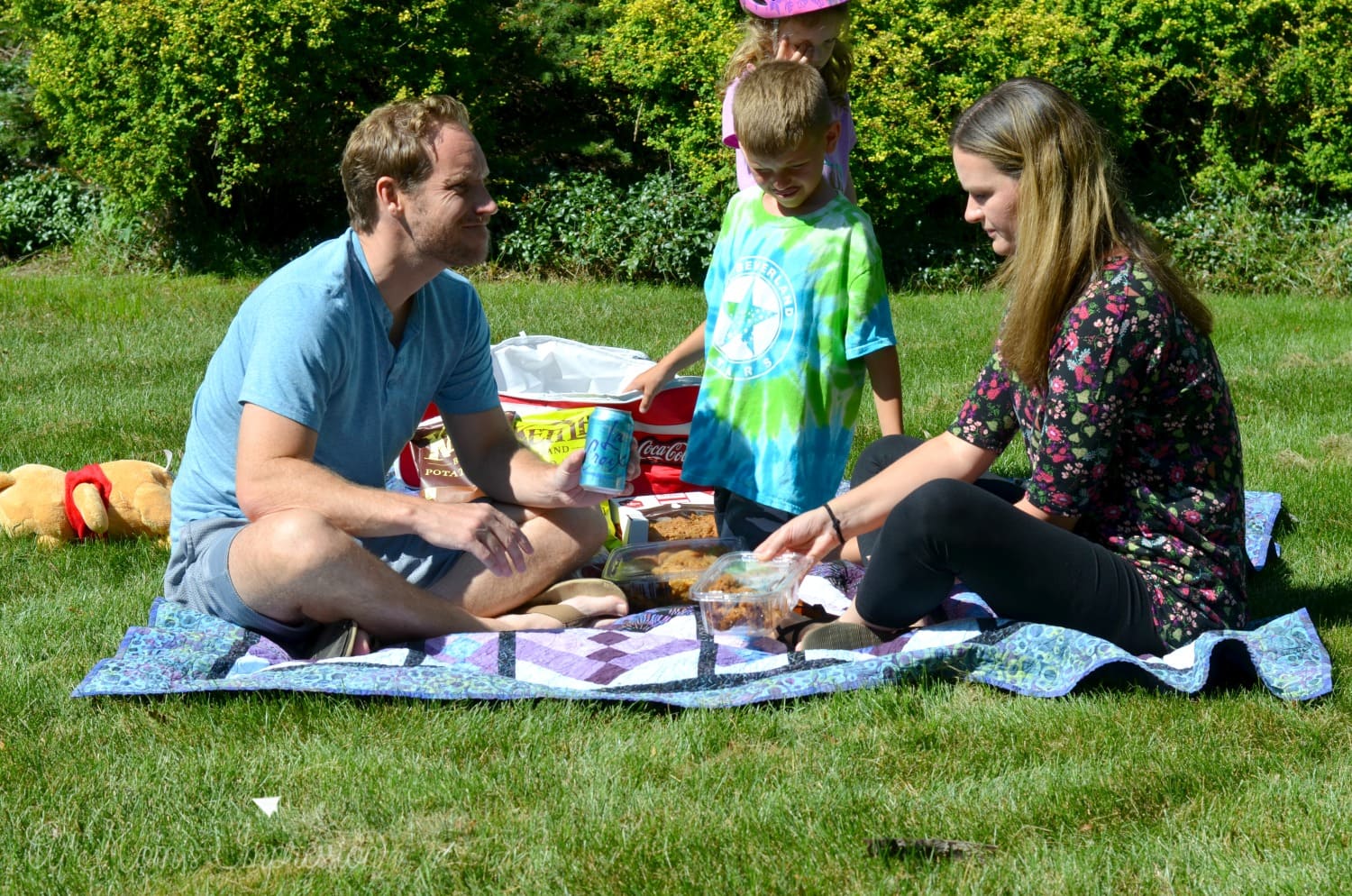 I think the reason why I love picnics so much is that without fail my two kids end up chasing each other around the yard.  On this particular picnic, they decided to play some football.  I love watching the kids play football or tag.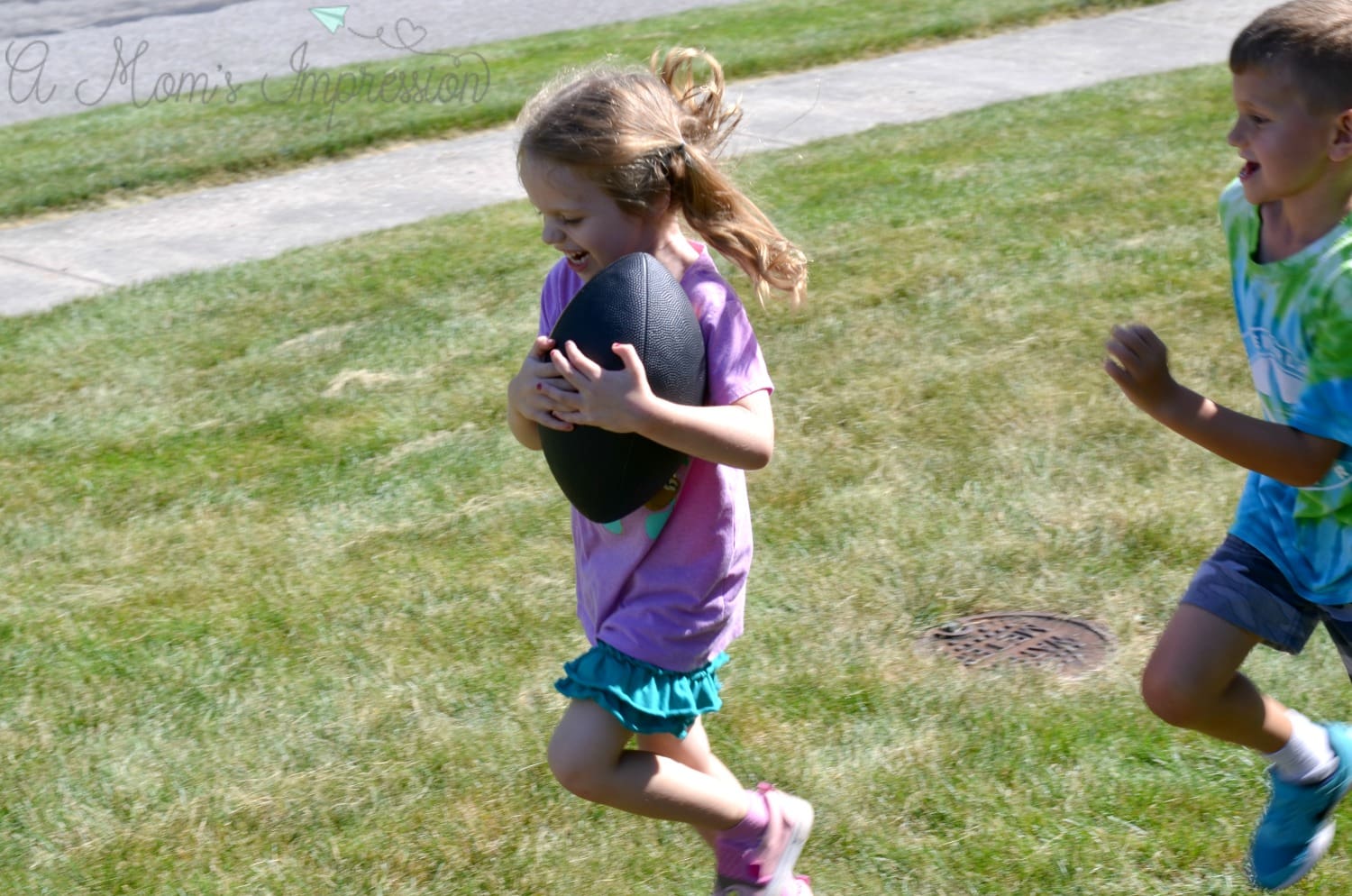 Just moments after this picture, Caroline fell and decided it would be best if she wore her bike helmet for the rest of the night.  It is moments like this that I know I will remember for the rest of my life. Honestly, there isn't much better than relaxing, laying back and watching them play.
The Food

When we picnic I like to mix it up a little bit and grab some things from the grocery store and make a special thing or two. The reason for the picnic is to relax and spend time with my family so I didn't want to spend too much time in the kitchen. We usually grab a protein that can be enjoyed hot or cold like chicken.  We also munch on our favorite potato chips and enjoy a bottle of Coca-Cola or sparkling water.  On our last visit to Bob Evans, I was inspired to grab an extra loaf of coffee cake as a family treat. This was the perfect opportunity to enjoy it!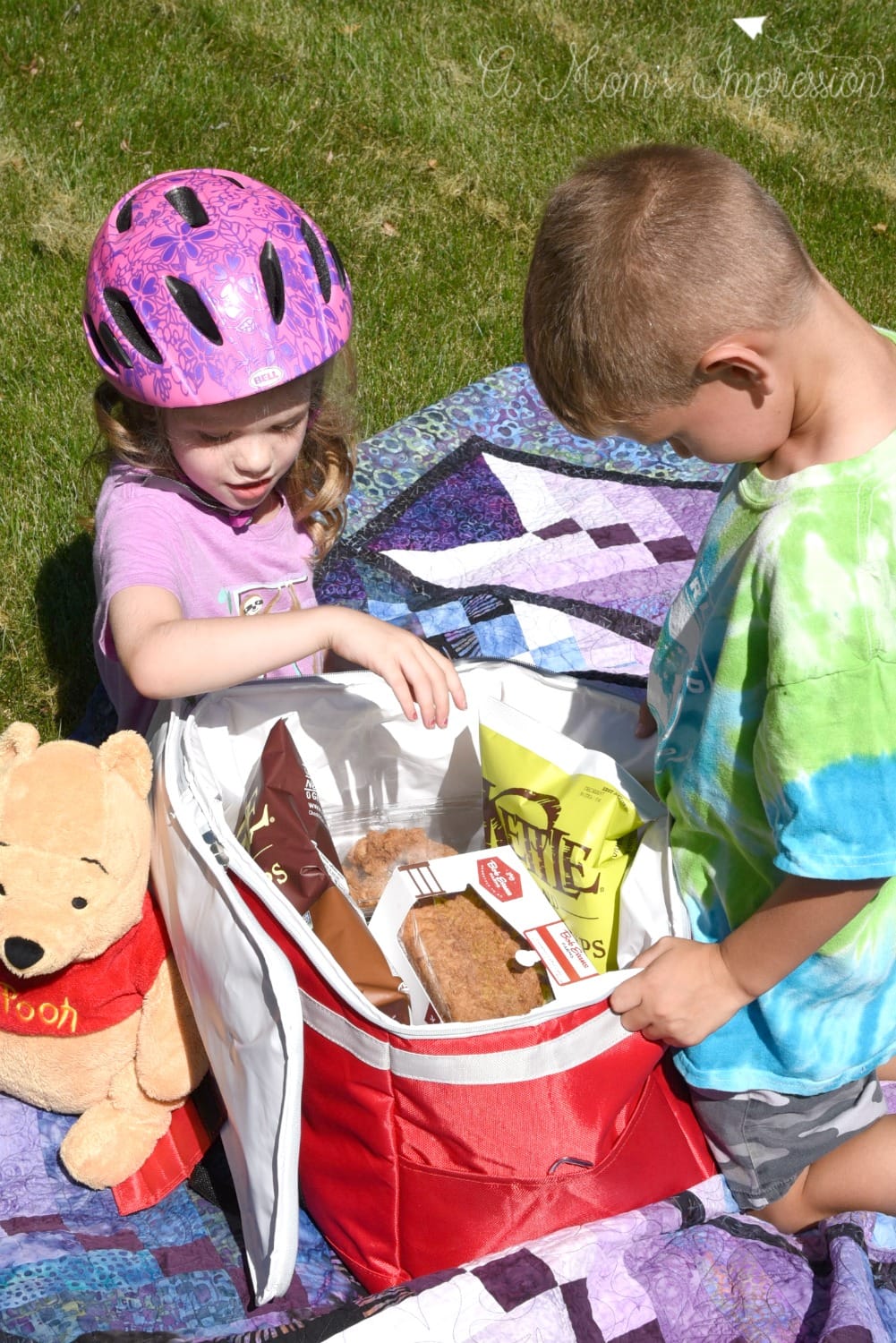 I love how easily portable everything is.  My kids love swimming in our neighborhood pool and sometimes we picnic down at the clubhouse after they are done playing in the water, this type of food would be perfect for that as well.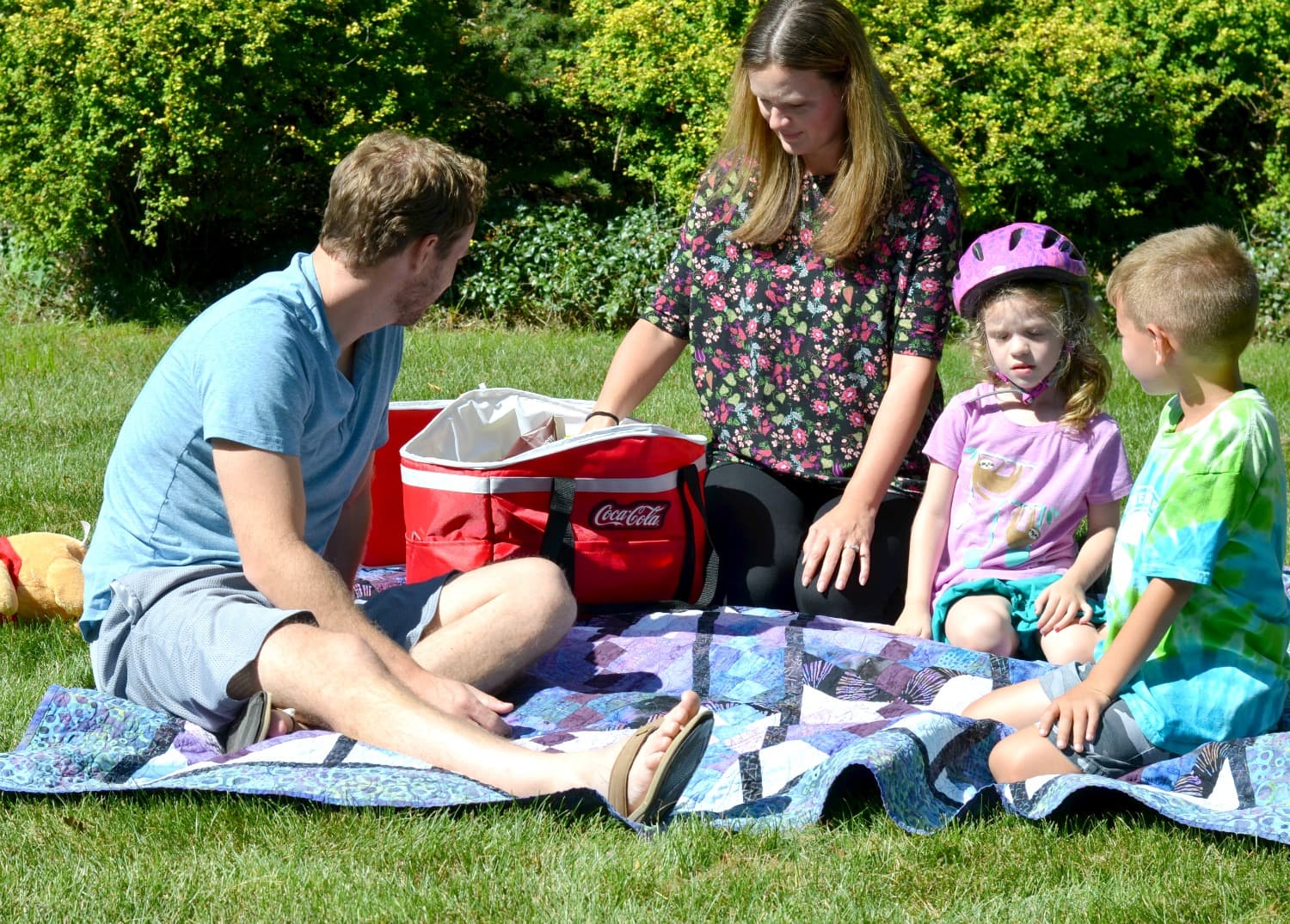 My daughter made a quick little video showing us everything that we packed in our cooler.

She is adorable, and in case you didn't notice she is all about her Pooh Bear at the moment.  I decided to make something for dessert that I knew her and Pooh would enjoy!
A Little Something Sweet for your Picnic
I think these adorable little bee cupcakes are perfect for a summer picnic.  I made simple vanilla cupcakes from a box (yes, because it's easy) and topped them off with this delicious almond frosting.  Adding these adorable little bees makes them perfect for summer!

Almond Swirl Frosting
Ingredients
6 cups powdered sugar
½ cup salted butter softened
½ cup Crisco
1 tablespoon light corn syrup
1 tsp almond extract
1/3 cup milk
Icing Bee decorations ( I found my from Wilton)
Directions
Add in butter and Crisco into a large bowl and blend with an electric mixer for 1 minute on medium speed.
Add in corn syrup and almond extract and blend until well combined.
Add in 2 cups powdered sugar and a little bit of milk alternately until all is well combined.
Cover and refrigerate for about 30 minutes.
Place the frosting bag inside a large cup and flip out the sides.
Add a yellow gel coloring to half of the white frosting in a separate bowl.
Fill in half the bag with yellow frosting and the other half with white frosting.
Squeeze the bag until the air bubbles are out and both colors come out evenly.
To frost cupcakes use a Wilton tip (I used #1 M). Start by swirling in a circle and then add on top of that in a swirling motion.
Top off with a Wilton icing bee decorations.
I think these are fun enough for Caroline and sweet enough for Pooh.
Really, what it all boils down to is making time to spend with your family.  Cherishing the small everyday moments like meal times and making memories.  Bob Evans understands this and is making family meals effortless.  With fresh ingredients and family-friendly dining style, Bob Evans is a picnic without all the work!
Win It
Bob Evans wants to help your family celebrate the small things with some picnic essentials of your own! One lucky reader is going to win a Bob Evans Picnic Prize Package that includes a cooler, blanket, Coca-cola bottles, bottle openers and a $25 Gift Certificate to Bob Evans!  Enter below and good luck!
Bob Evans Picnic Prize Package

What fun ideas do you have for a family picnic?