This shop has been compensated by Collective Bias, Inc. and its advertiser. All opinions are mine alone. 

#BuffaloWingsandRings

#CollectiveBias
We love football season.  In fact, we have a countdown starting in June for football kickoff.  On Saturdays in fall you can find us cheering on Boise State or Notre Dame and on Sunday we are cheering for our Colts!  Football is a family affair and our kids get just as excited as we do when cheering for our favorite teams. We love heading out and watching the games at our favorite restaurants.  When you have two little ones like us, it isn't really possible to actually go to the game so cheering on our team with others is a lot of fun for us.  Finding family-friendly restaurants that has everything we need, good food, drinks, televisions and is also kid friendly is hard to come by.  We found what we were looking for when we headed to Richmond, Indiana to Buffalo Wings and Rings!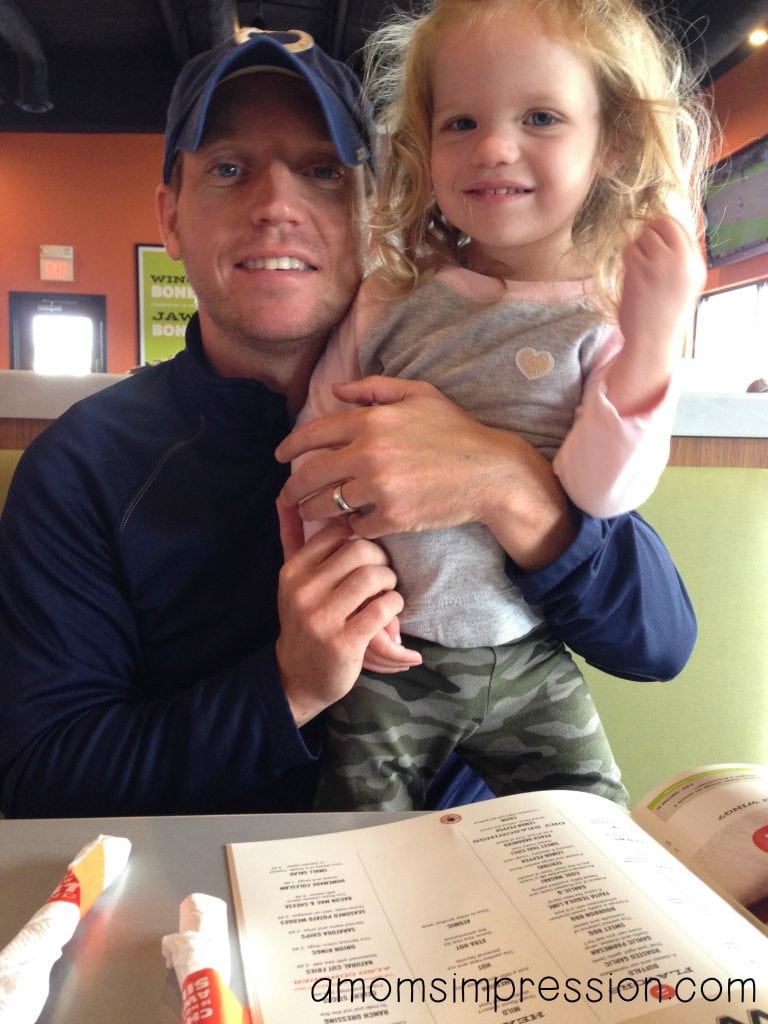 We were delighted to have the opportunity to try out Buffalo Wings and Rings.  We had been to other buffalo wings chains before and, frankly, have found the food a little cheap and over priced.  When we walked into Buffalo Wings and Rings, we were immediately struck with how clean and modern the place was.  It had recently been updated and you could tell.  The staff greeted us with a smile and were very friendly.  The restaurant was very clean and bright and there were high definition television sets everywhere you could see.  There was no way we were going to miss the big Boise State game!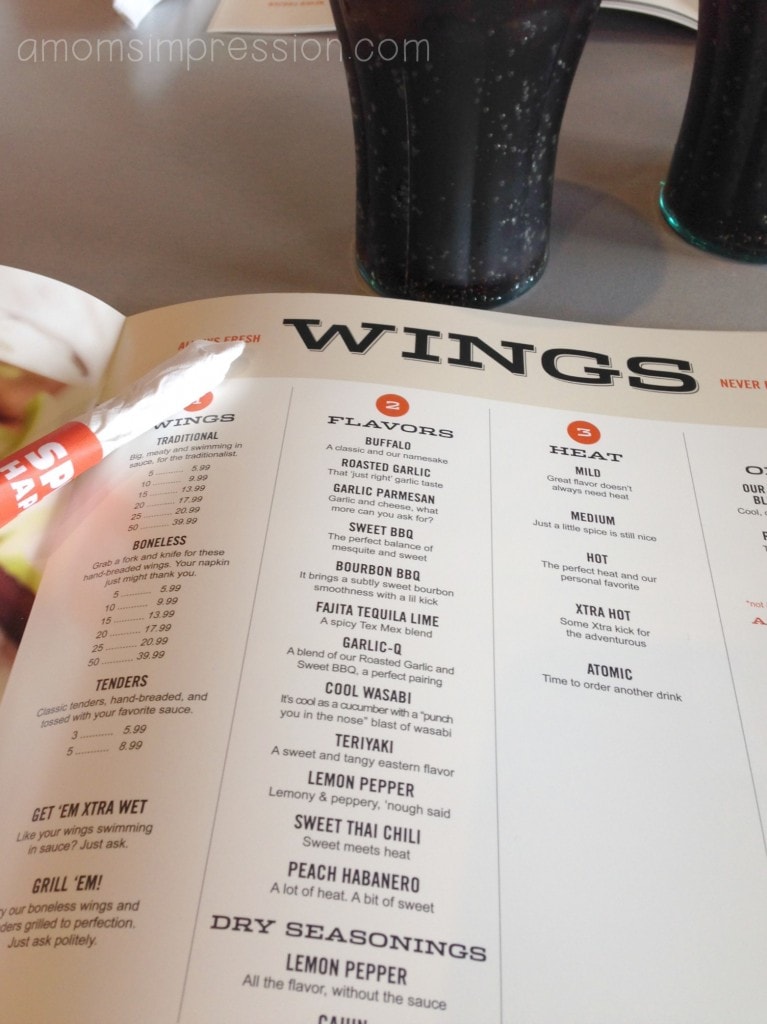 They gave us the menu.  I am a bit of a menu snob.  It really turns me off when menus are old, dirty, ripped, wrinkled, stained, etc.  The menus  they gave us looked brand new and were easy to peruse.  The menu is extensive and there is a little bit for everyone, they even have bulk orders for large parties.  I had a very hard time trying to figure out what wings to try, but my son and daughter found what they wanted right away. One of the things that I liked most about this menu us that you could pick your sauce AND you could pick how hot you wanted that sauce to be.  This is different than other buffalo wing places that I have been to where if you pick, say a spicy garlic sauce, it is a specific hotness.  You can't alter the spiciness at all.  Here you could pick the spicy garlic and then pick, mild, medium, hot, extra hot or atomic.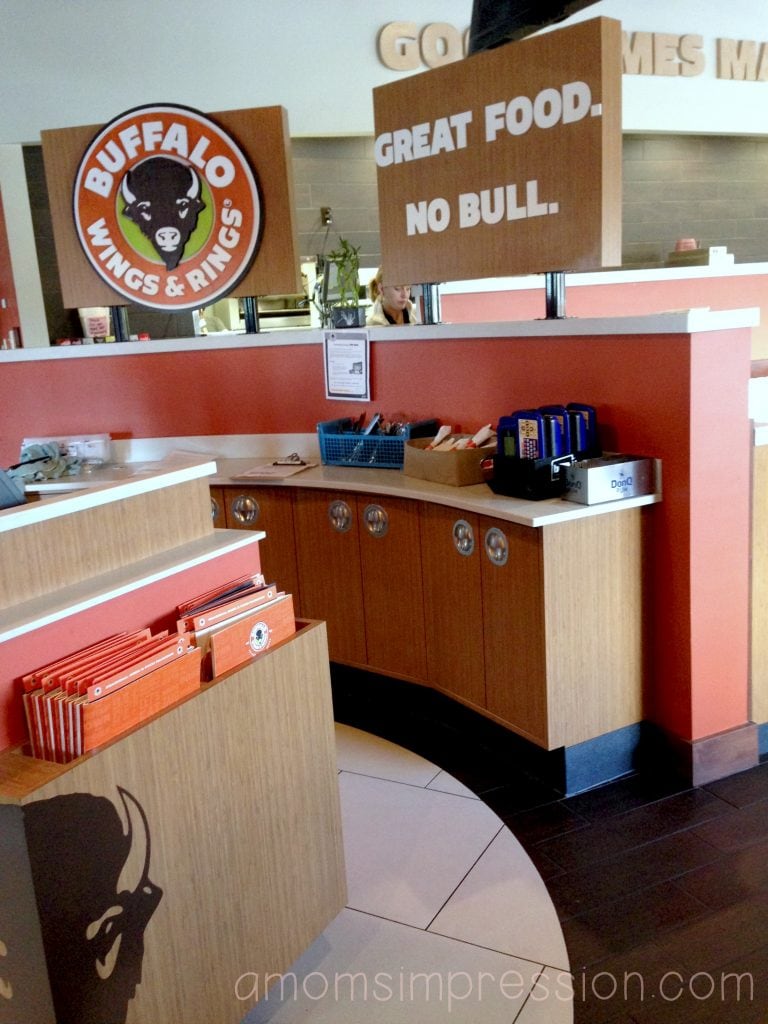 After we ordered our food we checked out the games we saw when we first entered the building.  My son and husband loved the racing game.  While there wasn't a full arcade, there was just enough to keep my kids happy until our food came.  I love when restaurants think about the little ones when they are designing their buildings.  Keeping the kids happy is a priority for any parent when they are taking the family out for dinner.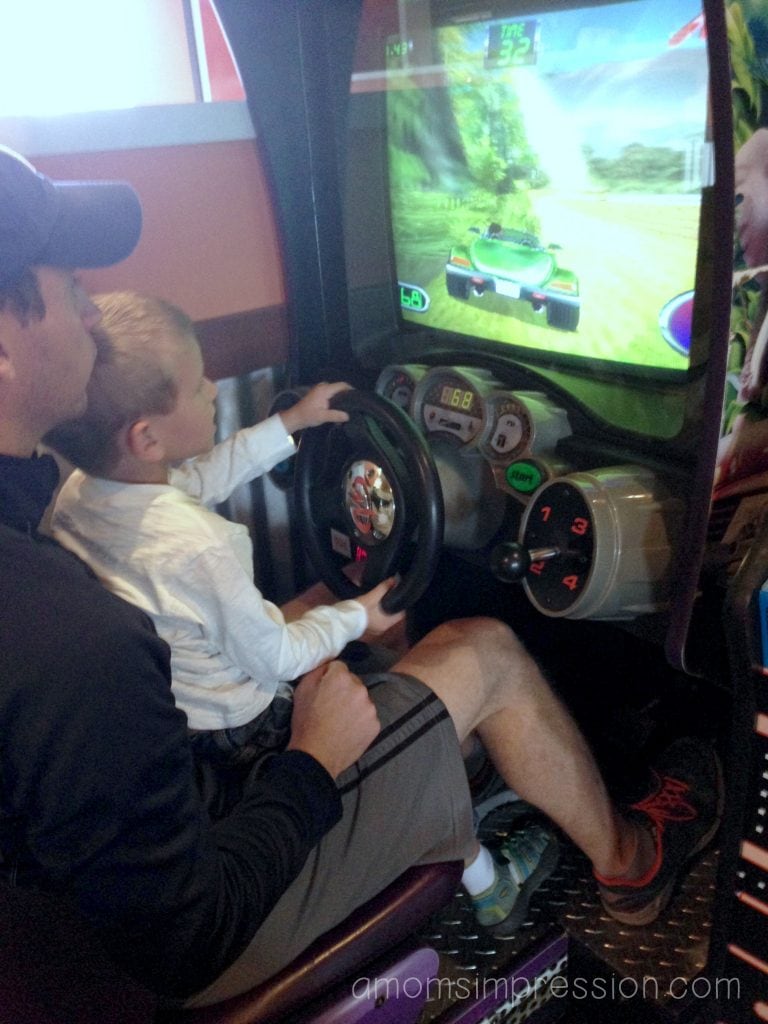 The presentation of the food blew me away.  At other buffalo wings places, I am used to the food coming out on wax paper in plastic baskets.  Here, it was served on real plate ware.  Everything looked a little more upscale than I was expecting an fit was a pleasant surprise.  I had the garlic boneless chicken at a medium hotness.  They were excellent but if I could do it all over again, I would have gone a with a hotter sauce.  Medium really isn't that hot and I like a little spice to my buffalo wings.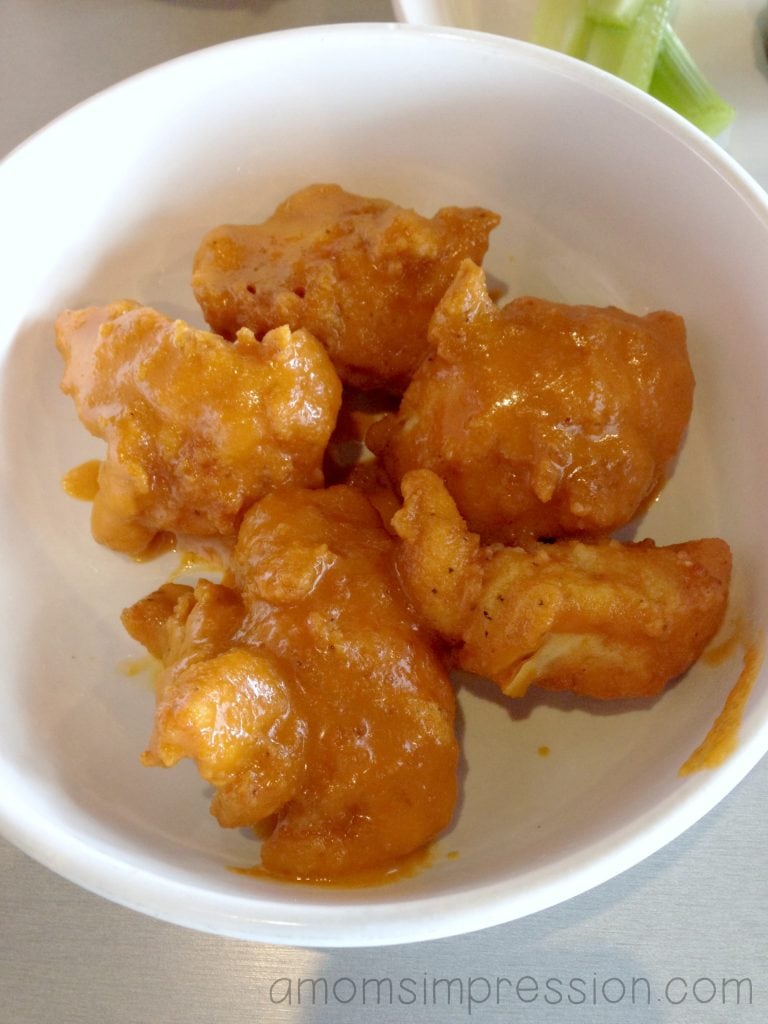 My husband doesn't like breaded chicken and was very happy to see that Buffalo Wings and Rings has a grilled tender option.  He ordered that with the Sweet Thai Chili sauce.  We both loved it.  I tasted his Hot spice and wished I had gotten mine hotter.  They were amazing!  I also love that our side items were served in a separate container.  My fries weren't soaking in sauce when I was ready to eat them.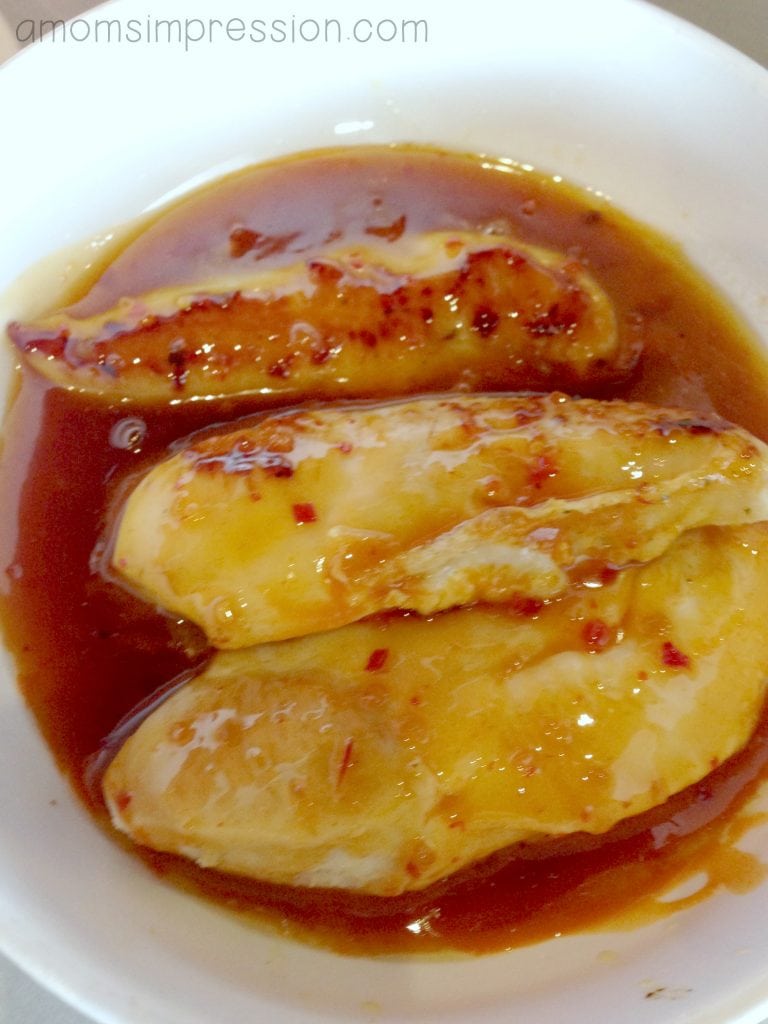 Being surrounded by High Definition televisions came in handy for watching the Boise State Game that day.  We were able to keep updated on all of the major games that day.  There were also two very large screens in the building that make watching the big games a lot of fun!  There is nothing like a room full of people cheering on a team!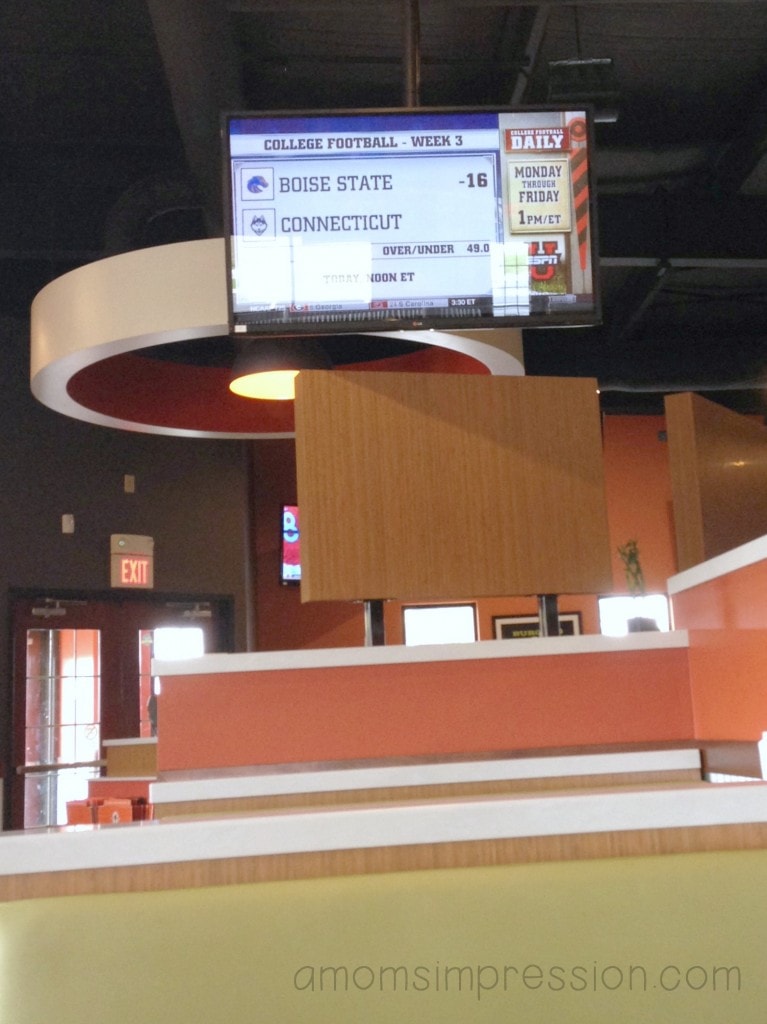 Overall we enjoyed our trip to Richmond.  I can see us visiting more often now that we know how easy watching a game would be with our family.  The redesigned restaurant is fantastic for us football loving families.  There is something for everyone!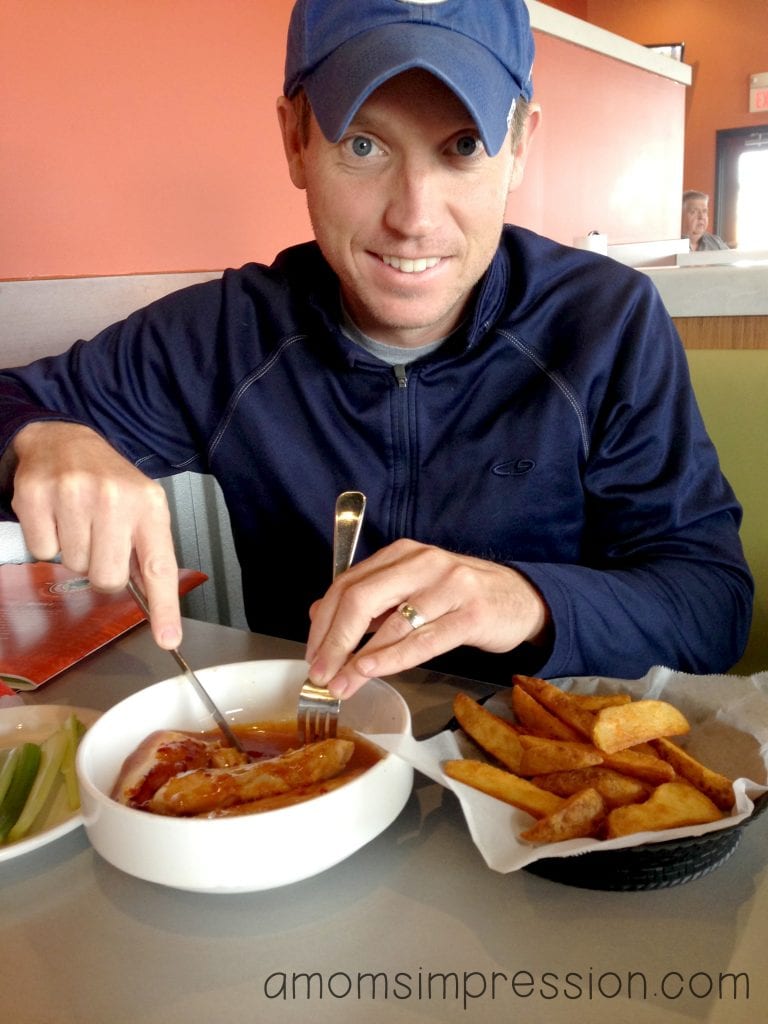 You can stay updated with everything going on at Buffalo Wings & Rings on Twitter as well as Facebook!
What is your favorite buffalo wing sauce?  Do you like them hot and spicy or mild?