It has been several months now that I have tested out the Brother P-Touch Label maker.  I started out with a durability test in August that highlighted how strong the labels are.  I put the labels through several tests to determine the strength, and was amazed by what I found.  This past January, I shared my storage room makeover with all of my fancy labels on my shelves.  I now have an organized storage room ready to go when my newest child arrives in May! I know it is going to save a lot of time finding exactly what I need when I need it.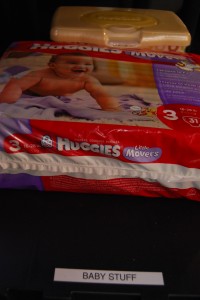 Well, it has been several months since the makeover and I am ready to give my final thoughts about the Brother P-Touch label maker.  I have been using label makers for quite some time.  When I was a bookkeeper in a restaurant, I used a label maker to keep all of our employee files labeled and organized.  I used a label maker in my first small business labeling all of the stock that I kept in my basement.  I use a label maker in my classroom to keep my binders organized and all of my school supplies organized. I have used several different makes and models and can tell you from experience that the label maker from Brother is the best one that I have used thus far.  The labels have been on my storage shelves for about 6 months and they look like I just placed them there.  The labels on my binders have not peeled back on the corners and I touch them almost every week day.  The coating on the labels make sure that they are stuck and stay stuck on whatever it has been placed on.
I am extremely happy with this label maker and would highly recommend it to anyone looking for one.
I wrote this review while participating in a campaign by Mom Central Consulting on behalf of Brother P-Touch and received a product and gift card to facilitate my review and a promotional item to thank me for taking the time to participate.