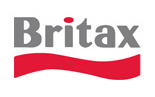 I recently went with a friend to a baby store to help her with her baby registry.  We had a lot of fun picking out things for her baby girl that will be born in December.  We looked at everything from bottles to blankets.  When we got to the car seat aisle, she seemed a little overwhelmed.  I told her that she couldn't go wrong with a Britax.  Britax has symbolized the ultimate in both safety and style for me when it comes to car seats.  Safety is the number 1 concern of all parents and we all want the best for our kids.  Britax is a brand that you can trust with your babies.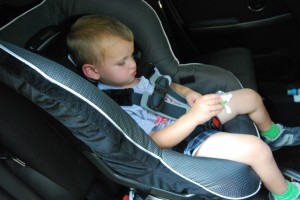 We have been the proud owners of the Britax Marathon 70 car seat for a little over a month now.  It has exceeded all of my expectations!  It looks very classic and the black fabric is soft and durable (it is also unisex and would be perfect for a boy or a girl). It is simple to remove the cover off of the car seat to wash, you don't have to take the car seat out, you simply pull the cover off over the car seat.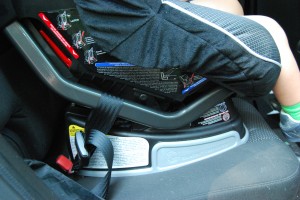 Installation was unbelievably easy.  My husband wasn't around so I had to do this on my own, and it was a very quick process that took less than 5 minutes.  All you have to do is unhook the lower connectors and attach them to your car's Latch system.  It was extremely simple. The base of the car seat is wide and includes anti-slip material so that it doesn't try and slip off of the seat.
I love the No-Rethread Harness system that allows you to reposition the harness without having to unthread the straps (one of my pet peeves from a previous car seat).  If you have ever had to adjust the shoulder height in a car seat it normally consists of you having to take off the car seat cover, taking the straps out of the back of the car seat, adjusting the straps to a new height and then reinstall them.  Most of the time you have to take out the seat and then reinstall it to accomplish this. With the Marathon 70 all you have to do is pull up on the lever and the harness will reposition.  It is amazingly simple.
Features of the Marathon 70
SafeCell™ Technology features SafeCells designed to compress in a crash, significantly lowering the center of gravity and counteracting the forward rotation of the child seat which normally propels the child toward the front seat
Integrated Steel Bars strengthen the connection to the vehicle and reduce forward flexing of the child seat during a crash
Energy-Absorbing Versa-Tether® features a staged-release tether webbing to slow the forward movement, reducing the crash forces reaching the child, and a two-point attachment to minimize forward rotation while anchoring the top of the child seat
 Some other important features:
Side Impact Protection comprised of deep side walls lined with energy-absorbing EPP foam distributes crash forces, shields from vehicle intrusion, and contains the head, neck and body
Tangle-Free, Five-Point Harness distributes crash forces across the strongest parts of the body and provides a secure fit
Harness Ultra Guard System (HUGS™) provides resistance to forward movement in the event of a crash
Quick-Adjust, No-Rethread Harness repositions the harness shoulder height without disassembling the harness straps
Premium Lower LATCH Connectors for a quick and simple installation featuring a push button for easy release
Built-in Lock-Offs ensure a snug lap and shoulder belt installation with minimal effort
Be sure to check out this video that highlights all the safety features of the Britax Marathon 70:
Just like I told my friend, Britax should be on everyone's baby registry.  The convertible car seat can grow with your baby  as it fits children from 5 pounds to 70 pounds.  It is durable and stylish enough to last the entire time that your child will be sitting in it.  And above all, you can rest assured that your little one is as safe as he can be riding in the car.
Be sure to check out all of the car seats that Britax offers.
Buy It
The Britax Marathon 70 Car Seat is available in baby stores nationwide for the MSRP of $289.99.
Win It
One (1) lucky reader will win a Britax Marathon 70 Car Seat of their very own!
How to Enter:
Leave a comment and tell me your favorite feature of the Britax Marathon 70!
(You must complete this entry before completing any of the bonus entries)
Bonus Entries:
Follow me on Twitter and Tweet: Win a Britax Marathon 70 Convertible Car Seat @AMomsImpression http://wyn.cc/dv9vt
(You may enter daily, just leave a comment with each Tweet's link)
Blog about this giveaway (Please leave a link to your post)
Grab my Button and post it on your blog.
Subscribe to A Mom's Impression by Email (2 Entries, please leave 2 comments: Please remember to confirm your subscription)
Comment on any non-giveaway post on A Mom's Impression. (just tell me what post you commented on)
Submit this giveaway to any contest/sweepstakes site and or share on Facebook.
Please leave a comment about each entry, include a valid email address or you may contact me directly with your contact information.
Open to US and residents only. This giveaway will end at midnight on October 1. Winners will be picked from Random.org. 
Good Luck!
This product review was made possible by Britax.  I was not compensated for this review other than a product sample provided by the company or PR firm. All opinions are 100% mine