This school year has brought on a lot of changes.  While I am still teaching first grade, our calendar and hours have changed.  It has made for a very stressful first quarter as I have been trying to figure out how to balance everything.  In addition to a new schedule, we have adopted the National Common Core Standards at our school and this is the first year that we are implementing them.  While I am used to teaching standards, these ones are a bit different than I am used to.  There is a definite learning curve. This is where Shell Education has helped.  They had their new series Bright & Brainy Grade Level Practice that helps ensure that I am covering all of the Common Core Standards in both reading and math.

Seeing as how most of you may not be familiar with Shell Education, let me tell you a little more about the company and the Bright & Brainy Series:
Shell Education is a family owned, innovative publishing company which develops high quality research – and standards-based professional development and teacher and student resources for the education market. Featuring a wide array of resources that include award-winning books, many of Shell Education's publications are used by educators throughout the United States and around the globe in 99 countries.

Bright & Brainy Grade Level Practice is a new series for Grades K-6 that encourages students to reinforce their knowledge of mathematics and language arts grade-level skills. This series is meant to be used either by a classroom teacher or by a parent at home for additional grade level practice. Each book is $19.99 each and can be purchased on our website at www.ShellEducation.com as well as other major retailers.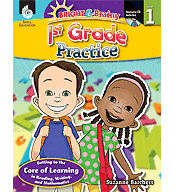 I have used the First Grade Bright & Brainy workbook a lot so far this school year.  I love that every page is aligned to a Common Core Standard so I can find a practice sheet to reinforce what I am teaching in the classroom.  I usually use these for morning work when my students are arriving and unpacking and eating their breakfast.  They don't take much time for the kids which is perfect for a morning activity before we gather on the carpet to start our day.  I also love, love, love, that Shell Eduction put a CD ROM of all of the pages and included it with the book.  It is so simple to keep that CD at school and know that it is there even if I leave my workbook at home on accident (which I have done on more occasions than I care to admit).
I also think that these workbooks are amazing for parents.  They organize the workbook so that it is easy to find whatever it is that your child is learning at school.  They would be a great resource for summer learning to encourage kids to keep learning over the summer.  As I mentioned earlier, each activity takes only a few minutes to complete so you won't have to fight your child to finish it.  In addition to the First Grade book, I was also sent the Kindergarten version that I have used with my struggling readers.  The Kindergarten book will also come in handy with my preschooler.  I plan on doing some of the activities with him during breaks.  The CD allows me to print them off for him without having to use the pages in the book!
Click here for some sample pages of the First Grade Book.
In addition to the new Common Core Standards, I also was thrown a learning curve because all of our classrooms were equipped with Promethean Boards (Interactive White Boards).  They are very large and cover up almost my entire white board space, so I was forced to learn how to use them.  Once again, Shell Education provided me with some wonderful resources on activities I can do on the board.  If you are not familiar with interactive white boards, they are basically a very large computer screen that you can take a stylus and manipulate or draw on.  There are several different types, and Shell Education has books that will cover the most popular ones.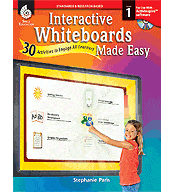 I received the Interactive Whiteboards Made Easy Level 1 for Promethean Boards.  The workbook guides you with lessons that are engaging to students.  You would be amazed at how engaged students are whenever I pull out the pen for the board.  They sit up taller, open their ears wider and pay better attention.  It is a wonderful tool.
What I love about this resource is that it guides you through an activity and gives you several possible lesson ideas for each review activity.  There are 30 review activities in the book ranging from working with shapes to manipulating and blending words.  My kids love what I have been able to create thanks to this book.  Something as simple as taking a beginning consonant and adding a chunk or word family to the end has a whole new meaning when they are able to move it and blend it themselves using the stylus.  I honestly would have never thought to do this on the white board.  I have been doing it with paper letters my entire teaching career.
For a sample of a lesson from the book click here.
This book retails for $29.99 and includes software and student reproducibles.
Be sure to visit Shell Eduction and see all of the amazing product they have available for your kids or your students!
A big thank you goes out to Shell Eduction and Teacher Created Materials for providing the products that are mentioned.  All opinions are mine.