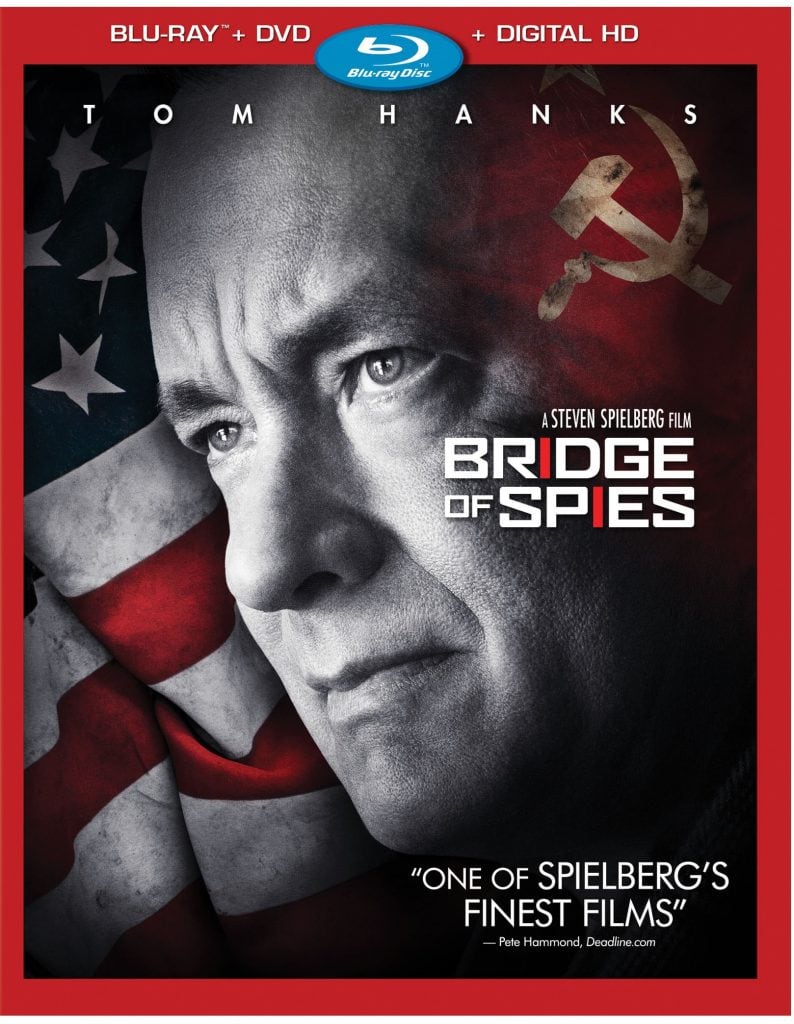 As soon as I heard that Tom Hanks was teaming up with Steven Spielberg for a feature film, I could't wait to see it.  I didn't even know what the film was about, I just knew that having those two powerhouses together, it was going to be an amazing film.  As life does, it got in the way last fall when Bridge of Spies came to the theater and I wasn't able to see it on the big screen.  I have been waiting patiently for it to come out on Blu-ray.  Yesterday it finally did and I had the chance to watch it over the weekend.  It was worth the wait.
Nominated for a Best Picture, Bridge of Spies tells the story of a lawyer who was chosen to defend an accused Soviet Spy during the Cold War.  As you can imagine, he wasn't very popular with the American People but instead of running, this lawyer does something that will amaze you!   Here is a little sneak peak…
SYNOPSIS:  A dramatic thriller set against the backdrop of a series of historic events, "Bridge of Spies" tells the story of James Donovan (Tom Hanks), a Brooklyn lawyer who finds himself thrust into the center of the Cold War when the CIA sends him on a near impossible mission to negotiate the release of a captured American U-2 pilot. High stakes and suspense power a story inspired by true events that capture the essence of a man who risked everything and vividly brings his personal journey to life.

CAST:  Tom Hanks (Saving Mr. Banks, Philadelphia and Forrest Gump) as James Donovan, Mark Rylance (Wolf Hall, The Other Boleyn Girl) as Rudolf Abel, Amy Ryan (Birdman, Goosebumps) as Mary Donovan, Sebastian Koch (TV's "Homeland," The Danish Girl) as Wolfgang Vogel, Alan Alda as Thomas Watters (The Aviator, Crimes and Misdemeanors), Austin Stowell (Whiplash, TNT's "Public Morals"), Mikhail Gorevoy (Die Another Day, BBC's "Space Race") as Ivan Schischkin and Will Rogers (A Good Marriage, The Bay) as Frederic Pryor.
My husband and I loved the film and thought it deserving for a Best Picture nomination.  As most historical films go, I did a little research into this story and learned some interesting information about James Donovan and how he ended up uniting hundreds of American families.  Not bad for a lawyer.  Not mean to be a film for young children, I found Bridge of Spies to be an excellent resource for older kids to show what life was like in America back in the Cold War days.  I also think it teaches a great lesson about sticking to our beliefs no matter what the cost may be.
You can purchase Bridge of Spies on Blu-ray for $22.95 or the DVD version for $16.99
Thank you to the folks at Click Communications for sending us the Blu-ray to enjoy.  All opinions are 100% mine.