This post is sponsored by BabbleBoxx.com on behalf of Boston Market.
Now you can warm up from the cold weather with some home-style meals from Boston Market delivered straight to your door.  Don't let your busy schedule keep you from giving your family a quality dinner.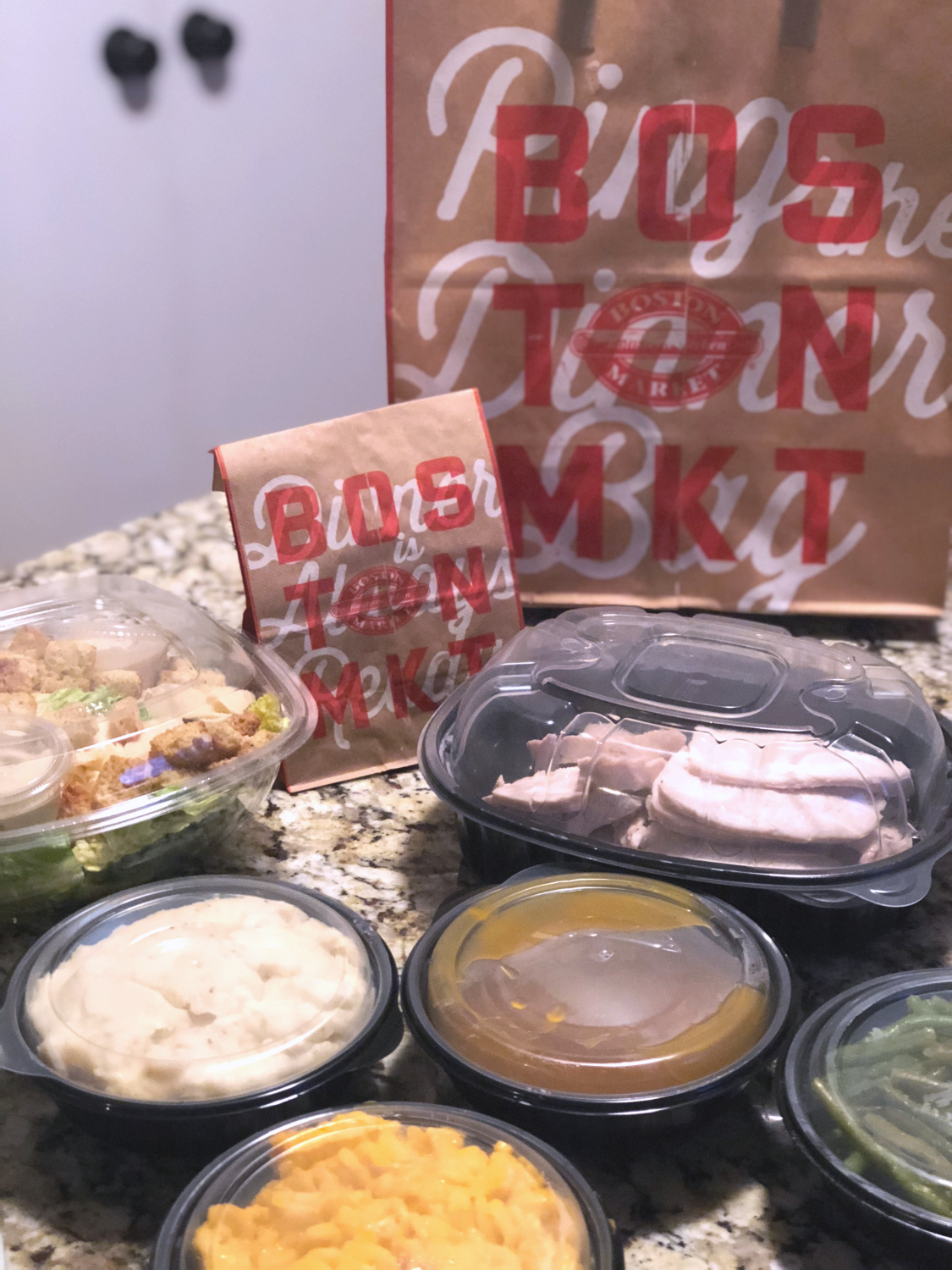 It's Time For Dinner But The Fridge Is Empty!
I believe that this has happened to every mom on the face of this planet: It is about one hour before dinner and you open up the fridge to see what you should make for your family.  This is when you realize that you don't have anything to make for  your family.  Maybe that chicken has expired a couple days before you thought it would.  Maybe you didn't do the best job meal planning when you were grocery shopping.  But the bottom line is that the best you have to offer your family for dinner is some cereal and that just isn't going to cut it.
The clock is ticking.  Your son has soccer practice later and your daughter needs to go to gymnastics.  You don't have a lot of options.  Should you stop at a drive-thru somewhere?  Order a pizza?  None of these options ever sound great to me.  Sure, I love to treat my kids to a "fun" meal every so often, usually on Friday nights.  But, during the weekdays, I want to give my family a hearty, home-cooked meal.
Boston Market Home Delivery
For generations, moms everywhere have had to make concessions and cut their losses.  But not anymore.  Boston Market has swooped in to save the day for moms like me on nights like that.  Boston Market has been working for over 30 years to provide families with convenient, home-style meals at a great value.  With over 450 locations all over the United States, there is a good chance that you live pretty close to a Boston Market to take advantage of everything they have to offer.
What do they have to offer?  In addition to a menu focused on quality, family friendly meals, they are now able to deliver right to your door.  By teaming up with the leading online delivering services, Grubhub, DoorDash and Uber Eats, you are now able to get Boston Market to come to you whenever you need it most.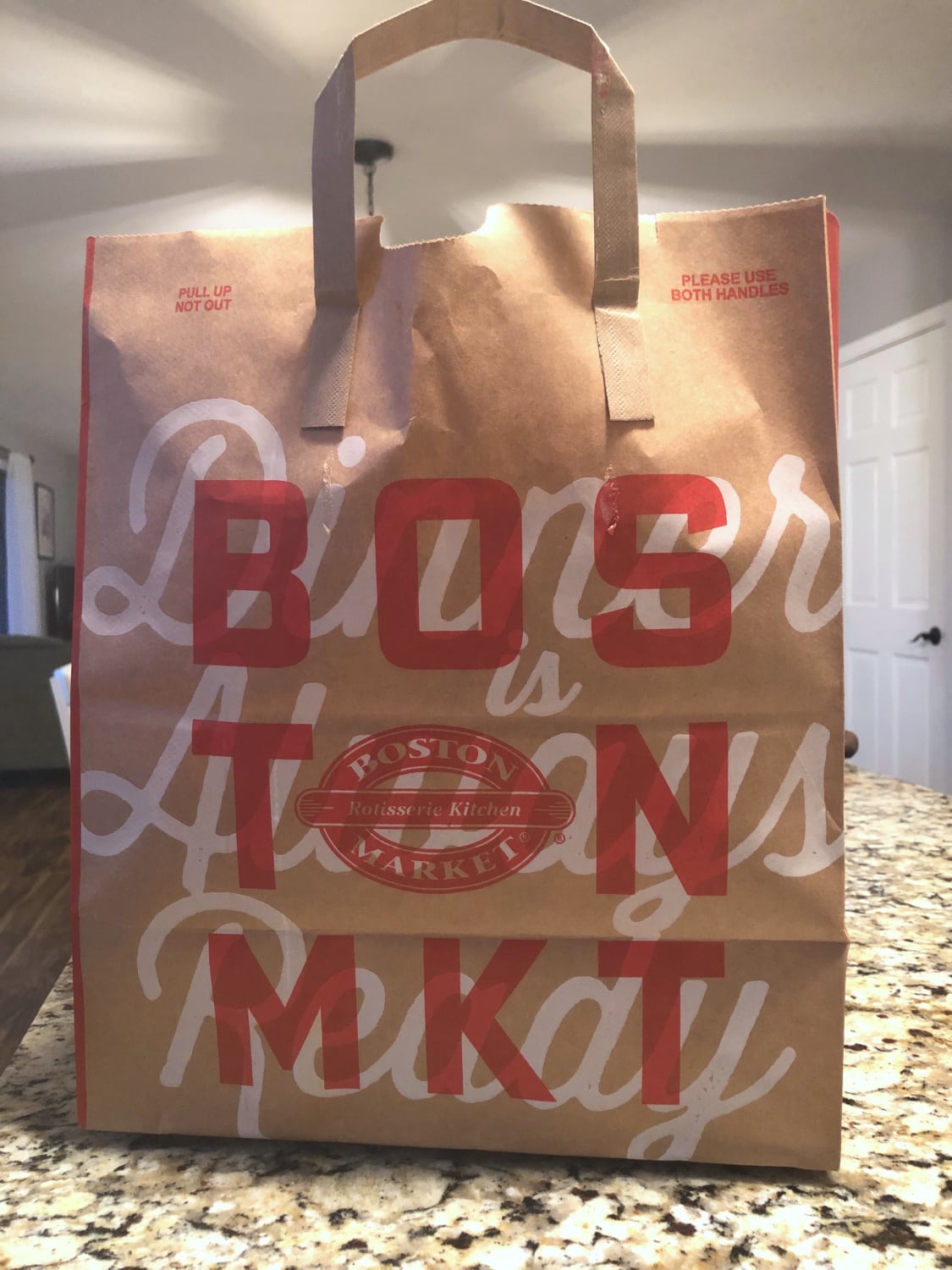 How To Get Boston Market Delivered To Your Door
When you have those "fridge freak out" moments like I do, it is super easy to order Boston Market to be delivered to your home.  Just head to www.bostonmarket.com and follow the instructions.  The process is extremely user friendly.  Just tell them where you are and they will automatically connect you with best delivery service/option for your area.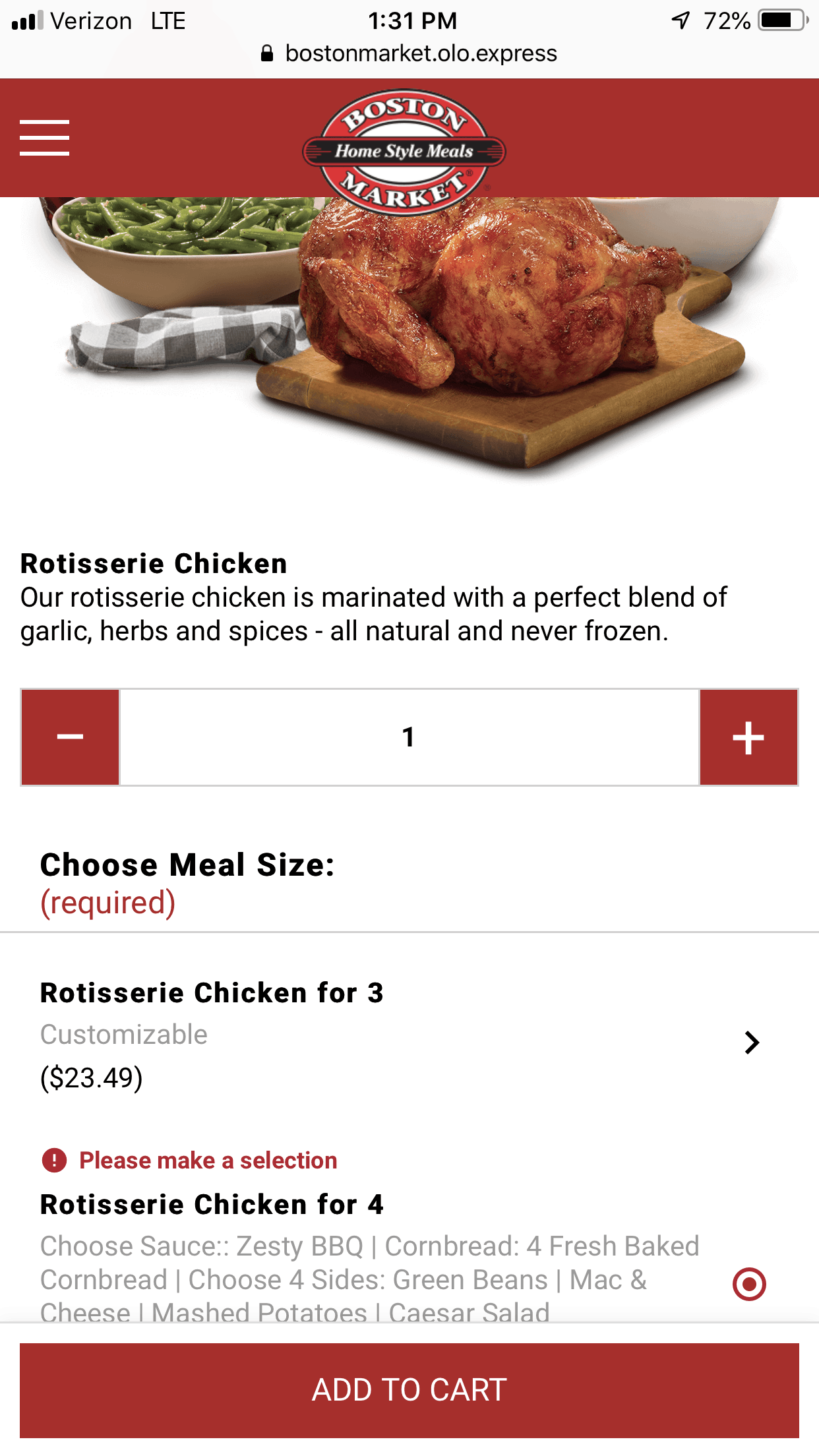 We did this the other night and this warm, home-style meal was the perfect solution to a cold and busy night.  We ordered a family meal.  Depending on which size your order, it is plenty of food for 3-6 people.  We ordered the family meal for 4.  You can choose an entree meat and we did roasted turkey.  You can also choose from Rotisserie Chicken, BBQ Ribs or Home Style Meatloaf. In addition to the meat option, you can choose 4 sides and an order of cornbread.   We have a family of 4 and had A LOT left over after dinner.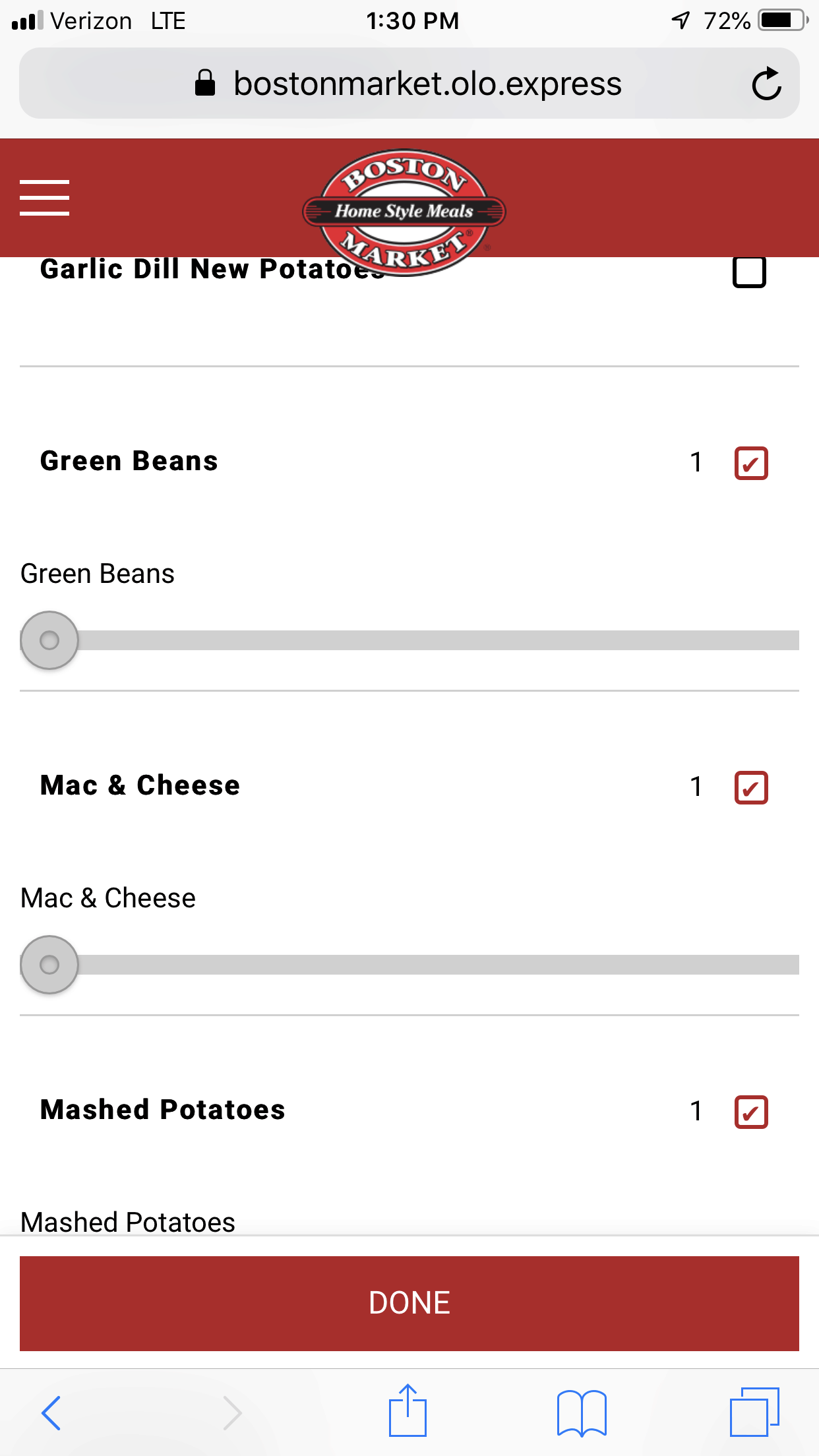 Boston Market is also offering some seasonal options for a limited time.  I'd like to try out their Parmesan Rotisserie Chicken.  This rotisserie chicken is topped with creamy Parmesan sauce and a crunchy herb topping.  Or you could try their special sides, like Bacon Brussels Sprouts or Loaded Roasted Potatoes.  Look for these options at participating locations.
Quality Meals From Your Fingertips to Your Door In Minutes
It took me about 3 minutes to order online (including my two kids arguing a bit about what sides to choose).  Along with the turkey, we got green beans, mashed potatoes, mac & cheese and a Caesar side salad as our sides.  You could also choose, new potatoes, sweet corn or southwest rice.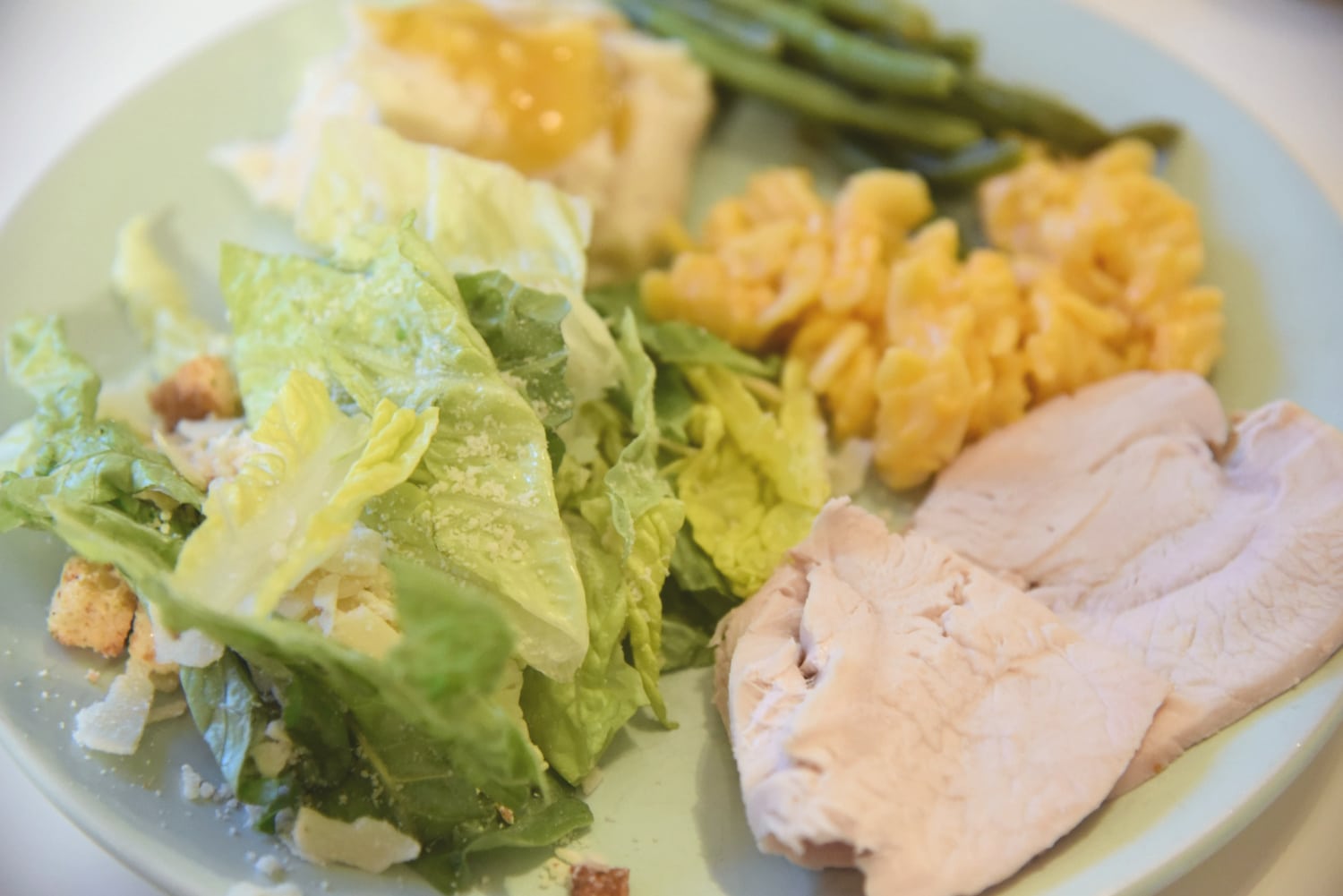 After ordering, our food was prepared and delivered to us in about 30 minutes.  This is certainly even faster than it would have taken me to make a home style rotisserie meal myself, after all Boston Market is the Rotisserie Experts so they know what they are doing!  It was all well packaged and easy to serve.  And, as I mentioned before, it was a ton of food.  Our kids certainly aren't huge eaters, but they ate their fair share and we could have gotten away with getting the family meal for 3.  But, it's never a bad idea to have leftovers and my husband enjoyed them for lunch for the next two days!
Perfect For On-The-Go Family Lifestyles
Another great option that we could have tried out is the Boston Market Kids Meals.  For this, we can choose from Mac & Cheese, Home-style Meatloaf, Rotisserie Chicken or Turkey.  This comes with one small side, cornbread and a kids drink.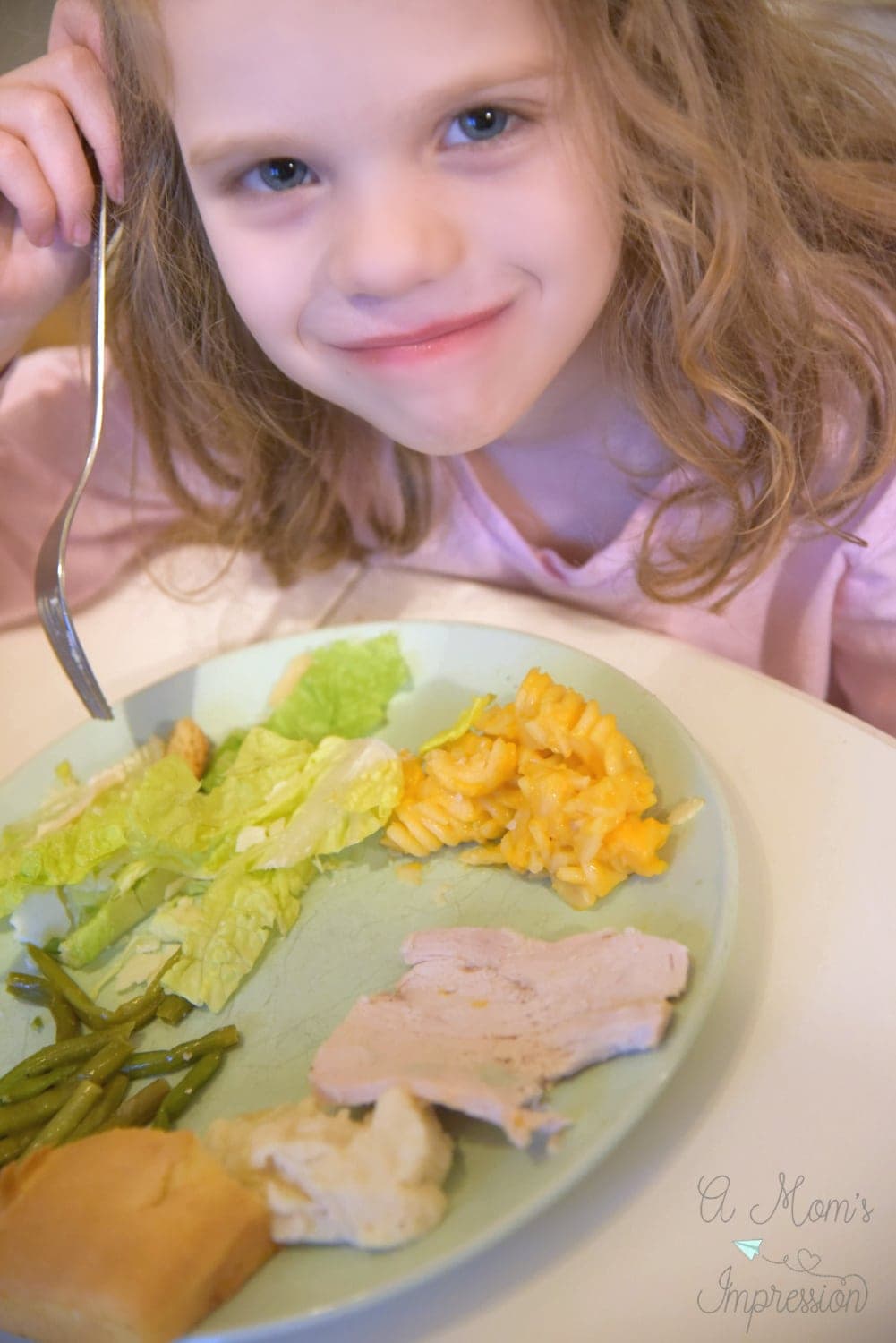 Also, while Boston Market Online Delivery is a great option to get you out of jams when you don't have anything in the kitchen, it is a great idea for a healthy, quality on-the-go meal.  Often times, I'll have everything I need at home, but just not enough time to cook it.  I can certainly see myself using Boston Market Online Delivery on our way home from our afternoon obligations.  My daughter has dance class from 4-5pm.  It would be a great idea to order Boston Market online and have it scheduled to be delivered when we get home.  Now, we can just walk in the door and have a home style rotisserie meal ready for us to eat right away!
Limited Time Discount
Valid through March 15, 2019, use the discount code IMPRESSION to get FREE delivery when you use Boston Market Online Delivery.  Just make sure that you order through bostonmarket.com and not a third party delivery service.  Remember, Boston Market will automatically pair you with the best delivery option for your location!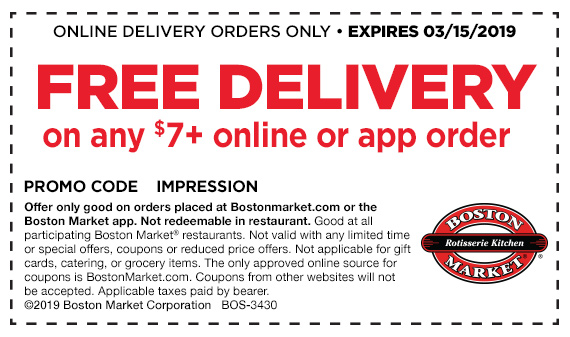 Our winters are cold, our lives are busy and, sometimes, are fridges are empty.  But I'll know that Boston Market will be there warm us up and feel us quality, home-style food when I know I don't have time to cook it myself.  Stay warm out there!