Crown Publishing is partnering with me for a giveaway!

I always go over my health goals at the beginning of every year. I decided a few years ago that it was time that I started focusing on my health and so I started going to a class at the gym a few times a week and exercising more.  It was amazing the difference I felt.  While I was stronger, my body still didn't look the way that I had imagined it would.  As much as I didn't want to believe it, the food I was eating was not allowing me to get the physique that I had been wanting so this year I am focusing more on what I am putting in my body as well as the exercise I am getting.
We could all use a little help with the food!  I was excited when asked to partner with Crown Publishing to introduce chef Bobby Flay's newest cookbook, Boby Flay Fit!
Bobby Flay Fit
Cook, eat, and be fit with 200 recipes from Bobby Flay, whose approach to healthy eating is all about flavor—not eliminating anything from your diet.

With a profession that has him constantly developing and tasting new recipes, chef Bobby Flay does not eschew any foods: bread, bacon, and butter are still all on the table. His secret to staying healthy is to have on hand an arsenal of low-calorie flavor bombs—like rubs, relishes, and marinades—to transform lean proteins, whole grains, and fresh produce into craveworthy meals at home. In Bobby Flay Fit, Bobby shares smoothies and juices, breakfast bowls, snacks to fuel workouts, hearty salads, nourishing soups, satisfying dinners, and lightened-up desserts. With fitness tips and a look into the chef's daily healthy routines, this cookbook is for those who want to eat right without overhauling their pantries or sacrificing taste.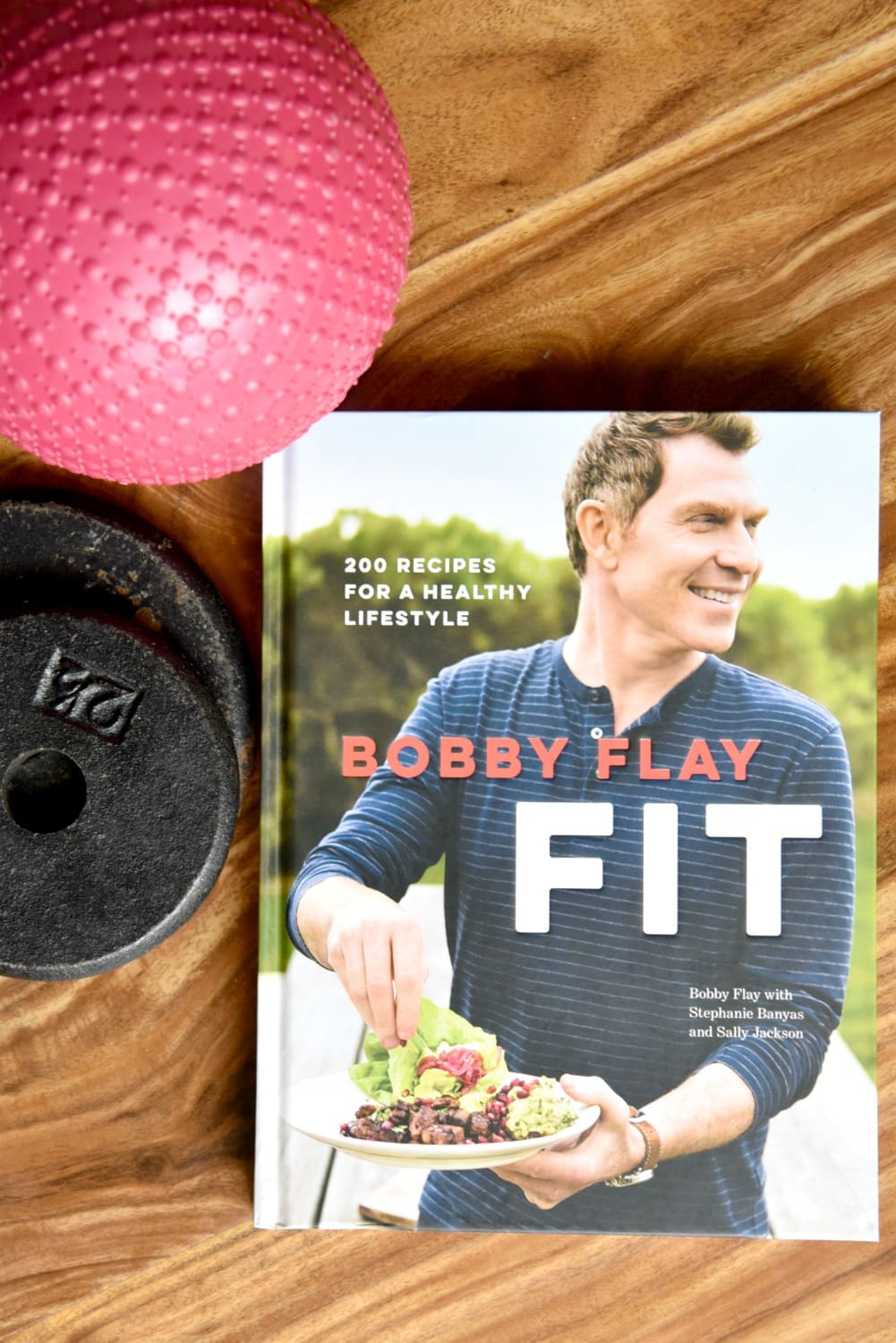 MY LATEST VIDEOS
I know that Bobby Flay is known for flavorful meals.  I watch many of his programs on television, and I know he wouldn't put out a cookbook with bland recipes or boring food.  I was right! This cookbook is full of tasty, healthy meals that are perfect for the new year and getting set on the right track for healthy eating. I love that he doesn't try to eliminate anything from your diet, its everything in moderation. Just like Bobby Flay, when I was approaching my forties, I knew I couldn't eat the same way that I did in my twenties or even my thirties. This book is a fantastic resource for recipes that will nourish the body while allowing me to enjoy the foods I love…. like cheese!
Sample Bobby Flay Fit Recipes
Greek Fish Tacos
Olive Oil Brownies
Mustard Marinated Kale Salad
Pomegranate and Chile Glazed Pork Carnitas
Sea Bass with Green Gazpacho
Chicken Adobe
Toasted Muesli
Spelt Waffles
Persian Baked Omelet
A little side note… I love the dedication Bobby Flay wrote in this new book.  Be sure to check it out when you pick up your copy!!!
To learn more visit the Official Site and watch Bobby Flay discuss his latest cookbook on Youtube!
Win It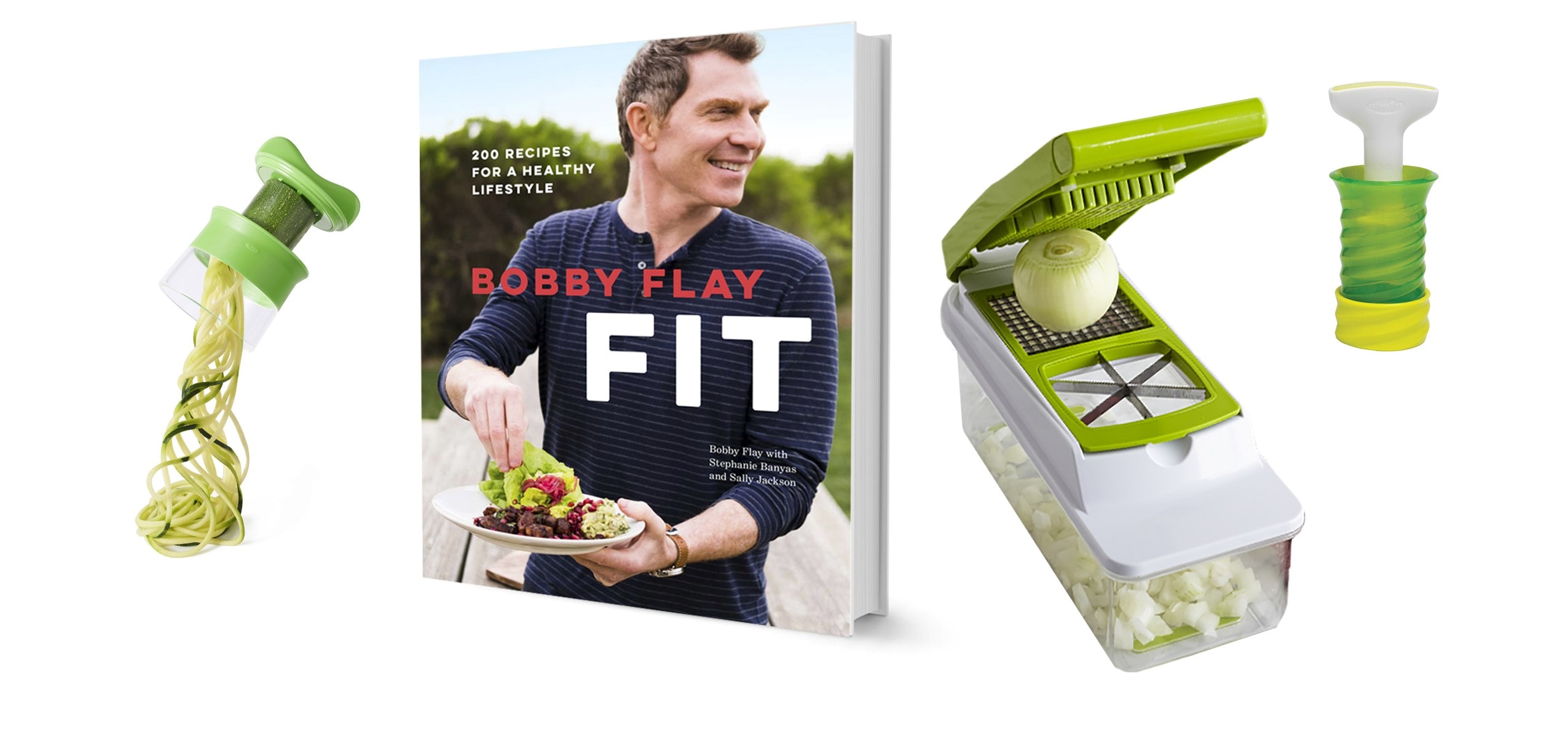 GET FIT WITH BOBBY! The great people at Crown Publishing want to give one lucky reader a fun Bobby Flay gift package! Enter below.

One (1) winner receives:
copy of Bobby Flay Fit
plus tools to get healthy in the kitchen: veggie prep station, spiralizer, and herbsicle!
Open to US addresses only. Prizing and samples provided by Crown Publishing.
Bobby Flay FIt Cookbook Prize Package

About Bobby Flay
BOBBY FLAY, New York Times bestselling author and lifelong runner, is the chef-owner of the fine-dining restaurants Gato, Bar Americain, Mesa Grill, and Bobby Flay Steak and numerous Bobby's Burger Palaces. He is the host of many popular cooking shows on Food Network—from the Emmy-winning Bobby Flay's Barbecue Addiction to Iron Chef America, Beat Bobby Flay, and Food Network Star—as well as Brunch @ Bobby's on Cooking Channel and the online series Bobby Flay Fit.