Invite Bobby Flay into your kitchen this holiday season with his newest cookbook: Bobby at Home. With 165 bold and creative recipes from his own kitchen, this is Bobby's most personal cookbook yet! Clarkson Potter sent me a copy and is partnering with me for a giveaway! Read below for all the details and a sneak peak at my favorite recipe from the book!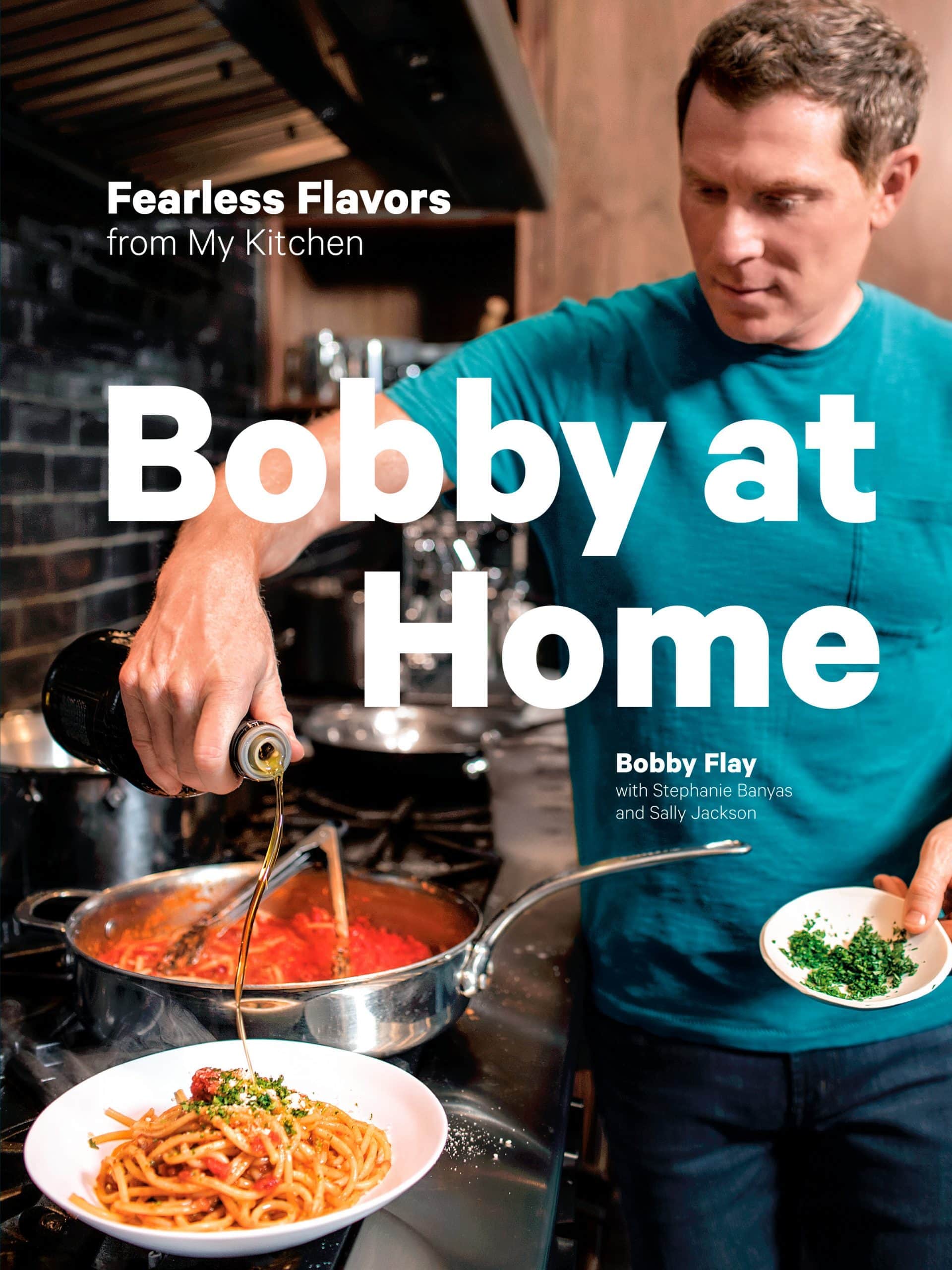 Do You Ever Need A Little Help In The Kitchen?
I believe that the holiday season is the time of year that we all spend the most time in our kitchens. Whether it is preparing food for our holiday meals or hanging out with friends and family, the kitchen is the focal point of my home during this time of the year.
While in the kitchen, I'm always looking for fun, new dishes to make for myself and my loved ones. And, while I certainly have my favorite "go-to" recipes that I've always used, sometimes this mom needs a little inspiration and help. Who better to help me out than one of the most famous chefs in modern-day times: Bobby Flay! Bobby Flay is not only a chef, he is an author, a restaurateur and a media personality. He's written 13 cookbook and has starred in 14 Food Network programs. He is actually the only chef in history to have his own star on the Hollywood Walk of Fame!
Bobby At Home: Fearless Flavors From My Kitchen
So, yeah, I think Bobby is a good guy to go to for a new recipe idea. Now, he has just come out with a brand new cookbook: Bobby at Home: Fearless Flavors From My Kitchen (published by Clarkson Potter). In this newest offering, Bobby Flay takes us in his own kitchen to show us his most personal recipes that he shares with friends and family. Along with easy-to-understand, straight-forward advice on how to execute these recipes, it's like having Bobby Flay in the kitchen with you while you cook!
Welcome to Bobby's, where powerhouse flavors rule the day. In his most personal cookbook yet, Bobby shares over 165 bold, approachable recipes he cooks at home for family and friends, along with his well-earned secrets for executing them perfectly. Everyday favorites–from pan-seared meats and hearty pastas to shareable platters of roasted vegetables, bountiful salads, and casual, homey desserts–go bigger and bolder with Bobby's signature pull-no-punches cooking style. Expect crowd-pleasing classics taken to the next level with exciting flavors, such as Spanish-style shrimp and grits, pumpkin pancakes with apple cider syrup, and sticky-savory-sweet Korean BBQ chicken. Riff on go-to dishes just as Bobby does with his master recipes for essentials, along with creative variations that take the base recipe in a range of directions to suit your mood, such as crispy bacon glazed with pomegranate molasses, deviled eggs topped with fried oysters, and mussels steamed in a heady green curry broth. With Bobby by your side, cooking at home just got a lot more exciting.
Some of the examples of the recipes found in Bobby at Home are:
Tomato Bread with Serrano Ham and Parsley Pesto (pg. 59)
Brussels Sprout Nachos with Pickled Chiles (pg. 63)
Corn and Scallion Salad with Cilantro-Mint Dressing (pg. 89)
Crispy Coconut-Scallion Rice (pg. 105)
Cranberries with Campari and Grapefruit (pg. 109)
Quick Bolognese Sauce (pg. 122)
Brick Chicken with Salsa Verde (pg. 135)
Grilled Skirt Steak Caprese (pg. 157)
Spanish-Style Shrimp and Grits (pg. 186)
No-Bake Chocolate Hazelnut Crema Catalana (pg. 210)
I took one look at this list and new that the first recipe that I had to try was the Quick Bolognese Sauce. My husband LOVES pasta Bolognese, so I knew this would make him happy! It turned out fantastic and both my kids devoured it! My husband came home from the gym super-hungry and made quick work of it too! At the bottom of this post, you can find the full recipe to try out for yourself!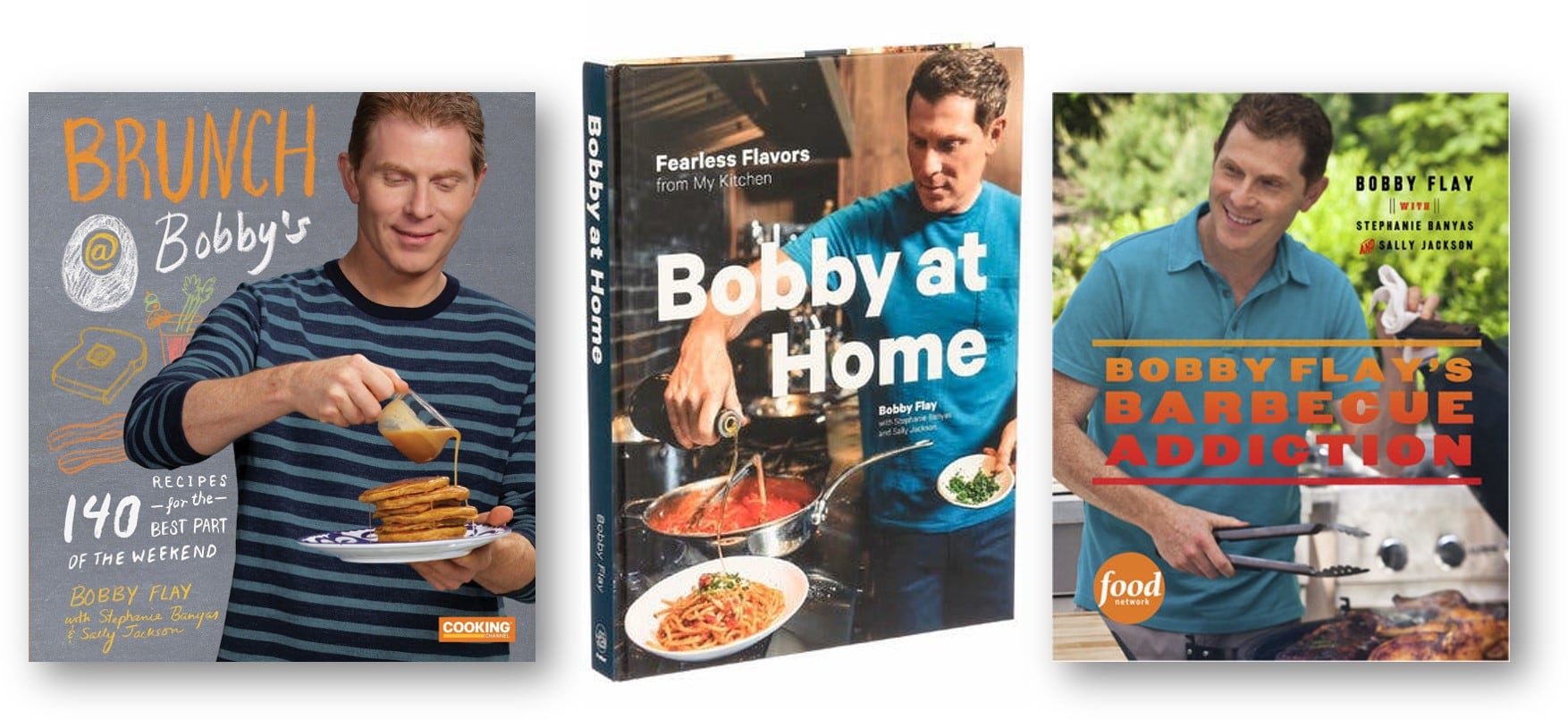 Enter To Win Your Own Copy Of Bobby At Home!
I am so excited to give one lucky reader a Bobby Flay Prize package that includes Bobby at Home along with 2 of his other cookbooks! This contest, sponsored by Clarkson Potter, is available to U.S. addresses only. It's easy to enter, just fill out the form below. Contest ends 12/4/19!
Bobby Flay At Home Cookbook Prize Package

Bobby Flay's newest cookbook, Bobby at Home, is available at bookstores now. So head out and get a copy for yourself or as a gift for a loved one! And be sure to head to BobbyFlay.com to learn more about this cookbook and stay up-to-day on all things Bobby Flay!
Be sure to check out my IG stories today as I show you some short little videos of me making Bobby's quick Bolognese Sauce!
Quick Bolognese Sauce
This is the quick Bolognese sauce that I made on an episode of Beat Bobby Flay—it had to be both really good and really fast. It is not the long-simmering version that you'd find in Bologna, but it's delicious in its own right.
Makes about 6 cups
MEAT
2 tablespoons olive oil
8 ounces bacon, diced
1½ pounds 80% lean ground chuck
½ pound 80% lean ground pork
1 teaspoon ground fennel
¼ teaspoon Calabrian chile flakes
Kosher salt and freshly ground black pepper
SAUCE
2 tablespoons olive oil
1 medium red onion, finely diced
½ medium carrot, finely diced
1 medium celery stalk, finely diced
1 small fennel bulb, finely diced
4 garlic cloves, finely chopped to a paste using the side of a chef's knife and ¼ teaspoon kosher salt
2 tablespoons tomato paste
1 teaspoon ground fennel
1 cup rosé wine
1 (28-ounce) can plum tomatoes and their juices
2 cups chicken stock
Kosher salt and freshly ground black pepper
¼ cup chopped fresh flat-leaf parsley leaves, plus more for garnish
1 tablespoon finely chopped fresh oregano
INSTRUCTIONS
Cook the meat: Line a plate with paper towels and set it nearby. Heat the oil in a large Dutch oven over medium heat. Add the bacon and cook slowly until the fat has rendered and the bacon is crisp, about 5 minutes. Remove with a slotted spoon and transfer to the paper towel–lined plate to drain.
Increase the heat to high, add the beef and pork to the pan, and season with the ground fennel, chile flakes, and salt and pepper to taste. Cook, stirring occasionally, until golden brown, about 10 minutes. Drain the excess fat from the pot and set the meat aside.
Make the sauce: Add the oil to the Dutch oven over medium-high heat and heat until it begins to shimmer. Add the onion, carrot, celery, and diced fennel and cook until soft, about 5 minutes. Add the garlic and cook for 1 minute. Add the tomato paste and ground fennel and cook for 1 minute more.
Add the wine and cook until reduced by half, about 3 minutes. Add the tomatoes and stock and cook until the tomatoes begin to soften, about 10 minutes. Using a potato masher or wooden spoon, coarsely mash the tomatoes. Season with salt and pepper and cook until the sauce comes to a boil and begins to thicken slightly, about 15 minutes. Add the meat to the pan and cook until the sauce thickens and combines, about 20 minutes more. Remove from the heat. Fold in the parsley and oregano and season with salt and pepper. Use immediately, or let cool to room temperature, transfer to an airtight container, and store in the refrigerator for up to 3 days in the freezer for up to 1 month
Reprinted from Bobby At Home. Copyright © 2019 by Boy Meets Grill, Inc. Photographs copyright © 2019 by Ed Anderson. Published by Clarkson Potter, an imprint of Penguin Random House, LLC