We were craving sandwiches this weekend. I think it must be the weather.  When it gets colder outside we love hot soup and sandwiches inside.  I went to the grocery store to get some deli meats and cheeses and some soup. It was good timing because Boar's Head recently contacted me about doing a review of their premium meats and cheeses, of course I said yes.
At Boar's Head we start with only the finest ingredients available, just as we've done continuously for over a century. We are proud to say that our meats and cheeses contain no fillers, gluten, artificial colors, flavors or trans fat. We wouldn't put anything in our products that you wouldn't put on your own table.

We use pure beef, pork and poultry, and real spices. Our ham is trimmed by hand the old-fashioned way, and our turkey and chicken is oven roasted, just the way you roast yours. Most importantly we maintain unwavering standards of quality.

That's why some of America's most prestigious, quality-conscious delicatessens, gourmet stores, and select supermarkets stake their reputations on the Boar's Head Brand.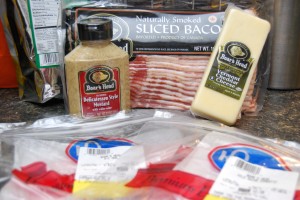 My main grocery store doesn't carry Boar's Head, but the Kroger store down the street did.  I picked up some ham and Swiss cheese from the deli counter and found a large selection of meats and cheeses that came pre-packaged.  I picked up some Vermont Cheddar, some Boar's Head deli mustard and a package of Boar's Head bacon. We cooked up some bacon and made some BLTs.  It has been a long time since I have had a BLT and it was fantastic.
I was very impressed with the selection of meats and cheeses that Boar's Head offers.  There are packaged salami and peperoni that would make a delicious appetizer tray this Thanksgiving.  They have a very large assortment of cheeses.  You could pick a few and add it to the appetizer tray.
Check out this Holiday Turkey Wreath for the holiday season: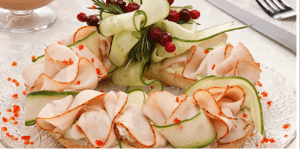 Even if you aren't very crafty, use this wreath as inspiration and create your own version.
Ingredients

½ lb Boar's Head Ovengold® Turkey Breast,

Thinly Sliced

3 Rosemary, Sprigs

1 medium Boar's Head Goat Cheese

1 large Cucumber, unpeeled, Trimmed

2 small Roasted Red Peppers, Diced

1 large round loaf crusty bread

Directions

Servings: 6-8

Make the cucumber ribbons by cutting thin strips of

cucumber lengthwise with a vegetable peeler, making

sure there is a line of green peel on both sides. Cut

until you reach the seeds and then turn, repeating the

cutting. Set aside.

Cut the bread by placing it on its side and pointing the

knife at about an inch off the bottom. (Use the top of

the bread for another recipe.) Use a sharp knife to cut

out a hole in the center of the bread (like a big

doughnut) and discard. Spread the goat cheese

around the loaf. At the bottom of the wreath, place

two cucumber ribbons in an upside down V and make

a V-slit in the bottom of the cucumber as pictured.

Twist and curl each slice of turkey and place around

the wreath. Place a few cucumber ribbons around the

wreath as seen in the picture and gather cucumber

ribbons at the top center, placing over the turkey.

Stick fresh cranberries onto toothpicks and insert at

the top of the wreath. Add fresh sprigs of rosemary.

Sprinkle overall with the roasted peppers.
This product review was made possible by Boar's Head.  I was not compensated for this review other than a product sample. All opinions are 100% mine.