I admit, I love a good trend but not when it comes to how I remodel my home. I want a design that isn't going to go out of style in a few years. When spending a lot of money to remodel something it is important to look in terms of what will go the distance.
So, I was very surprised when I heard about the new trend in kitchen appliances, black stainless steel.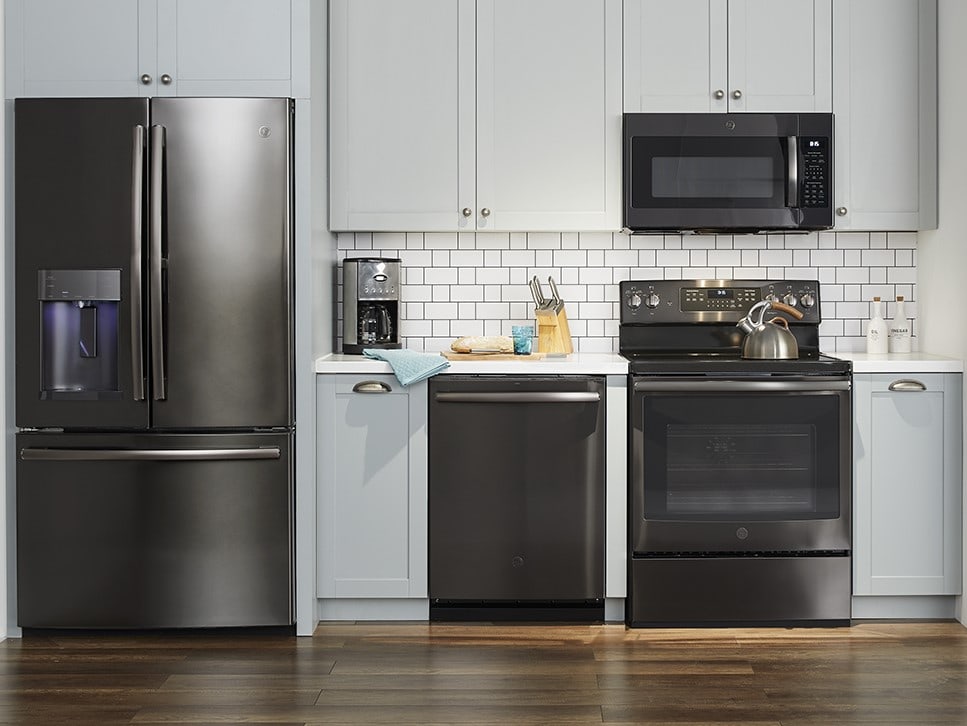 I am in love with this look.
Black Stainless Steel Appliances
Black stainless steel appliances are beautiful and I think this is going to be a long-term trend.  The dark coloring goes well with almost any cabinet finish and will complement many different styles of kitchen decor from farmhouse to modern.
My husband and I have been renovating our house from room to room.  We are nearly finished and just have one bathroom and the kitchen left.  I really want to take my time and get the kitchen of my dreams so we are saving it for last. I hadn't considered black stainless steel before but after seeing them in person and seeing the quality for myself, I am strongly considering them now.
GE Premium Finish Options Appliances
When we look for new appliances, we look at our local Best Buy store first. We noticed the GE Premium Options Appliances right away. GE is the leader in premium finish options, giving us the ability to design a unique kitchen package suited to our own personal needs and style.
You can find GE Premium Appliances in several finish options such as:
Stainless Steel
Black Stainless Steel
Slate
Black Slate
I have to say that their black stainless finish is pretty impressive. Some things I noticed about the black stainless finish is that it really stands out:
Bold and sophisticated appearance
High-gloss finish that makes a statement in any kitchen
Fingerprint-resistant and easy to maintain and clean
Black Stainless was designed for those who want to make a statement. Combining a glossy, bold black hue and the contemporary brushed metal appearance of stainless steel. Black Stainless adds sleekness and originality. If you have a family with small children you will love that it wipes clean in seconds, remaining free from smudges!
You can learn more about the GE Premium Finish Options including the beautiful black stainless steel at Best Buy on their website!