My absolute favorite princess movie is Cinderella.  In fact, I was Cinderella once in a wedding!  I wish I could find some pictures!!!  I think I watched that movie over a hundred times when I was a kid (you know, back in the VHS days).  I was so excited to hear that Disney was releasing it in HD.  I am so excited to own a copy for my little girl to watch when she gets a little older!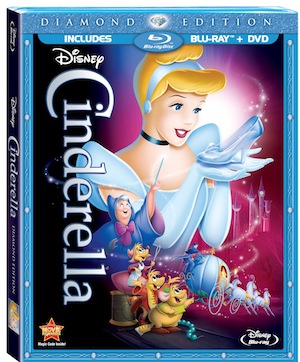 At the stroke of midnight, October 2nd, dreams will come true as Disney releases  CINDERELLA: DIAMOND EDITION on Blu-ray Combo Pack, Digital and On-Demand viewing. The timeless and beloved masterpiece is an enchanting classic that comes alive for the very first time on Blu-ray high definition with enhanced picture and sound. Bonus material includes  "The Real Fairy Godmother" the incredible true story of Mary Alice O'Conner who was the inspiration for the character of the Fairy Godmother, "Bibbidi-Bobbidi-You" a second screen personalized digital storybook and more!
In addition to early sketches of the glass slipper and Fairy Godmother, the studio has released historic photographs from the live action reference film shot for Cinderella that combines live action with hand drawn art. The film was printed in small story sketch size and used to help guide the design and layout of the film. In 1950, this was an experimental technique that the team was using for this film to help integrate the live action reference footage into the animation and thereby help the project stay within budget. Helene Stanley, the actress featured in these photographs also served as a model for "Sleeping Beauty" and "101 Dalmatians."
Aren't these sketches amazing?  I love to look at them:

Little girls everywhere will be falling in love with Cinderella.  I know I fell in love with her all over again!  Here is why:
Cinderella doesn't have a mean bone in her body. She cares about animals and people alike.  All of the Disney Princesses are great characters for young girls to admire, and Cinderella is no different.  Don't forget to go out and purchase your copy of Cinderella:Diamond Edition before it goes back into the dreaded Disney Vault!
In the mean time, you can even print out your own Cinderella coloring pages!  Just click below:
This product review was made possible by Disney and  Click Communications.  I was not compensated for this review other than a product sample provided by the company or PR firm. All opinions are 100% mine.