Is a smart smoke detector something you have been thinking about installing but didn't know which one to purchase? Today we are talking about our new smart smoke detector the First Alert Onelink Safe & Sound Smoke and Carbon Monoxide (CO) alarm. Read on to find out if this product is a good fit for your family.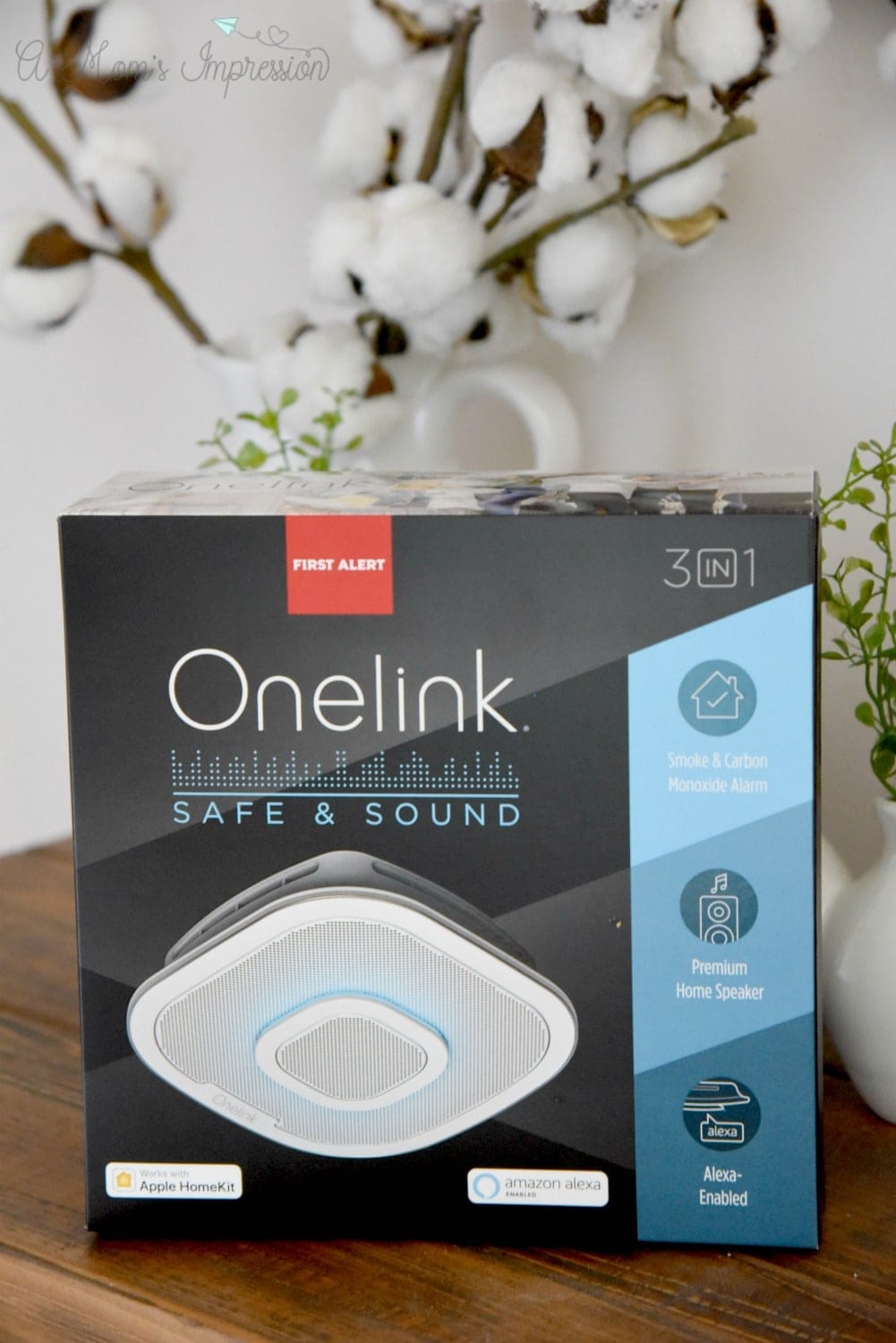 This post is sponsored by First Alert as part of the Mom It Forward Influencer Network.
As a mother, I am constantly worried about the safety of my family.  Yes, some of these concerns are completely unfounded and silly, but a number of them are very real.  One safety concern that I think about often is our home catching on fire. Home fires occur more often than you may think. Nearly 3000 Americans die each year from home fires. A number of these fatalities could have been avoided if smoke alarms were installed and maintained properly.
We all see them on our ceilings, but how much thought do we really put into them?  Are they in the right area of the house? Are they installed correctly? How old are they?  Is the battery bad? Do you have one on both levels of your house? Can it detect deadly CO gas? It's pretty overwhelming, right?
It doesn't have to be.  We have just installed the First Alert Onelink Safe & Sound Smoke and Carbon Monoxide (CO) alarm in our home and I am sleeping much better at night.  First Alert has been in the business of smoke, fire and CO prevention for 60 years. In that time, they have provided a legacy of excellence in keeping your family and your home safe.
Onelink Smart Smoke Detector
What makes the Onelink Safe & Sound so great? First of all, it is just making my life so much easier.  It is the very first smart smoke detector and CO alarm with a superior home speaker and Amazon Alexa built in. This means that you can play music from the device and use Alexa to give it commands.  Onelink Safe & Sound is also Apple HomeKit enabled and can be controlled with the Apple Home app or even by using Siri.
I was blown away by the quality of the sound that came through the alarm when my daughter asked Alexa to play some Justin Timberlake.  Having the natural acoustic backdrop of the ceiling really helps!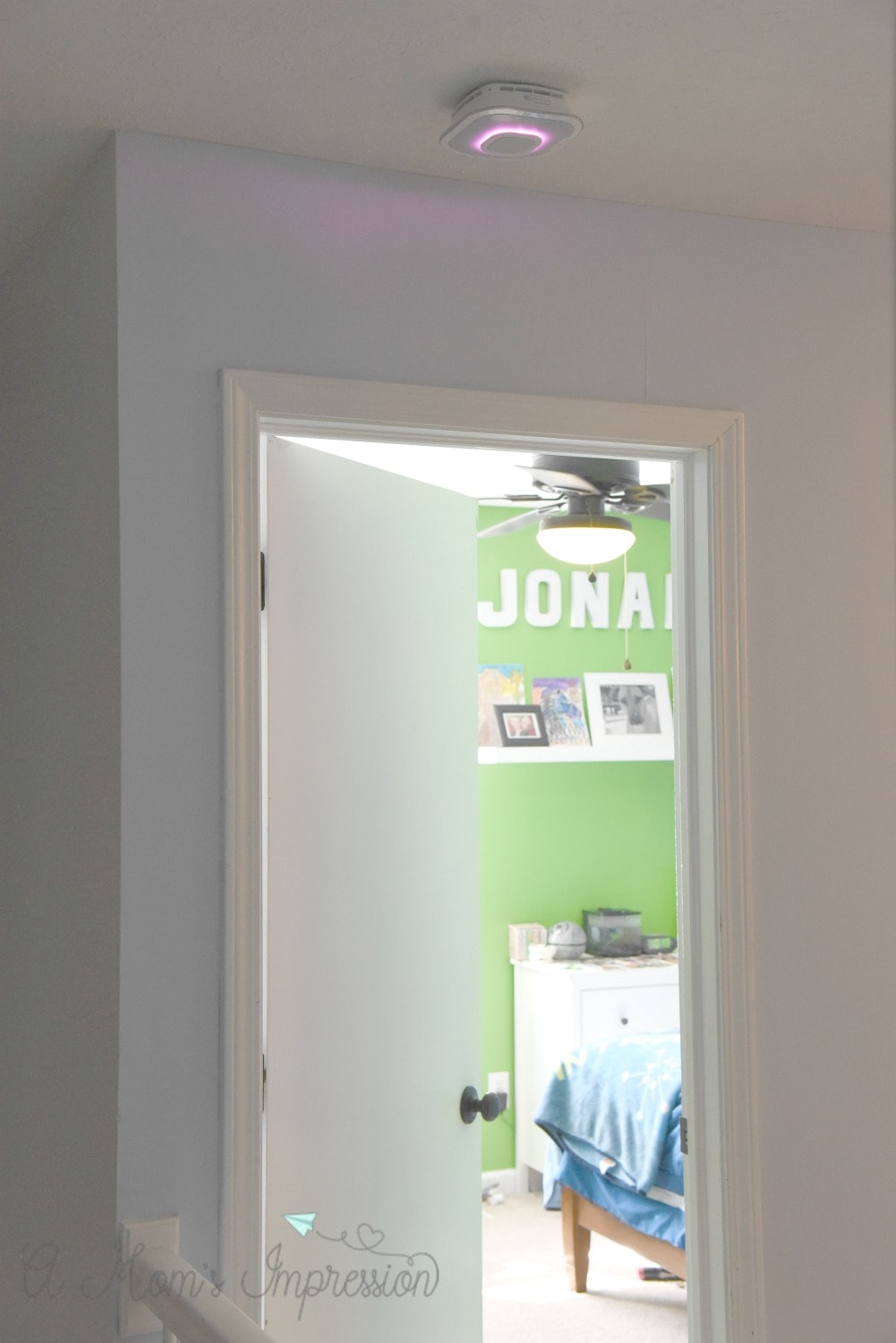 The alarm also has a customizable night light.  There is a very modern looking light ring around the device and you can adjust its brightness and color to just about anything you would like.  It can also automatically adjust to the ambient light, getting brighter as the room dims. With the easy-to-use Onelink Home app, you can tinker with all of this. My daughter had a blast changing the color.  She (of course) ended up choosing pink! This is one of my favorite things about the Onelink Safe & Sound. We often have our little ones getting up to use the bathroom in the middle of the night and the nightlight gives our upstairs hallway a nice warm and safe glow.

Carbon Monoxide Alarm
Beyond the slick functionality of the Onelink Safe & Sound Smoke and CO alarm, the most important aspect of this device is that it keep my family, well……safe and sound.  I love the fact that it has a CO detector built into it. CO is terrifying because it is a colorless and odorless gas that you may not even know is poisoning you and your family until it is too late.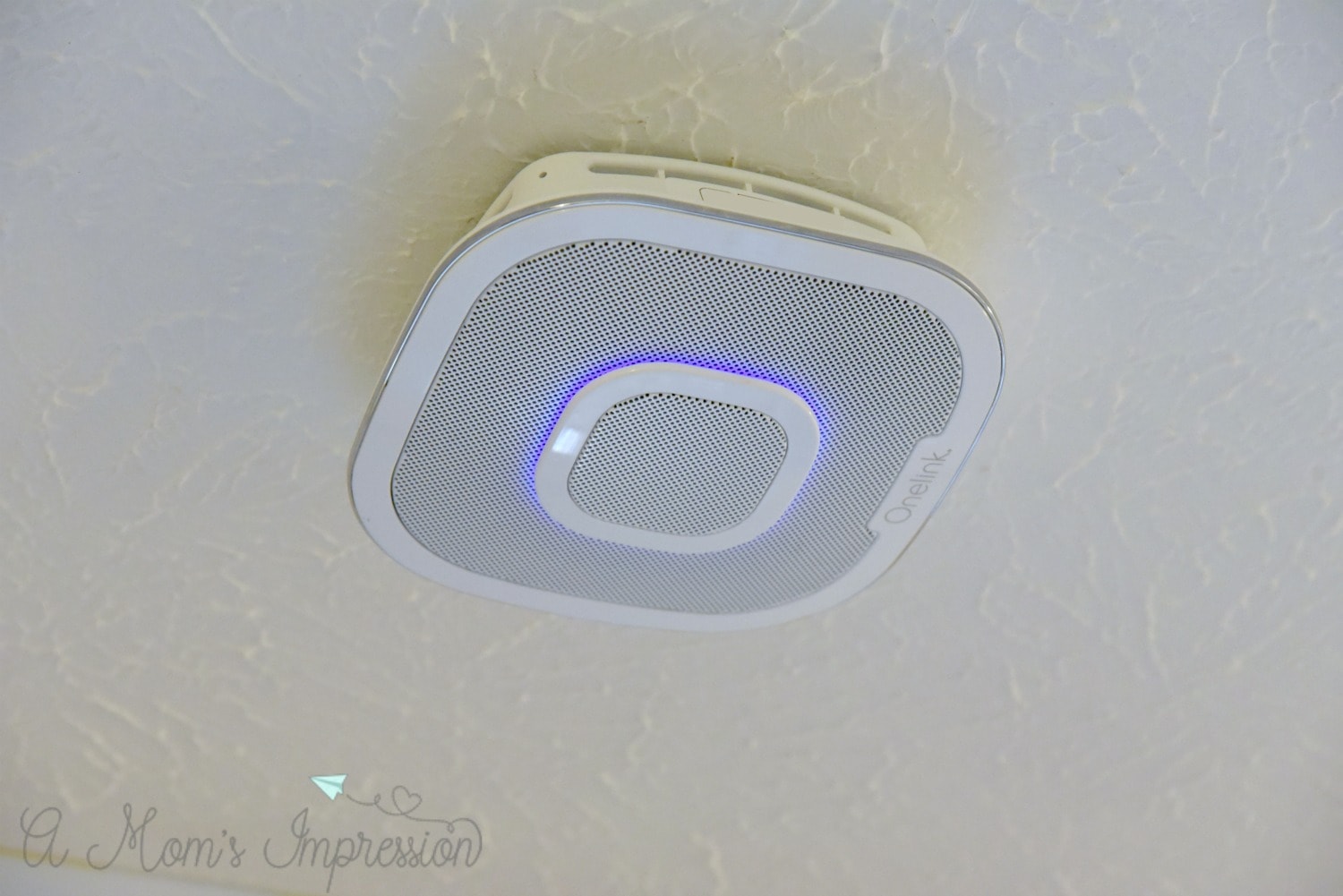 While being linked to your phone with the Onelink Home App or the Apple Homekit, the alarm can also alert you wherever you are in case of a smoke or Carbon Monoxide emergency.  Onelink can tell you the type of the emergency and the location in the home. The National Fire Protection Association recommends that you have an alarm on each level of your house.  Onelink Safe & Sound is also designed to work with many existing interconnected hardwired alarms in your house. This enables you to keep some of the alarms you already have installed.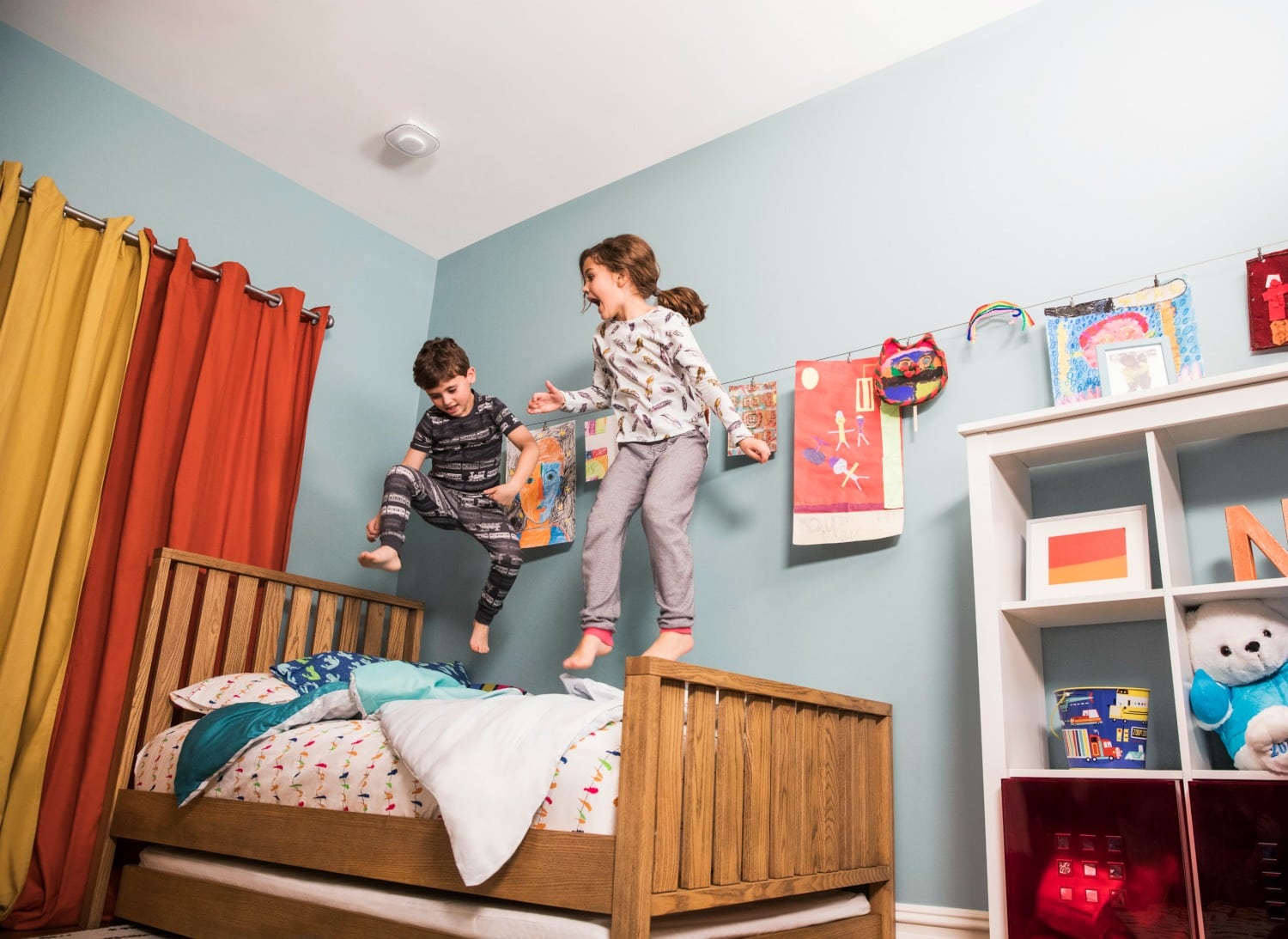 Installing a Smart Smoke Detector
The smoke and CO alarm was also a breeze to install.  From opening the box to powering it on, my husband was able to install it in about 25 minutes.  Onelink has included several integrated adapter plugs so your device easily installs into just about any situation you may have from your previous alarm.  There is no rewiring required.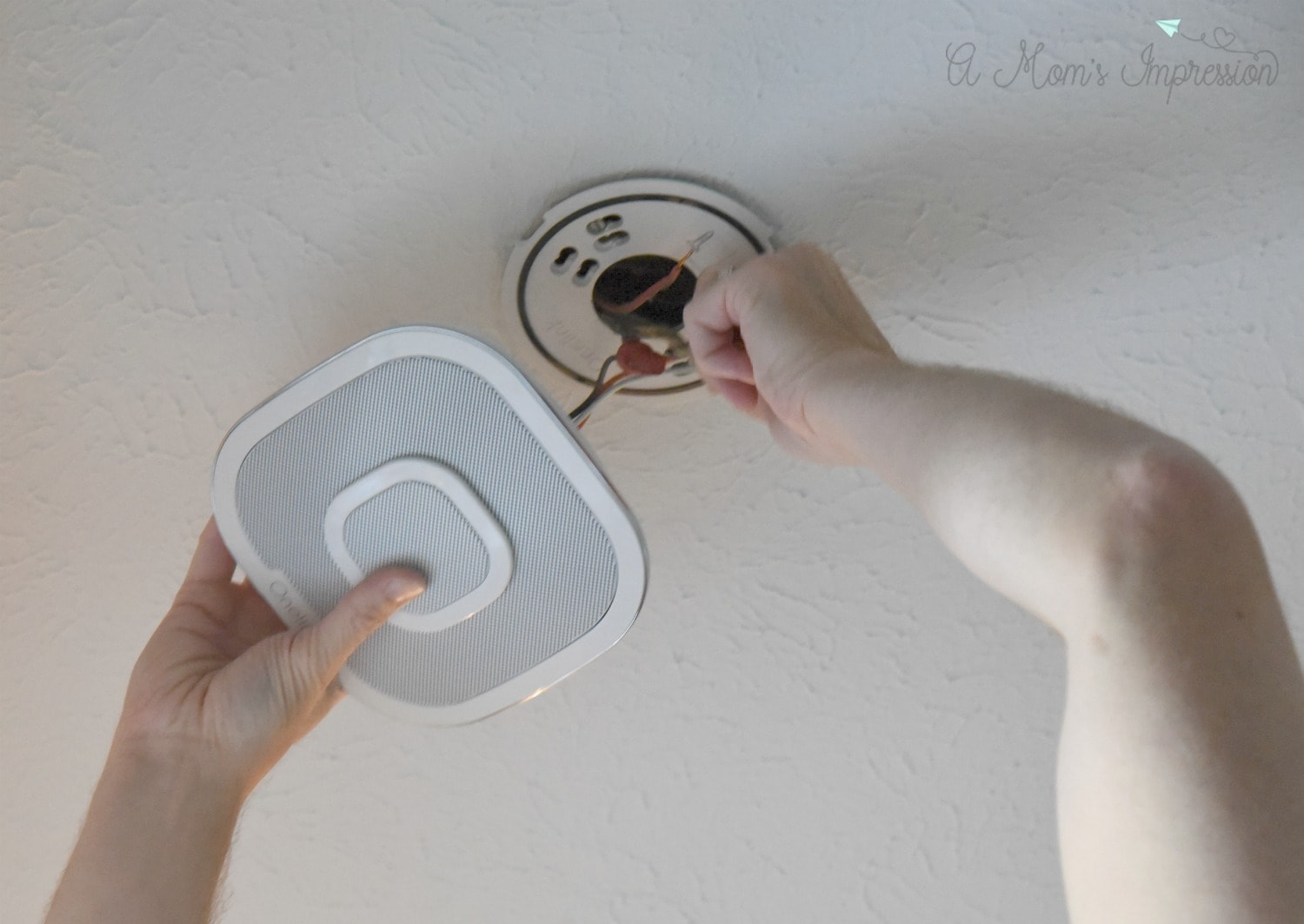 Once we powered it on, we immediately had Alexa welcoming us and advising us to download the Onelink Home App to continue with the setup.  We were able to do this and pair our phones with the alarm in just a matter of minutes. It was so easy!
I love the fact that we are no interacting with our smoke and CO alarm on a daily basis.  Onelink Safe & Sound is no longer this forgotten device on my ceiling, it has become more like a member of our family looking out for the safety of all of us.
For more information be sure to check out OneLink Safe & Sound. You can purchase it at retailers nationwide for $249.99.