I am constantly striving to give my family healthy, all natural food to put in their bodies.  But honestly, I have not had the same concerns when it comes to our oral care.  I have been lucky to be introduced to Tom's of Maine Whole Care Mouthwash.  As a natural mouthwash, I can feel great about giving it to my family. Here are some reasons to start using a natural mouthwash.
Disclosure: Products and compensation were provided to me by Tom's of Maine, but my opinions are my own.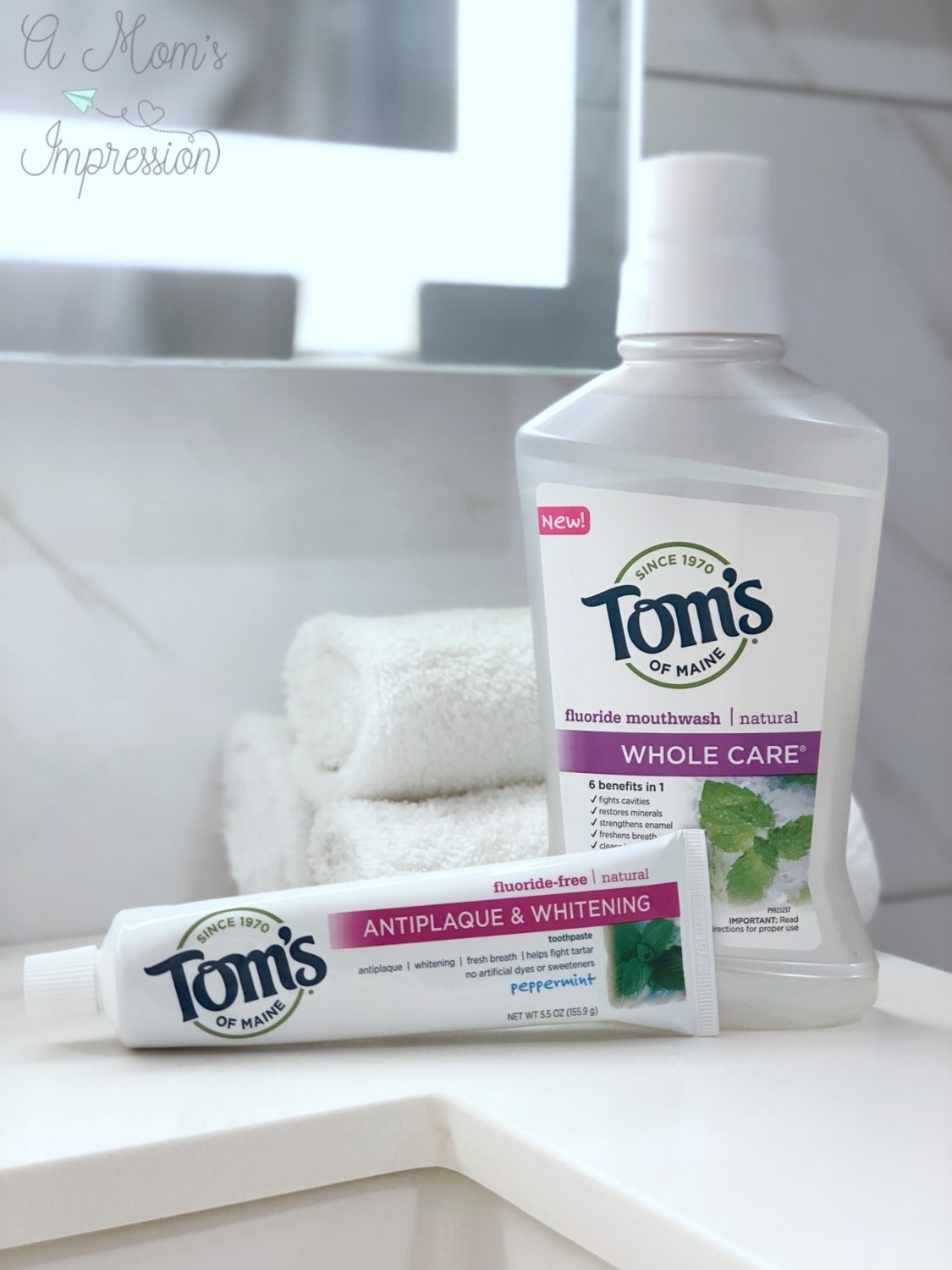 Not All Oral Health Products Are The Same
Choosing which mouthwash to use used to be a simple endeavor.  I would just buy whatever was on sale. I was aware that some mouthwashes were made with alcohol and some were not.  But I didn't put too much thought into it. I never looked at the labels.
I believe that society as a whole has begun to wake up to the fact that it matters what we put into our bodies.  Finding healthy, natural, Non-GMO and organic foods has become a priority for many individuals. I have two growing children and I am very aware that what I put into their developing bodies has real consequences.  My husband and I are constantly thinking about this every time we cook dinner or pack their lunch for school.
So, it is crazy that I never put that same amount of thought into the mouthwash we were using.  It never occurred to me that many of these mouthwashes contain alcohol, artificial dyes, and preservatives.  Well, I have been pleased to discover that there is an alternative to that: Natural Mouthwash.
Benefits of Using a Natural Mouthwash
When you use a natural mouthwash, you can be sure that you are putting the same amount of care into your oral care that you are putting into your diet.  Some mouthwashes that are high in alcohol can irritate the gums. Using a natural mouthwash is a great option for those with sensitive gums and teeth.
I also wanted to know if there are any artificial additives in the mouthwash.  Some of these are simply added for color or for flavor and do nothing to help you have a clean mouth and fresh breath!  Once artificial ingredients are added to a mouthwash, you really aren't necessarily following a healthy oral routine anymore.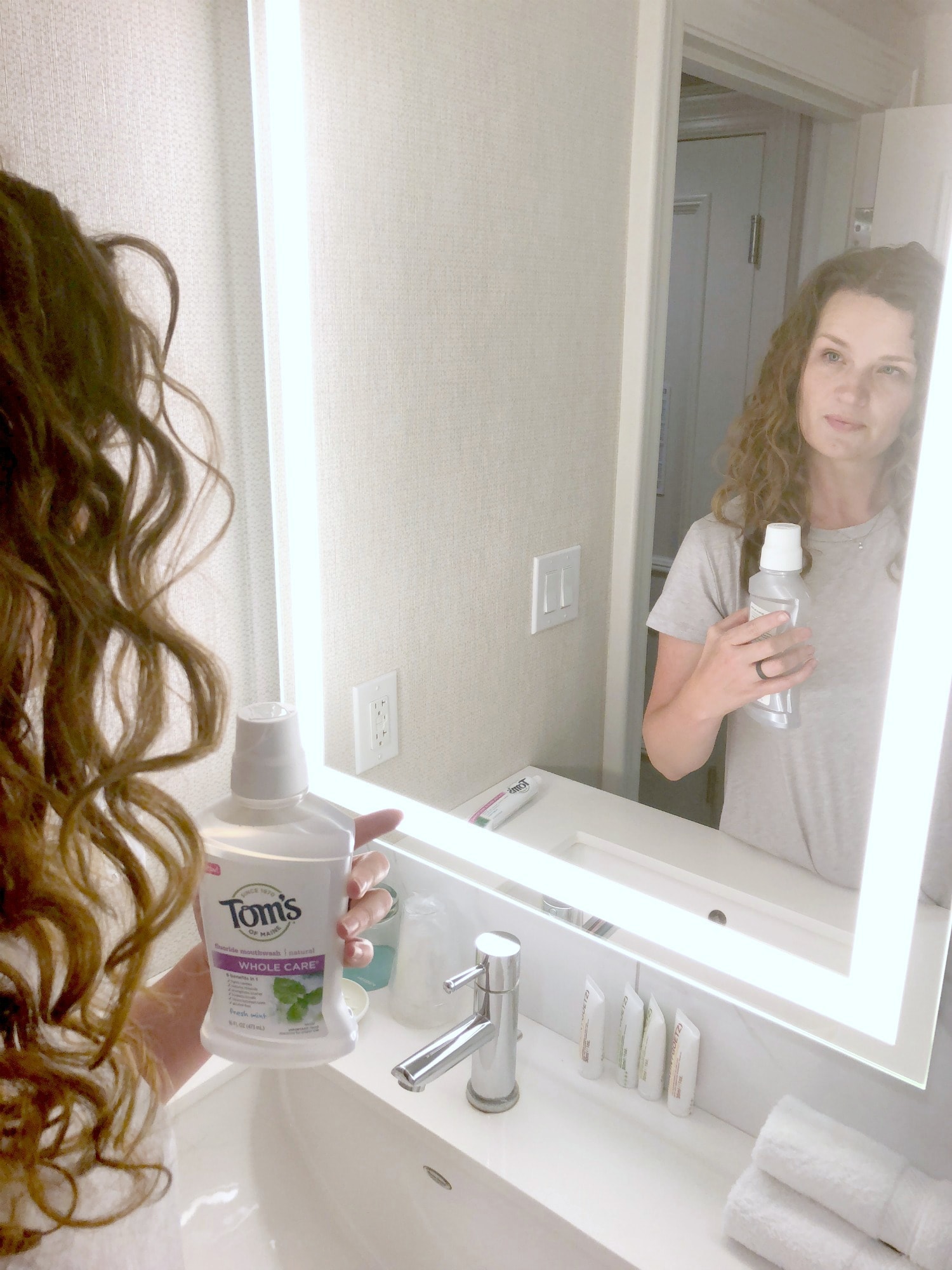 How is your mouthwash developed?  Was it tested on any animals? I am certain that I don't want to be using any products that come from animal testing.  Also, what do you know about the company that is manufacturing this natural mouthwash? I firmly believe that, due to technology, our world is getting smaller, not bigger.  We are all more connected than ever. I want companies that I support to have a positive influence on the world around me.
Luckily, I have had the opportunity to receive Tom's of Maine Whole Care Fluoride Mouthwash and am happy to tell you that it checks all of these boxes!

Tom's of Maine Whole Care Fluoride Mouthwash
Tom's of Maine Whole Care Fluoride Mouthwash is an effective, natural mouthwash that has been clinically proven to protect against cavities.  It is able to do this without any artificial colors, sweeteners or preservatives. We pair this with our favorite Tom's of Maine toothpaste and Naturally Clean toothbrush to make sure our family is getting a healthy, natural smile with the freshest breath possible.
Tom's of Maine Whole Care Fluoride Mouthwash offers 6 benefits in 1.
Fights Cavities
Strengthens Enamel
Restores Minerals
Freshens Breath
Cleans Between Teeth
Alcohol-Free
I feel great about using this product because Tom's of Maine stands by its practices.  They guarantee no artificial colors, flavors, fragrance or preservatives. You can even find out exactly what they mean by "natural products" on their website.  Tom's of Maine has spent more than 48 years developing natural personal care products.  They have always been determined to develop natural products with responsible and sustainable practices.  This is done by maximizing the recycled content of their packaging, giving 5% of employee time to volunteering and giving 10% of their profits back to helping people and the planet.  They also do not test any of their products on animals. Again, you can go to their website to learn much more about how Tom's of Maine strives to make our world a more natural, sustainable place.
As a result of working with Tom's of Maine, we have adopted their products into our daily oral health routine. Now we know how to naturally, effectively fight bad breath, fight gum disease and keep our teeth strong and healthy.  All of this while making the world a better place.
Tom's of Maine Whole Care Fluoride Mouthwash: a clean mouth, naturally.