A couple weeks ago I had the amazing opportunity to tour the Feld Entertainment with a behind the scenes look at Marvel Universe Live.  Being a huge Marvel fan, I was ecstatic to visit Feld Studios and learn more about this live action show. My tour included a look at the rehearsal facilities, an up-close look at the thrilling, new production elements,  interviews with the cast and crew, a sneak peek of a full show run-through as well as some interactive and hands-on stunt experiences.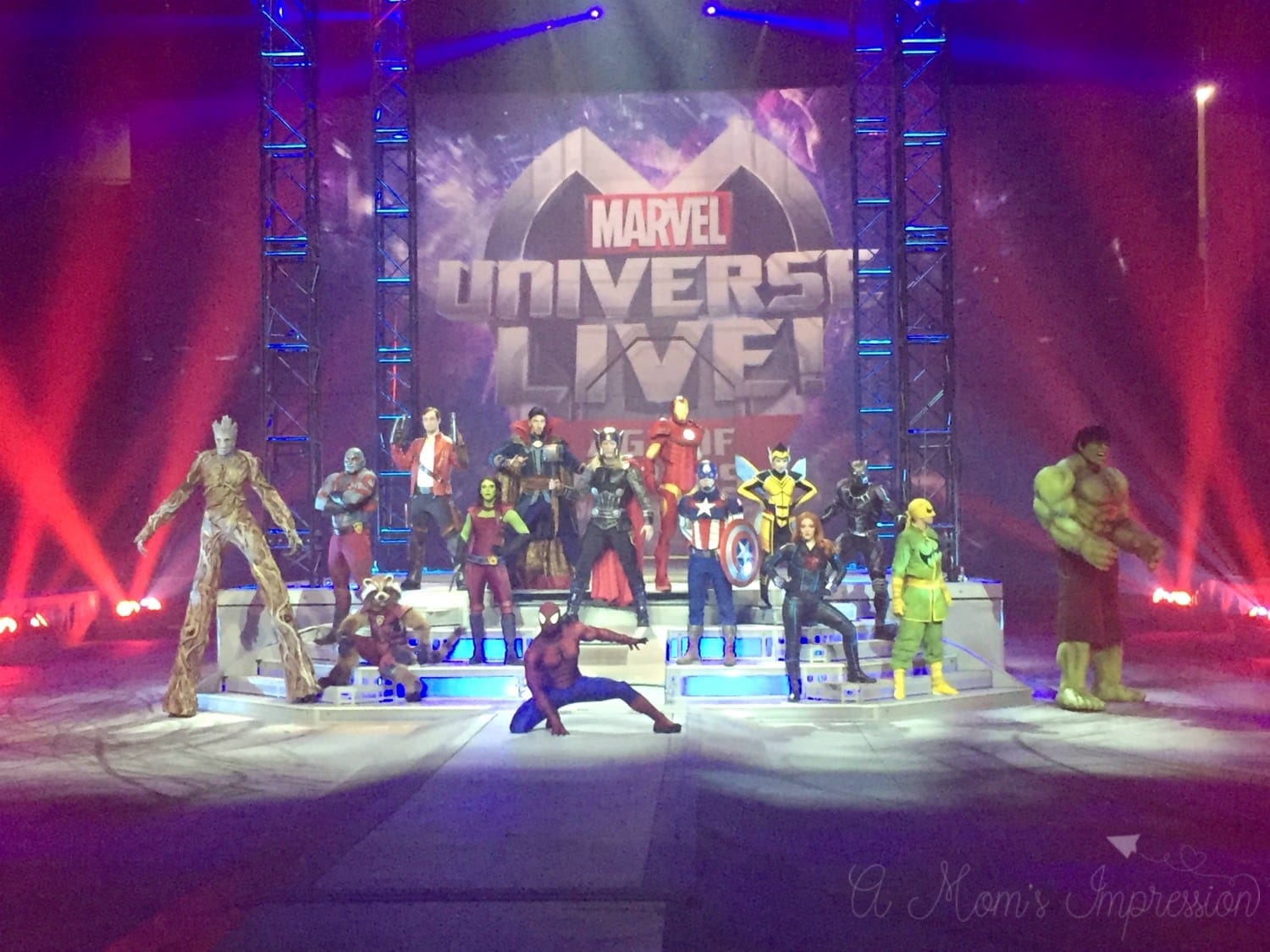 Marvel Universe LIVE! Age of Heroes
If you have been to a Marvel Universe LIVE you know that you can expect a great show.  They have a little bit of everything from all your favorite Marvel characters to amazing stunts, dancing and fight scenes.  Our Marvel Heroes are back with an all-new adventure in Age of Heroes.
Prepare for an action-packed, legendary battle to defend the universe from evil. Spider-Man, the Avengers and the Guardians of the Galaxy join forces with Doctor Strange, master of the mystic arts, in a race against time to recover the Wand of Watoomb before it falls into Loki's hands.
Behind the Scenes Experience
Feld Entertainment Studios is a huge place where they house everything that they need to create their live shows such as Disney on Ice, Monster Jam, and Sesame Street Live.  They even build the Monster Jam vehicles on the property! As you can imagine the place is massive and currently the cast and crew of Marvel Live are putting the last pieces of their show together before bringing it on the road for two years.
We had the opportunity to talk with some of the cast about their roles in the production. It all started with a chance to see the motocross bikes in action.  This is not something I had ever seen close up and I was amazed at everything that has to be coordinated and practiced to make sure nobody gets hurt. It really is a beautiful art form.
I had the chance to talk with some of the actors like Hilary Kadoya, who plays Rocket, and Kaitlin Murdock, who plays Black Cat.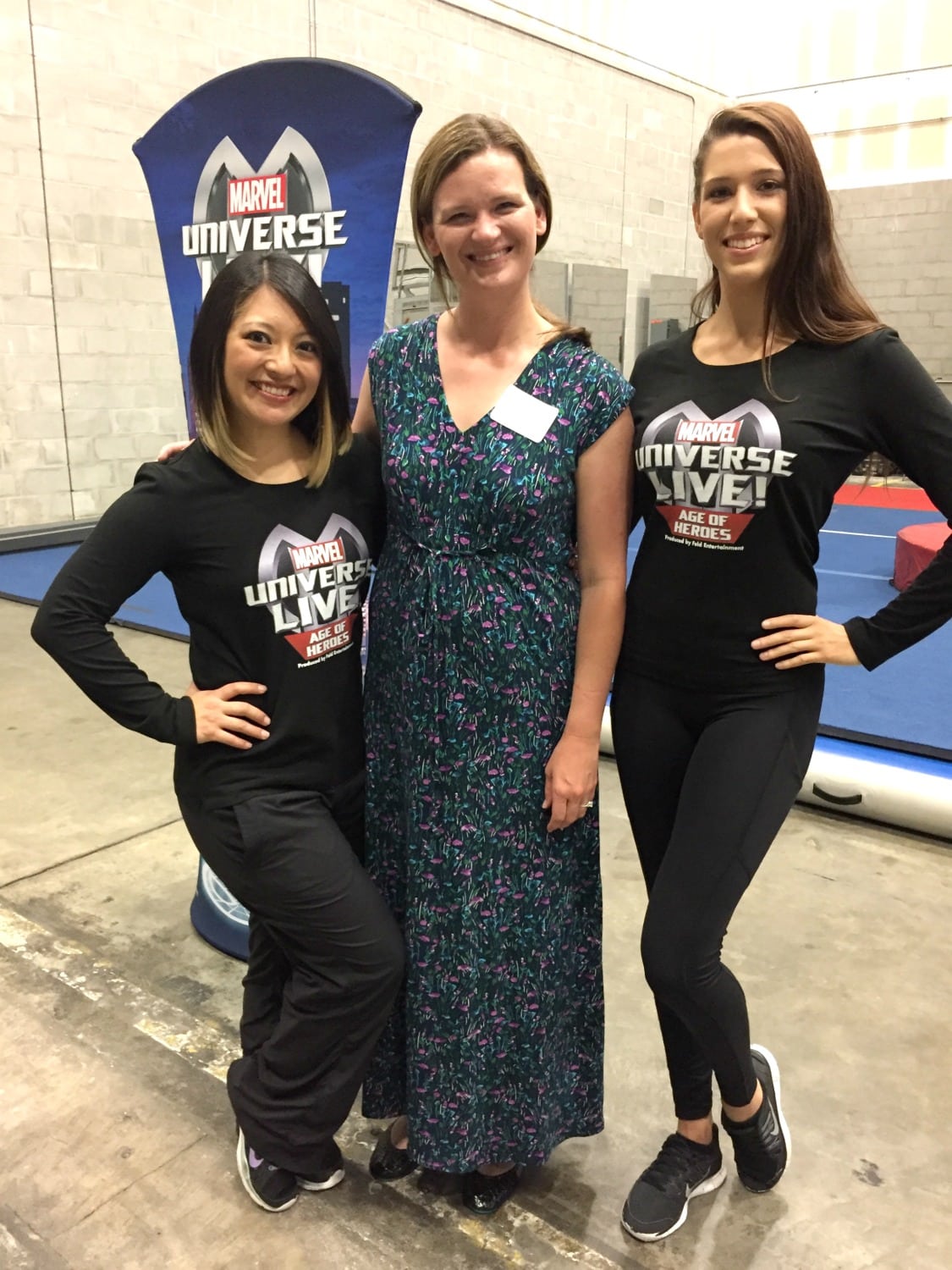 Rocket was my favorite character in the show Hilary has some amazing gymnastics moves and plays the character amazingly well considering she is completely covered from head to toe when she is performing these acrobatics.
Speaking of acrobatics, the show contains silk dancers.  I was mesmerized when I saw them perform.  I can't imagine the discipline it takes to be able to learn how to do it.  We had the opportunity to try to do it and I can say it is as hard as it looks!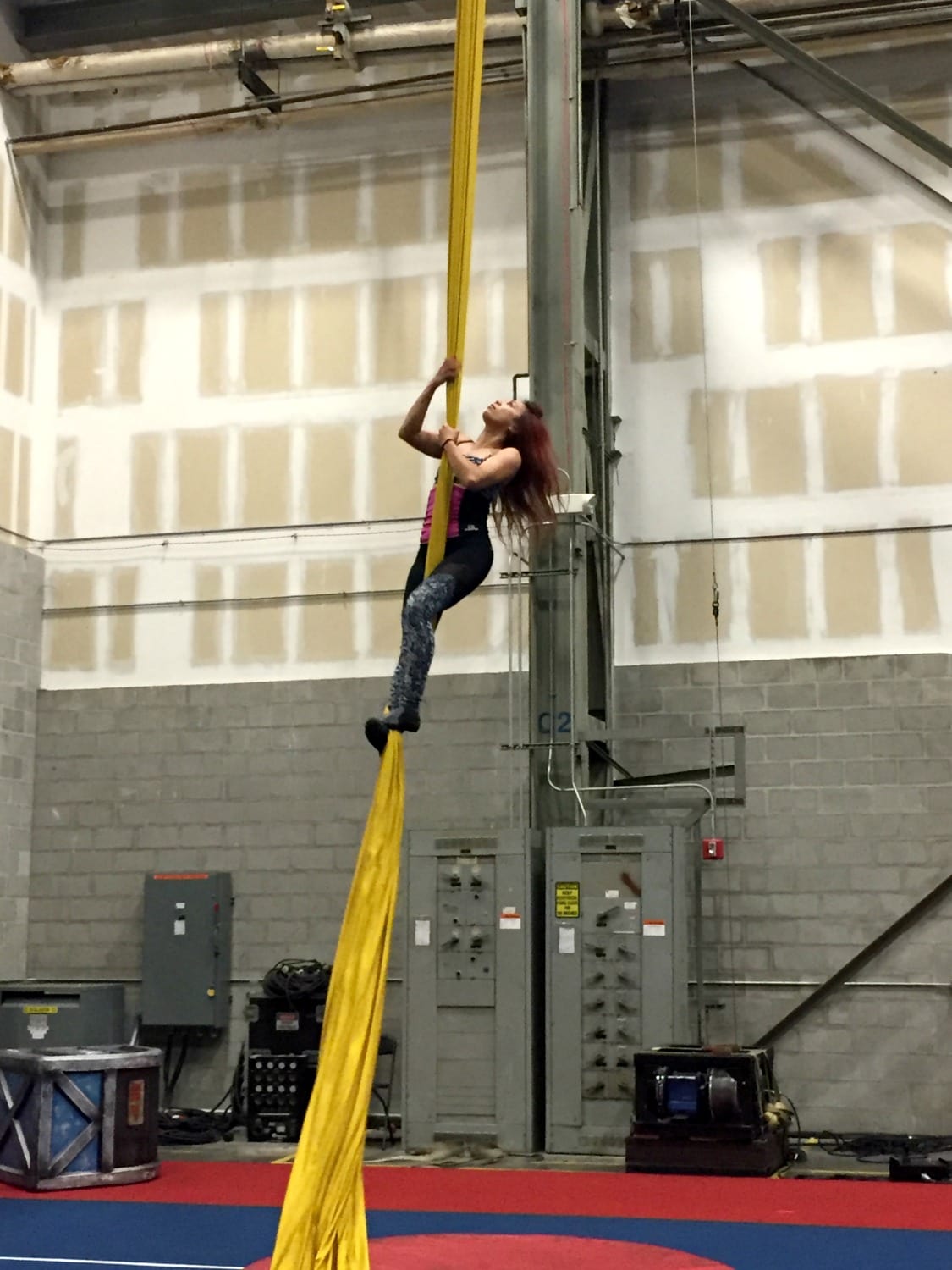 Marvel LIVE! Costumes
I think my favorite part of the behind the scenes tour was seeing all the costumes up close and personal. Creating costumes for iconic characters has to be challenging.  We all know exactly what these characters look like and expect them to look exactly the same as in the movies.  Marvel Live costumes also have to be able to allow their actors to move and perform stunts.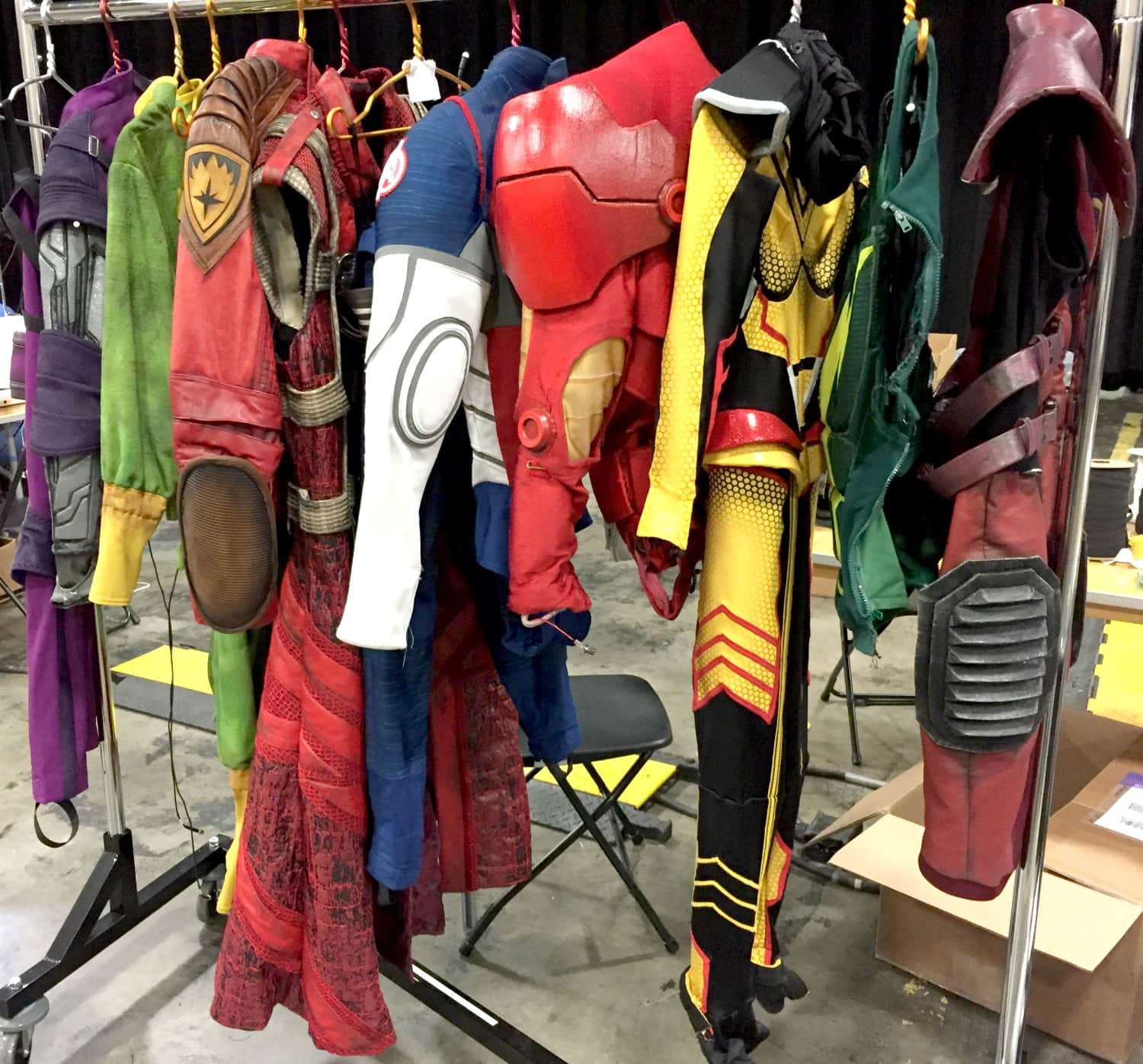 I was in awe as the costume designer allowed us to touch and feel all of his hand-made creations.  The black and yellow jumpsuit is Wasp's costume and it will be the first time that anyone will get a chance to see what she is going to look like as she is a newer character in the Marvel movies.  Besides Rocket, she was my favorite character in the show!
I have to show you all this amazing Groot mask that they created.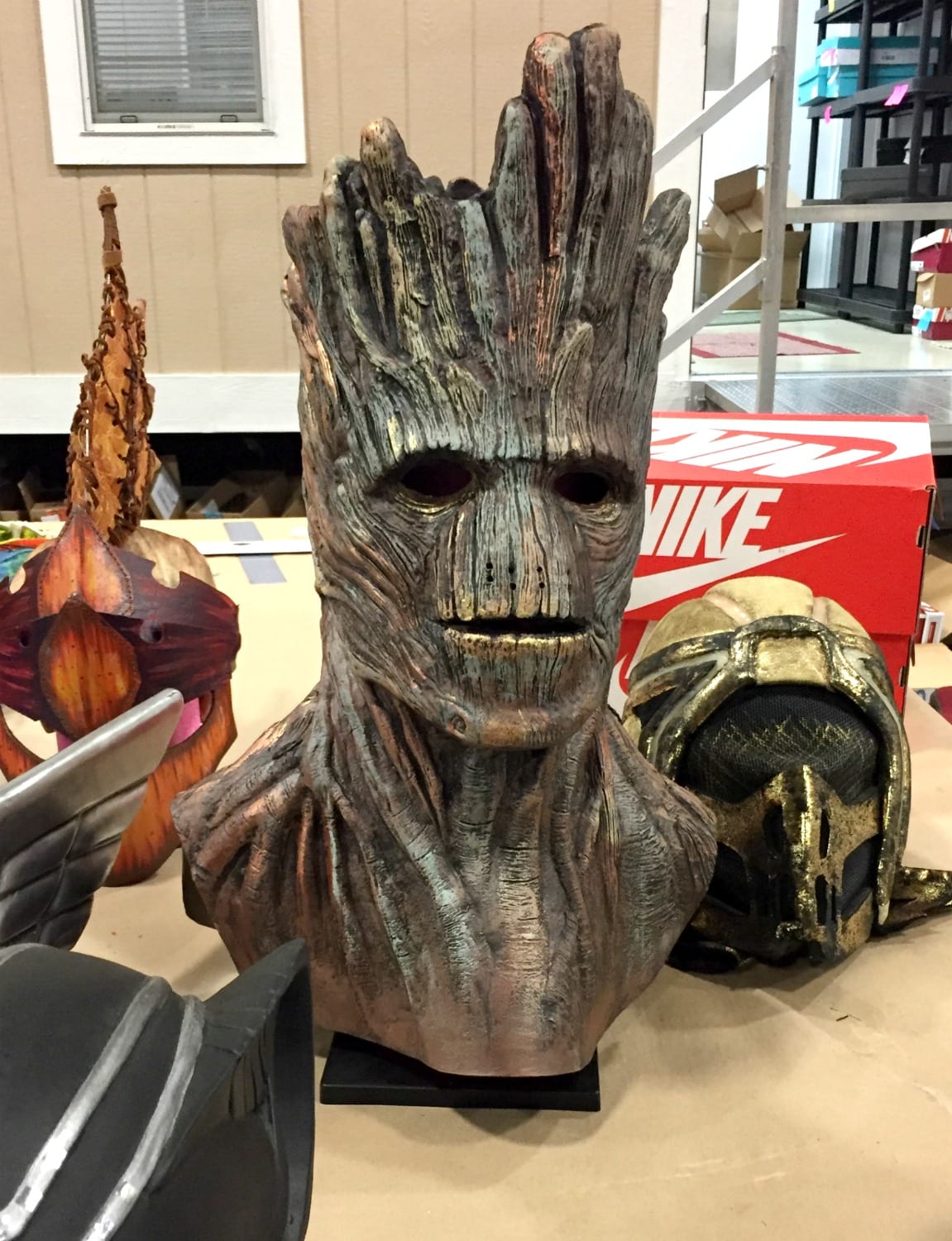 Groot himself was a complete work of art.  The actor that plays him is wearing stilts and can move around the stage as if he wasn't wearing them, it was impressive.  His entire costume was beautiful!
Later on, I got in on the costume action: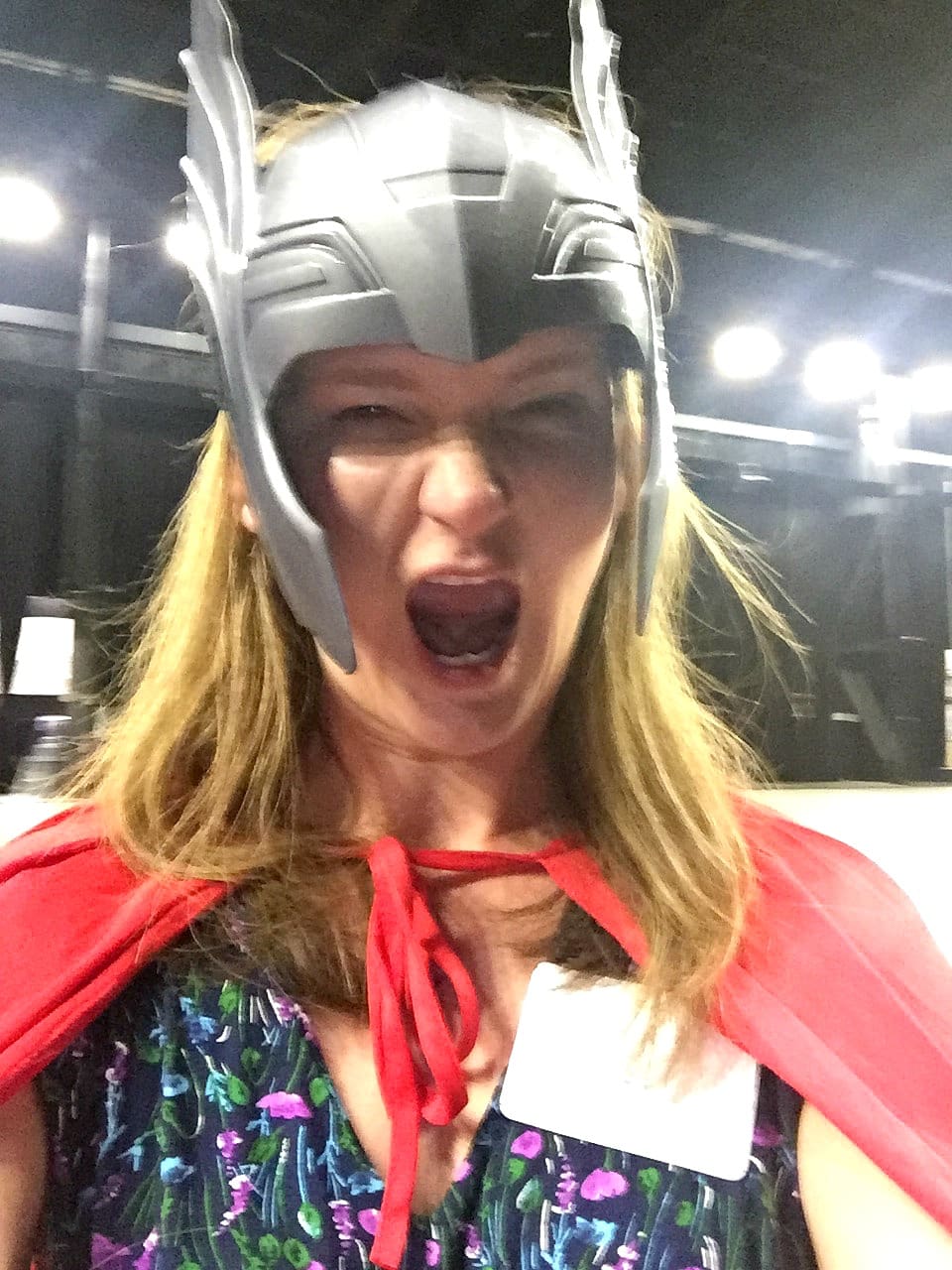 Thor happens to be my favorite Avenger so I thought becoming him in one of the photo experiences would be a lot of fun!
Feld Entertainment Studios Tour
After our Marvel Live experiences, we took a tour of the studios.  We got to see a lot of the set designs of their shows.  There is much I can't show you but I wanted to give you a few peeks at some of the things we saw.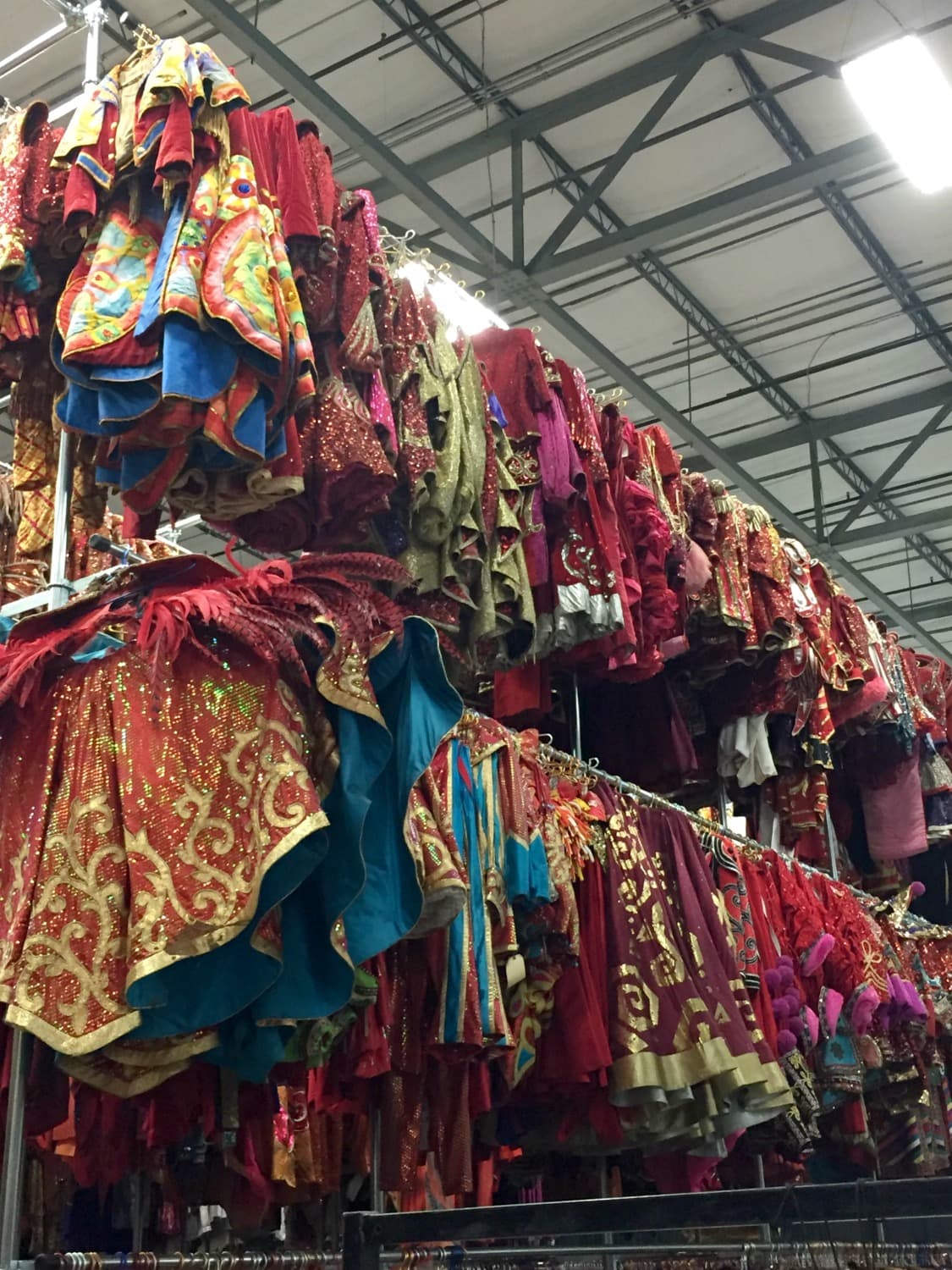 One of Feld Studios' most famous show was the Ringling Bros. and Barnum & Bailey circus.  Feld Studios houses the entire costume wardrobe in-house in a color coded "closest" along with other costumes from their shows such as Disney Live!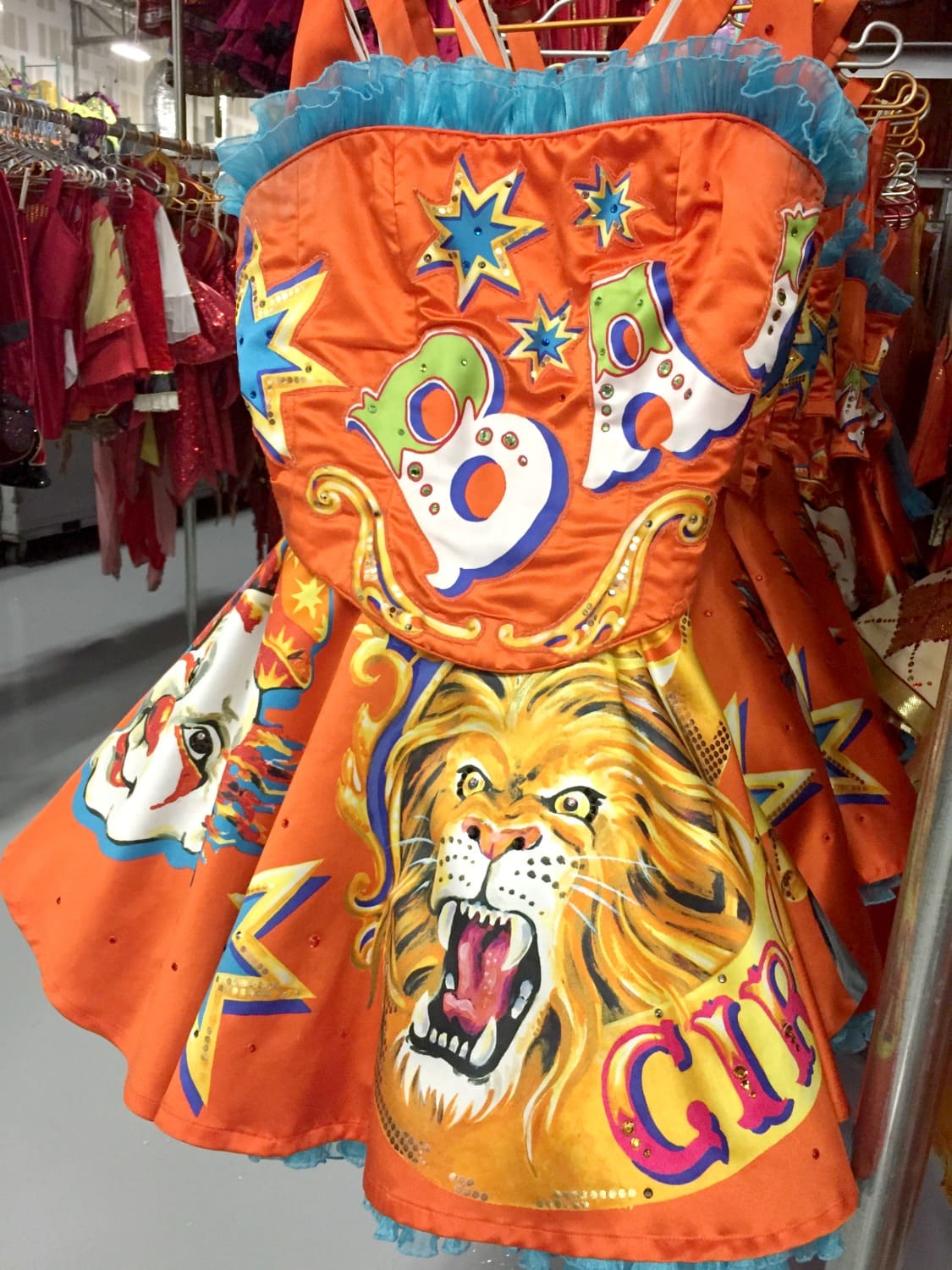 I snapped a picture of this adorable costume not realizing that it is also currently on display locally at The Children's Museum.  Local friends can visit the fun, hands-on Circus exhibit at the museum to see this and other circus costumes from Feld Entertainment.  I encourage you to check it out!
If given the chance to wear an iconic piece of clothing, I am going to take it.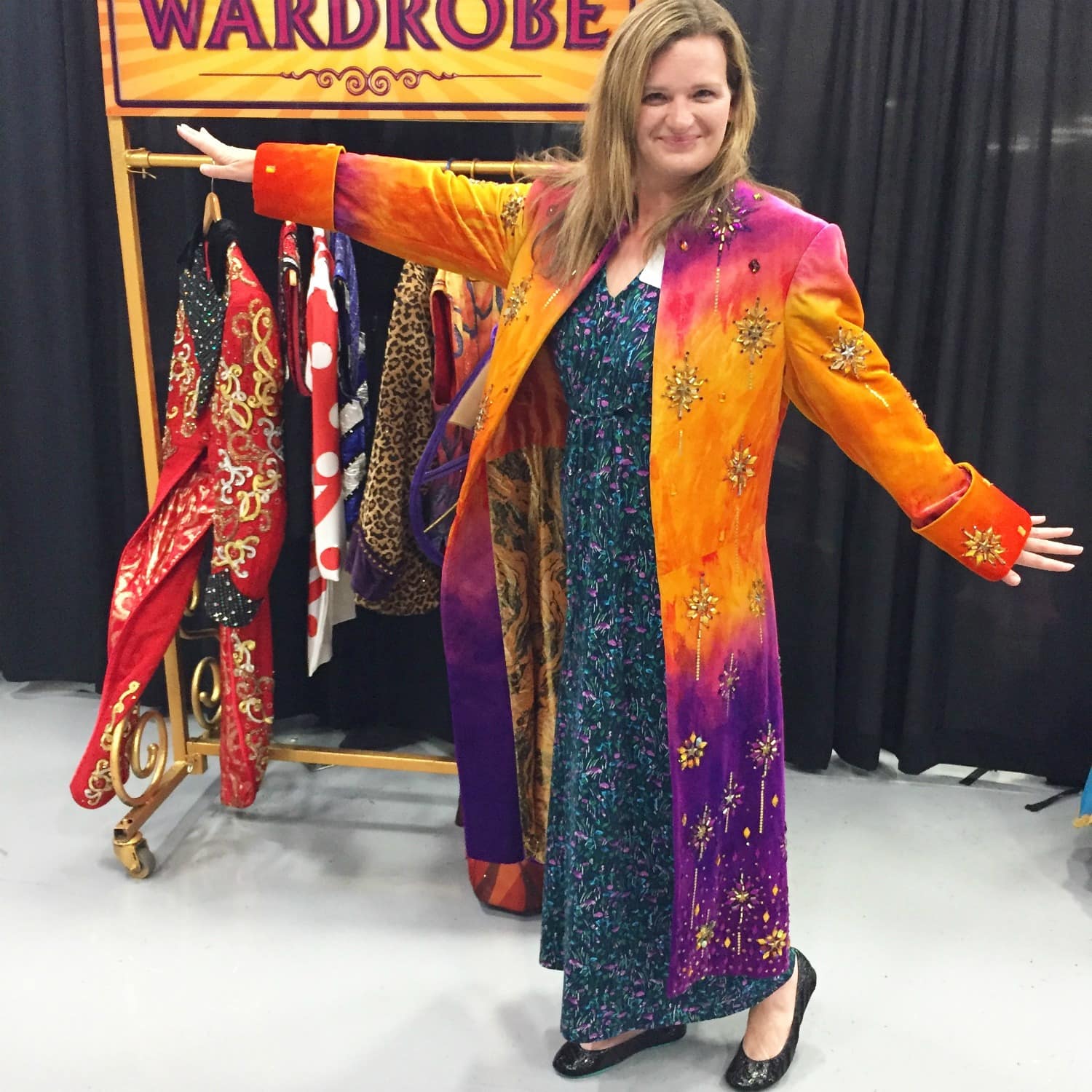 This colorful jacket was HEAVY!  Isn't it beautiful?
I mentioned before that Feld also makes their Monster Trucks in-house.  We got a quick peek at some of them since they are not currently on tour.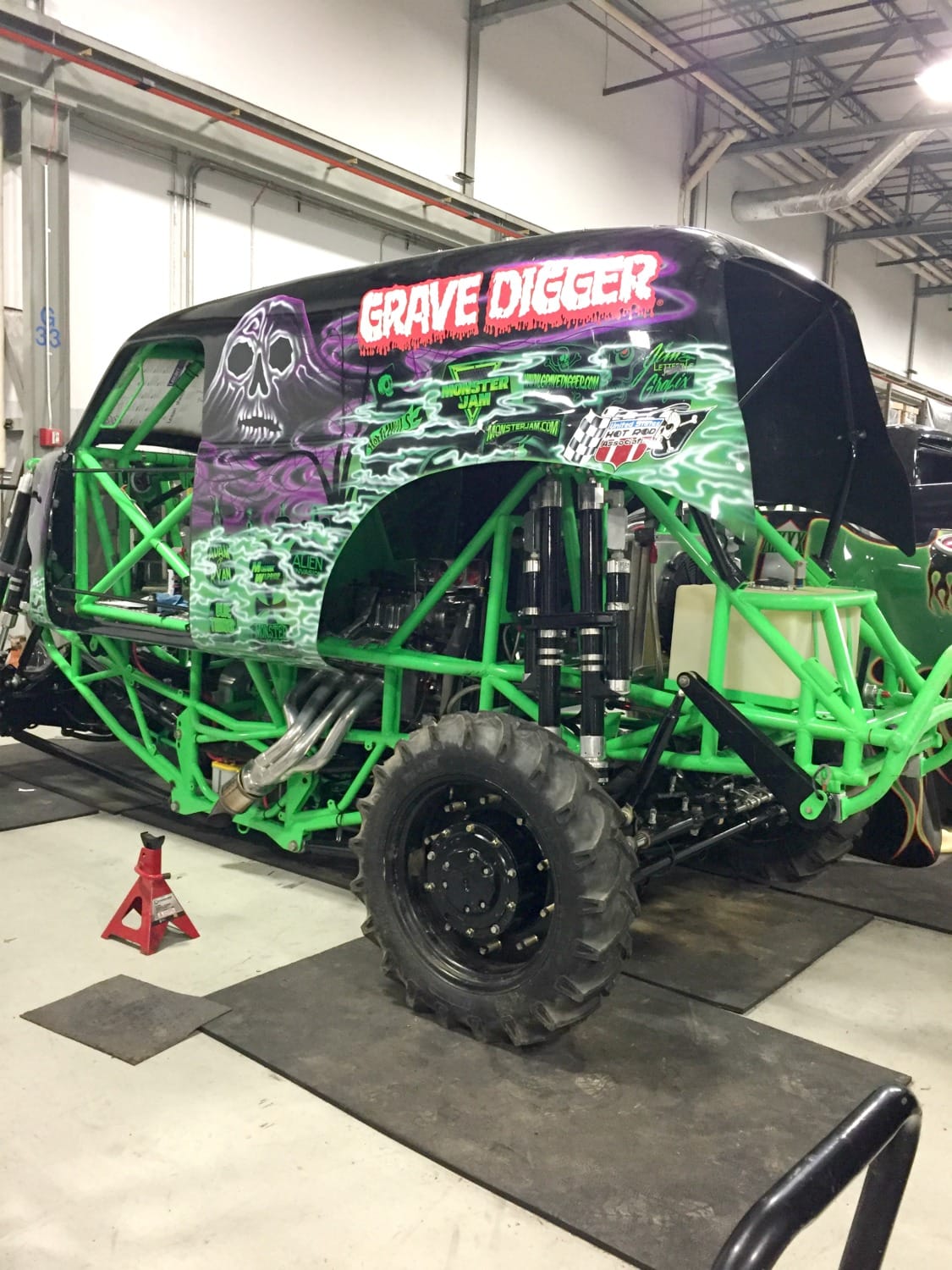 The massive tires are not on the vehicles at the moment making it easier to work on them.  The mechanics were tweaking things and fixing any damage that had happened to them.  They ship parts right from this space to the trucks while they are on tour and they are fixed on site.
Get Your Marvel Universe Live! Tickets Now
I had an amazing experience seeing the show live, and you can too!
Marvel Universe LIVE! Age of Heroes will premiere at STAPLES Center in Los Angeles on July 7, 2017. Tickets  for all 2017 shows, including dates in Anaheim, Denver, Las Vegas, Salt Lake City, and right here in Indianapolis are on sale now! Please visit the Marvel Universe LIVE! website for more information.