Earlier this month I traveled to Portland Oregon to visit LAIKA studios where I was treated to a behind the scenes look at their new feature film Kubo and the Two Strings.  Kubo is a 3D stop-motion fantasy action film created by LAIKA for Focus Features.  It tells the story of a little boy named Kubo who is a fantastic story teller and lives in hiding with his mother who is ill.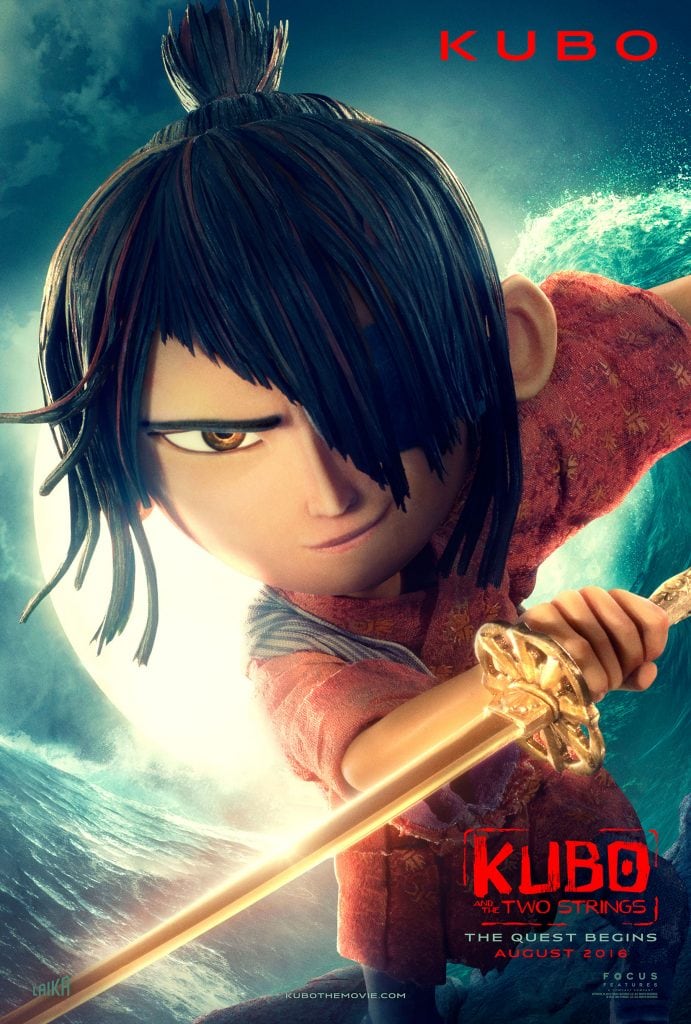 Here is a short synopsis of the film:

Kubo and the Two Strings is an epic action-adventure set in a fantastical Japan from acclaimed animation studio LAIKA. Clever, kindhearted Kubo (voiced by Art Parkinson of "Game of Thrones") ekes out a humble living, telling stories to the people of his seaside town including Hosato (George Takei), Akihiro (Cary-Hiroyuki Tagawa), and Kameyo (Academy Award nominee Brenda Vaccaro). But his relatively quiet existence is shattered when he accidentally summons a spirit from his past which storms down from the heavens to enforce an age-old vendetta. Now on the run, Kubo joins forces with Monkey (Academy Award winner Charlize Theron) and Beetle (Academy Award winner Matthew McConaughey), and sets out on a thrilling quest to save his family and solve the mystery of his fallen father, the greatest samurai warrior the world has ever known. With the help of his shamisen – a magical musical instrument – Kubo must battle gods and monsters, including the vengeful Moon King (Academy Award nominee Ralph Fiennes) and the evil twin Sisters (Academy Award nominee Rooney Mara), to unlock the secret of his legacy, reunite his family, and fulfill his heroic destiny.
Director: Travis Knight
Writers: Marc Haimes and Chris Butler ("ParaNorman")
Voice Cast: Charlize Theron, Art Parkinson, Ralph Fiennes, Rooney Mara, George Takei, Cary-Hiroyuki Tagawa, Brenda Vaccaro, and Matthew McConaughey
My tour began with a short preview of the movie.  I am not going to spoil the movie for you, but what I saw amazed me.  When you are watching the clips you forget that this movie is made shot by shot by animators using puppets! It is so life-like and the story engages you so that you forget how it was made.
Stop-motion animation is something that has always impressed me.  Can you imagine taking a still shot, tweeking a puppet's facial features ever so slightly and taking another shot.  After 24 shots you have about a second of film. Each week animators are able to create about 4-5 seconds of the movie. It takes over a year to get one hour of footage! It is incredible what they have been able to do and with the fraction of the budget that some of the bigger animation studios have. It no wonder LAIKA has earned Oscar nominations for the first 3 of their films (Kubo is film number 4).
We will be going behind the scenes of the film all week but today I wanted to talk to you about how LAIKA is embracing the modern technology of our age without compromising the art of stop-motion films they we have all grown up with and love.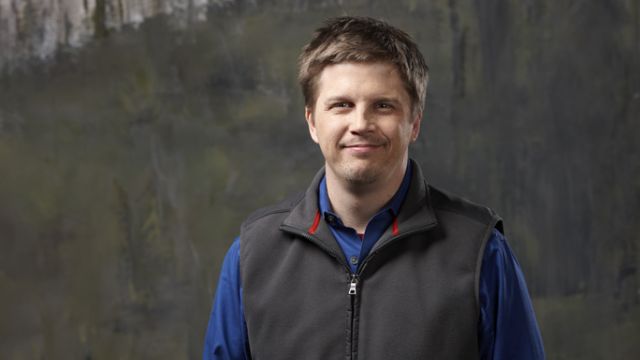 Steve Emerson (VFX Supervisor) talked with us about the challenges they faced while making Kubo.  He told us that Kubo is a hybrid movie where they tried to embrace technology in a way that was respectful to stop-motion animation.  Each main character is always a puppet.  Where they ended up using some CGI animation are with the extras that you see in the crowd scenes.  Kubo also gave them the chance to build the largest stop-motion puppet ever made.  I got to take a picture with that puppet's torso!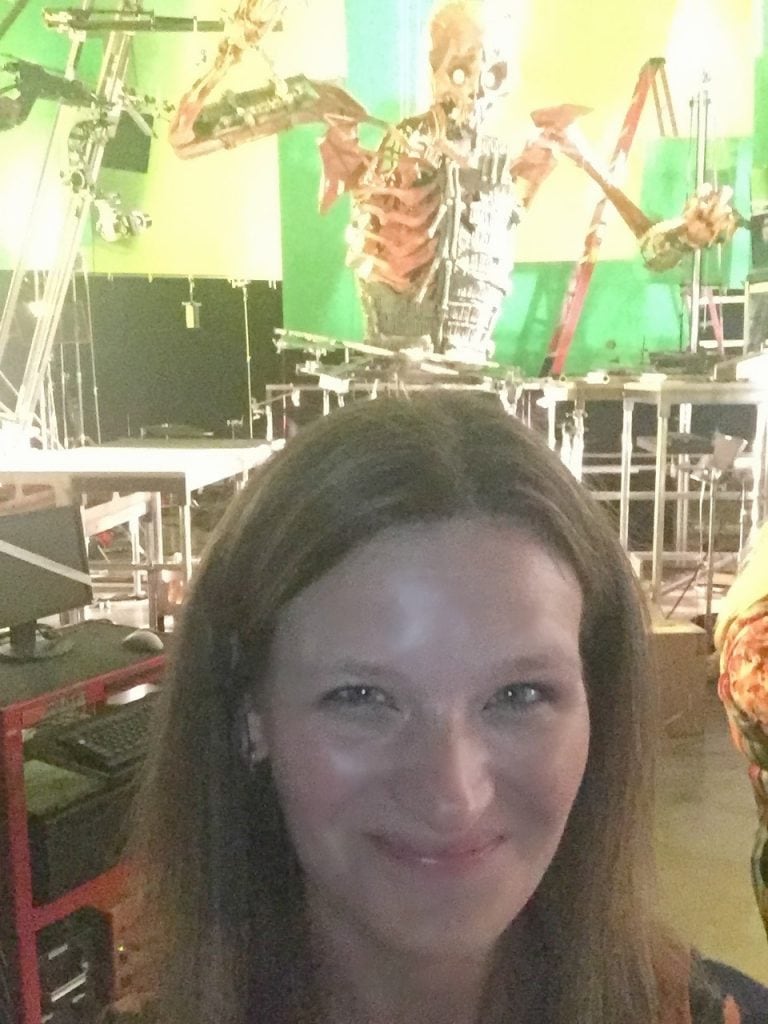 This thing was huge!!!
In the movie, Kubo and the Two Strings, there is a lot of water animation needed.  Steve talked to us about the process they went through to try to create that water to be believable.  First they started with the artwork, they needed see what the end goal was.  They then used different kinds of fabrics and moved them in different ways to create different parts of the ocean.  Many of these fabrics were used theater style like the old days.  They ended up combining many different methods and fabrics in the end to create the water.  Steve said that if they did their job you won't even notice or think about all the work that went into it.
That is their job, to create the unbelievable so well that no one even notices!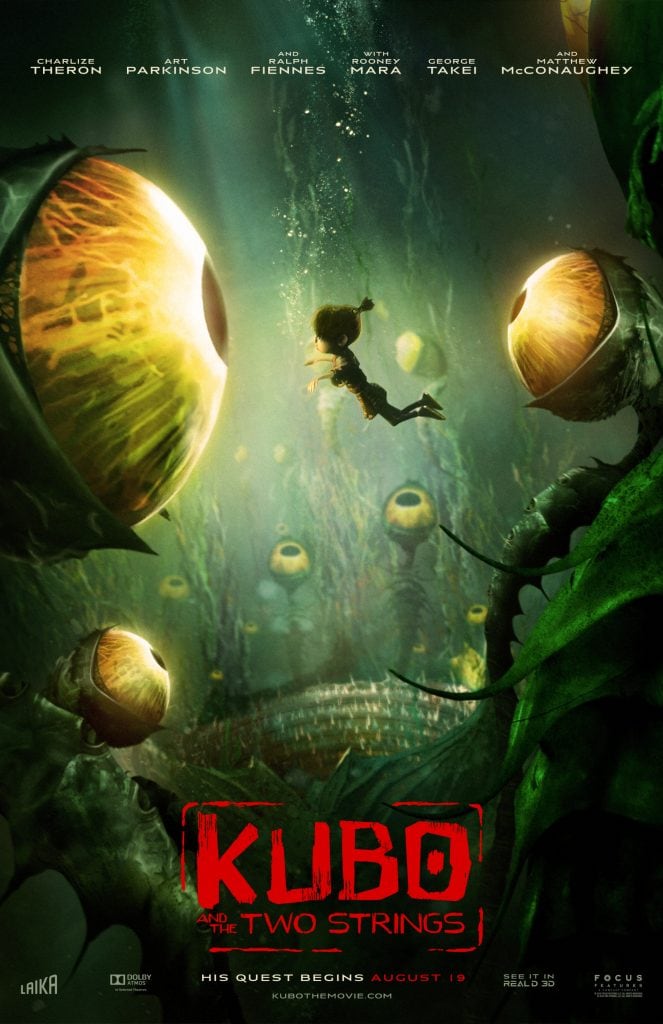 I have some more amazing coverage of my Behind the Scenes visit to LAIKA Studios.  Come back next week when I share more about the costumes, puppets, and sets that we saw from the movie.  I will also be bringing you an exclusive interview with Travis Knight (Director/CEO/Animator) and Arianne Sutner  (Producer/Head of Production).
Kubo and the Two Strings hits theaters nationwide on August 19, 2016. Please follow them on their social channels for updates and more special clips from the movie: FACEBOOK , TWITTER  and INSTAGRAM.
I leave you with the new trailer for your viewing pleasure:

A huge thank you to Focus Features and LAIKA for flying me to Portland and taking me on a behind the scenes tour. All opinions are 100% mine!