Can you imagine being asked to become a Marvel superhero?  I mean, staring in a Marvel Cinematic Universe film is a huge responsibility and the lead role can make or break a movie.  Having to find a person to play Doctor Strange, a superhero like none we have seen before who protects the world using the mystic arts, had to have been a challenge.  Benedict Cumberbatch is the amazing actor Marvel chose to bring this character to the big screen and he succeeds in every way.  
Last week I, along with 24 other bloggers, had the amazing opportunity to sit down with Benedict to talk about what it was like making this film and joining the Marvel Cinematic Universe.  I have seen a couple of films that Benedict has had roles in so I was a little familiar with him as an actor.  What I wasn't prepared for was his witty sense of humor and his calm and cool demeanor.
Benedict wasn't familiar with Doctor Strange when he first heard they were making a movie.  A reporter had mentioned that he thought Benedict would be good for the role.  When Benedict went back to learn about the character he understood why the reporter thought that but playing Doctor Strange didn't immediately jump out at him as something he wanted to pursue.  That all changed when he met with director Scott Derrickson and he told him about some of his concerns about playing the character. Scott then pitched him the origin story and talked about how he envisioned the character and the humor that would be involved and he won Benedict over, but the timing of the shoot conflicted with a project that Benedict already committed to so he thought he had lost it.  However, for the first time ever in Marvel's history, they postponed the schedule of the making and the release of the film so that Benedict could play the part.
The special effects in the movie are absolutely incredible.  While I was watching it, I kept thinking to myself how in the world were they able to make this?  To be an actor in a movie with that much special effects has to be difficult.  We asked him if that was difficult.  Benedict said that when working with Marvel you get a good mixture of days where you have a normal set and then days where it is completely different.
Other days you are literally in a room where the walls, the floors, everything but the ceiling is diffused light, it's green or blue. And then it's just you don't know what time it is, you can't get horizons or space right. It's very, very confusing.
Imagine being asked to play a superhero performing specific spells with hand gestures that are very precise.  Benedict told us that performing those along with being asked to wear some of the relics was very difficult.
The hardest stuff is sometimes doing the movement, or the spells, or anything to do with what are his powers involved or the weapons he used.
Speaking of relics, the cloak was a character in the movie in and of itself.  As we all know, costumes have a way of transforming us and making us feel like somebody else.  Benedict had the same reaction when he put on his cloak for the very first time.
I felt like a kid. I mean it was just amazing. It was the first proper moment when I thought, oh my God, I'm actually playing a superhero.
You see, Benedict never had hopes of playing a superhero, it wasn't something he had his sights set on.  He was a fan of Marvel and enjoyed watching the movies as a spectator, but never envisioned himself acting as a superhero. The minute he got that cloak on he felt giddy.  He had this twinkle in his eye when he told us another amazing moment of playing the role of a superhero.
And then the other moment that was a really pinch yourself superhero moment I guess was running down Fifth Avenue literally with the silhouette of the Empire State Building at one end, going that's the building that people crafted storyboards and built these comics on paper at the very beginning of all of this. And I'm running along in red and blue, jumping, pretending to take off on Fifth Broadway. It was- I mean Fifth Avenue. It was amazing.
At this moment, I was starting to develop a little crush on the newest Marvel superhero.  He is charming and sweet and really seems to get that he has an amazing opportunity in life and he is grateful for it.  But as soon as I found out what he did in New York in his costume, I was completely smitten.  I love a guy with a great sense of humor!  Benedict decided that he was going to go out in Manhattan in full costume.  He had some friends in town and wanted to spend some time with them between set setups, so he headed into a cafe that his wife used to go to.  He walked in and was like, "hey guys," …and like nobody reacted.   He laughed as he told us, "everything goes back to normal in like five minutes in New York."  So there he was sitting in a hot cafe for a few minutes in full costume with his wife and his friends.  He said his makeup artist wasn't so excited because he had to touch up his beard before getting back on set.  Later toward the end of filming he also visited a comic book store in full costume.  He thought it would be funny for them to see one of the guys off the shelf come in and say hello.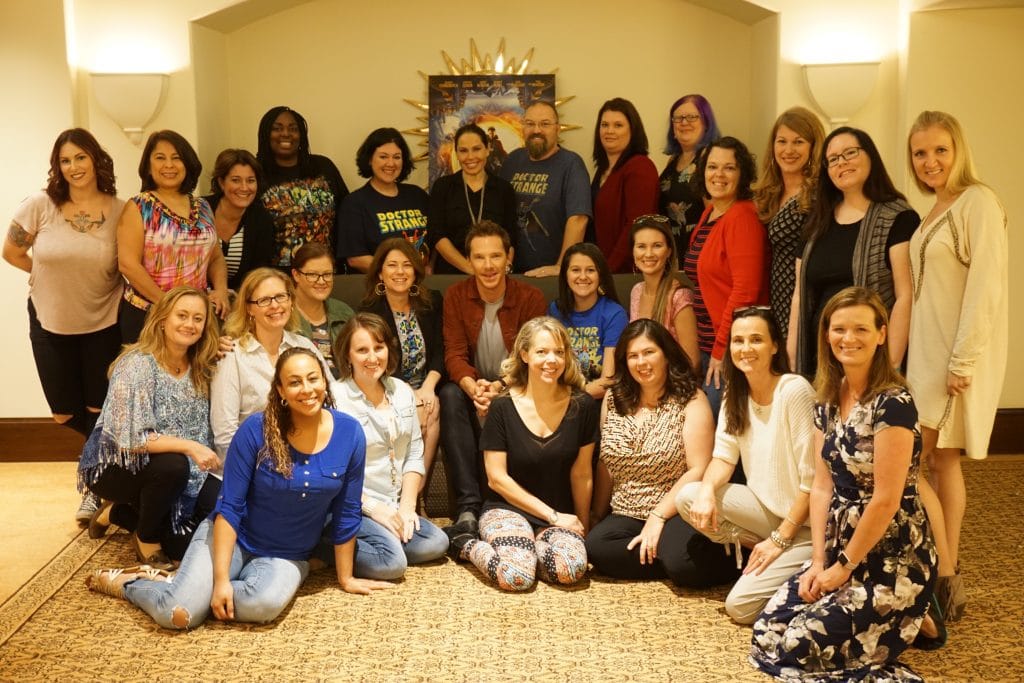 Benedict put in the work to make this character come to life.  From learning how to use his hands to do the magic spells to doing the difficult gymnastic stunts that Doctor Strange needs to perform during the movie, Benedict takes his character from the pages of a comic book to super hero status like you have never seen.  Be sure to see him in action when Marvel's DOCTOR STRANGE opens in theatres on 11/4!
Until then, check out this short featurette to get you even more excited:

For up to date news and sneak peeks be sure to visit the official DOCTOR STRANGE website.
Stay tuned this week and next for more exclusive interviews from the cast and crew of Doctor Strange.
A huge thank you to Marvel/Disney for flying me out to the Doctor Strange press event and putting me up in a hotel.  All opinions are 100% mine.