I have the hardest time finding good bras.  Maybe because I am not very busty, but I have a hard time finding bras whose straps aren't constantly falling down.  I hate it.  Here I am trying to teach a bunch of 5 year-old while constantly pulling up my bra strap.  No matter how much I adjust the straps they either fall down, or the bra cups come up (if you know what I mean).  All I want is a comfortable bra that looks normal under my clothes.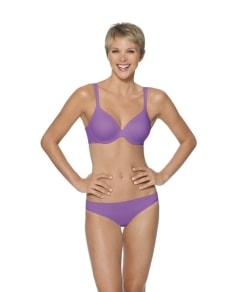 I recently had the opprotunity through Mom Bloggers Club to try the Barely There No Slip Fit Bras.  I chose a style that is common in my wardrobe, a soft taupe underwire.  I love the soft taupe because it concels well under all of my white t-shirts.  I can be sure that the color of my bra isn't out there for the world to see.  I have to say that without a doubt this new bra is my favorite that I have owned.  It is unbelievably comfortable.  The back closures do not cut into my back and they are very secure.  The straps have yet to fall down, unless I do it on purpose!  It is the most comfortable bra I have owned and about a half of what I have paid for most of mine.
In addition to features to eliminate slips and ride-up, the bras have invisible seams that eliminate the dig-in effect of uncomfortable elastics. For added softness against the skin, Barely There No Slip Fit bras are made with a soft, silky, beautiful outer fabric and ultra-light foam cups and are tag-free for added comfort. The No Slip Fit bras are available in underwire and wirefree styles and are offered in white, black, soft taupe as well as an array of colors and prints.
Buy It
Barely There Bras retail for $32 and can be found in leading department stores like Kohl's, JC Penny, and Macy's.
You can keep in touch with all of the promotion and news from Barely There by following them on Facebook!
This product review was made possible by Barely There and Mom Bloggers Club.  I was not compensated for this review other than a product sample and prize package shown. All opinions are 100% mine.