Back to School season has arrived and with that comes the reality for some parents that their older kids will have to be at home alone for a period of time.  I know that having kids home by themselves can be stressful for parents, therefore when I was asked about featuring a product that could possibly ease that stress, I jumped at the chance.  Technology has been very influential in creating a home that is both safe, and stylish.  For instance, take the Yale Real Living Key Free Touchscreen Deadbolt as an example. This deadbolt is like no other, it uses a touchscreen to operate and unlock the door. By eliminating the cylinder, the lock is safer and you don't have to worry about misplaced keys getting into the wrong hands. What is even better for those kids who need to be at home by themselves for a little bit, there is an optional way to connect your doorknob to your home control system so that you are notified when the lock has been used.
When used as part of a home control system like the recently launched AT&T Digital Life platform, Yale Real Living locks give you a level of security and control that's just not possible with conventional locks. Have a toddler running around at home? Feel secure knowing that the deadbolts automatically lock so she can't leave the house. Should someone unlock a door, you'll get a text message letting you know. Have a teenager with a curfew? The system's audit trail allows you to see if he comes home late. Kids arrive home from school while you're at work? You can automatically receive a text message when they unlock the door so you know they're home.

Design Features

Available in both durable acrylic touchscreen or simple, elegant, tamper-resistant keypad
Illuminated touchscreen and keypad for night time access
For use on all standard interior and exterior doors
Tapered bolt accommodates misaligned doors
Available in ZigBee or Z-Wave configurations
Sleek aesthetics
Operational efficiency
Completely eliminate the need to manage keys
No need to ever re-key – just set up a NEW access code
Increased security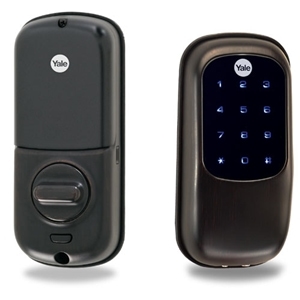 I love that security and a touchscreen doesn't have to sacrifice style.  Yale Real Living products come in Brass, Oil Rubbed Bronze, and Satin Nickel.  Yale Real Living also offers some stylish handsets that match perfectly to their touchscreen deadbolts making your door look sleek and stylish!
How many of us loose our instruction manuals? One of my favorite features is that you don't have to panic if you lose the programming instructions.  The voice-guided programing will guide you through resetting your pin and your other programing features (such as automatic locking).  I also love that I don't have to hide a key somewhere around my house.  If someone needs to get into our house, I can simply give them the code to the deadbolt and they can get in without a key. The security that gives me is worth more than I can explain.  It is one less thing to worry about when we go back to school!
How do you keep your house safe during the school year?