One of my favorite parts of going back to school is the fantastic deals on school supplies!  Being a teacher, I stock up on supplies so that I don't run out and have to ask parents to purchase them half way through the year.  Every year I spend over $300 on products and supplies for my classroom.  Getting great sales is essential.  One of my favorite things to purchase are Crayola products!
I am not ashamed to admit that I am a little bit of a brand snob when it comes to markers and crayons.  I have had A LOT of experience with different brands and my opinion is that Crayola is the best! I can't go through the year without my Crayola markers and colored pencils.  As a parent, I love the Washable Markers and will not use another brand after it took over two days for that brand to come off of my son's skin.  They weren't that washable.
Some of Crayola's new products for this year include:
SuperTips Washable Markers Kit This super-colorful collection of Crayola Super Tips Markers and paper includes 65 pieces in a durable, portable carryall case.
Twistables Colored Pencils Kit This "twisted" colorful collection of Crayola Twistables Colored Pencils and paper includes 65 pieces in a durable, portable carryall case.
Wild Notes Black Notebook Older kids and even young adults can have fun infusing color into note-taking as they head back to school.
Wild Notes Black Journal A smaller 5"x7" size is perfect for taking notes, keeping a personal diary or writing colorful ideas.
I hit the sales hard this past month and got a ton of great products for my class and for my son to use at home.  I can't believe he will be in Kindergarten next year.  The time flies.  We will be working hard this year on developing his fine motor skills.  He needs to learn how to write his numbers and draw pictures.  Crayons and markers make this task a lot easier.  He is happy to write with a marker!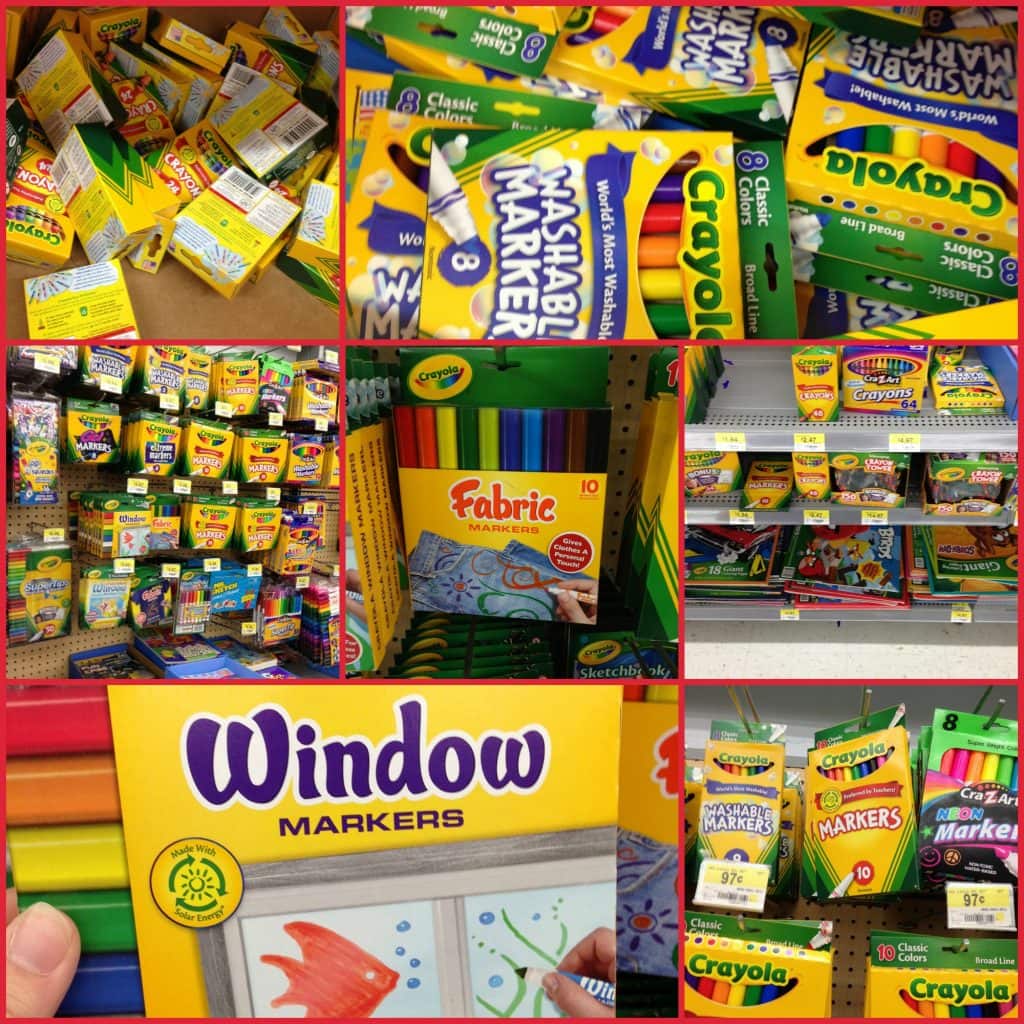 I found Crayola crayons for 50 cents at Walmart and Markers for about $1.  I picked up a few packs: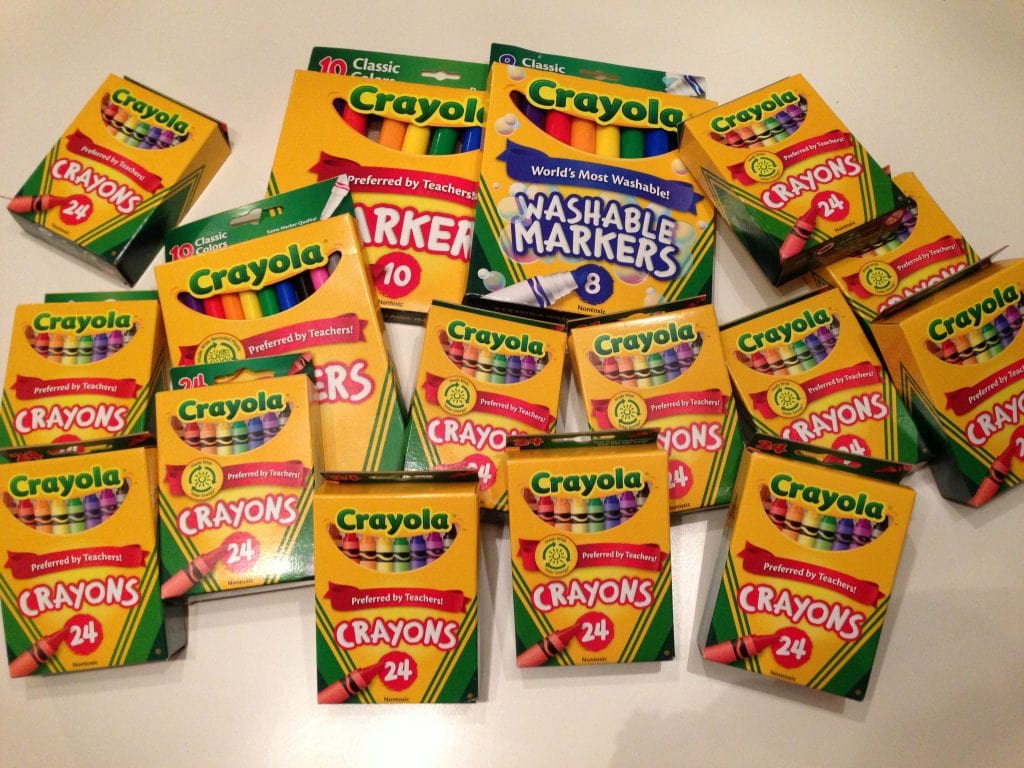 I found some other great deals at ToysRUs… they had 24 pack of Crayons marked down to 25 cents a piece.  I picked up my limit of 8 packages and even more washable markers and classic markers!  I also found my favorite modeling clay to use in my classroom!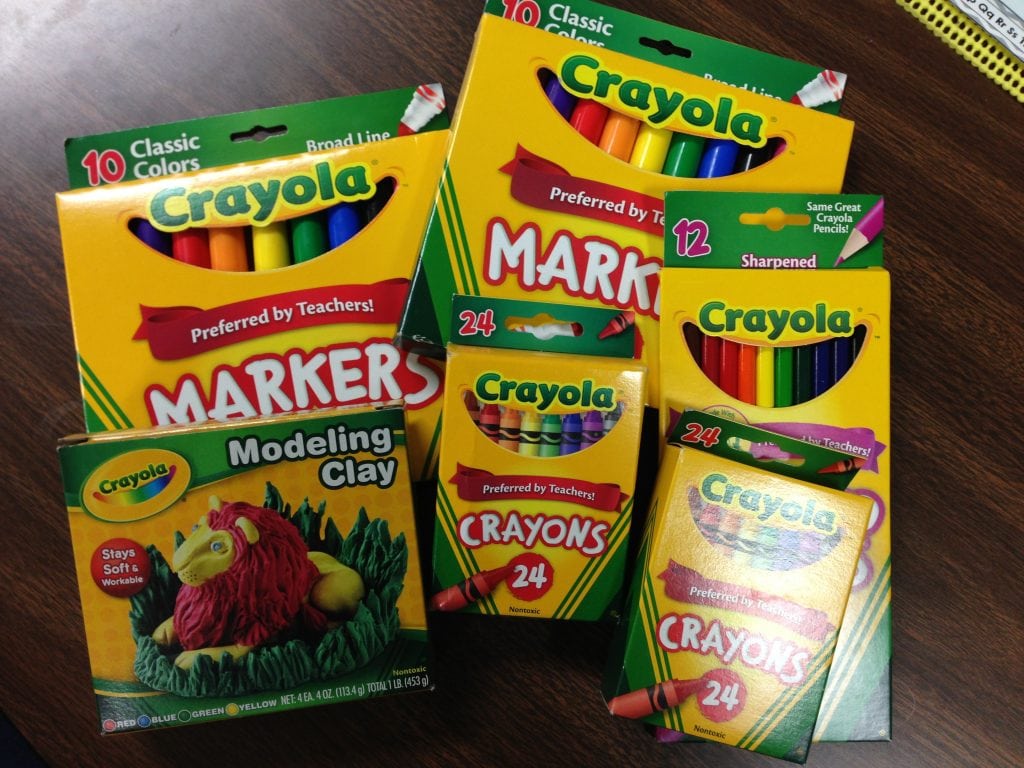 All in all, I got about 30 packages of Crayola Crayons, 8 Packages of Classic Markers, 4 packages of thin Classic Markers, 5 packages of Bold colored Markers, 3 packages of Washable markers, 4 packages of Modeling clay, and 2 packages of colored pencils all for under $50!  This is one happy teacher/mommy!
Crayola wants to help one lucky reader with their back to school shopping by giving way a $25 Visa Gift Card!
Enter below!  Good Luck!
A huge thank you to Crayola for providing the giveaway prize as well as a gift card for my family to purchase our Back to School products.