Finding natural skincare products for my kids has been a little bit of a struggle.  My son was born with extreme eczema on his face.  A lot of the products that I would use on his body would make him break out in a rash.  He finally outgrew it after his first birthday, but we are still very careful with the lotions and detergents that we use with him.
Naturally I had the same concerns when our daughter was born last year.  I took a lot of precautions with regards to detergents and lotions and bath washes.  I didn't want to cause her to break out like her older brother.  Luckily she hasn't broken out yet.  I credit the lotions that I use.  One of the recent lotions we have tried out on her is the stage 1 line of natural skincare products from BabySpa.
BabySpa is a line of 98-100% natural skincare products for baby including shampoo, body wash, shea butter diaper cream, nourishing/calming massage oil and lotions for face and body, all specially formulated for a baby's delicate and changing skin.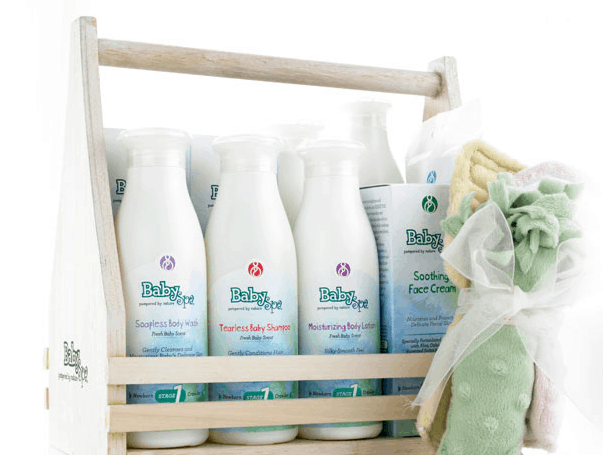 We were sent some samples of BabySpa Stage 1 (Crawlers) and Stage 2 (4+years) body lotion and face creams.  As I do with any new product that I try out on my kids, I tried it out on myself first.  My son got his bad skin from me.  I thought that the lotions were light and silky.  The fragrance wasn't overwhelming, just the way I like it,  My skin didn't react, so I tried it on my daughter with success.  The lotions left her skin feeling hydrated and smooth without any reactions.
BabySpa carries two different types of baby shampoo, body lotion, face cream, body wash, diaper cream, and two different massage oils in two different formulas.  All of the products at BabySpa are 98-100% natural and are totally free of Parabens, Phthalates, SLS, PEGS, and mineral oil.  I can rest assure that I am giving my kids the best in skin care without aggravating their skin.
To learn more be sure to follow BabySpa on Facebook and Twitter.
This product review was made possible by BabySpa. I was not compensated for this review other than a product sample. All opinions are 100% mine.