It's hard to believe that Coco has finally reached the toddler milestone.  These days, he's a walking machine – which means it is time to get him used to shoes.  Unfortunately, the kid hates socks and with no socks, it makes it hard for me as a mom to put shoes on him comfortably.  Whether we're in the car, in his crib or playing in the living room, Coco will rip those socks off the second he gets the chance.  Since he's a boy, I can't buy him a pair of tights since the majority of tights are made for girls.  However, recently a friend introduced to me a product called Baby Undersocks.  They are socks attached to pants, like footed pajamas, but easier to put on and thin enough to be worn under jeans or other pants.  The fabric is super soft and made from bamboo fabric which is hypoallergenic and sensitive to baby's skin.  Even better is the gender neutral side of this product so it can be used for a girl or a boy.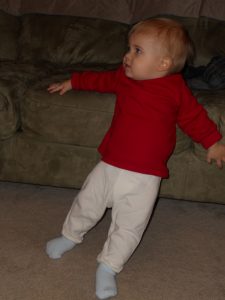 The first time I tried Baby Undersocks out was when CoCo was recently battling, yet another, fever virus.  I slipped the Baby Undersocks on over a long-sleeved onsie to keep him comfy as his temp would fluctuate.  Even as his fever broke, the Baby Undersocks kept him very comfortable – not too hot or too chilled.  The bamboo fabric helped regulate the temperature even as his body had it's highs and lows.  I was really impressed with how comfortable Coco stayed, even when he was feeling absolutely crummy.  Another great feature of the Baby Undersocks are the grips on the bottom of the feet that help keep Coco from slipping around as he wobbles to and fro.  Also, as you can see from the picture, Coco was unsuccessful from trying to rip these puppies off – because the socks are attached to the pants, his little feetsies stayed warm, despite his biggest effort to get them off!
With the fall and winter seasons coming up and the cooler temperatures right around the corner, I am excited to use my Baby Undersocks under Coco's clothes to keep him warm – especially his little calves and legs that are exposed to the wind and cold when being carried in and out of places.  Baby Undersocks are much thinner than regular long underwear yet just as warm which will ensure he is comfortable as he spends his days at daycare.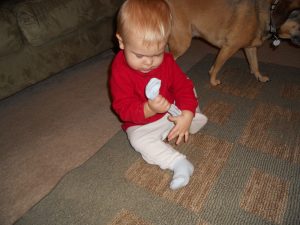 Baby Undersocks are an inexpensive and comfortable necessity to add to your infant or toddler's wardrobe.  With it's outstanding quality and comfort, you'll be glad you incorporated into your child's attire this fall and winter-especially for your sneaky sock wiggler!  For more information and to order your Baby Undersocks, visit their website at http://www.babyundersocks.com/.

This product review was made possible by Baby Undersocks.  I was not compensated for this review other than a product sample provided by the company or PR firm. All opinions are 100% mine.