A big thank you to Disney Studios for flying me out to LA for this press event.
When I was in LA last month for the Christopher Robin Event, we had an amazing time at Madame Tussauds learning all about the home release of Avengers: Infinity War
. We were able to see a couple of the deleted scenes that are included in the bonus features of the Blu-ray.
Avengers: Infinity War
The Marvel Cinematic Universe film Avengers: Infinity War has been 10 years in the making. Marvel  has been building up to this one film for over a decade. I don't think I am stretching at all when I say that this is one of the most anticipated movies of the year and now it can be enjoyed in the comfort of your home.
All of our favorite heroes unite to take on the universe's biggest villain to date, Thanos. The story surrounds Thanos quest to obtain the infamous Infinity Stones. Thanos wants the six infinity stones so that he can be the most powerful person in the universe and be basically unstoppable. He can achieve this by killing half of the population of the universe with a snap of his Infinity Gauntlet fingers.
My Thoughts
I love that this film is out on home release because it is long and intense. Now I can pause and rewind and head to the restroom whenever I want and not miss anything.  I have seen the movie in theatres a few times but I still have questions so I am excited to have my own copy in my home.
Like many of the Marvel movies before it, Infinity War was both funny and full of adventure and makes you feel for the characters. It starts where Thor: Ragnarok leaves off as Thor's ship is being approached by a much larger spacecraft.
I am going to keep talking about the movie as though you have all seen it. So if you haven't, you might not want to keep reading. (Spoiler Alert)

You know that things are never going to be the same in the Marvel universe in the first 10 minutes of the movie. Loki???  That was a big shock. It made me realize that this movie changes everything and that the Marvel Universe will never be the same.
Throughout the entire movie, we see our favorite characters in situations that they have never found themselves before and an ending that surprised most all of us.  There are not many times in a superhero movie where the villain wins in the end. We all know that the story isn't over and there is a lot more to be told, thank goodness, but this first movie has broken all the rules.
Infinity War has an unparalleled cast and Marvel manages to keep them all themselves. I was a little worried that we may lose a little of the humor and sass that the Guardians bring to the big screen, but they managed to keep the characters personalities and melded them seamlessly into the Avenger universe. Doctor Strange was also true to his unique visual style that we were introduced to a couple of years ago and I appreciate and am impressed that they were able to meld all of these personalities together in the film.
Avengers: Infinity War Bonus Features
The best part about a DVD and Blu-ray release are the bonus features which accompany the home release. I love the gag reels and the deleted scenes. It gives you a new perspective of the story.
Of course, you would think that the ultimate saga, 10 years in the making, would have some great bonus material… you would be right!
Check out this fun gag reel:

BONUS MATERIAL (may vary by retailer):
Blu-ray & Digital:

Strange Alchemy – Share the thrill of characters from across the MCU meeting for the first time—and discover why some were teamed up together.
The Mad Titan – Explore the MCU's biggest, baddest villain, his trail of influence through the stories, and the existential threat he represents.
Beyond the Battle: Titan – Dive into the climactic struggle on Thanos' ruined world, including the epic stunts and VFX, to uncover the source of its power.
Beyond the Battle: Wakanda – Go behind the scenes to find out how the filmmakers pulled off the most massive and challenging battle Marvel had ever attempted.
Deleted and Extended Scenes

Happy Knows Best – Tony and Pepper spar over the details of their upcoming wedding—until a hassled Happy Hogan pulls up with an urgent request.
Hunt for the Mind Stone – On a darkened street, Wanda Maximoff and the wounded Vision attempt to hide from Thanos' brutal allies.
The Guardians Get Their Groove Back – As Peter Quill and Drax quarrel over their failed mission to Knowhere, Mantis interrupts with news.
A Father's Choice – Thanos confronts Gamora with a vision from her past—and with lying to him about the Soul Stone.
Gag Reel – Watch your favorite Super Heroes make super gaffes in this lighthearted collection of on-set antics.
Audio Commentary (approx. 149 min.) by Anthony and Joe Russo, Christopher Markus and Stephen McFeely.

Digital Exclusive:

A Directors' Roundtable – Eight amazing directors reflect on how their movies contribute to the Marvel Cinematic Universe's larger storytelling adventure.
I have watched the most of the bonus features already and I can tell you that if you are a Marvel fan, you are going to love it!  And the best part, as of today Avengers: Infinity War
is now available on Digital and Blu-ray!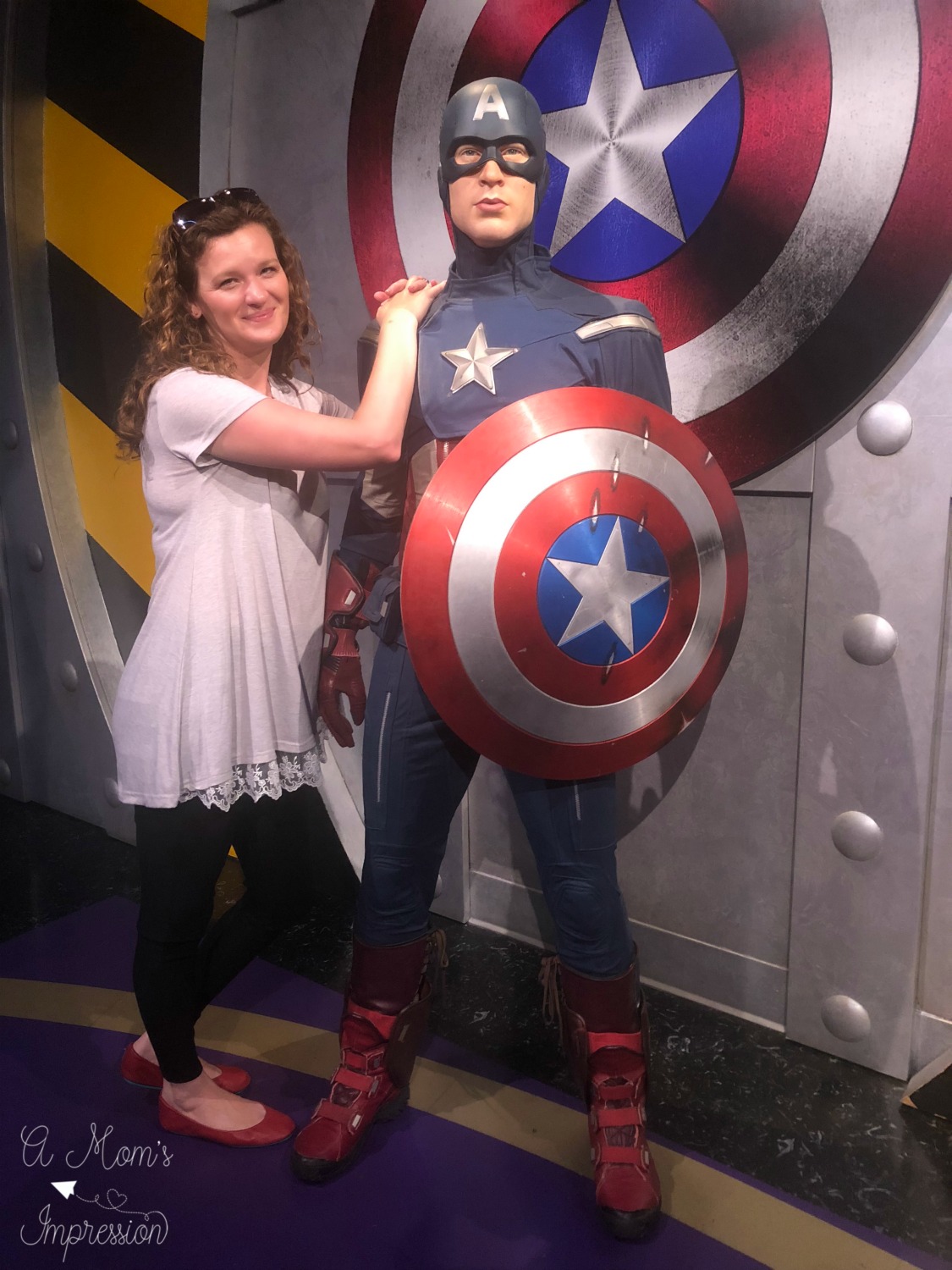 If you missed it, be sure to check out all my Infinity War coverage when I attended the World Premiere earlier this year and if you missed it be sure to check out my interview with Avengers: Infinity War executive Producer Trinh Tran and see my custom wax Infinity Gauntlet.