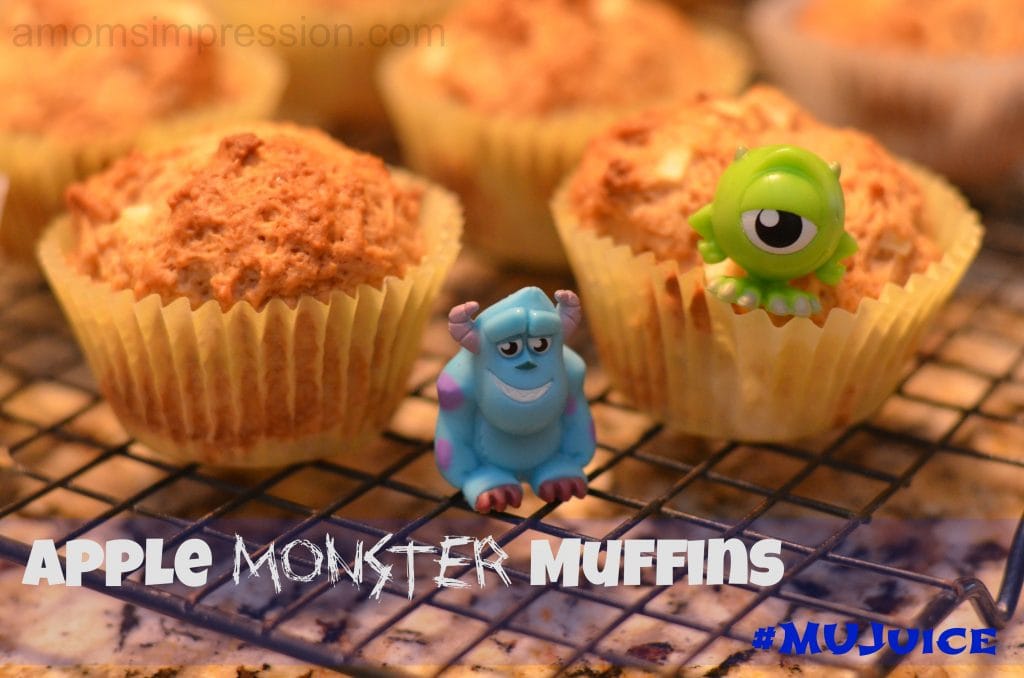 I love getting inspired by movies.  We were so excited about Disney/Pixar's Monsters Univesity coming out to theaters today that we had to have a special themed sleepover with our cousin Louis.  Of course, what is a sleepover without themed food and drinks?  I got my creative hat on and came up with some amazing recipes inspired by Monsters University Toys that we purchased at Walmart.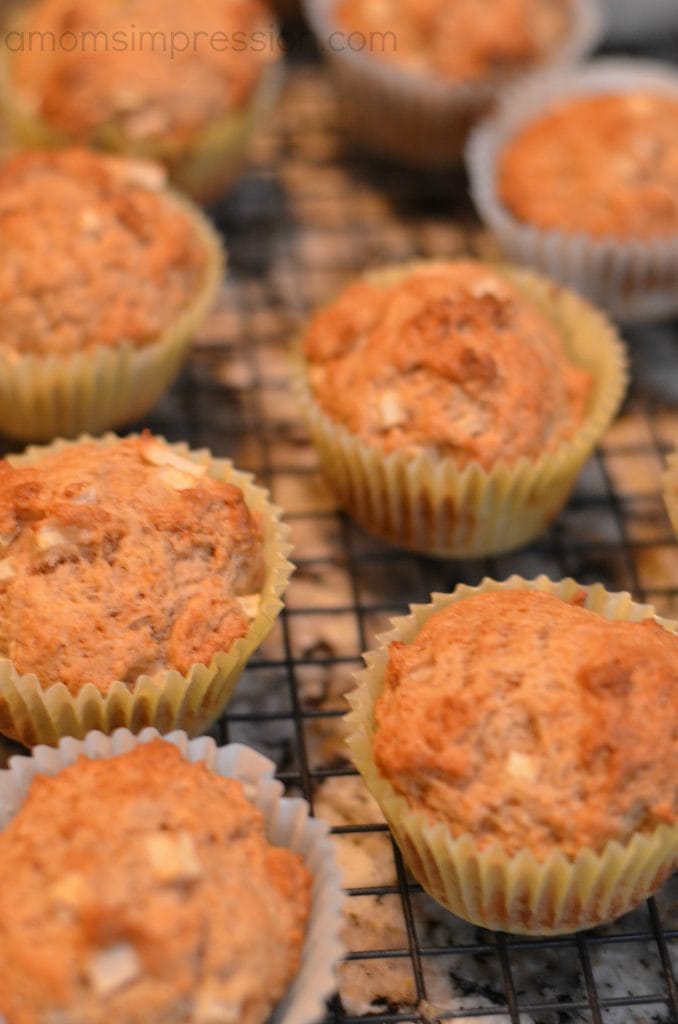 The finished product was a low-sugar Apple Monster Muffin made with Juicy Juice Apple Juice.  These muffins are moist and delicious and made a great addition to our breakfast in the morning.  I paired them with some smoothies adorned with characters from the movie.  It was a huge hit!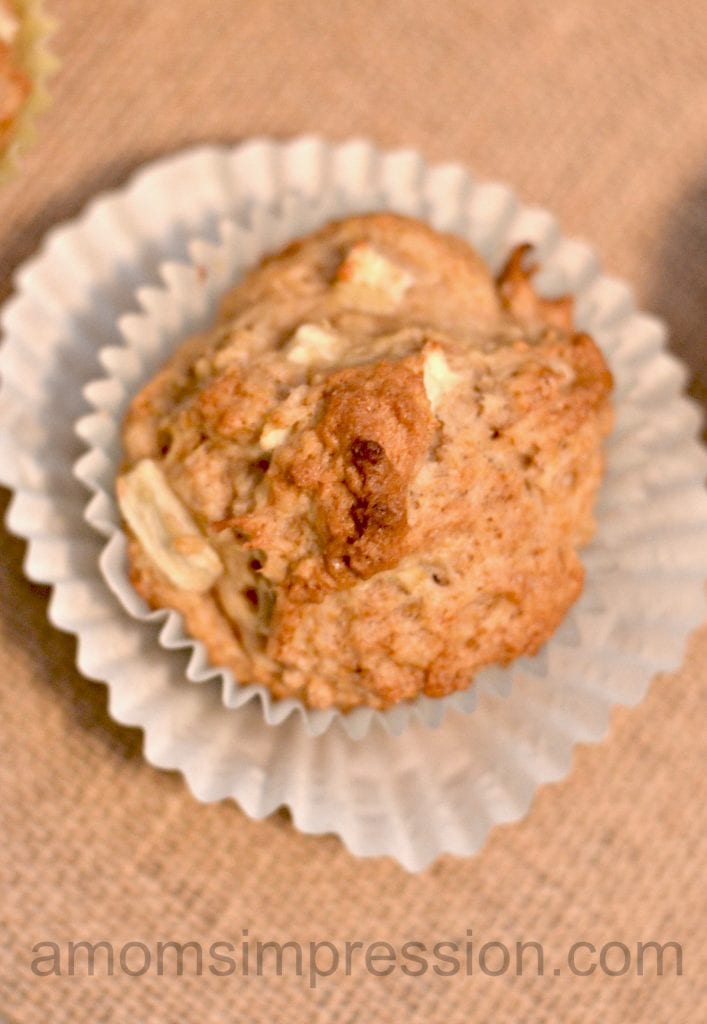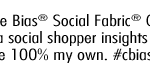 Apple Juice Muffins Inspired by Monsters University Toys #MUJuice
An apple juice muffin recipe made with Juicy Juice Apple juice.
Ingredients
2

cups

whole grain all-purpose flour

you can also use regular all-purpose flour

1/2

cup

sugar

3

teaspoons

baking powder

1/2

teaspoon

salt

3/4

cup

Juicy Juice Apple Juice

1/3

cup

vegetable oil

1

teaspoon

cinnamon

1

cup

diced apples
Instructions
Preheat oven to 400 degrees. Line muffin tin with muffin liners or grease the bottom.

Combine flour, sugar, baking powder, cinnamon, and salt in a medium bowl.

In a small bowl combine remaining ingredients, except apples. Mix well.

Add wet ingredients to the dry ingredients mixing well.

Stir in apples.

Fill muffin cups 2/3 full. Bake for 18 to 22 minutes, until done.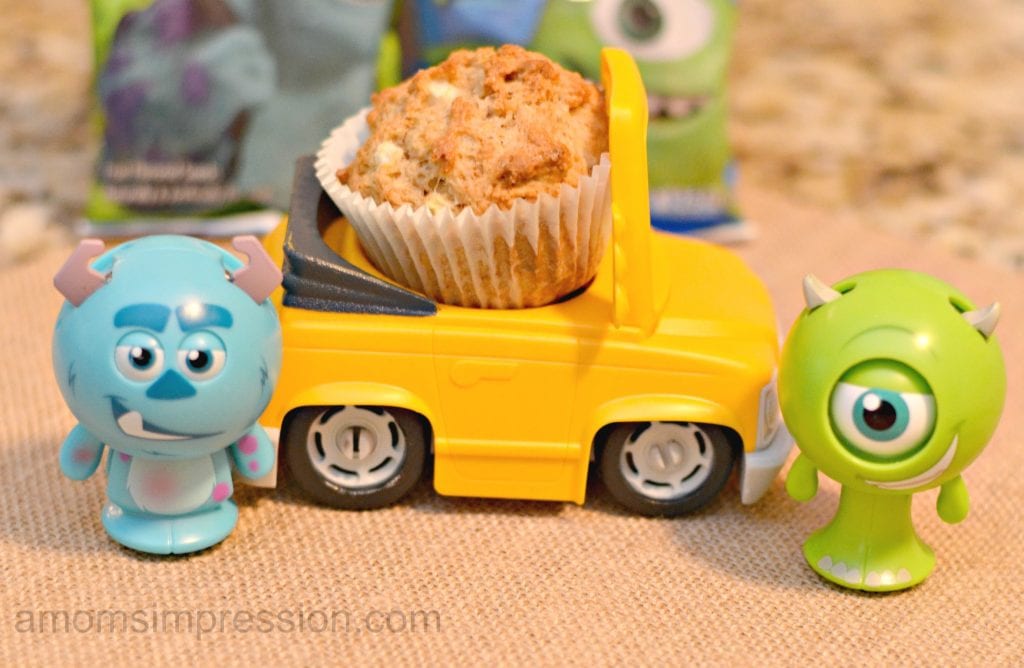 When the boys came down for breakfast I had a creative display of muffins for them.  I used their toys to showcase the Apple Muffins.  They got a kick out of the monsters trying to take the muffin away.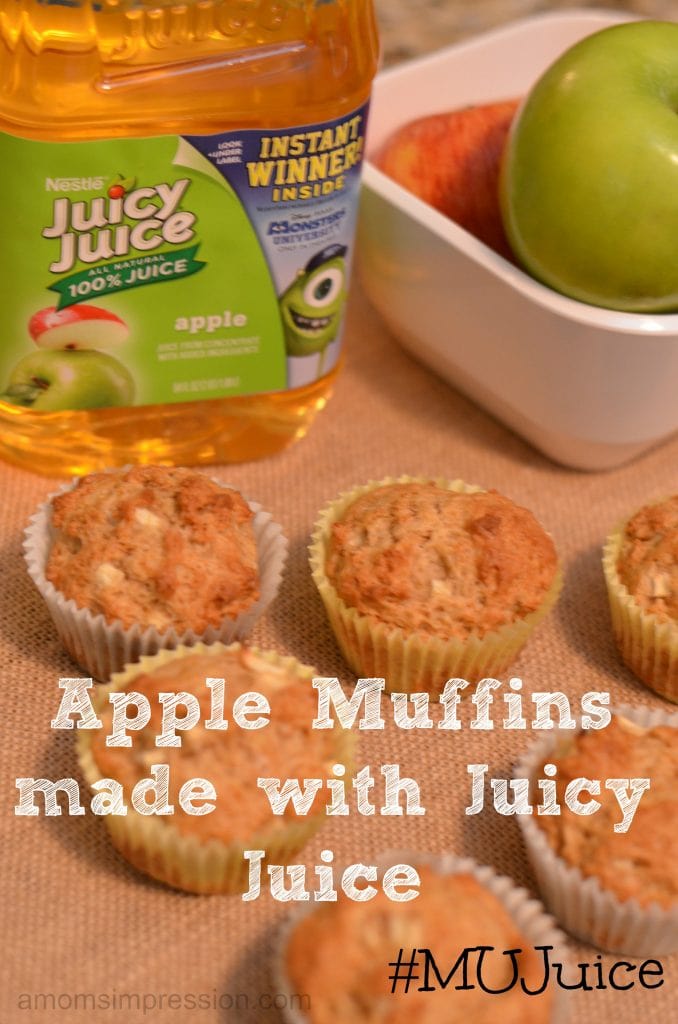 Here is my kiddo, just out of bed, excited to eat his muffin and drink his juice!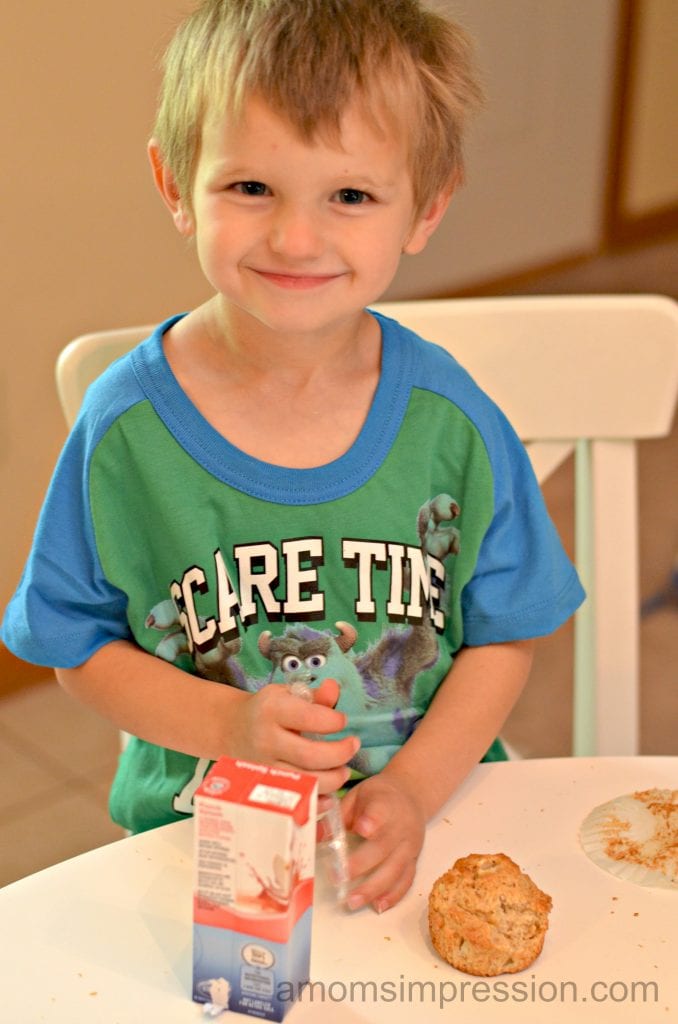 I mentioned earlier that I made some smoothies.  I had this great idea of using really small clear rubber bands (the ones that I would use for my daughters hair) and attach some of the small monsters to our smoothie straws!  I thought they turned out adorable!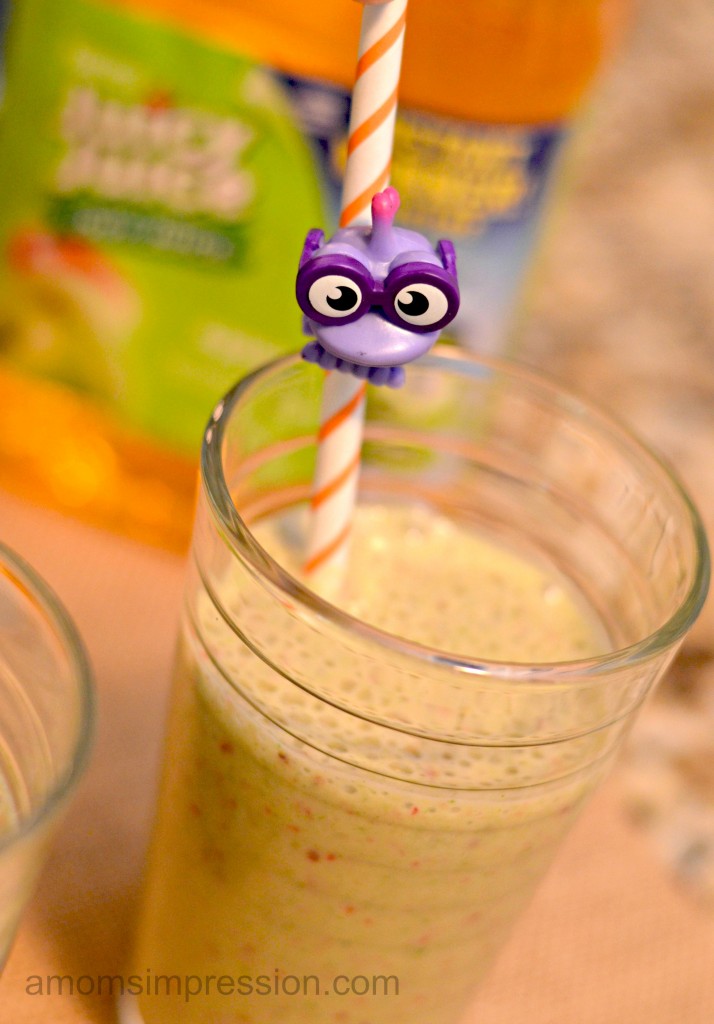 Unfortunately, I put too much spinach in my smoothie this time and Jonah wouldn't try it, but my daughter and I loved it.  I froze the remaining smoothie into freezer pops.  Jonah will eat any kind of popsicle so he will end up eating this at some point!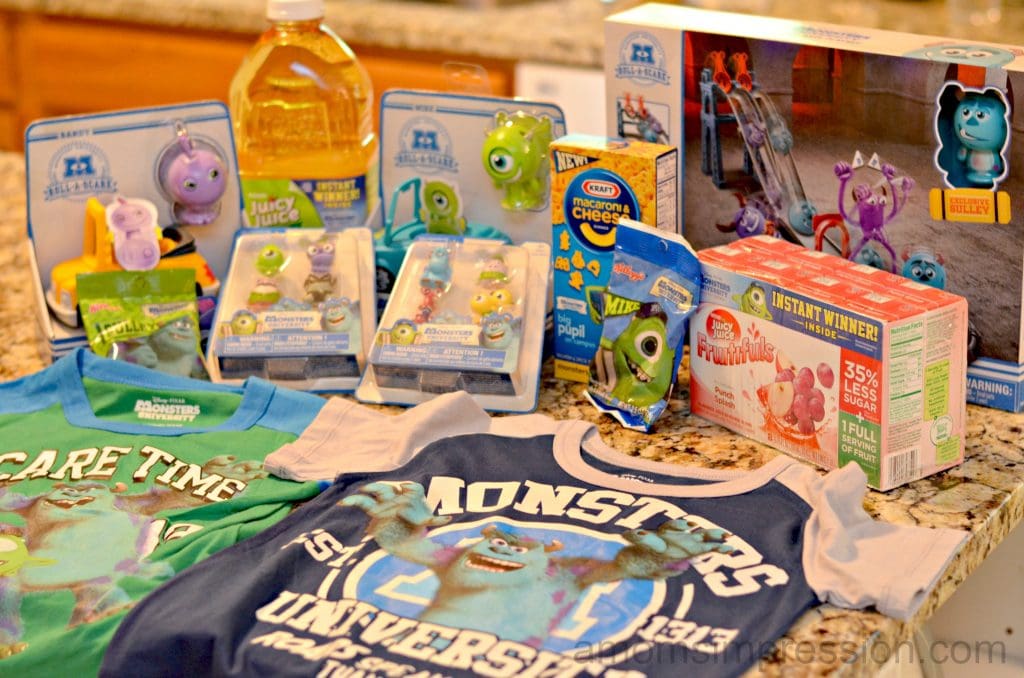 You can check out our entire shopping trip where we went on a scavenger hunt for MU themed toys and food. Check out all of these wonderful themed products we had for our sleepover!   Using our specially marked packages of Juicy Juice products we entered the Juicy Juice sweepstakes where we could win a family trip to Pixar Studios as well as a $5,000 scholarship. You can enter too, just look for specially marked packages of Juicy Juice!
Monsters University comes out in theaters today, be sure follow along with Disney Pixar on twitterand facebook.