Labor Day has come and gone here in Indianapolis.  The temperatures are still high, the leaves are still green and The Farmers Almanac says that fall doesn't start until September 22 at exactly 10:49am.  But I can't help but get the feeling that autumn is in the air.  I think this is mainly because football season is just about to start.
Here in Indianapolis, we have been riding the wave of Colts fever for the last 12 years.  We have enjoyed countless playoff runs, Super Bowl appearances and megastar athletes such as Peyton Manning.  Unfortunately, all great things must come to an end and our football team was no exception.  Peyton Manning got traded, along with a large amount of other starters after a grueling 1-15 season last year.  Now, here we are, looking down the barrel of another season with a fresh batch of new faces, many of which have never started an NFL game.
I want to tell you all right now, if you are not from Indianapolis; that we are not without hope.  I want you to know, all you Steelers fans, all you Patriots fans, all you Jets fans; that we are, in fact, excited.  The majority of our hope and our excitement comes in the form of a fresh faced, 6ft, 4inch, 234lb young man named Andrew Luck.
Andrew Luck comes to us as the number 1 pick in this years NFL draft.  He is the future of our franchise.  He has the weight of the whole team, heck, the whole city of Indianapolis sitting right on his shoulders next to his goofy, school boy grin and his constantly disheveled hair.  He has just signed a 22 million dollar contract.  He is the topic of the majority of local and national sports radio and television.  He is fully expected to fill the shoes of Peyton Manning who is possibly the best quarterback to ever play the game.  He is… well…. He is 22 years old.   He turns 23 in a couple days.  Happy Birthday, Andrew.
I remember being 22 years old.  I had trouble remembering to make my credit card payments and getting to work at Applebee's on time.  I couldn't imagine having the pressure this kid must have on him.  I have been wondering how he handles it.
When I found out that I would be spending the morning with Andrew today, I was looking forward to possibly getting some insight to these questions.  What I got was a glimpse of where excellence comes from.  It starts, I discovered, in the beginning.
Quaker Oatmeal and NFL Play 60 have teamed up with Luck to show some lucky kids in Indianapolis Public Schools the importance starting the day with a healthy breakfast and beginning an active lifestyle early in childhood.  Andrew was there to tell us today that it starts right when we wake up in the morning with breakfast and it continues through to picking a good role model, staying active and being a good role model for others.  Luck told the kids, "I'm sure you all have role models, I know when I was growing up, my role model was my dad, he played professional football and I wanted to be like him. "  He then asked them whom their role models where.  I began to brace for the cringe moment when one of the kids mentioned Peyton Manning.  I was betting Luck was looking forward to an event where he didn't have to talk about the comparison between him and Manning.  But the first kid simply told him that Tom Brady was his role model.  Brady is the starting quarterback for our constant, bitter rivals, New England Patriots.  "Tom Brady?"  Luck candidly responded,   "He is really good but we don't like the Patriots in Indianapolis."
He also told them the importance of being role models themselves for their friends and their younger brothers and sisters.  "I know that I have two little sisters and a little brother and I know that as an older sibling I think that it is very important to show them that you go home and you do your homework and your going to do the right thing and that you'll have fun while doing it."
Luck spoke for about four minutes and then seemed eager to get on with the activities and drills with the kids.  He gave them a brief tutorial on throwing the ball and then helped the kids play catch.  He made sure to high five every single kid that walked by him and made his best effort to interact with every child there.
Luck seemed eager but awkward in front of the kids.  Give him time.  This is something he probably hasn't had a lot of opportunity to do yet.  He seemed much more comfortable when he was surrounded by the media and they were asking him questions about football.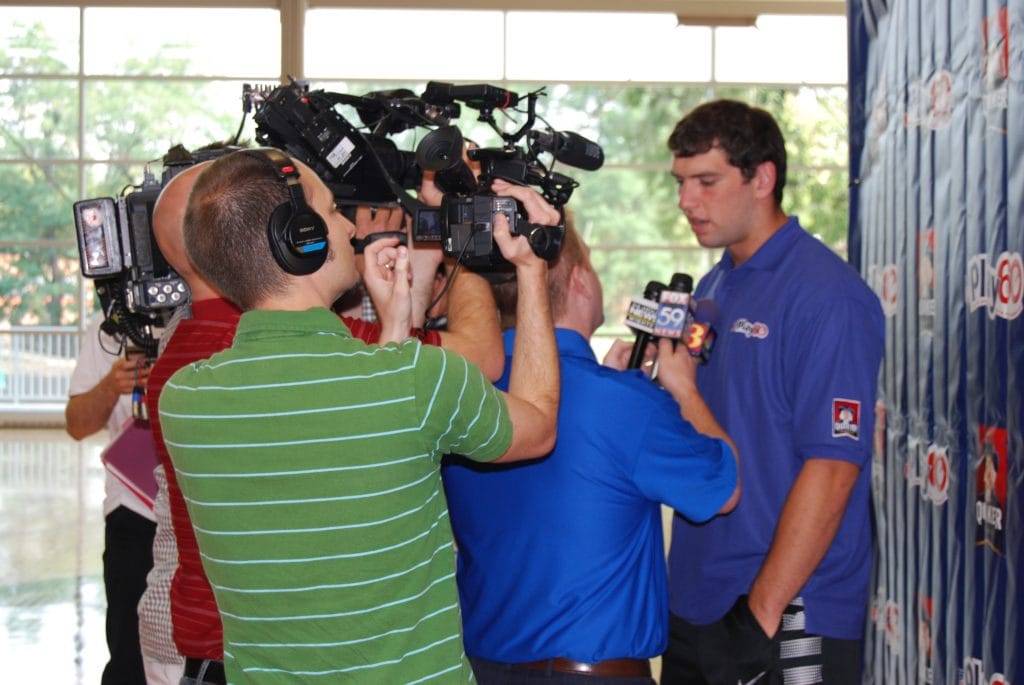 After the event, I asked Luck about his breakfast routine.  Does he try to eat the same thing every day and does he change it up at all on game day.  He told me that he tries to keep it pretty consistent.  I also asked him if it was harder to eat healthy after he moved away from his parent's home and went to college.  He laughed and told me that he had the training table to take care of all of that.  I grinned and nodded and said, "absolutely!" even though I had no idea what a training table was.  I looked it up on the internet later and discovered, if I had any doubt about it before, that Andrew Luck had a very different college experience than I did.
My hour with Luck and the kids gave me these thoughts.  First, that very large men don't always look that large until you are standing next to them.  Second, that he is still just a kid himself.  He looked much younger in person than I thought he would.  This could also be due to the fact that he finally shaved that scraggly beard that my wife has been asking him, through the television, to shave since he arrived.  Third, that dealing with the fact that everything you do is recorded by about 50 cameras makes just about everyone (except Peyton Manning) a little awkward.  But, like I said, give him some time and he will be a pro I'm sure.  Fourth, that he really does seem like a great guy that has come from a great family and is destined for great things.  Finally, I learned that the pursuit of excellence does start at the very beginning.  It starts at the beginning of your life, with your parents and the values they instill in you.   It starts at the beginning of your career and how you find a way to give back to a city that you don't yet know and is asking everything of you.  Excellence also starts, without a doubt, at the beginning of each day, with a good, solid breakfast.
Go Colts.  Go Andrew.  Good Luck.