We all love Hallmark holiday movies so why not pick up a copy of the latest Christmas story from Hallmark Publishing, An Unforgettable Christmas. An Unforgettable Christmas releases into bookstores and Amazon today, September 24th. Continue reading for more details and enter to win a copy for yourself!
Thank you to Hallmark Publishing for sponsoring this post.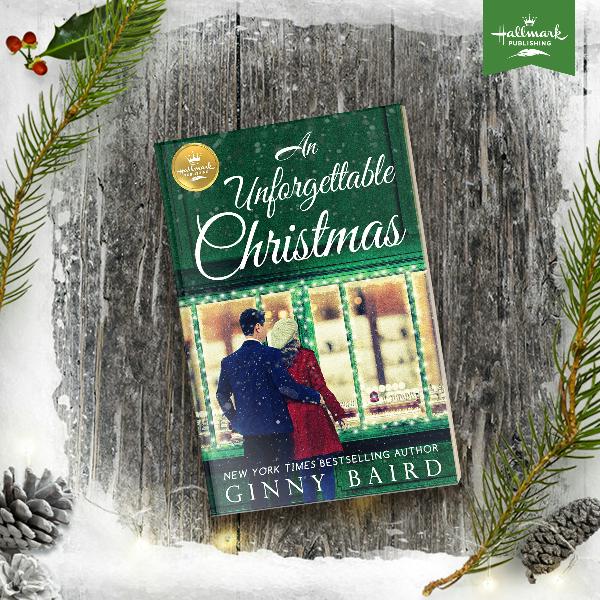 I know, yesterday was just the first day of fall, but the holidays are just around the corner. It is never to early to start thinking about holiday gifts!
My mom loves watching the Hallmark channel year round, but especially during the holidays. I already have a couple of these Hallmark Publishing holiday books on my gift list for her and I am excited for the newest release. I am also excited because we don't have to wait long for the next release either, Hallmark Publishing is releasing "Unwrapped Up in Christmas" on October 1, so keep an eye out for that one as well!
An Unforgettable Christmas is based on a Hallmark Original movie and is now available in paperback, e-book and Audiobook.
About An Unforgettable Christmas
He doesn't remember his past, but could she have a future with him?

Angie Lopez, a widowed mom, works hard at Singleton's Jewelers. Sam Singleton, her often-irritating boss, hardly does anything besides work. He doesn't spend time with friends and family, even around the holidays. That's why Angie's the one who winds up taking care of him when a head injury leaves him with amnesia.

As Sam attempts to remember who he is, he learns about the luxurious but empty life he leads…and he's not impressed. Meanwhile, Angie sees a new side of him as he shares Christmas traditions with her, her son Pepe, and her extended family. Angie shares touching, emotional moments with Sam. But if he gets his memories back, what will happen to her heart?
Each of the holiday books from Hallmark Publishing feature recipes that have been inspired by the story. This heartwarming holiday romance includes a free Hallmark original recipe for Arroz Con Pollo (Chicken With Rice.)
Doesn't this look delicious!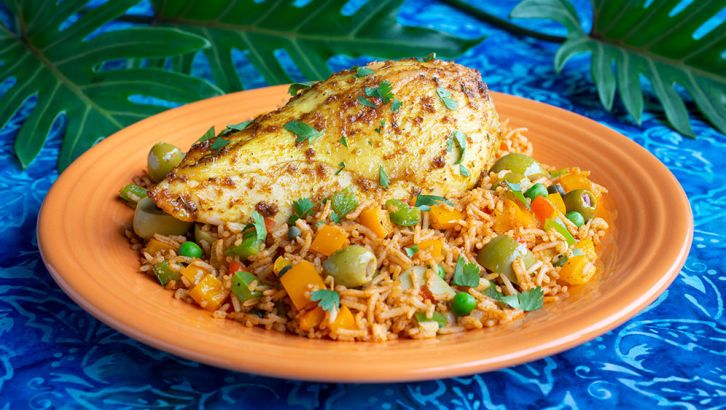 Yield: 6 servings
Prep Time: 1 hour, 25 minutes
Cook Time: 35 minutes
Total Time: 2 hours

INGREDIENTS

Chicken Seasoning Rub:
1 tablespoon smoked paprika
1 tablespoon dried oregano
1 tablespoon ground cumin
2 teaspoons kosher salt
2 teaspoons garlic powder
2 teaspoons onion powder
2 teaspoons chili powder
1 teaspoon ground coriander
½ teaspoon ground turmeric
¼ teaspoon ground cayenne pepper
2 tablespoons olive oil
1 tablespoon cider vinegar
1 to 2 tablespoons water (as needed to thin seasoning rub)

6 bone-in, skin-on chicken breasts (or 12 bone-in, skin-on chicken thighs)
1 tablespoon olive oil
1 yellow onion, chopped
1 orange bell pepper, chopped
1 green bell pepper, chopped
1 tablespoon capers, drained
1 tablespoon minced garlic
2 cups long grain rice
1 (15-oz.) can tomato sauce
4 cups chicken broth
1 cup frozen peas, thawed
1 cup pimento-stuffed olives
1 tablespoon chopped cilantro

DIRECTIONS
1. To prepare chicken seasoning rub: combine all ingredients in small bowl and stir to blend.
2. Brush seasoning rub evenly over chicken pieces, cover and refrigerate for 1 hour.
3. Preheat oven to 375ºF.
4. Heat 1 tablespoon olive oil in a large, deep oven-proof frying pan. Add chicken pieces and cook on medium-high heat for 5 to 8 minutes, or until golden brown on all sides. Transfer chicken to a plate and reserve; drain excess oil in pan.
5. Add onions, bell peppers and capers to frying pan; sauté on medium-low heat for 5 minutes, stirring frequently. Add garlic and rice and sauté for 2 additional minutes.
6. Add tomato sauce and chicken broth; bring to a simmer. Remove from heat; arrange browned chicken pieces in a single layer on top of rice.
7. Cover and bake for 25 to 35 minutes, or until chicken pieces are fully cooked and rice is tender.
8. Remove pan from oven; fluff rice with a fork, top with peas, olives and cilantro; cover with lid and let sit for 5 minutes before serving.
I'm really excited to get this book for my mom this Christmas. She is coming to visit soon so it might have to be an early present so she can enjoy it on the plane ride!
Be sure to pick up your copy of An Unforgettable Christmas today!
An Unforgettable Christmas Giveaway
Hallmark is giving one (1) winner a copy of An Unforgettable Christmas!  All you need to do is enter below and you could get a copy for yourself. Good Luck!