In celebration of  the release of Frankenweenie (in theaters today) I bring you the voices behind the boys of New Holland!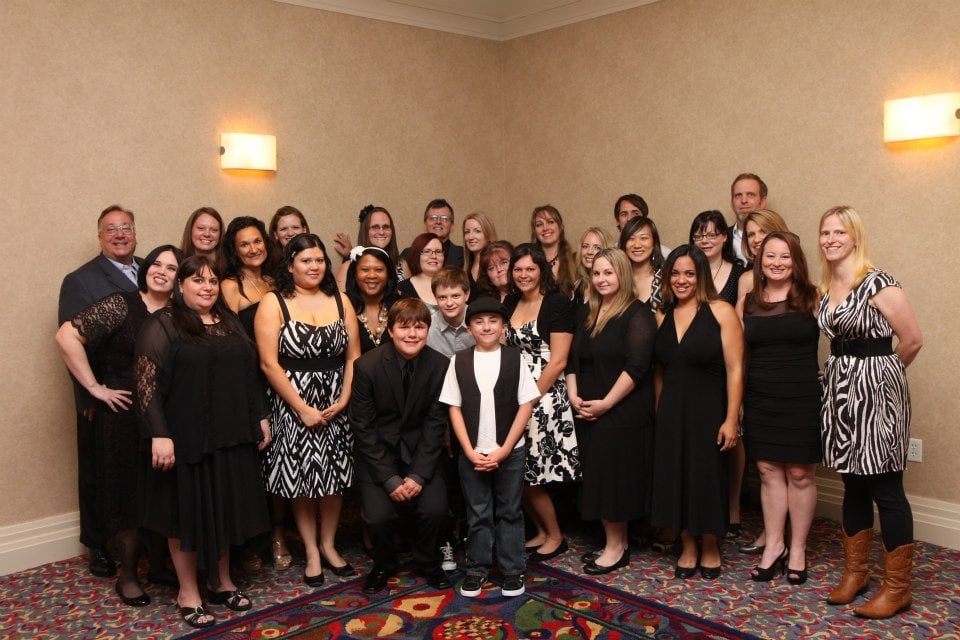 During my trip to LA, I was invited to interview Charlie Tahan, Robert Capron, and Atticus Shaffer, the voice actors of Frankenweenie.

Let me introduce the actors to you.  CHARLIE TAHAN plays the role of Victor, our hero who brings his pet dog Sparky back to life.  ROBERT CAPRON plays Bob, a loveable classmate of Victor.  He has a run in with a couple of Sea Monkey's gone wild!  Finally, ATTICUS SHAFFER plays Edgar 'E' Gore the first person who finds out about Sparky's reincarnation.
They gave us the dish on working with Tim Burton, what it is like to be a voice actor, and their favorite part of playing their character.
What was your favorite thing about your character?
Charlie:   Victor is kind of like loosely based on Tim's childhood I think a little bit.   He's like been one of my favorite directors, so I was honored to be able to sort of play him.
Atticus: The characters that I normally play are  kind of the very calm eye in the storm characters.   Some are smart,  they know how to figure out problems and whatnot.  But then this one, he's just so over the top. He's kind of like this, he's a semi villain, he loves everything more big and over the top. I also like being able to do the impression, of Peter Lorre for the voice, it is just awesome for me.  Because, I love doing impressions, I love doing accents.  He's kind of like the Igor character and, and I knew how to play that off, but like the second or third audition into it, they said if possible, do a Peter Lorre impression. And I was like this is so new for me, it's going to test my acting abilities, I want to do this.
Robert: Yeah, for me the thing I like the most about Bob is that despite the fact that he's like a really big guy, like his character, like he's huge.  Despite the fact that he's really big and he could very easily be like a bully, he's not, he's actually a very nice person.  Like that was one of the things I liked about his character.
What do you find challenging about it (voicing a character)?
Charlie:  Actually, this is my first voice over thing ever.  I thought it was going to be a lot harder, especially after I found out that I wasn't going to be with the other cast, to like read with them.  I think it was a little bit easier because half my scenes are with me and Sparky,  I have a dog at home, I kind of just imagined that my dog was there.  But it's pretty like easy just mostly just because you don't have  live action stuff.  You don't have to worry about like blocking or where to stand or,  hair and makeup, so you can mostly just focus all your energy just into your voice, so it's a little bit easier.
Atticus:    Man, I love doing voice over, I mean that's the whole reason I got into the business in the first place. I love to play with my voice.  I love telling stories, being able to put myself into these new, completely new characters.  And also with the fact that there is such a long list that you do have to worry about for, for theatrical, because you have wardrobe, makeup, memorizing lines, choreography, everything.  But whereas you just have a small list for voice over, which is, is making sure that your voice is, is well.  And you know what the character is like, you know the character voice.  And also that you  are able to take direction and kind of form.  I like to say that you put your soul into the character, because you're giving it the voice, especially in a Tim Burton animation.  It's stop motion animation, it's not drawn up, these are things that you can move and touch with your hands.  And it's almost as if the thing that's been the character has been built.  Then you give it a voice, and now it's able to talk. Then you have the animators who are able to move it, now it has motion.  Then with Tim Burton, and, and the set designers, they create this world that it is in.  Now it has its own earth, its own portion of earth, its own fantasy world. So in a way it is kind of creating like your own little monsters in a sense.
Robert: The thing that I like about voice over is that it's significantly easier than like actually filming.  It's way easier, because like Atticus and Charlie said, there's so many different variables that go into filming. You need the lighting, you need to look good with the hair and makeup.  With this, the character is already made basically.  So all you need to do is supply the voice.  But like Charlie said, a challenging part of it was that you're not actually recording with other actors.  You're just doing it by yourself.  And that can be kind of weird, because you're talking to yourself.  That may sound weird but usually somebody else will read the other lines first, and that makes it easier.
How long is the process?
Charlie:  Three years since we started filming. Well no,  I only worked like ten days on the whole movie, but it's spread out like once every two months or so.  It wasn't like ten days in a row.
Atticus:  Yeah the thing that's funny about working on a voice over thing is that you may think you're done with it and then like five months later, they'll come back and say, oh we need like a couple extra grunts, and like some breathing noises.
On working with Tim Burton:
Charlie:  He's surprisingly normal.  I didn't expect him to be like somebody like a scary guy ,but he knows how he wants each scene like to be.  Frankenweenie is really  pretty personal to him, and like it's sort of about his childhood issue.  I think that he knows exactly how he wants each shot or  scene to go.
Atticus: My favorite part of him in particular was the fact that he is so creative.  He doesn't want to follow the crowd or be a part of the big machine.  He wants to do his own thing.  He wants to be creative, groundbreaking, because it- and this film in particular is the first three-D black and white animation.  When he films things like Alice in Wonderland, it wasn't the stereotypical view of how things were at that time.  It was a darker tone, it was different.  Being a part of his mindset, his world, was just phenomenal for me.
Robert: The thing I liked about Tim was that he definitely had a specific idea of how he wanted like every line to be. That's one of the things I like about a director, when they know exactly what they want.  I think that's really cool for someone to just know what they're doing.
I hope that these interviews get you excited to watch Frankenweenie in theaters this weekend!  The film released today, make sure you see it soon!
A huge thank you goes out to Disney who will provide all accommodations and airfare for the event. While this event is sponsored by Disney, all opinions are 100% mine!