I fell in love with American Girl when I visited Chicago a few years ago after my niece was adopted.  We had a girls weekend and decided to stop by the store to see if we could find anything for her for Christmas.  I couldn't believe my eyes!  It was love at first sight.  Fast forward to my second pregnancy (about 6 years later) during the ultrasound when we found out we were having a girl, one of the first things I thought about was that I finally get to shop at American Girl!  The store is an experience and I can't wait until Caroline is a few years older to visit it with her.
Speaking of American Girl, we just had our family Christmas and Caroline got her first doll, a Bitty Baby!  She has loved dressing her up and feeding her a bottle.  She has carried her around all over the  place.  I know she is going to love opening her cradle that we got for her tomorrow!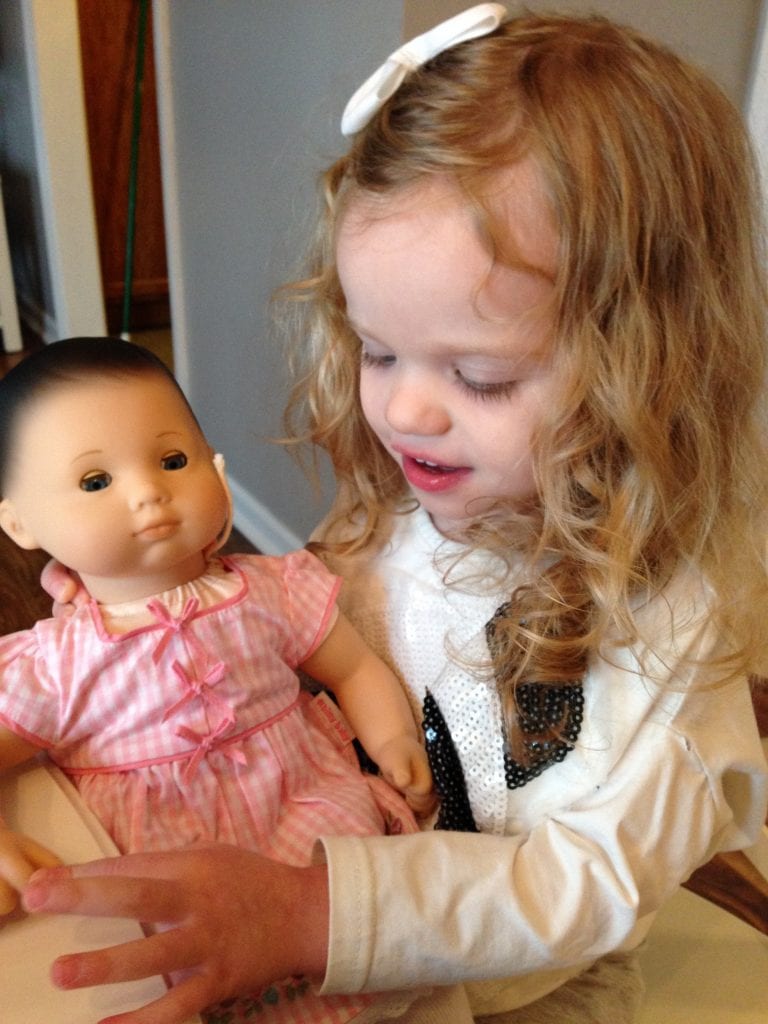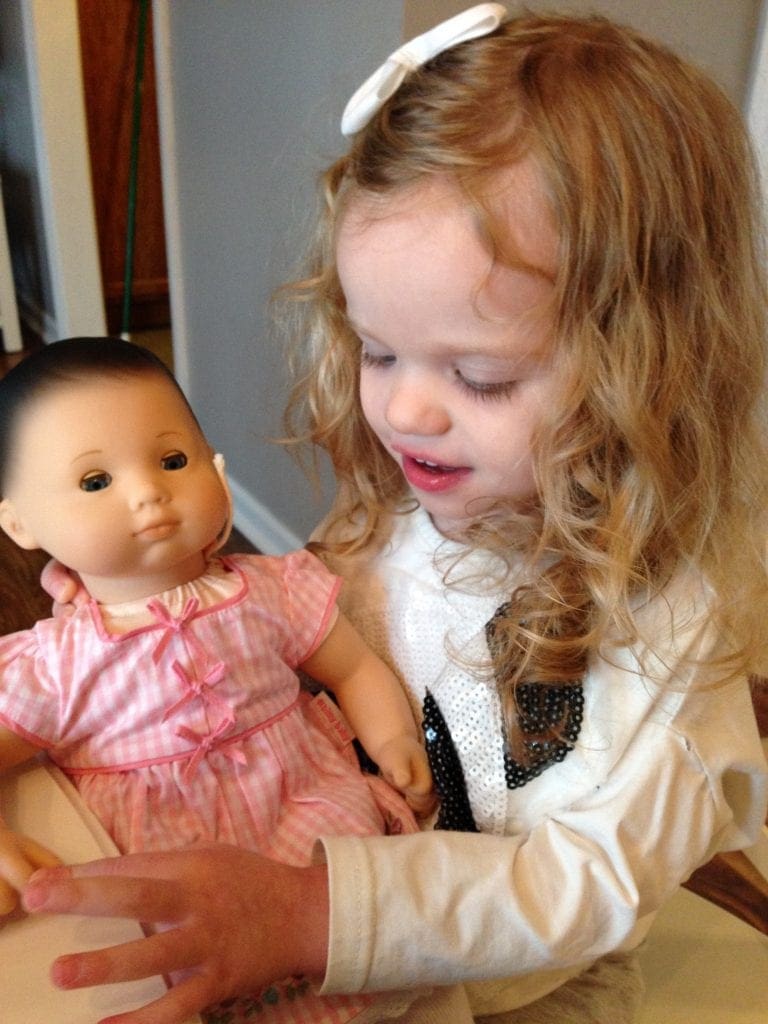 Here are some of my favorite items from American Girl that I can't wait to add to our collection this year: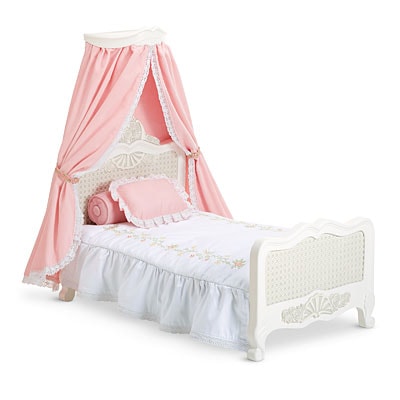 Samantha's Bed & Bedding:  Isn't this bed amazing!  I want to get something similar for Caroline's own bed, but it would be fun for her to having a matching doll bed for her babies!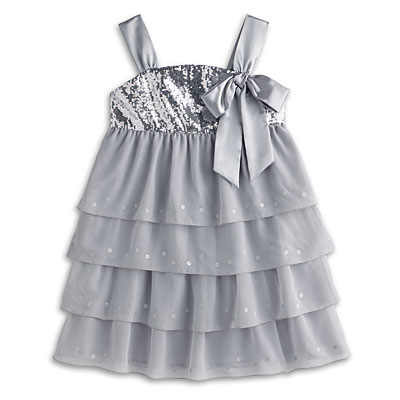 I love this Silver Shimmer Outfit for Girls with a matching outfit for your American Girl doll.  It is so cute that they can match and the clothes at American Girl are stylish and made well!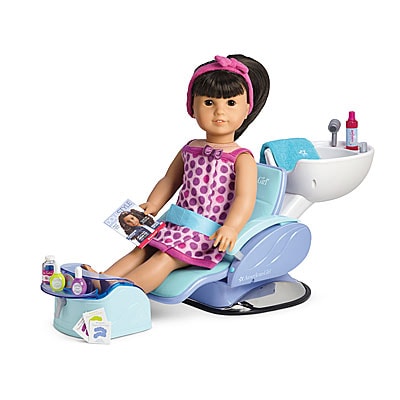 American Girl doesn't stop at dolls, clothes, and furniture.  They have numerous accessories for your dolls including many Doll Care items to keep your girl looking her best. The American Girl stores also have a hair salon to pamper your doll and get her back into tip top shape!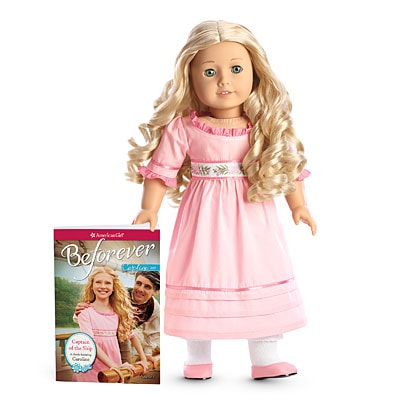 My favorite doll right now has to be Caroline!  My daughter is going to have her namesake doll some day, they even look alike with their eyes and long curly hair.  Caroline is apart of the BeForever line of dolls where each character features a story series that explores her era so your girl can discover how all girls share the same hopes and dreams. Caroline comes in an authentic 1812 outfit!
While the Girl of the Year 2014 is all sold out, you can still purchase her outfits.  This is my favorite Isabelle outfit: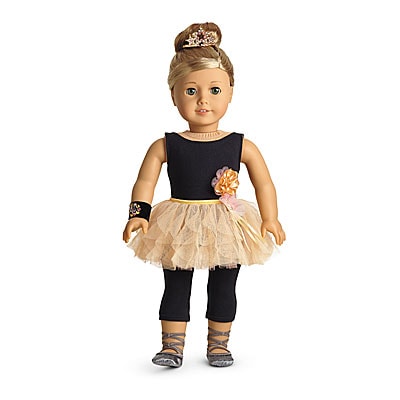 I love this dance uniform, and seeing how American Girl sent us Isabelle earlier this month, I am going to purchase this for Caroline so she can dress her up for the big dance recital.
Speaking of the Girl of the Year…
Introducing Girl of the Year® 2015
While we don't know a whole lot about American Girl's girl of the Year yet, she will be here in a few weeks. Don't miss the unveiling of the 2015 Girl of the Year® doll!   There are events at most of the American Girl stores including the one in Chicago!  This event includes fun activities, crafts, exciting giveaways, and more. Be among the first to welcome this special contemporary character! Free and open to the public. For girls ages 8 and up.
Earlier this month American Girl donated nearly $3 Million in American Girl Dolls to Children's Hospital Association in a Unprecedented Holiday Charitable Initiative.  I hope you saw my tweet:
11/24 to 12/18 American Girl will match any doll purchase w/ an 18-inch doll donation to the Children's Hospital Association #Joy2EveryGirl

— A Moms Impression (@amomsimpression) November 26, 2014
What I didn't tell you is that American Girl donated an Isabelle doll to a charity of my choice!  I am going to be donating her to Tatum's Bag of Fun.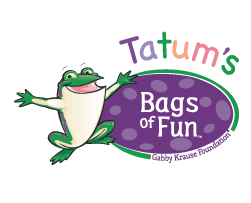 Tatum's Bags of Fun distributes backpacks filled with activities, games & toys to every child diagnosed with cancer in Indiana.  It began when a little girl of 6 years old was diagnosed with cancer.
When 6 year old Tatum Parker was in the hospital battling rare bone cancer, Ewing's Sarcoma, she received a Bag of Fun® from the Gabby Krause Foundation. The Bag of Fun® helped Tatum get through the long hospital stays, and was gladly shared by Tatum with many other pediatric cancer friends. The toys and games helped lift Tatum's spirits, and those of her parents.

Tatum endured a year-long battle in which she smiled her way through 3 major surgeries and 13 rounds of chemotherapy, unfortunately in December 2008 she had a relapse. Tatum completed her 2nd battle with cancer in September 2009, and to this date remains cancer free!
Tatum was a student at my school.  I actually had her little brother in my class last year and fell in love with this amazing family!  They are the epitome of paying it forward!
I can't thank American Girl enough for being a light in the dark of a scary diagnosis for a young child and allowing me to be a small part of that!
What is your favorite American Girl Doll?
Again, I can't thank American Girl enough for providing an Isabelle doll for Tatum's Bag of Fun as well as for our family.  All opinions are 100% mine.