The new Echo Dot Kids Edition from Amazon makes a great addition to your family.  Built from the ground up with kids in mind, it features all the things that both parents and children will love.  We plan on using ours to make our 2019 better than ever!
This post was sponsored by Amazon as part of an Ambassador Activation for Influence Central and all opinions expressed in my post are my own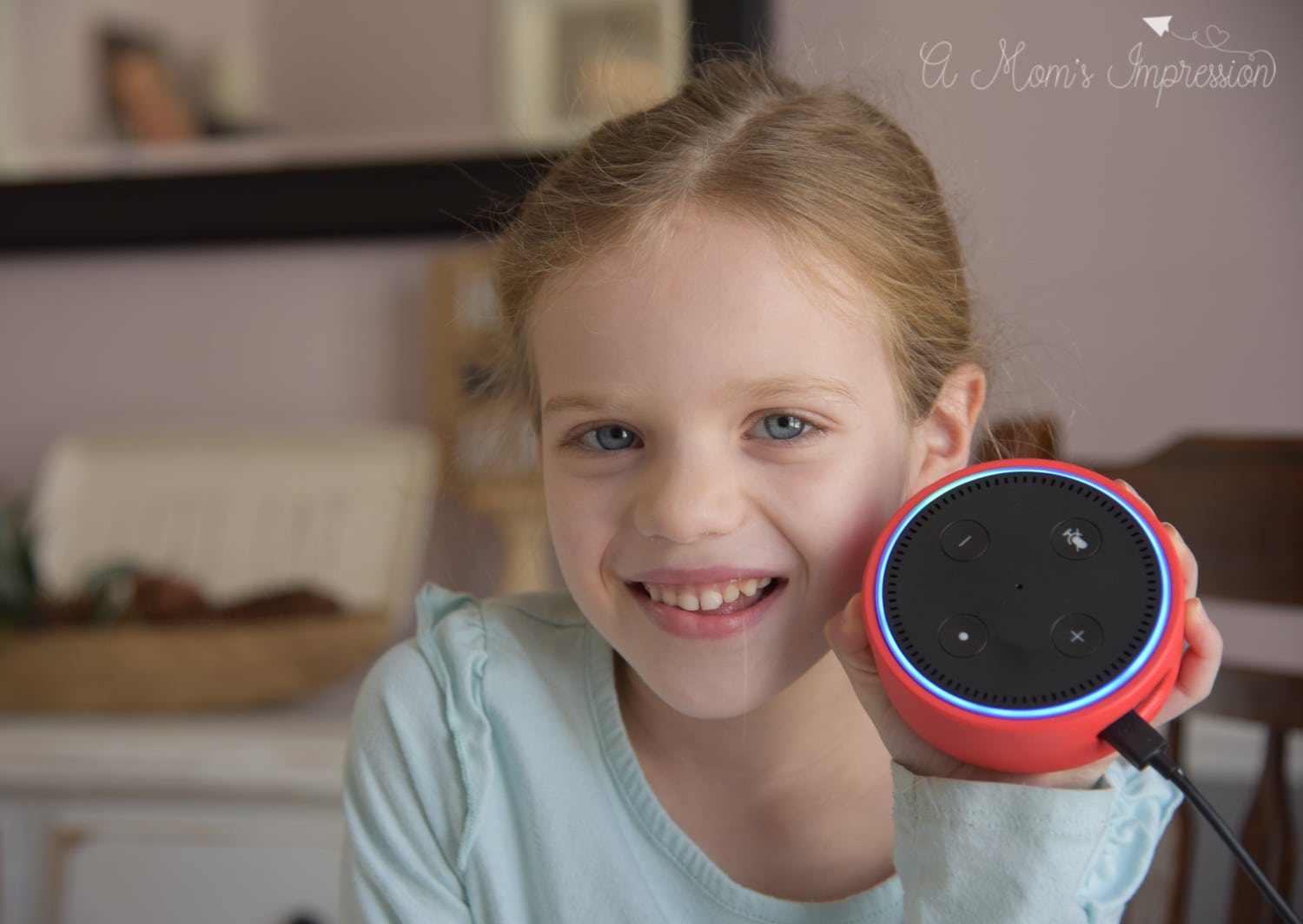 The kids REALLY wanted to get a puppy for Christmas.  We are currently a dog-free family, but the kids would love to add a 4-legged member to our crew.  I'd love to as well.  There is just one member of our family holding out.  I'm not pointing any fingers (but giving my husband a dirty look).  Hopefully, he will come around soon.  But in the meantime, no puppy for Christmas this year.  Insert frown emoji here!
Luckily, we were able to add one more member to our family.  Amazon's new Echo Dot Kids Edition.  We already have several smart devices from Amazon in our home and have been very impressed with them.  To be honest, I was a bit skeptical about a kids edition of the Echo Dot.  But, we received one last month and have been using it over the holidays and I've had the chance to get a little more acquainted with it.  So, I've come back to give you my full report.
What Is The Echo Dot Kids Edition?
The Echo Dot Kids Edition is a new Alexa driven smart device that is completely built and tailored for kids and families.  Each Kids Edition comes with an Echo Dot, a year of FreeTime Unlimited, a sturdy kid-proof designed case, and a 2-year guarantee.
One of the unique things about this Kids Edition of the Echo Dot is all the great parental controls that are available.  As a parent, you are able to control many of the settings for the device.  This includes controlling what services your child can use, turning off voice purchasing and blocking explicit lyrics in songs.  And that is just the tip of the iceberg. I was, honestly, a bit concerned about unleashing the power of Alexa into my child's bedroom.  But, with all of the controls that I have over the Echo Dot Kids Edition, my fears have been quelled.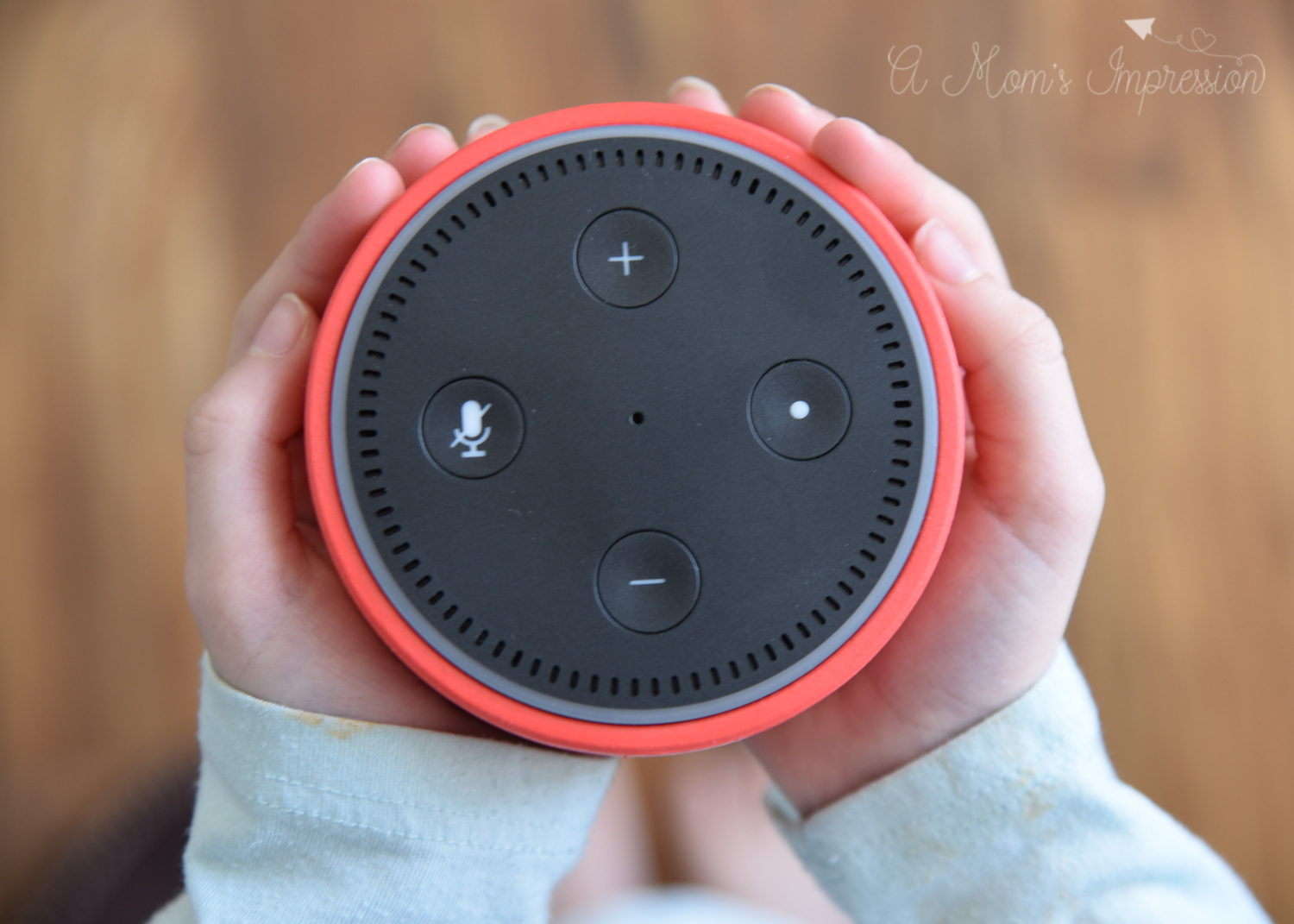 How Are We Using The Echo Dot Kids Edition
After setting up our new Echo Dot Kids Edition, it was time to incorporate it into our family routine.  Setting up our new device was pretty easy.  We just downloaded the Alexa app onto our phone and from there, we just followed the instructions.  Like I mentioned before, we have several Alexa devices in our home.  So now, we are able to have our original Echo Dot in my older son's room, the Kids Edition in my younger daughter's room, and an Echo in our family room.  It was super easy to pair all of these up with each other through the app.
Also, the app is where you can easily access all of the parental controls.  Just select a device with a touch of the screen and manage your child's interaction.
Since we have gotten Alexa in everyone's room and one downstairs, it has been a lot easier to communicate with each other.  We often use the "announce" function.  We can easily say "Alexa Announce" and instantly talk to our kid's upstairs. This is how we often tell them it is time for dinner, time to take showers, etc.  It also works great the other way.  My daughter sometimes gets scared at bedtime.  Now, calling for us is very easy.  She sleeps better knowing that she can talk to us anytime she wants to downstairs without even having to get out of her bed.
Using Alarms With The Echo Dot
The Echo Dot also helps us keep our daily schedule on track.  This is great for things like bedtime, ending "tech time" and waking up in the morning.  We can do this by setting alarms and reminders.  It is nice to not have to keep an eye on the clock to make sure our kids are doing what they are supposed to be doing.  We know that Alexa has us covered.  When we hear the alarm go off, we can jump into parent mode an go up to make sure teeth are being brushed and tech is being put away.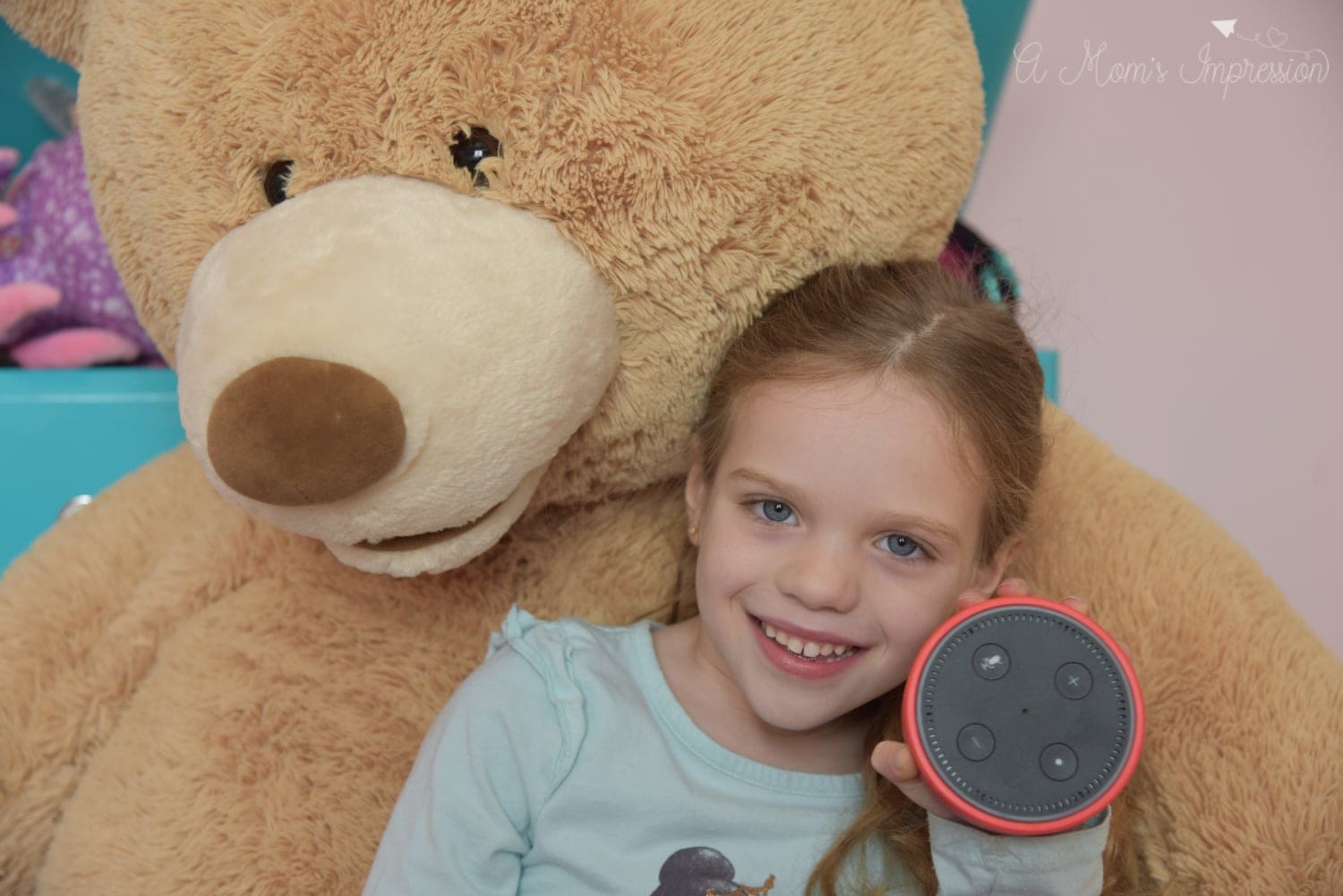 We also love to set alarms to wake up in the morning.  With my daughter now having her own Echo Dot Kids Edition, they can each wake up to different sounds in their rooms.  If your kids are anything like mine, they are CRANKY at 5:45 am when we need to start getting ready for the bus.  Now, I can set a soothing or funny alarm from Disney, Nickelodeon or The Cartoon Network to start them stirring before I have to come in and drag them out of bed. It's made our mornings a little easier.  We will take all of the help we can get!
Steam Music And Games With The Echo Dot Kids Edition
One thing that my daughter has inherited from her daddy is her love for music.  She loves to tell Alexa to play her favorite songs.  She and her daddy often have dance parties after dinner.  It is so much fun to watch them.  We can also play fun games on the Echo Dot, such as Trivia Pursuit and No Way True Categories for Kids.  With the free subscription to FreeTime Unlimited, the Echo Dot Kids Edition has really made family nights so much fun. FreeTime Unlimited also includes over 1000 Audible kid's books, kid-friendly, ad-free radio stations and playlists, character alarms, and premium Alexa skills.  And, if we want FreeTime Unlimited on any other of our Echo devices, it is only $2.99/month.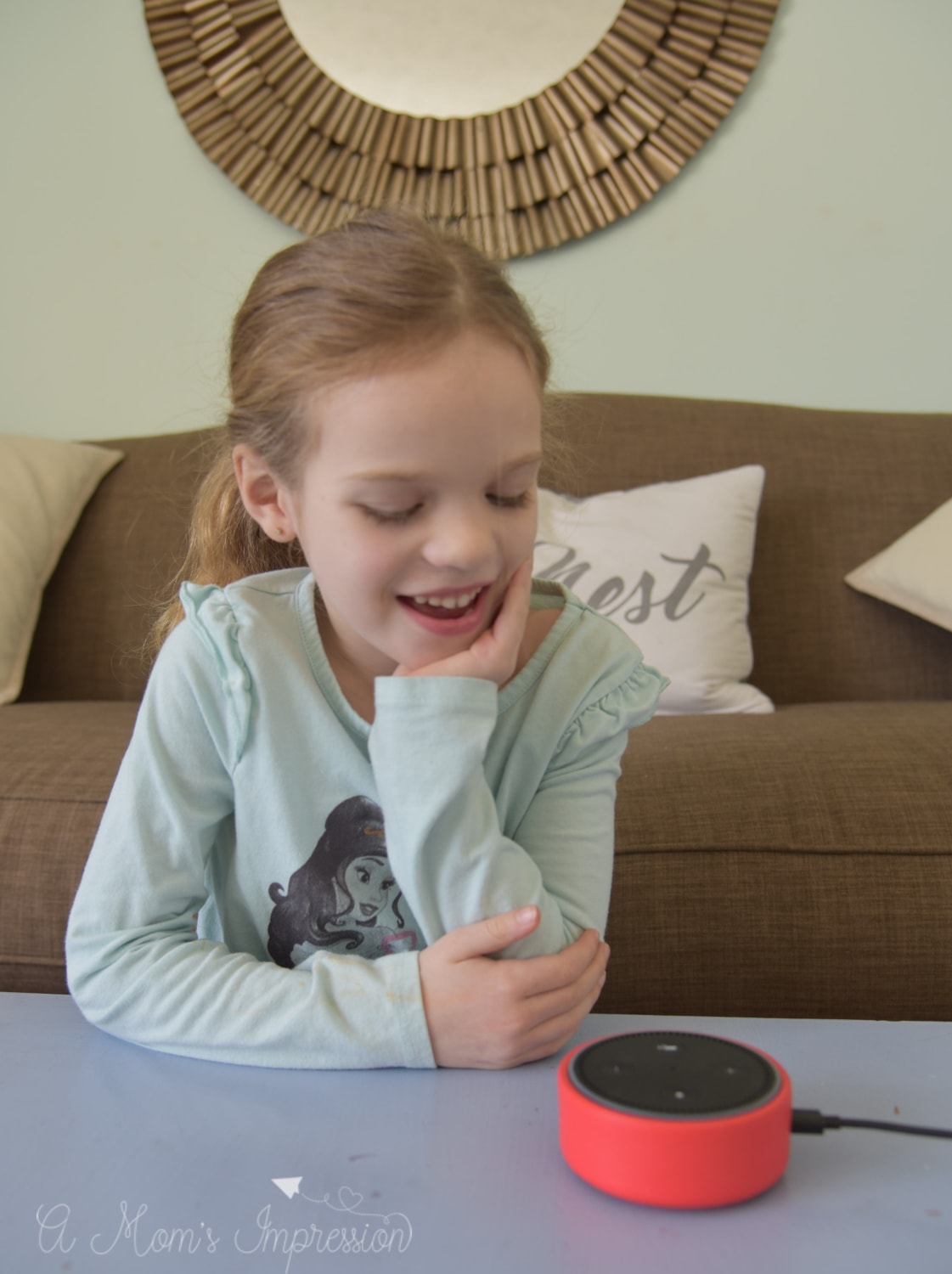 Tackling The New Year With The Echo Dot Kids Edition
Going forward into the new year, I'm sure we are going to be using Alexa even more.  We've got a busy and fun year ahead of us.  Knowing that I can just tell Alexa to remind me of something on my calendar, to make a shopping list, or a packing list is going to be a lot of help.  I can access all the lists I make on my App.  So going to the store and planning my week will be easier than ever.
Dance, sing, plan and play your way into 2019 by getting the whole family involved with the benefits of Alexa with Echo Dot Kids Edition.  While it isn't a new puppy, it sure is a new welcome member of the family.