As my skin ages, I look for quality products that can help my skin looking young and healthy. This Crepe Erase Review shows before and after pictures highlighting my experience using the product.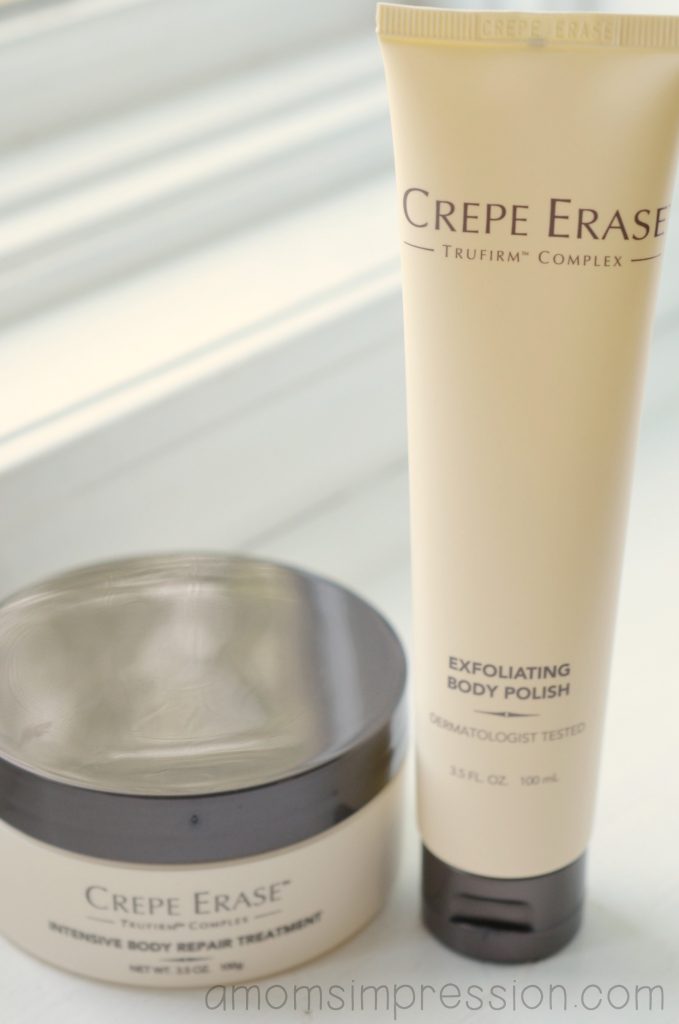 I'm approaching a huge milestone in my life next year.  It's a big birthday, can you guess which one?  I wish I could say that the years haven't had an effect on me, but that would be a lie.  In the past few years, I have seen a dramatic change in my skin elasticity.  My skin has been drier and more and finer lines have started making an appearance.  I have begun looking for products that can help reverse this process.
Crepe Erase Review
A couple months ago the people from Crepe Erase asked if I would be willing to try out their products and give my honest review about what I thought of it.  I have been using the system for a little over a month now and can't wait to share my results with you.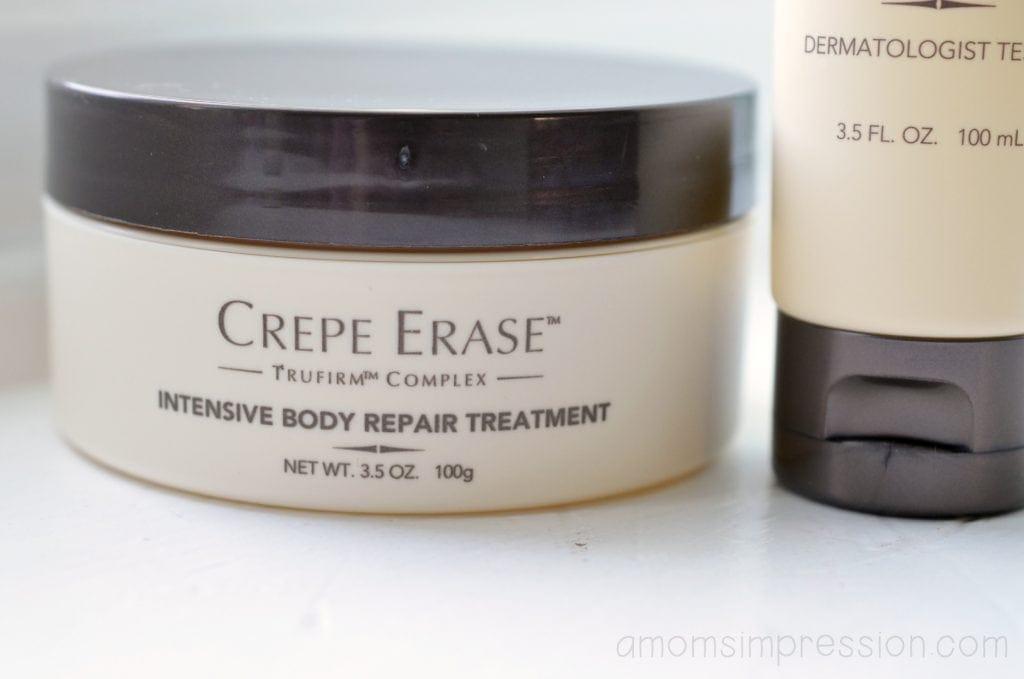 Crepe Erase Body Polish
First of all, the system I have been using is a two-part process.  First, there is the Body Polish that you use to exfoliate your skin.  I have been using it in the shower a few times a week.  My husband loves this stuff.  He has been using it on his face to exfoliate his growing beard.
Crepe Erase Intensive Body Repair Treatment
Secondly, the Intensive Body Repair Treatment is applied all over in small amounts.  This is my favorite part.  This thick creme feels amazing after you have exfoliated your skin.  I tried it first on my legs, since I have sensitive skin, and fell in love almost instantly.  For the first time in years, I want to show off my legs.  I feel like I am almost swimsuit ready and that is a good thing since the neighborhood pool opens this weekend!
I hope these pictures do it justice.  Here is a little before and after: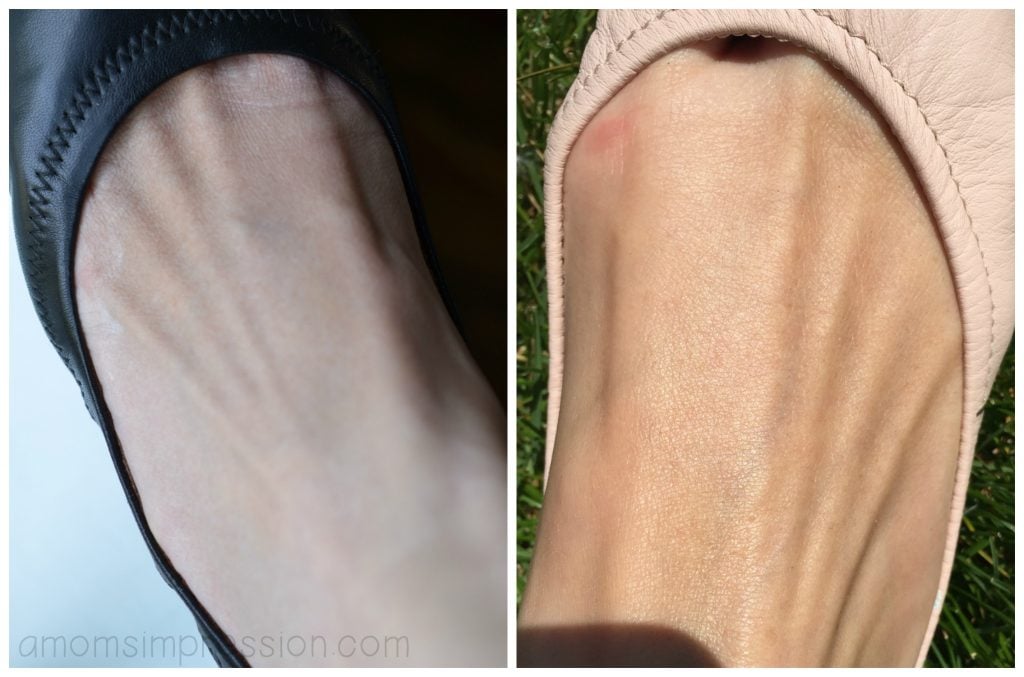 My feet have been unbelievably dry lately.  You can see in the left picture how flaky and dry the skin is right below the toe of my shoe.  A month later you wouldn't be able to tell.   This past month has been warm and sunny so the top of my foot even got a tan that would normally dry my skin out even more.  I think my skin is finally starting to look a bit healthier and definitely younger looking.
Here is the difference in my arms.  Yes, my arms also have gotten some sun since my first pictures.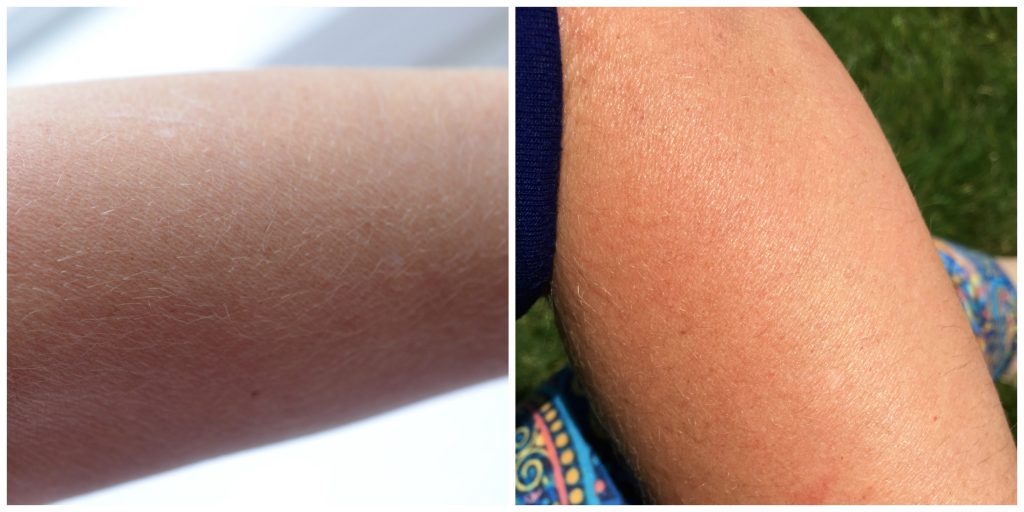 Here is a short video I made talking about why I decided to try the product and a recap of my experience:
To learn more about Crepe Erase and to find out if it is right for you, be sure to visit their website.  Ordering information can be found there as well.
So, I'm just a year and a half away from that big birthday, but now my skin is going to stay 30 forever!
Happy Aging!