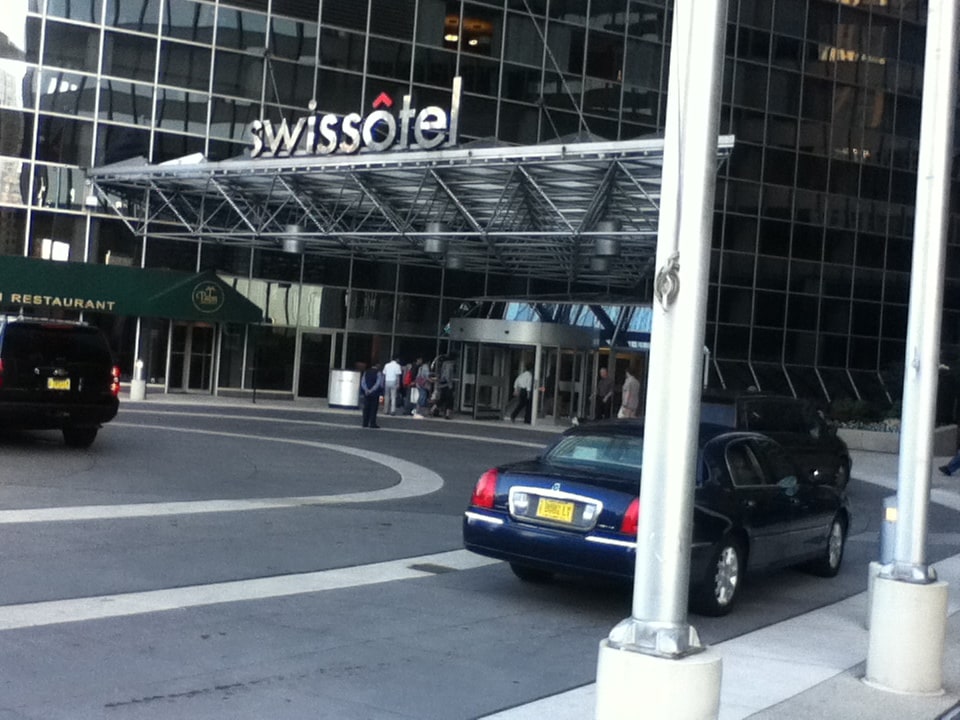 A couple of weeks ago, I wrote about our family adventure in Chicago.  During our trip, we were able to cruse the canals, visit the Navy Pier and go to the Adler Planetarium.  The trip was incredibly fun and it was great to be a family hiking along in the big windy city.
Today, I want to take some time to tell you about one of the best parts of the trip that I didn't even mention last time.  We got to stay at the Swissôtel.  I had never heard of Swissôtel before and really had no idea what to expect.  I've done the Microtel a couple times, but never Swissôtel.  I was certainly in for a pleasant surprise.
The trip from Indianapolis to Chicago is about 3 hours, depending on traffic.  In Chicago, traffic is one thing you can definitely always depend on.  There are also toll roads and construction.  With all the traffic, construction, the tolls and trying to navigate an unfamiliar city, the last hour of the trip is always pretty stressful.  Parking is also a challenge in Chicago; so much so, that I believe it may be included as an Olympic event in the next summer games.  Actually, it is probably even more difficult in the winter, so they could probably add it to the Winter Olympics as well.  I suppose what I am trying to say is that by the time that we had found the hotel, found and appropriate place to park, paid for it and walked to the hotel, I was ready to take a breather.  If it was just my wife and I, it would have been a fun adventure, but with a 3-year-old and a 3-month-old, not so much.
We arrived at the hotel at about 1:30pm.  We had been told in advance that our room wouldn't be ready until about 3:00pm but we thought we would head in and see if we got lucky.  We walked in from the noisy, humid, August weather into a beautiful lobby that had a very modern European feel.  The first thing greeting us when we walked through the large, rotating doors were huge glass tanks with ice water and fresh, mixed berries mixed with them.   After about 4 glasses of "berry water", Kathy and I headed toward the check-in desk.  By the way, Jonah thought that the "berry water" was super cool but refused to actually drink any of it.  But this is a kid that won't give the time of day to a hot dog, so what can I say?  He still has a lot to learn about the finer things in life.  Anyways, we were sweaty, loud, a bit lost and (I can only speak for myself) in a bit of an irritable mood from the long trip.  Also, I had just about done a keg stand on their fancy water/berry thing.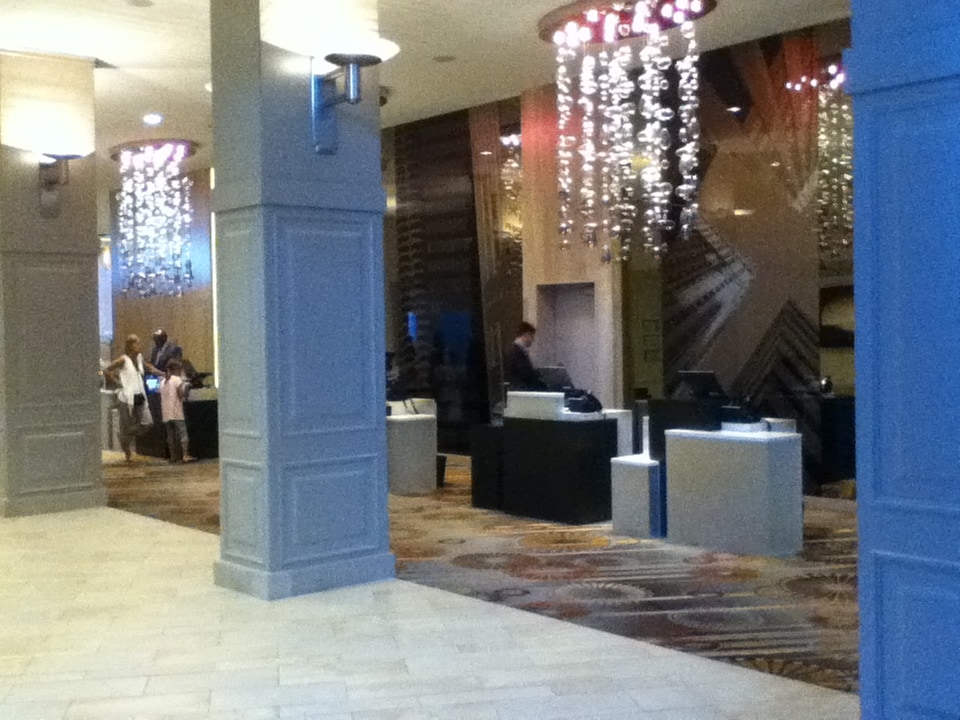 We were greeted warmly by a young woman who promptly told us our room was actually ready and gave us directions to get there.
I am glad she did, because Swissôtel has smart elevators.  Here is a link to a great NPR story about what they are exactly and how they work: http://www.npr.org/templates/story/story.php?storyId=6799860.
But, the short of it is that there are no up or down arrows (this would have made my head spin around right from the start had they women at the desk not warned me) but rather a keypad that you put in the floor you want to go to.  It will then direct you to the elevator that you need to get on.   With eight elevators run on a computer that maximized the logistics of each individual shaft, you have a shorter wait time on the ground floor and a shorter ride to your floor once you get on the elevator itself.  I thought this was just about the coolest thing I'd seen in a long time.
We got to our room and went inside.  The room was large, clean, modern and had a view that I can't really describe.  Thankfully, Kathy took a picture of it.  It was by the far the best view of any hotel I've ever been in and I've stayed in hotels all over the world.  Well, actually, now that I think I think back on it, most of those places were hotels and I shared a room of bunk beds with about 12 other stinky European travelers.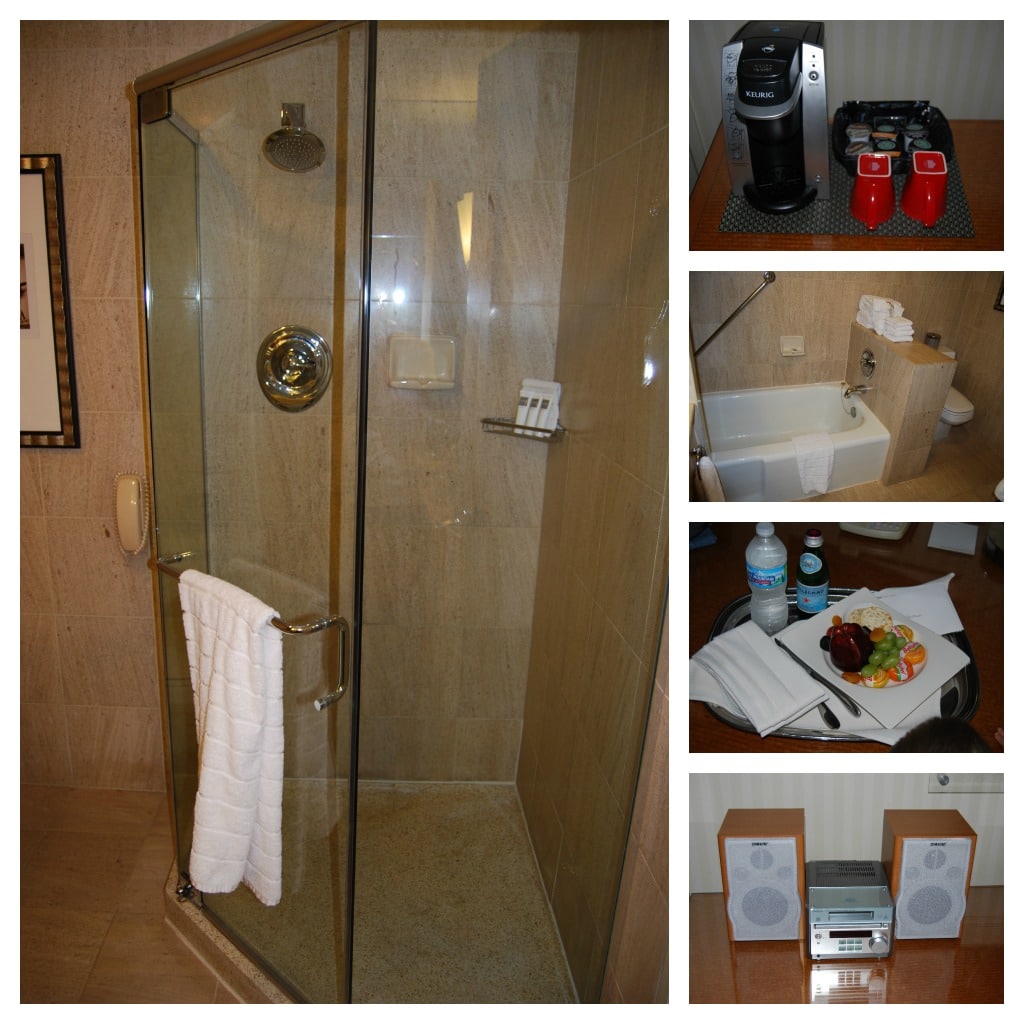 The room was extremely modern and clean.  It came equipped with a iPod docking station, a Keurig coffee maker, and a fabulous bathroom.  I instantly felt like I never wanted to leave.  The hotel also has a workout gym and an indoor pool on the 42nd floor.
What was even cooler as that as we were admiring the view, we saw two military helicopters fly right by out over Navy Pier.  We had heard that President Obama was in town and we figured that had to be him.  I think I saw him wave at me.   Jonah insists that the president waved at him, not me.   I let the kid go ahead and think that, he's only three….  But we all know whom he really waved at.
After Barrack's ride flew away, we heard a knock at the door.  I answered it and there was this well dress gentleman with a tray of fine cheeses, crackers and fresh fruit.  I told him that I didn't order anything but he told me that it was compliments of the hotel.  I brought the tray into the room and there were cheeses that I couldn't even pronounce.  As I started exploring the different kinds of cheeses, Jonah (you remember him, right, the one that wouldn't even drink water because it had some fresh berries in it?  The one that won't eat a hotdog?) grabbed a whole wheel of some rare, Swiss, soft cheese and started inhaling it like it was a doughnut.  Wonders never cease.
After we settled in, we went out on our adventure to Navy Pier and to the canal rides.  After all of this, we had dinner at Lou Malnati's.
Lou's is one of THE Chicago Pizza places in the city.  There was a little bit of a wait and we were offered to go ahead and order our pizza before we were seated.  This is a simple yet brilliant idea (like the smart elevators).  Deep dish pizzas take a while to bake, this way, our pizza came to us shortly after we were seated.  It also meant that they could turn tables faster and the restaurant could get more people in and out and make more money.  Everybody wins!  Kathy and I ordered "The Lou" and it was fantastic.  The servers were extremely friendly and the service was prompt and professional on this busy Saturday night.  I had a Peroni beer with my pizza and decided that it is the best beverage you can possibly have while eating that particular cuisine.
After we got back to the hotel, Jonah watched a movie on the MacBook and Kathy and I settled in for bed.  There were two, enormous king-sized beds in the room.  They were incredibly comfortable and the pillows felt like you were were lying on a pocket of soft, cool air.  We all had a wonderful slumber and woke up the next morning ready to take on the Planetarium.
Let me say this if it wasn't apparent before; Swissôtel is certainly a high-end hotel chain.  I am not certain what our room cost, or what the tray of cheese and crackers cost because this was all generously taken care of by the hotel for us.  I did do a quick check on their website as I am writing to try to book a room, just to see what would be looking at price-wise.  If you were to book a room on a random Wednesday in September (9/19/2012), the cheapest rate you would find is $419.00.   Now, this is in downtown Chicago, so all things are relative.  I remember look at room service before we left in the morning, and to get a fairly normal breakfast (eggs, bacon, bread, etc…) was about $34.00.  It made me grin a little bit to think about the day before when Jonah was probably munching on a $20 wheel of cheese.  For two public employees such as my wife and I, I'm not sure we could afford this lifestyle.  But, if you have the money to spend, or your employer has given you an expense account, this hotel is well worth the money.  They did just about everything right.  I would stay there again in an instant and feel spoiled the entire time!
A huge thank you the Swissotel and partners for putting us up in a hotel room as well as admission to the Alder planetarium.  All opinions are mine!