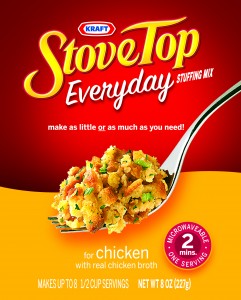 Okay, so that might be the longest title of a recipe ever, but I didn't know what else to name it.  Are you a fan of stuffing?  I love to eat it at Thanksgiving time, but to be honest with you that is about the only time during the year I eat it.  I was sent some Stove Top Everyday Stuffing Mix to try out a recipe with and I have to tell you, I should use it more often when I cook.  Not only does Stove Top make a great stuffing as a side dish (try it next time instead of a potato side), it works very well in recipes.  I didn't have a plan, as you can probably tell from the title of this post, but I made a delicious dinner! I just looked in my fridge and freezer for things that I had on hand and prayed that it worked together.  I often call these Kathy surprises becaue you never know if they are going to be good or not.  This one is a keeper and therefore I am passing it along to you!
A Little of This, A Little of That
Ingredients
2 cups StoveTop Everyday Stuffing Mix (I used the for chicken kind)
1 cup water
2 Tbsp. butter
1/3 pound hamburger (I used a hamburger and sausage mix that I had leftover from a previous recipe)
1 clove garlic
3 ears of corn, cooked and cut off the cob (you could also use a couple of cups of frozen corn)
1 Roma tomato diced
salt and pepper
Directions
In a large skillet, brown hamburger and drain. While hamburger is cooking prepare StoveTop Stuffing as directed (water, butter).
Add garlic, salt and pepper to hamburger and cook 1 minute.  Add corn and heat through.
When stuffing is finished add it to the skillet and combine.
Stir in Tomato at the last minute and serve.
Enjoy!  Trust me it is going to be good.  I ate this for 3 days!
This recipe was made possible by StoveTop.  I received StoveTop Stuffing Mix and some goodies from StoveTop for posting this review.  All opinions are 100% mine.