For those who didn't know, Cinco de Mayo (May 5) is a day that celebrates the Mexican Army's defeat of French forces at the Battle of Puebla, during the French occupation of Mexico (1862). As a surprise to some, it is not Mexico's Independence Day! In the United States, we've adopted the day as a celebration of Mexican heritage – a chance to get together with friends and enjoy some of the traditions and delicious food and drink we've borrowed from our neighbors. While many people still mistake the origin of Cinco de Mayo, there's absolutely no mistaking the sense of community and appreciation the day brings.
So this year, make Cinco de Mayo extra special. Invite family and friends over and serve up some delicious, original recipes in the spirit of celebration. Try these fun and easy twists on old classics – sangria and ceviche tostadas – with Delicious Byte exclusive recipes from Kraft Foods.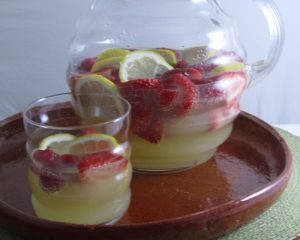 Lemon Berry Sangria
This new spin on white sangria combines Spring's best, fresh berries and lemons with Prosecco (a dry or extra dry Italian sparkling white wine that is becoming increasingly popular in the US).
Prep Time: 10 min. | Makes: 6 servings, 1 cup each.
What You Need
1-1/2 cups cold water
6 tbsp COUNTRY TIME Lemonade Flavor Drink Mix
1 bottle (750 mL) Prosecco
2 cups halved strawberries
1-1/4 cups fresh raspberries
1 lemon, thinly sliced
Make It
ADD water to drink mix in 1-1/2-qt. plastic or glass pitcher; stir until mix is completely dissolved.
STIR in remaining ingredients.
SERVE immediately.
Non-Alcoholic Variation:
Substitute 3 cups sparkling white grape juice for the Prosecco.
Food Facts:
Prosecco is a sparkling, dry Italian white wine.
Nutrition Information Per Serving: 180 calories, 0g total fat, 0g saturated fat, 0g polyunsaturated fat, 0g monounsaturated fat, 0mg cholesterol, 25mg sodium, 23g carbohydrate, 3g dietary fiber, 16g sugars, less than 1g protein, 0%DV vitamin A, 90%DV vitamin C, 4%DV calcium, 4%DV iron.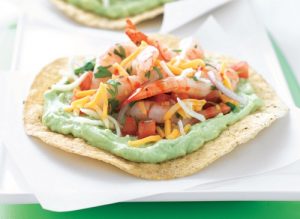 Ceviche Tostadas
This version of a Latin American favorite combines painless cooking techniques with satisfying, fresh taste. Ceviche or seviche is a popular appetizer from Latin America. Traditionally, it is raw fish marinated in citrus (lime juice). The acid in the lime juice "cooks" the fish turning it firm and opaque. In this recipe, we use a marinade technique instead, adding cooked shrimp to a lime marinade. The avocado is a great complement!
Prep Time: 10 min. | Marinate Time: 20 min. | Total Time: 30 min. (incl. marinating) |Makes: 6 servings, 1 tostada each.
1 lb. small shrimp (36 to 45 count), peeled, cleaned and cooked
1/2 cup fresh lime juice
1/4 cup KRAFT Zesty Italian Dressing
1 medium tomato, chopped
1/4 cup chopped cilantro
1/4 cup thinly sliced red onions
1 avocado, peeled, pitted and sliced
2 oz. (1/4 of 8-oz. pkg.) PHILADELPHIA Cream Cheese, softened
6 tostada shells
3/4 cup KRAFT Shredded Cheddar & Monterey Jack Cheeses
Make It
TOSS shrimp, lime juice, dressing, tomatoes, cilantro and onions in glass bowl. Refrigerate 20 min. to marinate.
MEANWHILE, mash avocados and cream cheese in small bowl. Spread tostada shells evenly with avocado mixture.
DRAIN shrimp mixture; spoon evenly on top of each tostada shell. Sprinkle each with shredded cheese.
Jazz It Up:
Add chopped, fresh jalapenos to the cream cheese and avocado mixture for a spicier tostada!

Substitute:
Use your favorite cooked seafood, such as crabmeat or chunks of white fish, instead of the shrimp.
Nutrition Information Per Serving:330 calories, 18g total fat, 7g saturated fat, 150mg cholesterol, 410mg sodium, 20g carbohydrate, 3g dietary fiber, 2g sugars, 19g protein, 15%DV vitamin A, 15%DV vitamin C, 15%DV calcium, 15%DV iron.