UglyDolls, the new family-friendly movie with an important message for all of us, is now out in theaters.  A couple of days ago, I was able to speak with director Kelly Asbury and UglyDolls creator David Horvath.  They spoke about the inspiration behind the film, the messages that are important to them and more!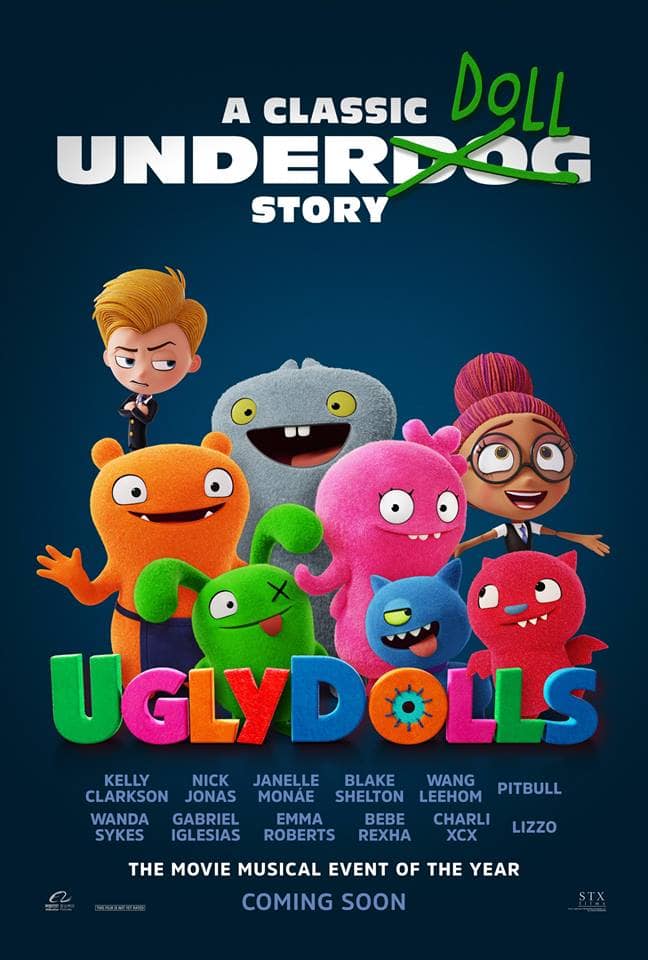 If you have a child, or have found yourself walking down the toy section of any department store, you have probably heard of UglyDolls.  Created by artist David Horvath almost 20 years ago, you may have noticed that these dolls look a little different than other dolls.  While not traditionally "aesthetically pleasing", these dolls embrace their differences.  They promote the notion that different is good and being unique something to be proud of.  This philosophy, and these cute dolls, are the perfect ingredients to make a fun movie for the whole family.
Check out this fun "Origin" featurette to see how UglyDolls came to life!
UglyDolls The Movie
In a premise set up during the opening credits, we discover that all some dolls are declared "defective" on the assembly line and they get tossed down a chute that deposits them in Uglyville.  This sets up our introduction to the main protagonist, Moxy (voiced by Kelly Clarkson).  Moxy lives in Uglyville with all her fellow "rejects" and, as the opening musical number tells us, everything seems to be pretty blissful.  But Moxy longs for something more and dreams of being able to find her own real human to cuddle with, like all the traditionally good-looking dolls can do.  Accompanied by her friends, she decides to climb up that chute to see what is out there explore the world.

Of course, her path will be marked with adventure and adversity. It isn't long until she stumbles upon the Institute of Perfection, where "normal" dolls are trained before being paired with their human.  The Institute of Perfection is populated with a horde of perfectly formed dolls led by their ringleader Lou (Voiced by Nick Jonas).  Lou is set on putting a stop to these imperfect dolls and wants to send them back where they came from, or worse!  In order to make it through, Roxy must stay true to herself and discover that her differences are an asset, not a liability.

Interview with David Horvath and Kelly Asbury
The film is full of positive messages, told both in story and song, about accepting who you are and flying your flag high and proud, no matter how it looks.  Recently, I was able to speak with the director of the film, Kelly Asbury and the creator of UglyDolls, David Horvath, about these messages and their inspiration about the film.
To begin with, David Horvath spoke about the original creation of UglyDolls and what it means to him. He said that from the beginning he thought a lot about the words "ugly" and "pretty" and "perfect".  He thinks that they are just words and they don't really mean anything definitive.  They should never wholly define anyone.
Because one of the things I always felt from the beginning, and what I always thought the UglyDolls were about was that there really is–the word ugly and the word pretty and the word perfect, they are just words. And they do mean different things to different people. Everyone has a different definition for what those are. – David Horvath
Kelly Asbury was able to bring this philosophy to life on the big screen.
The UglyDolls are so absorbingly cute and adorable just in and of themselves that I saw the makings of an obviously great movie, and a lot of fun to be had with it.- Kelly Asbury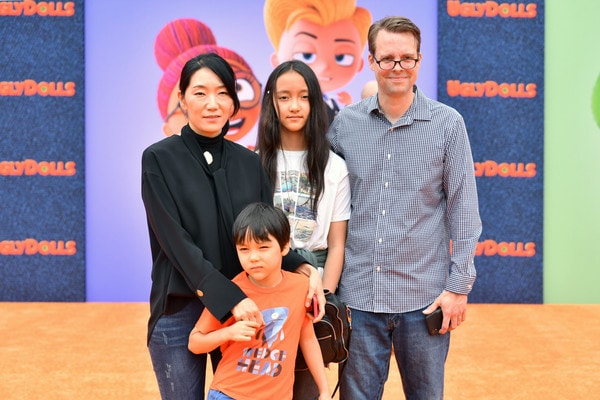 He says that he got really excited when he heard the first song that had already been recorded for the film.  As the film started developing and the decided it was going to be a musical, assembling the powerhouse cast of voice talent just sort of fell into place.  This is pretty amazing considering the level of talent the secured, with names like Blake Shelton, Kelly Clarkson, Pitbull, Janelle Monae, Bebe Rexha, Charlie XCX and more.
As we progressed, Pitbull was already cast when I came on the film. And then as we progressed and started developing Moxie, we got the idea–Jason Markey, our music supervisor got the idea of Kelly Clarkson, because she sings and we have that opening song, and by that time it was decided that it would be a musical. So, it sort of fell into place that, okay, well, Kelly Clarkson is so great, you know, let's get her. And once she came in, she adapted to the role so easily that it then became, okay, so who should Ox be, and what kind of character? And we started thinking of recording artists, and we started thinking of singers. And as we went down the line, certain people just came up.-Kelly Asbury
Using Their Own Experiences As Inspiration
Kelly continues to talk about Moxy and her journey from Uglyville.  He says that while we all may be happy where we are, it is natural to yearn for something more and always try to reach for our dreams.  He put a little of his own story into Moxy's quest during the film.
I know that I approached Moxie's character the same way–thinking about when I was living in Beaumont, Texas, wanting to go to art school in California, wanting to work in the animation industry, having my dreams, and they were so far removed from where I was then, and the journey it took to get to where I'm not directing animated features in my old age–that it is kind of an extraordinary thing, when you look at the road behind you. And along the way, I say, you know, I understand Moxie being happy and loving her family. Being happy where she lives. I was happy where I lived. But I also had a yearning that was unquenchable until I found it.-Kelly Asbury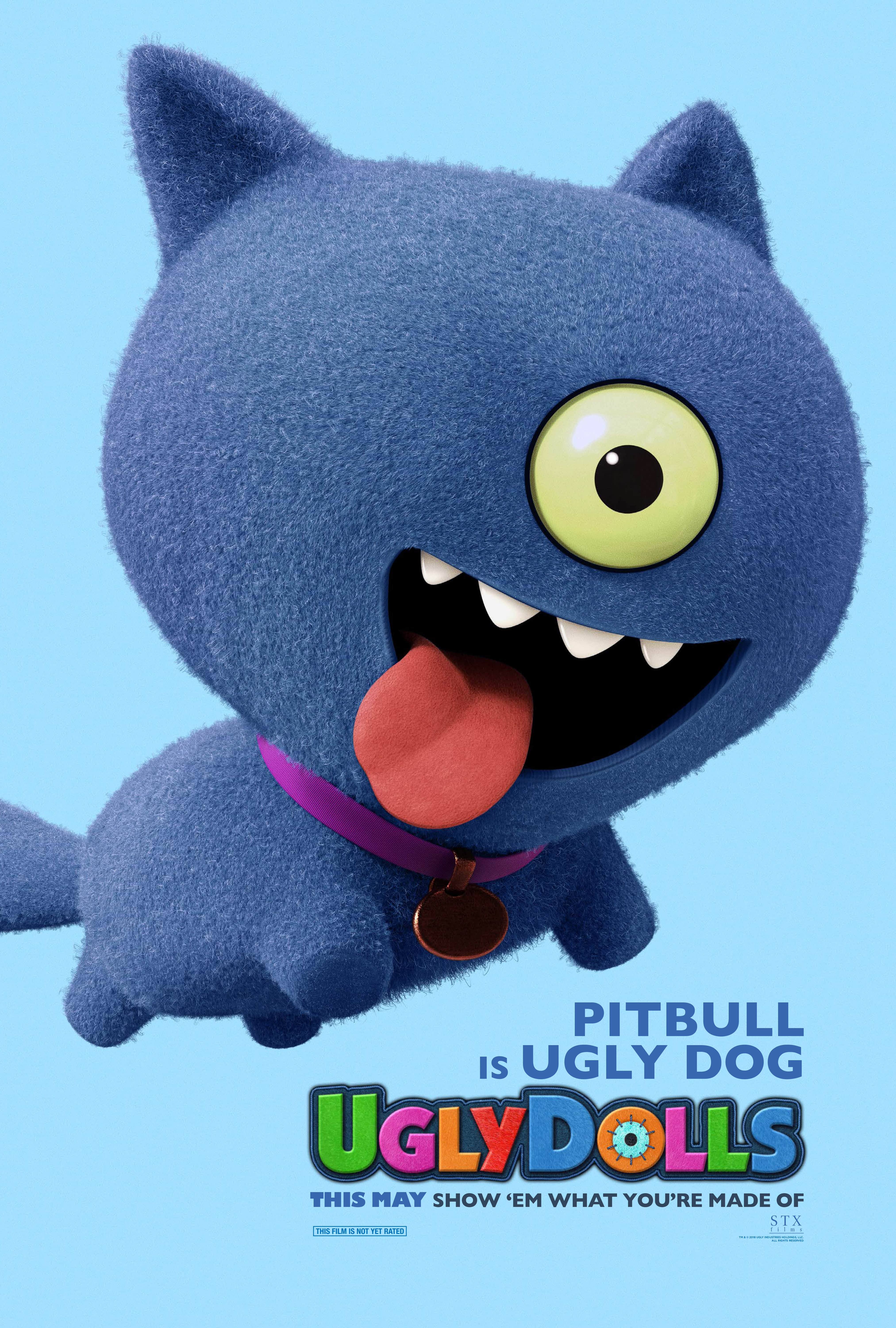 David Horvath agrees that the film includes some aspects of his own life that he finds important.  He appreciates how Kelly Asbury was able to incorporate the notion of being true to yourself in a movie about the dolls he invented.  He says that growing up in a world that is full of "likes" and "dislikes" on social media can be hard on anyone, especially children.  But he feels there is so much more to how someone can value themselves beyond any social media status.
But I think more–I'm more thinking especially recently, and having children and watching them grow up into this world that has this as their reality, and wanting to let them know that it's–it doesn't have to be their reality. -David Horvath
Kelly Asbury agrees that we should always hesitate to judge anyone on how they look or act.  There is always so much more to everyone than is apparent at first.  We should always make an attempt to get to know them better and find out who they are inside.
Forget about how they act, alright? Nobody knew, you know, our villain in our movie had this very sad reason that he's who he is. And we were careful about that. But we wanted the audience to sort of learn that, you know, like it says in To Kill a Mockingbird, which is my favorite book and my favorite movie, "you don't really know a person until you get in their shoes and walk around in them".  And I buy that. I buy into that whole-heartedly and I hope that in an indirect way that that message comes across in the movie.

UglyDolls really drives the message home that we should love ourselves despite our differences and, more than that, we should accept other despite. theirs.  If are looking for a fun, family friendly movie, head out to the theaters this weekend and check out UglyDolls.
Stay Connected with UglyDolls
Be sure to follow all things Ugly using the hashtag #UglyDollsMovie!
#UglyDollsMovie – only in theaters! Get tickets now: uglydolls.com/tickets/