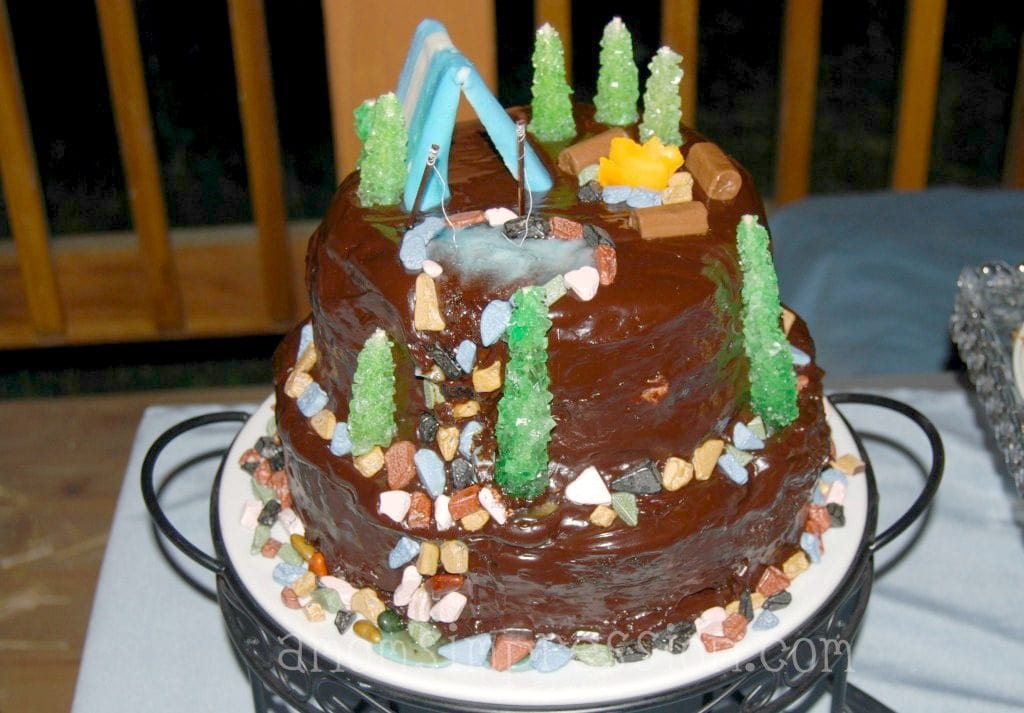 A few weeks ago my baby brother got married.  I still can't believe that we are all grown up and married!  The wedding was a simple mountain wedding.  They got married up at our cabin, where we learned how to swim, golf, and relax.  You can check out some of my photos that I posted here.
I was honored when they asked me to decorate their cake for them.  My sister and I combined forces and brains to come up with a nice, sophisticated camping cake for them.
The cake itself was baked by my sister.  The top layer is a butter pound cake with cream cheese frosting between the layers.  The bottom layer is a double chocolate fudge cake also with cream cheese frosting.  The entire cake was covered with a dark chocolate ganache that my sister also made.
I knew how I wanted the cake to look, I just needed some candy inspiration.  My sister took me to this adorable little candy shop in Boise when I first arrived.  We looked high and low for all the supplies we would need to pull this off (we almost didn't find anything for trees but then at the last moment we saw the sugar candy).    Here is a picture of all the lot of candy that we came back with:

We turned all of that candy into this:
The tent was made out of a graham cracker covered with taffy.  The trees were the rock candy that we sniped the ends off of and stuck into the cake all around.  We chose two different sizes and they were perfect for decorating the bottom as well as the top layers.  The fire is a thin piece of orange taffy that I folded and stuck into the cake.  The logs around the fire are tootsie rolls.  The lake is made out of a liquid sucker that was blue.  I had to mix a little powdered sugar with water to make a white lake, and then I poured the blue sucker on top of it.  I had it running down the side of the cake to symbolize a waterfall.  We added two little fishing rods that had little hooks on the ends to the lake (my sister found these at a scrap-booking store).  Lastly, we found the most amazing chocolate candy rocks that really made the cake look like an outdoor campsite.  These were delicious and they were perfect for decorating around the layers and hiding any imperfections of the frosting job!
Overall, I thought it turned out great!  I know my brother and sister in-law loved it and I was happy that I could do something special for them on their special day!