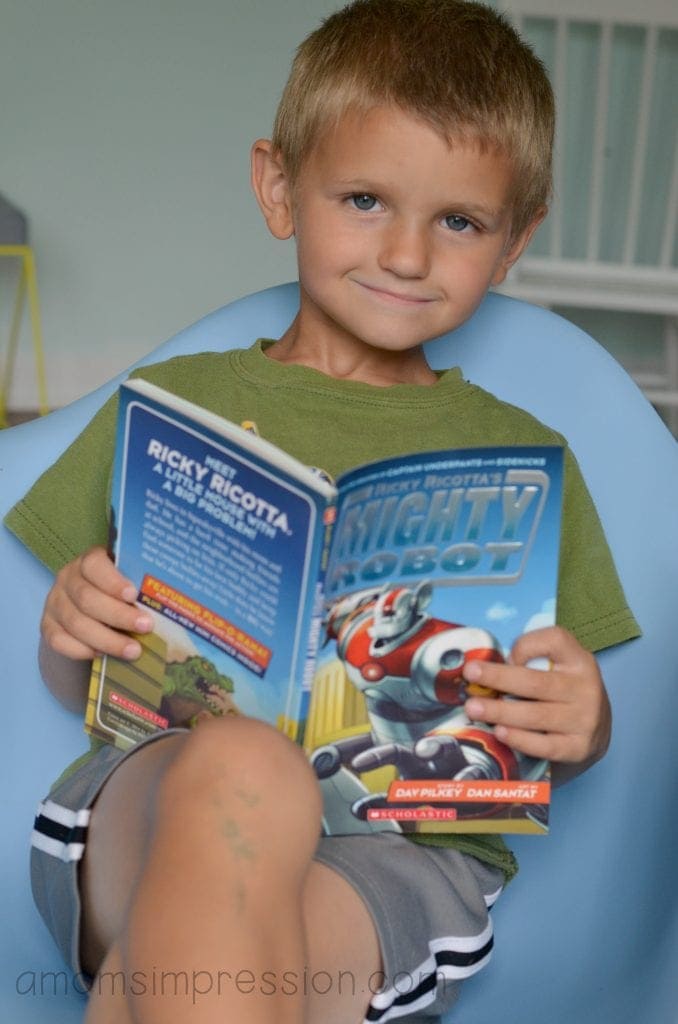 The school year has gotten off to a great start.  I can't believe we are already through the first quarter. Jonah is loving first grade and has been doing really well.  He has taken after his mommy and daddy and has been devouring books.  I see him reading every night after we put him to bed.  Its hard to tell him to stop when I did the exact same thing at his age.  We know how vital it is to encourage a young reader to keep reading and loving it.  Becoming a strong reader starts early and engagement is crucial.  The good news is that there are several simple things you can do to encourage your growing reader.  Here are some of my favorite tips!

5 Simple Ways to Encourage a Young Reader
Read with your child every single night.  Whenever I met with parents and they ask what they can do to help their child I tell them to read 20 minutes with them every night.  I have done this with my kids since they were 1 year old and it has made a huge impact on their reading lives.  They love their "Night, Night" stories.
Turn on the close captions on your child's favorite television shows.   We actually have the closed captioning on all the time but if you start turning them on for their favorite shows they start to pay attention.  My son starting learning words when he would watch his Micky Mouse on Saturday mornings.  Matching print with spoken language is huge for reading development.
Play literacy games in the car.  We spend a lot of time in the car going to and from school.  We started with finding letters, shapes and colors and now we are finding our sight words on billboards and cars.  It is a lot of fun and my son and daughter love it!
Model by reading yourself.   Kids are interested in what you are interested in.  If they see you reading, they will be more likely to want to read themselves.
Surround your child with books.   Having access to books is crucial, not only at home but also in the classroom.  Unfortunately it is getting harder and harder for teachers to have access to the books they need for their  students.  Luckily, there are programs like the SunnyD Book Spree where companies are making building a classroom library a little bit easier.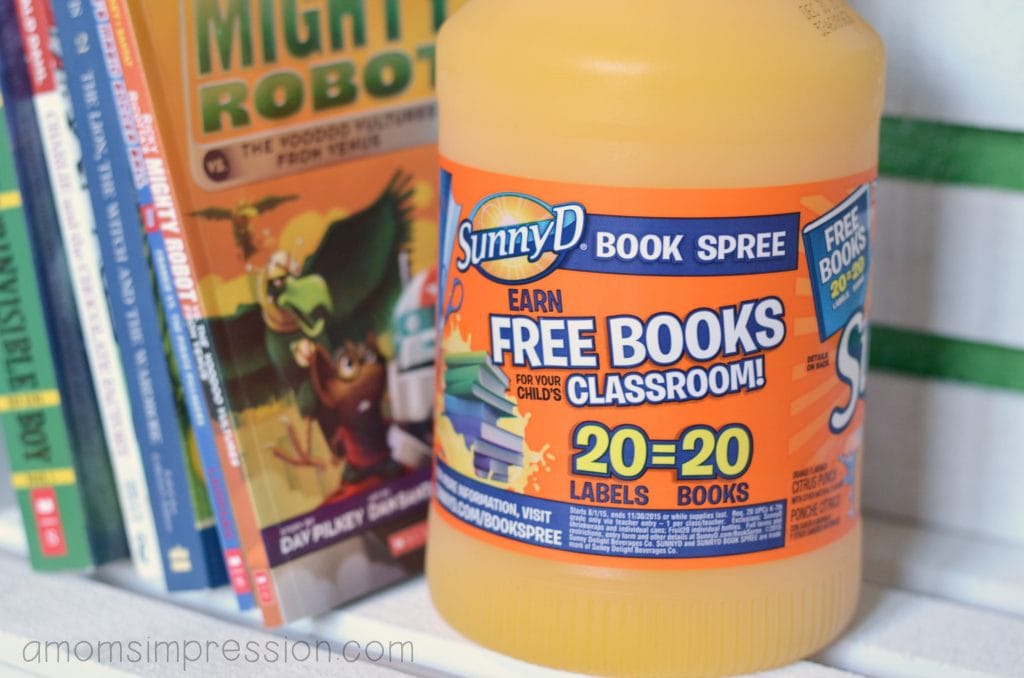 SunnyD provides books to classrooms in  grades K-7, including home schools through their Book Spree promotion.  This is SunnyD's 9th year running the Book Spree promotion and earning books for your school is simple.  Just collect SunnyD labels and send to your child's teacher. Teachers will then send the labels into SunnyD to get free books. For every 20 labels received, SunnyD will donate 20 free books. (expires on 11/30/15 or while supplies last) I have built my classroom library through programs like these.  I can't tell you how invaluable they can be to new teachers who don't have a lot of resources to build enough books for everyone in their classroom to have the perfect book to grow their reading muscle.  Redemption is easy with this 4 step process:
Step 1: Parents clip and collect eligible SunnyD UPC labels. 

Step 2: Parents send UPC labels with their child to a participating teacher.

Step 3: Teachers collect UPCs, fill out the entry form and mail both to SunnyD.

Step 4 – SunnyD sends books to participating classrooms (limit of 20 books/classroom). Don't Delay – Book Spree ends 11/30/2015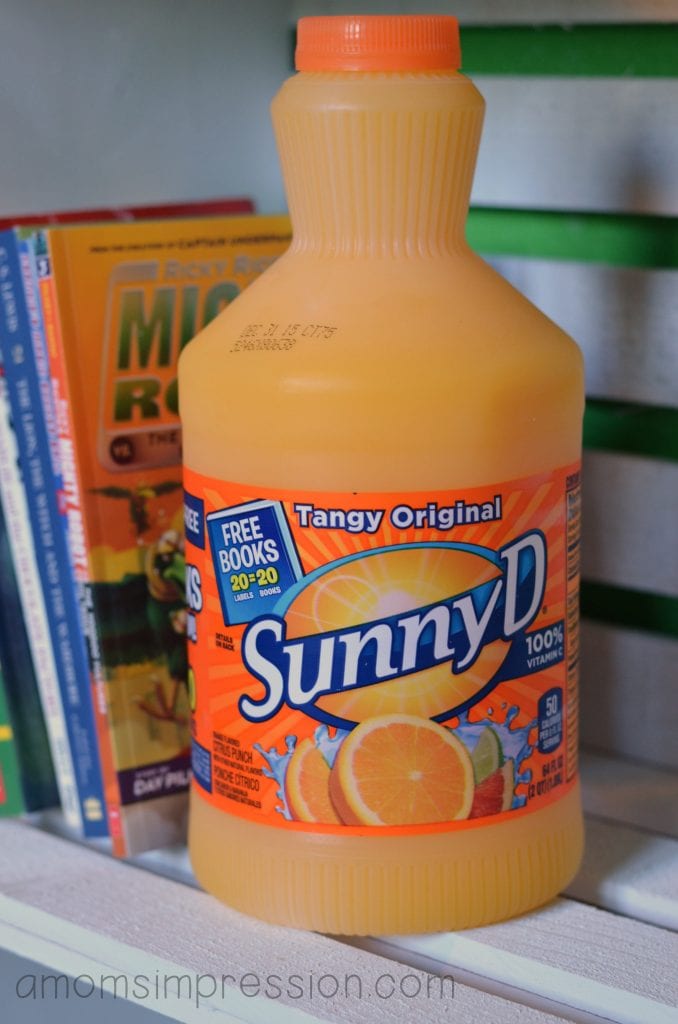 Encouraging my child to be a lifelong lover of books is probably my number one educational goal.  I am so thankful for programs such as these that are making it possible to get books in the hands of children.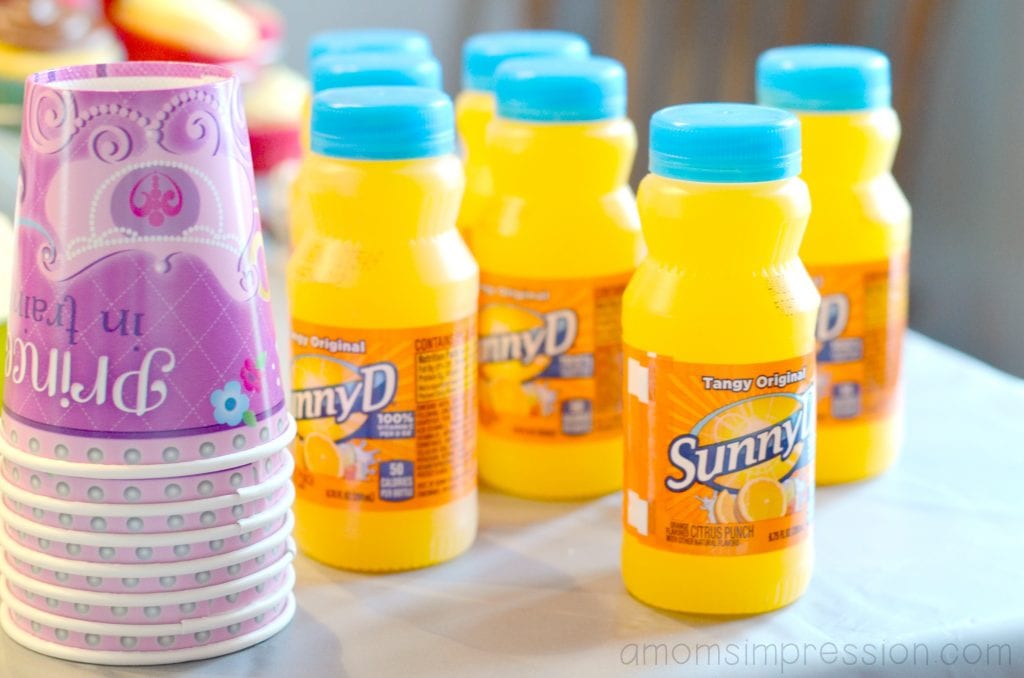 Be sure to keep your eye out for the speciality marked packages of SunnyD and Fruit2O products.  I found many of the packages on my weekly trip to Target.  I even picked some up for a party we had for some of my favorite girls!
This post is part of a social shopper marketing insight campaign with
Pollinate Media Group
® and
SunnyD
, but all my opinions are my own. #pmedia
#keepitsunny
h
ttp://my-disclosur.es/OBsstV