This post is sponsored by Delta Faucet.

We are making great progress on updating our house.  We have finally finished all of the bedrooms and now our eyes are set on redoing our kitchen and bathrooms.  All of our bathrooms are going to need a full makeover.  My husband ripped out the vanity and toilet in the downstairs bathroom this weekend; we expect that remodel to take about a week.
While I wish we could do all three bathrooms at once, we just don't have that in the budget so our two upstairs baths are going to have to wait.  It is going to take a little bit of time to save up to do those remodels but there are still some inexpensive ways to modernize our bathrooms.  After doing a bit of shopping, I found 5 simple ways to modernize your bathroom that don't require a lot of time or money.  You will be surprised at what a big impact it will make just to switch out a few cosmetic things.
5 Simple Ways to Modernize your Bathroom
Paint your walls. Painting is probably the most time-consuming project in my top 5 tips but it can also make the most impact.  When we moved in, everything was beige, and I mean everything!  Painting the walls has been the easiest way we have transformed our house from a dated double story to a modern family home.  Find a modern color that you like and take a day to paint.  While bold colors are very modern, you can also find modern neutral colors that look nice.  I suggest a nice shade of grey because you can pump up the color with some linens to make a huge impact.
Get a new shower curtain or, even better, ditch the shower curtain altogether!  If you can switch out a curtain for a glass door it will instantly modernize your bathroom.  A glass door is very modern, especially if it is frameless.  We plan on ripping out our entire bathtub for the big remodel so we opted to just change out our current shower curtain for a more modern print.  While it might not have as big of an impact, it makes a huge difference.  Try going with a bright color here if your walls are neutral and do the opposite for a bold wall color.
Purchase new linens.  Linens make a huge difference in a bathroom.  I personally don't think you can go wrong with a stack of bright white towels and hand towels available in your bathroom for yourself and your guests; it's classic and clean.
Replace or paint your mirror.  Another item in bathrooms that people sometimes overlook is the bathroom mirror.  We replaced most of our bathroom mirrors when we moved into our house.  Our master bath had a very interesting mirror in it but we hated the color so we spray painted it black and put it back up.  Painting it black made a huge difference and modernized the room until we were able to replace it.
Lastly, replace your bath fixtures.  When was the last time you noticed your shower head?  The other day I was taking a shower and really took the time to notice my shower head.  It was white and plain and didn't do much for the decor of the room.  I recently received a Delta Faucet H2Okinectic Shower Head and what a difference this has made!  The stainless steel grey finish has transformed my ugly shower into a modern masterpiece.  Just take a look at the difference: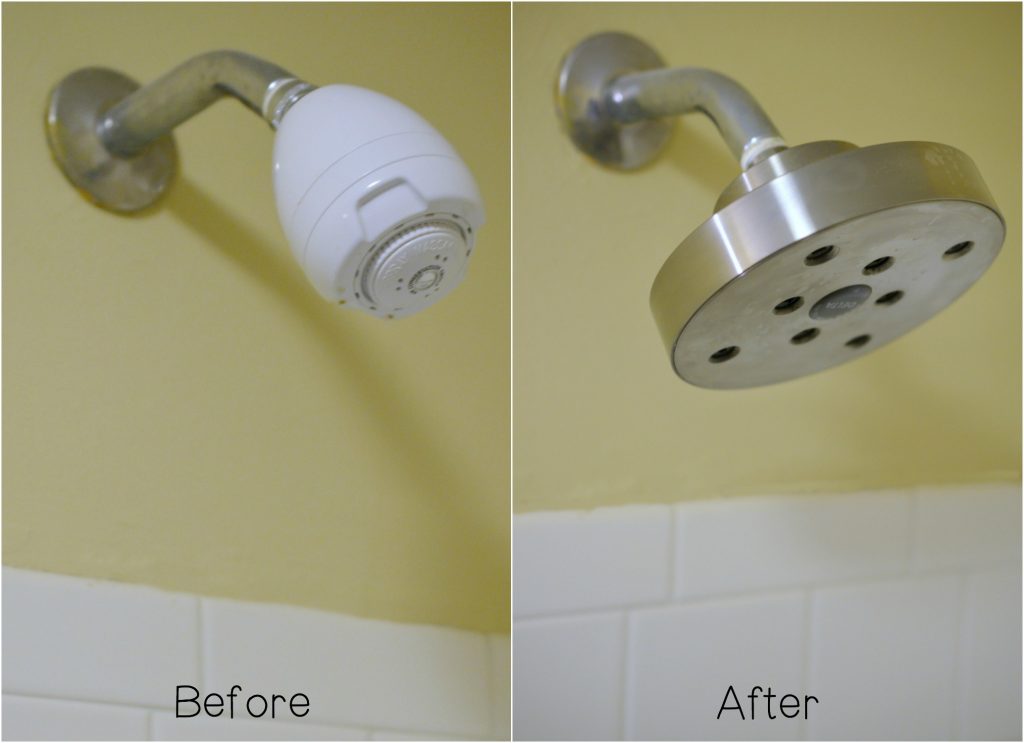 The Delta H2Okinectic Shower Head provides the experience of a greater water flow than a standard shower head without actually having to use more water.  It does this with its H2Okinectic technology that shapes each droplet's size and controls the speech and shape internally.  We had a low-flow shower head before so water consumption was a big concern of ours, and I love that we don't have to compromise that with this modern Delta Faucet option.  I am impressed with my shower experience, it gets the job done and relaxes me all at the same time.  I am also in love with the modern, sleek design.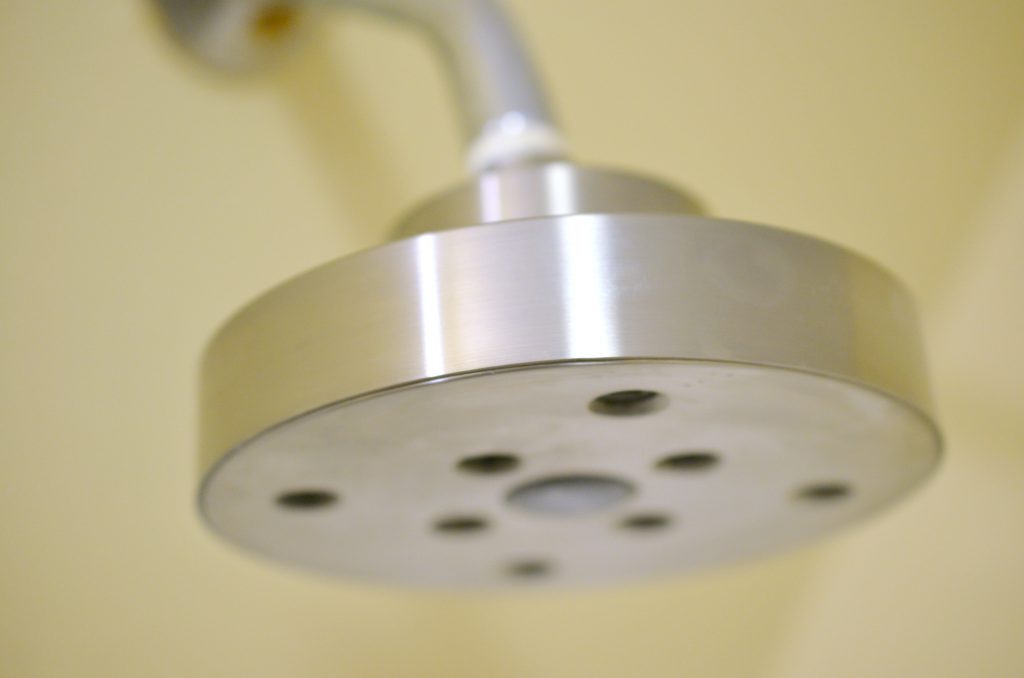 Turning your bathroom into a modern oasis doesn't have to break the bank.  Maybe you are waiting to do a full remodel like we are, or maybe your bathroom just needs a little makeover. Whatever the case, these 5 tips will ensure that your bathroom looks as great as the rest of your house.
See What Delta Can Do.