This is a sponsored post written by me on behalf of Apple Vacations. All opinions are 100% mine.
Below I will share 5 reasons why Mexico should be your next vacation destination! The beautiful scenery, amazing eats, beaches with the clearest water, shopping, and the list goes on. Cancun, Cozumel, Riviera Maya, are three of my favorite places to visit. There are so many things that you can do, that you will not have a dull moment during your trip! Trust me once you go, you will be dreaming of the day you get to go back.
Welcoming
I think anyone who visits Mexico can agree on that the locals are so warm and welcoming! They are willing to help if you need directions, share advice on the best places to visit, and more. They love making experiences better for the tourists that come to visit.
Weather
Mexico has perfect weather pretty much year-round that is generally in the 70's-80's. It is a perfect temperature to go zip-lining, or snorkeling, or even petting stingrays in the exhibits. You can go hiking on rugged terrain, explore ancient Mayan ruins, and just enjoy all that Mexico has to offer.
Affordable
You can find great round trip options that are at a really nice price. I recommend traveling when it isn't right on a major holiday, you will find the best deals if it isn't centered around say Spring Break, Christmas, Thanksgiving, etc. Once you arrive and convert your US money to Pesos, you will find that there is a great conversion rate. You also have the ability to barter with most street vendors to find even better deals.
Cuisine
You might think all you will find is tacos and tortas, but you would be wrong. Mexico is filled with a variety of dishes from seafood, steaks, sushi, and so much more. You will have to try a variety of dishes and will be amazed by the authentic and delicious flavors. Mexico is known for all the unique spices they use to make their food stand out, and give you that amazing flavor in every bite.
Explore
You can sit at the pool and soak up the sun, go and check out pyramids, museums, and so much more. The options are endless and activities can be pretty affordable. In Cozumel, you can take an ATV ride through the Jade Caverns and really see amazing wonders and have the time of your life. Or go on a food tour in Cozumel as well and try a handful of dishes that will open your eyes to the culinary world. Or if you plan to be in Cancun step indoors and visit the wax museum or check out their interactive aquarium. The adventures are truly endless.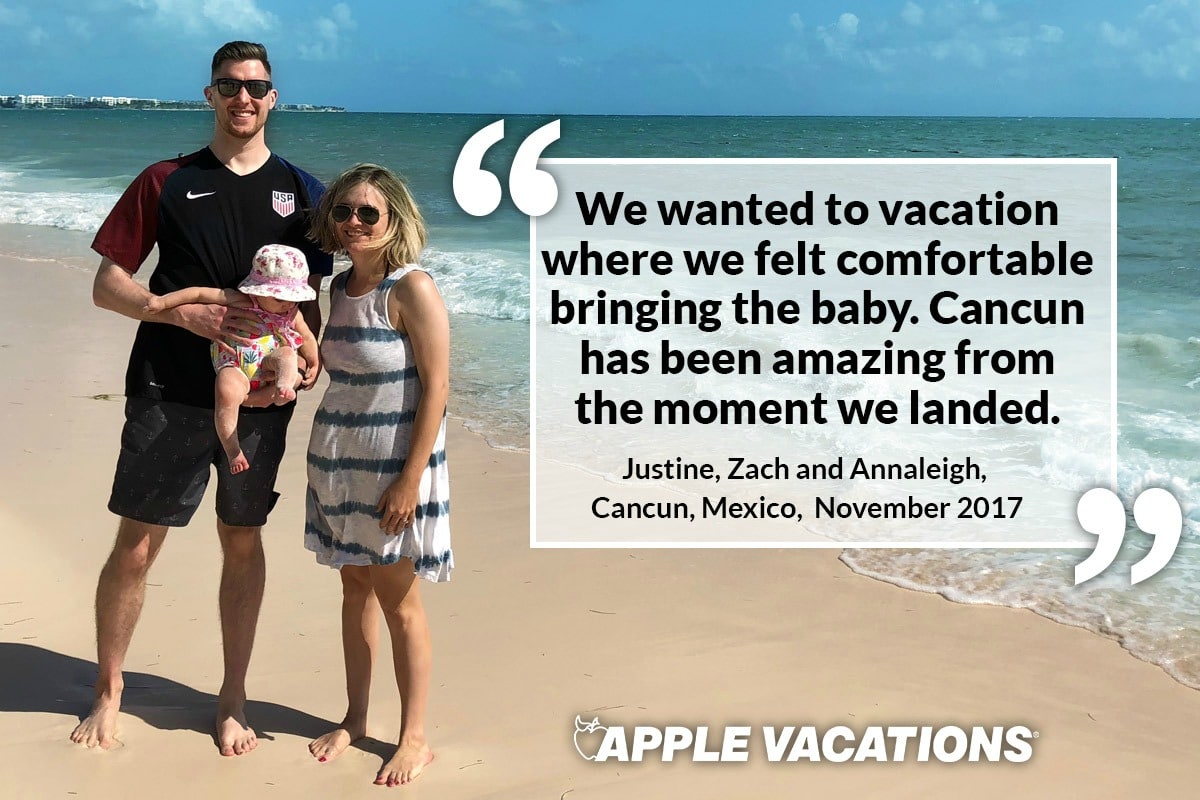 Apple Vacations invites you to fall in love with Mexico, enjoy your spring break or summer vacation with confidence.
How to Keep Safe when Traveling to Mexico
Lucky for all spring breakers, there are many beautiful destinations in Mexico that have been explicitly listed as having no travel restrictions, like Of course, you should always keep a few safety precautions in mind to ensure that your trip runs smoothly.
Check your ID and Visit the U.S. State Department's website: It is wise to check the risk level classifications of the destination you plan on visiting before booking your trip. Make sure you have at least two forms of ID with you that are not expired. It is a good idea to keep one with you and one in the hotel safe.
Book with a Vacation Provider you Trust: We all want a good value but it is important to purchase vacation packages through a reputable, reliable and trusted company. Be sure to bundle your airfare, hotels, and transfers for the best value and price.
Familiarize Yourself with the Resort: Before we leave the states, we get online and research the resort so we know where the security and information desks are. When exploring in town or visiting the locals, it is best not to stray into lesser-known areas.
Use Common Sense: I tell my kids all the time to use their brains, the same goes when traveling in an unfamiliar country. Be sure to exercise plenty of caution. A good idea is to ask your concierge for restaurant recommendations or a trusted travel advisor for any fun and safe activity ideas.
Why Travel with Apple Vacations?
Apple Vacations needs to be your go-to travel company when booking your Mexican vacation. Every all-inclusive Apple vacation includes round-trip airfare as well as round-trip airport transfers. You entire hotel accommodations are covered as well as the services of an in-resort Apple Representative. Resort representatives have scheduled desk hours at most resorts and will be there for you during your vacation. They are able to brief you on all their most popular destinations.
I know I have been on vacations where the air flights are less than ideal. Apple Vacations' Exclusive Vacation Flights are frequently among the few–or only–non-stop options to your destination. Most of them even feature convenient morning departures and evening returns to give you the most time in your Mexican destination.
Check out Beach Beat to learn more about visiting Cancun, Riviera Maya, Puerto Vallarta and Los Cabos.