Thank you Honey Bunches of Oats® Frosted Cereal for sponsoring this post. Now available at major retailers nationwide!
Being the mom of two school-aged children can be hectic, especially on weekday mornings. Over the years, I've learned some tips and tricks to keep our school mornings as stress-free as possible!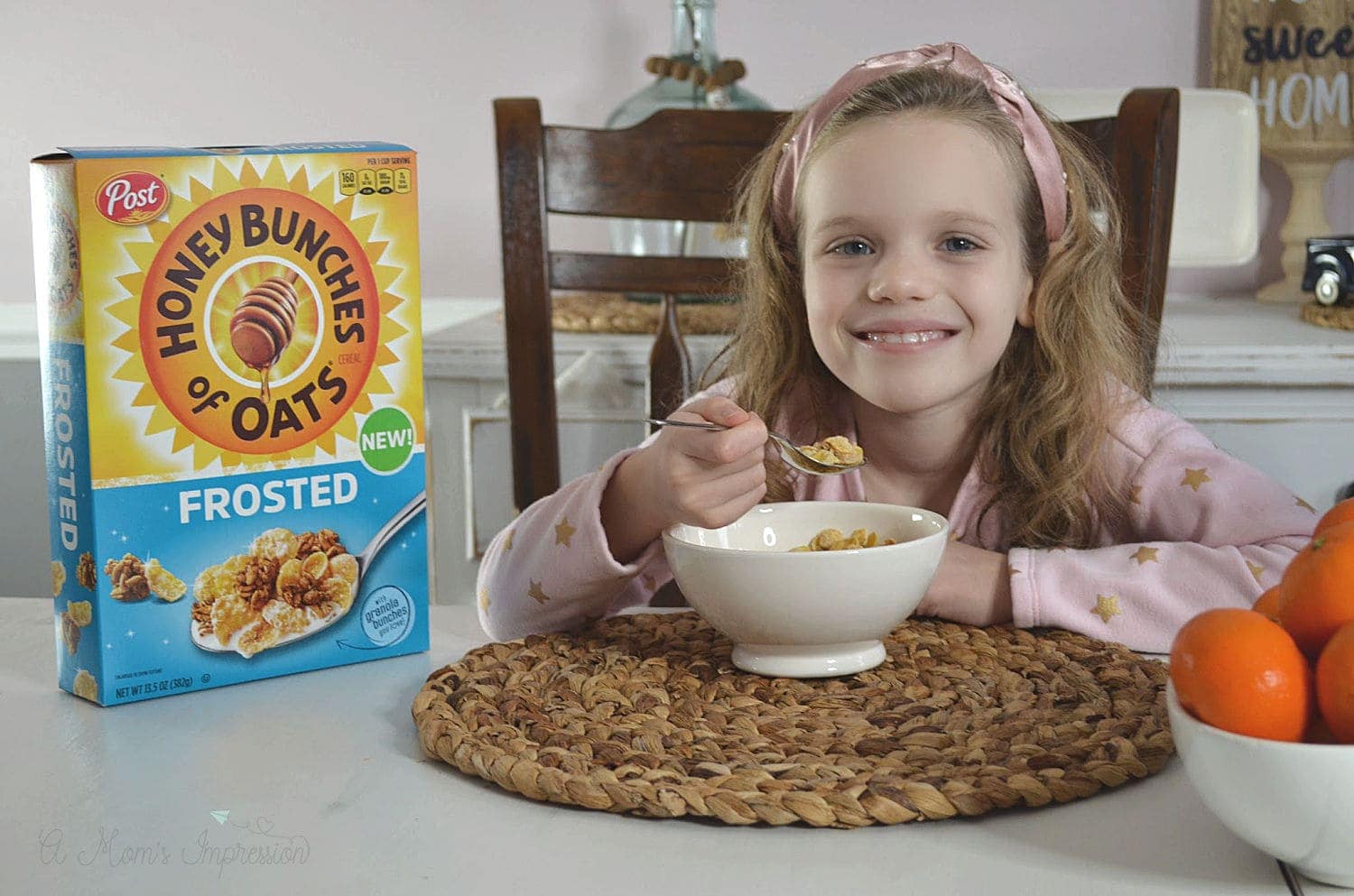 Every weekday morning, my alarm goes off at 5:50am. Right now, it's the middle of winter. This means that it is pitch dark and freezing cold outside. All I want to do is stay under my covers and close my eyes again. But, I know, that as soon as that alarm goes off, the countdown begins. In exactly 60 minutes, a big yellow bus will come to whisk my kids off to school. In those 3,600 seconds, my husband and I have to rouse a 7 and 10-year-old, feed them, and get them ready for that bus. There is no time to waste. So, I get up and put my feet on the floor.
These days, we are a pretty well-oiled machine in the mornings. I can proudly state that we have NEVER missed the bus. Not once! This is because, over the years, I've found some shortcuts and tricks to make sure that mornings are as stress-free as possible. I'd love to share with you some of the lessons that I've learned to make sure I get my kids to school every morning without losing my mind!
Adjust Your Alarm, If Needed
It may seem like common sense to set your alarm for the "time you need to get up" in the morning. But, it may be more complicated than that. Are you really getting up right when your alarm goes off? Do you hit snooze? Do you check your Instagram Stories? Or the weather or the news on your phone?
What was happening with us was that we had our alarm set for 6am. But we didn't get up right at 6am. We would always waste about 10 minutes in bed either hitting the snooze button or checking our phones. This caused some near misses in the mornings with the bus. So, we set the alarm 10 minutes earlier to give us that time we need before we were actually up and moving.
Prepare As Much As Possible The Night Before
If possible, we always try to make lunches the night before. As far as wardrobes, my son and daughter have different needs. My 10-year-old son doesn't put much thought into dressing himself; he just grabs whatever is on the top of this drawer in the mornings. But my daughter can get hung up a bit on her clothes. This isn't a battle you want to be fighting in the dark at 6am. We try to settle on an outfit the night before and have it all ready to go.
Also, consider having your kids bathe before they go to bed at night. My son REALLY loves to wake up in the morning by taking a shower. I get it, I do too. So, we do let him take a shower in the mornings, but, this is certainly something that we have had to factor into our timeline. But my daughter really likes to take baths. Definitely no time for that in the mornings, so this happens in the evenings.

Find A Breakfast That Your Kids Will Eat Quickly
Know when to pick your battles at the breakfast table. Sure, I love to challenge my children with new foods that will expand their palates. But 6:15 in the morning with the clock ticking is NOT the time to do it.
My kids can have different tastes in foods, but I am NOT going to be making them two different breakfasts in the mornings. So, I've had to find something that they both love. One of our go-to breakfast meals lately has been Honey Bunches of Oats® Frosted Cereal.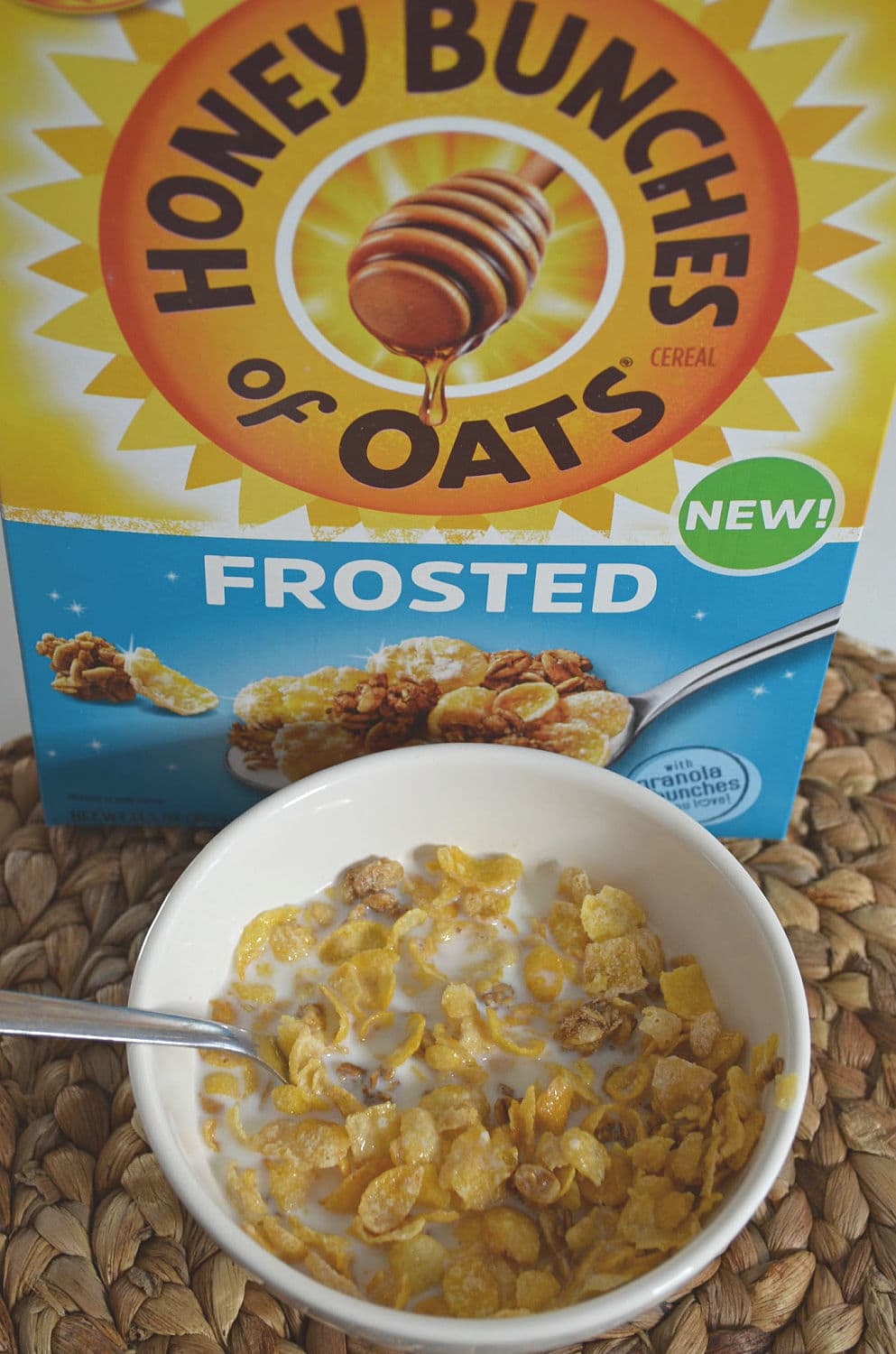 We've always loved Honey Bunches of Oats® Cereal. Their delicious brand of cereal melodies has always been a hit at our breakfast table, and it's something we've always been able to agree on in the mornings. And we are pretty pumped because they have recently expanded their lineup to include their Honey Bunches of Oats® Frosted Cereal. This has the same crunchy goodness of granola bunches, but with a frosty layer of sweetness added. They are, in a word, delicious.
Have A Timeline And Keep It
I have "waypoints" that I use during the morning to make sure that we are on track. The alarm goes off at 5:50. I need to be out of bed by 6. The kids need to be out of bed by 6:10. They need to be downstairs by 6:20. This gives them 30 minutes to eat breakfast (they need it; they are SLOW eaters)! This is where Honey Bunches of Oats® Frosted Cereal helps! By 6:50, they need to be brushing their teeth and putting shoes on. Bus comes at about 6:55.
Using this system, I'll know if we are running behind before it's too late to do anything about it.
Keep It Positive!
I've fallen into this trap many times. Sure, there may be important things you need to address with your children: what grade did they get on their test yesterday? Did they clean their toy room like you asked them to last night? Or any other pressing subject that may enter your mind. But, please, tread lightly. Is this something that REALLY needs to be discussed right now at this moment?
Learn when and where to pick your battles. If there is something that really needs to be discussed, make sure everyone has the right time and right attitude to discuss it. Everyone is tired and hurried in the mornings and we probably won't be able to solve many problems at that time. Is this possibly something that can wait to be addressed when they get off the bus that afternoon?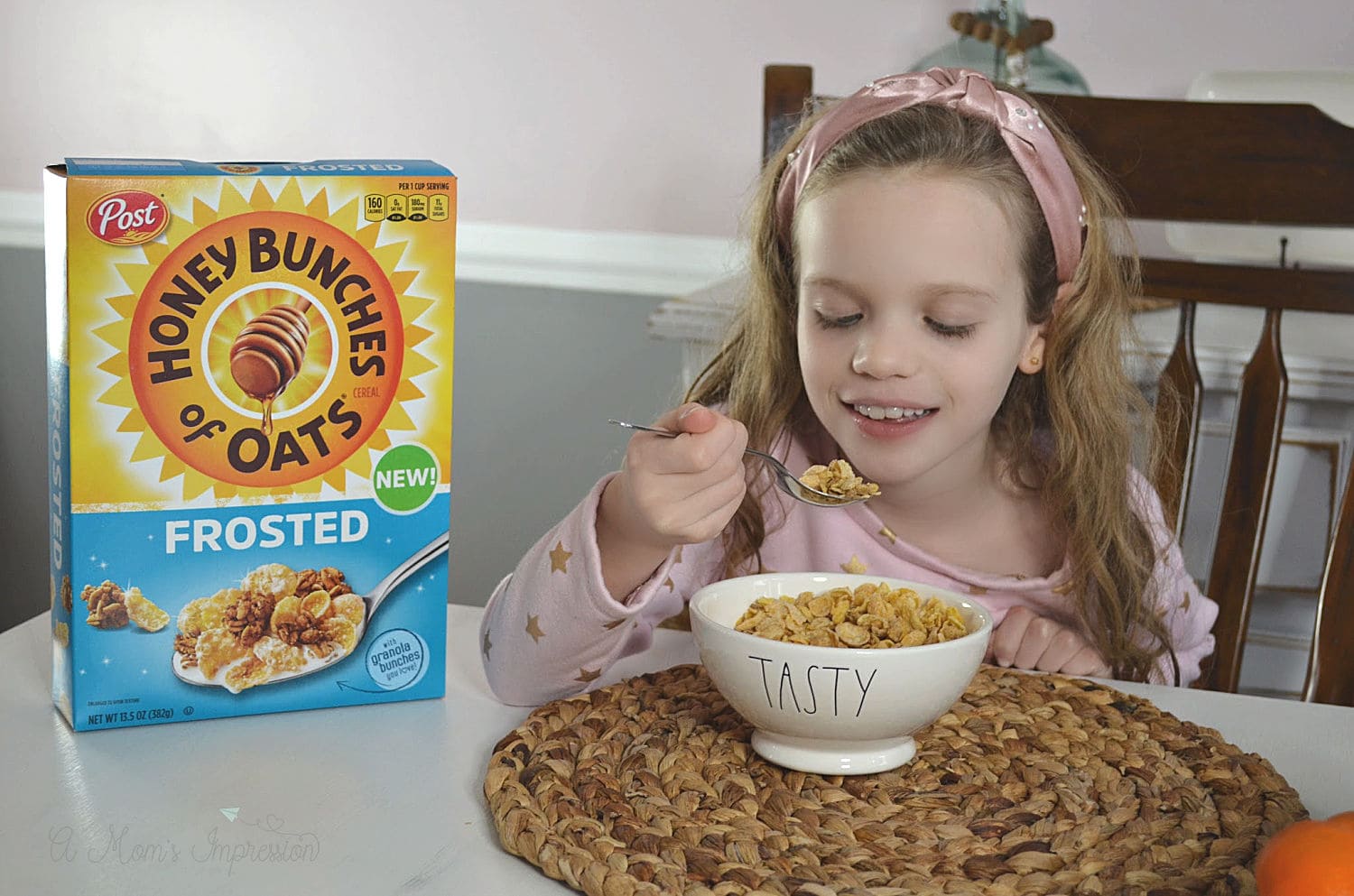 Good Luck With Your Mornings!
I hope some of these tips will help you to keep your sanity in the mornings. I know that they have helped my family. And don't forget to try out the new Honey Bunches of Oats® Frosted Cereal! It's available at retailers all over, but to find where you can get it near you, head to their website and use their store locator!