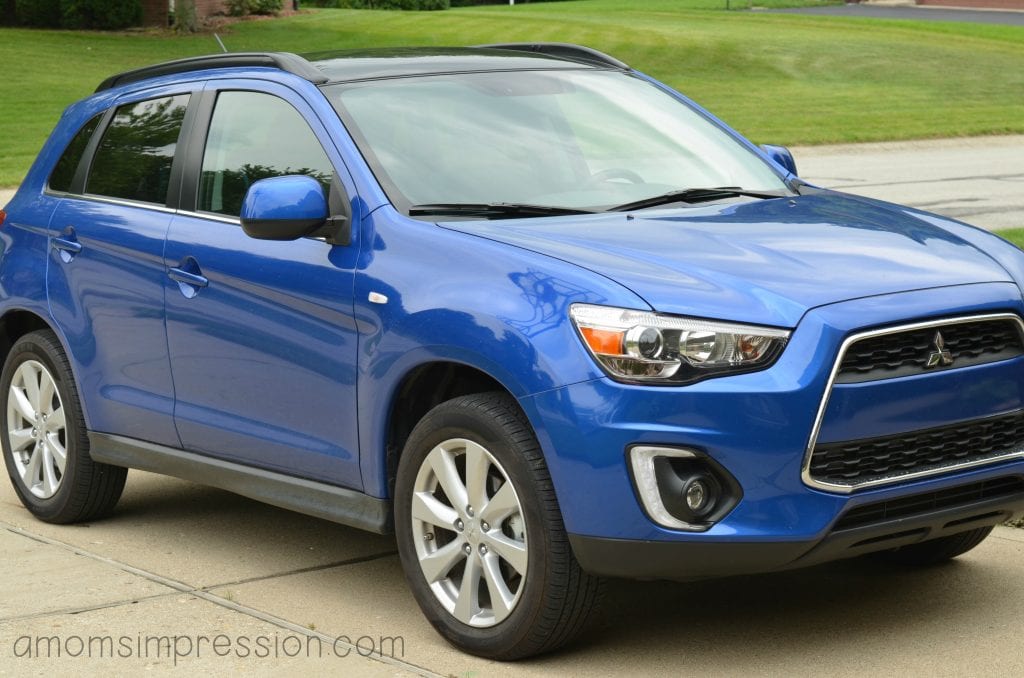 We love trying new vehicles out with our family.  Both of our family cars are about due to be replaced so we are looking into all of our options.  The 2015 Mitsubishi Outlander Sport is a great option for our family because it seats 5 people and has a MPG of 25/52.  It is economical as well as practical, not to mention it looks sporty all of the things that our family values when choosing a vehicle.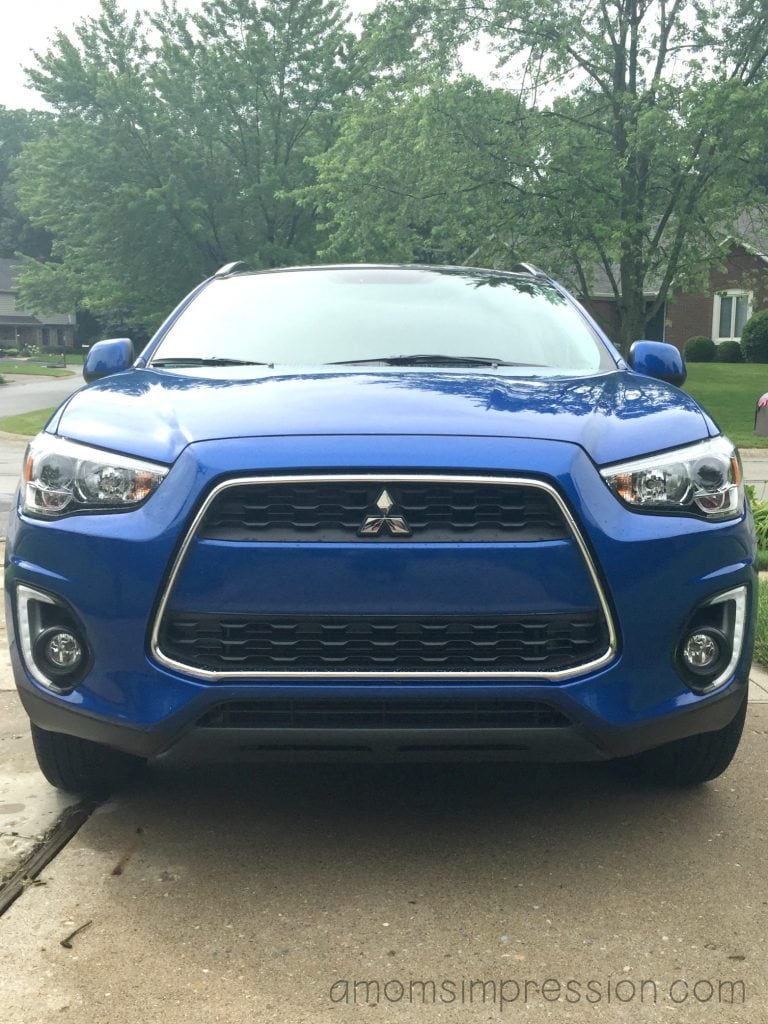 One thing that I was worried about when we tried smaller vehicles was the trunk space.  I didn't need to worry about the Outlander.  The Outlander has the same amount of space that our compact SUV has.  When I went to the grocery store for a very large trip, I didn't have anything to worry about.  I feel very confident that if we took this on a road trip all of our family's luggage would fit easily.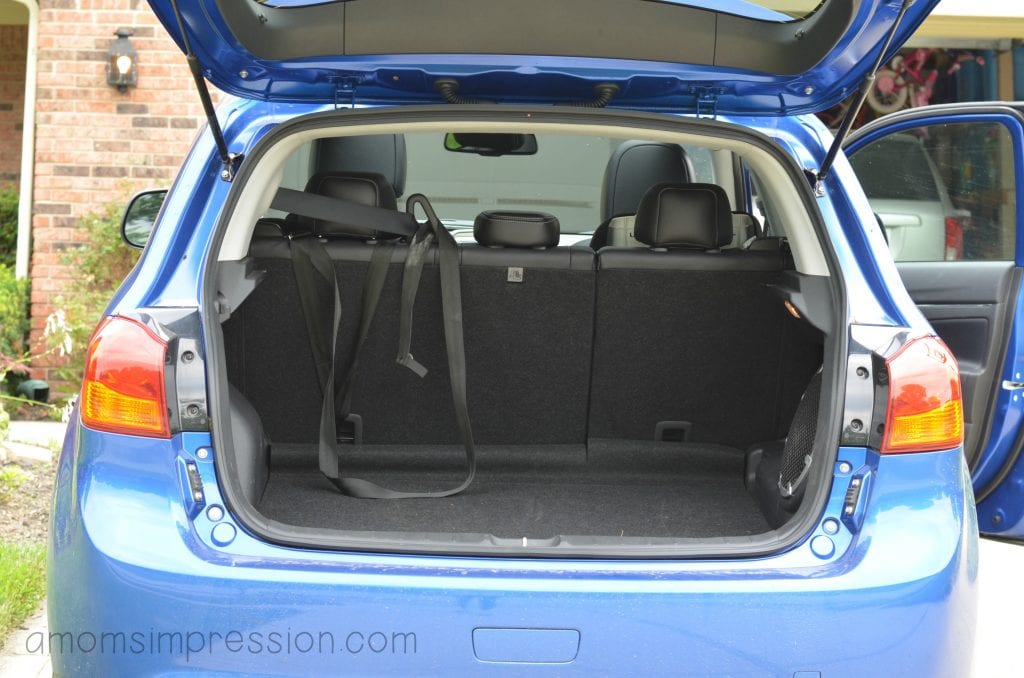 We installed two car seats into the back seats without any issues.  There was plenty of room for our two seats.  If you are an Instagram follower you probably saw a few pics of the kids in the car.  They loved the little blue car, as they fondly called it.  They were very sad when we had to turn the car in.
We are huge fans of navigation systems.  Neither of our current vehicles have them and so when we review new cars it is one of the features we look forward to the most.  Even though we were only traveling through town, we loved having it available on the Outlander.  In fact, it came in really handy when my husband and I had our 10 year anniversary date downtown.  We visited a couple of places we had never been before and it helped us find them.   My husband also loved the Bluetooth feature where he could connect his phone to the car's audio system.  It was pretty nice to be able to listen to our own playlists!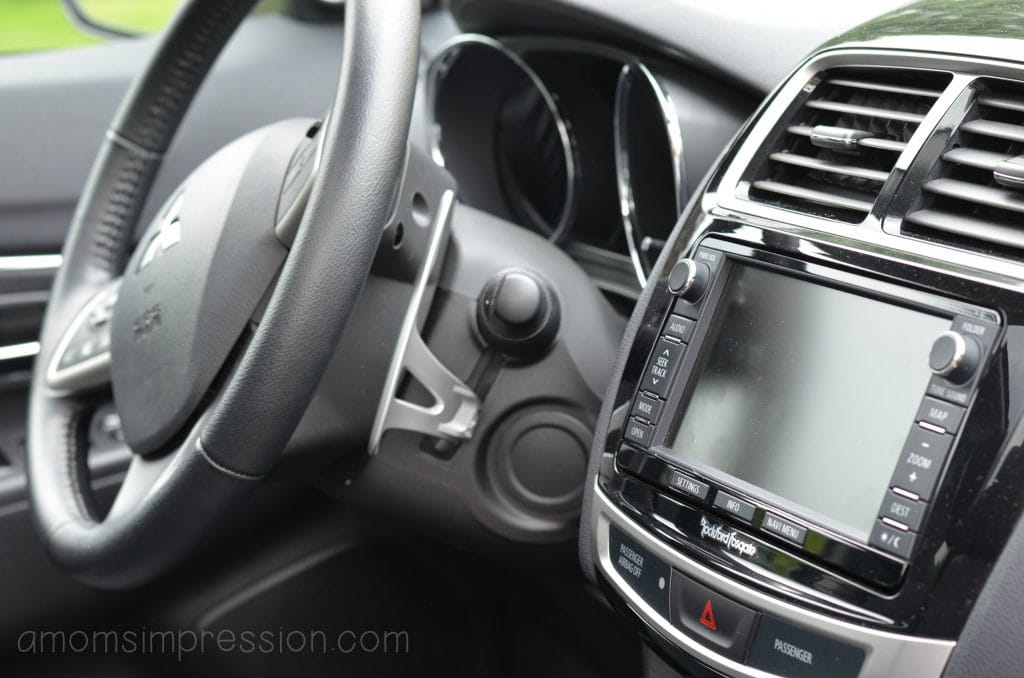 The climate control dials were not overly complicated or fancy which I appreciate.  You set the temperature on one dial, the fan speed on another and where the fan is coming from on the third.  The seat warmer buttons are right below the dials making them easy for the passenger to find.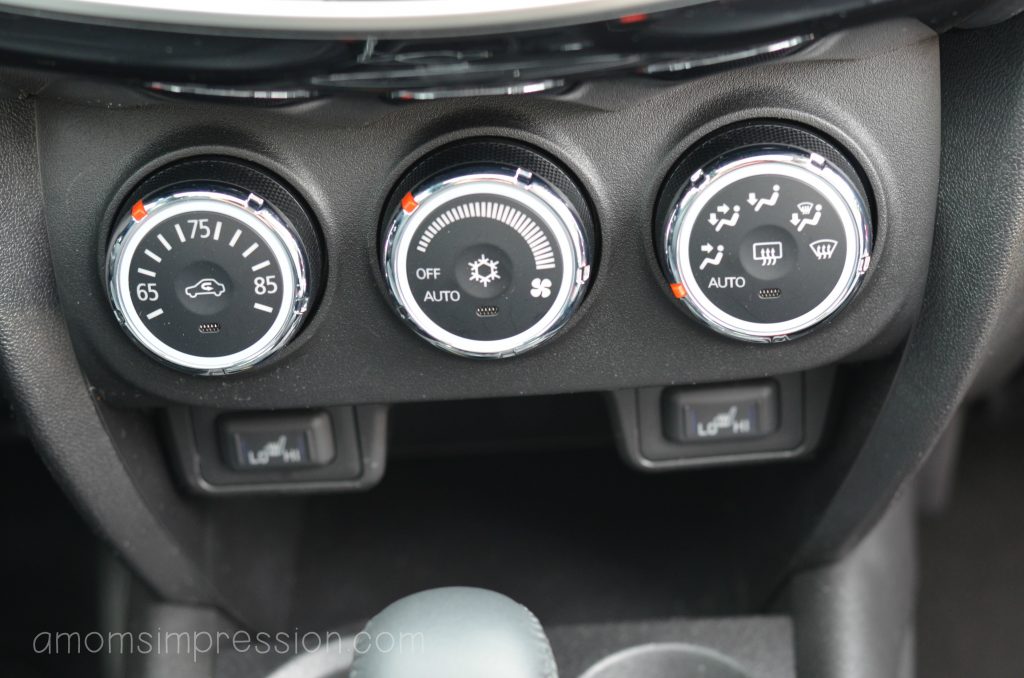 Our favorite feature was the panoramic sunroof.  The sunroof stretched from the front of the car all the way to the second row of seats making it feel as if we were riding in a convertible.  After having this for the week I can guarantee that our next car will have this same feature.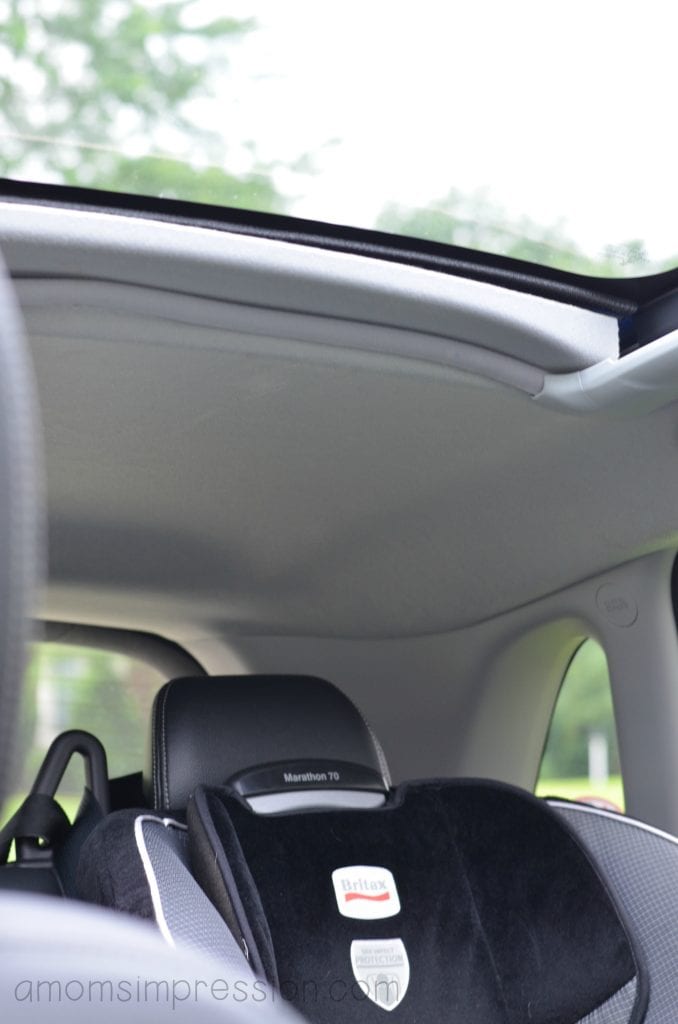 Honestly, the only thing I found that I didn't much care for in the car was the big black patch on the front windshield behind the rear view mirror. I did get used to it after the week of driving, but I prefer the windshield without it.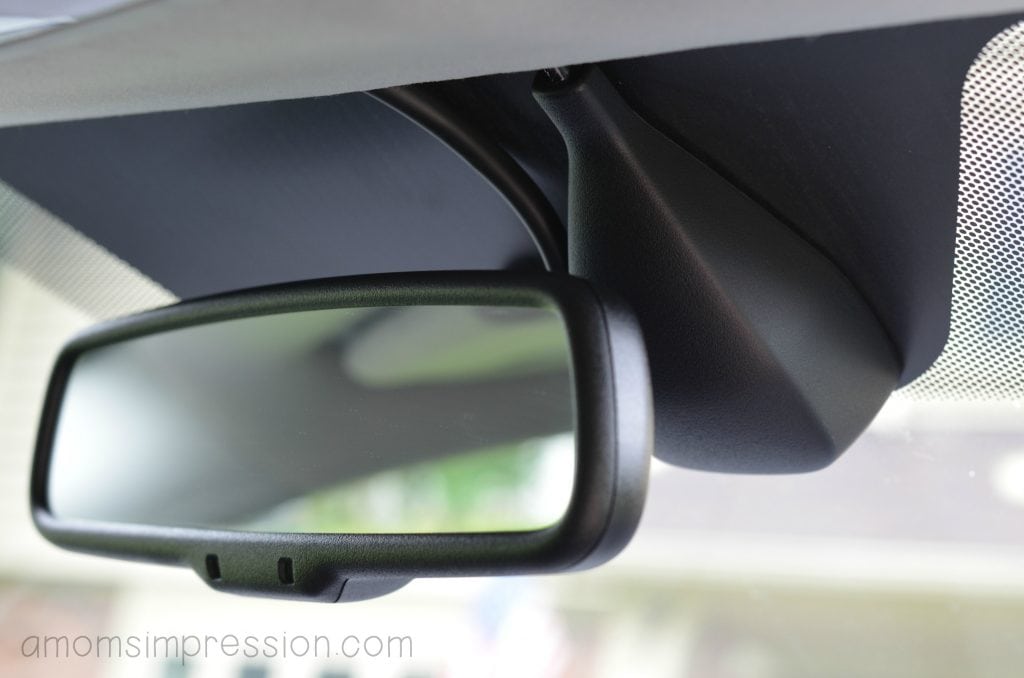 This little guy had super smooth ride.  Don't let this small package fool you, there is a lot of power under that hood.  Even for a 4 cylinder, this vehicle felt powerful.  The optional 4WD is a great option for my family as we head into the mountains to our cabin in the winter.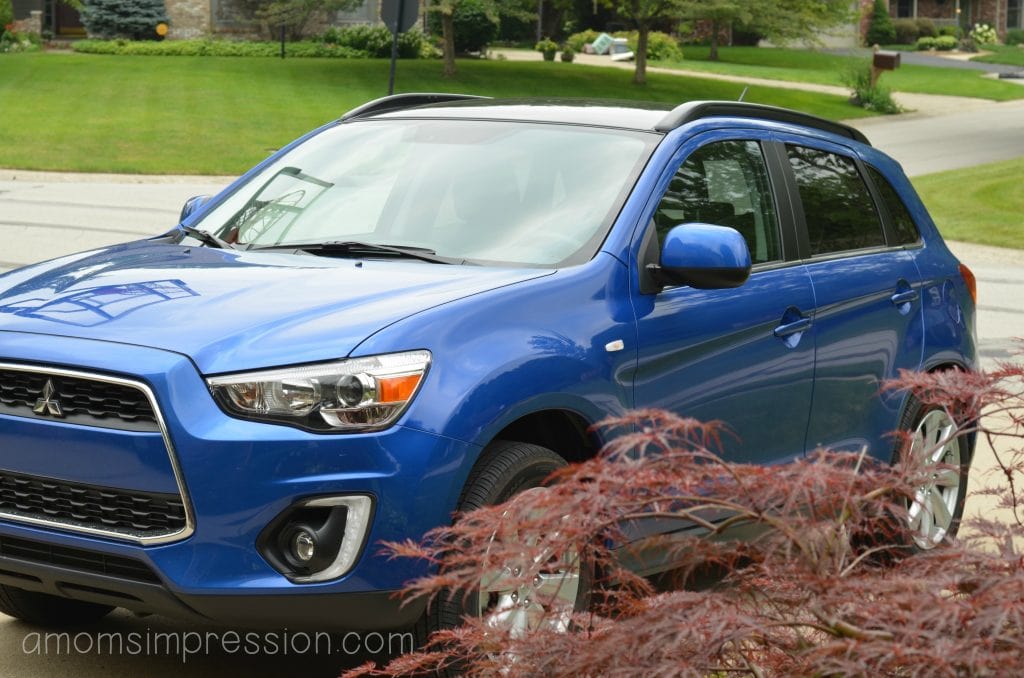 Overall, I would highly recommend the Mitsubishi Outlander Sport to families looking for a vehicle.  While not as large as our compact SUV, the Outlander delivers everything that we are looking for in an economical package.
The 2015 Mitsubishi Outlander Sport is a great deal on a family car starting at $19,595.  You can learn more here!
A huge thank you to Mitsubishi for allowing our family to test drive the Outlander Sport for a week. All opinions are 100% mine.