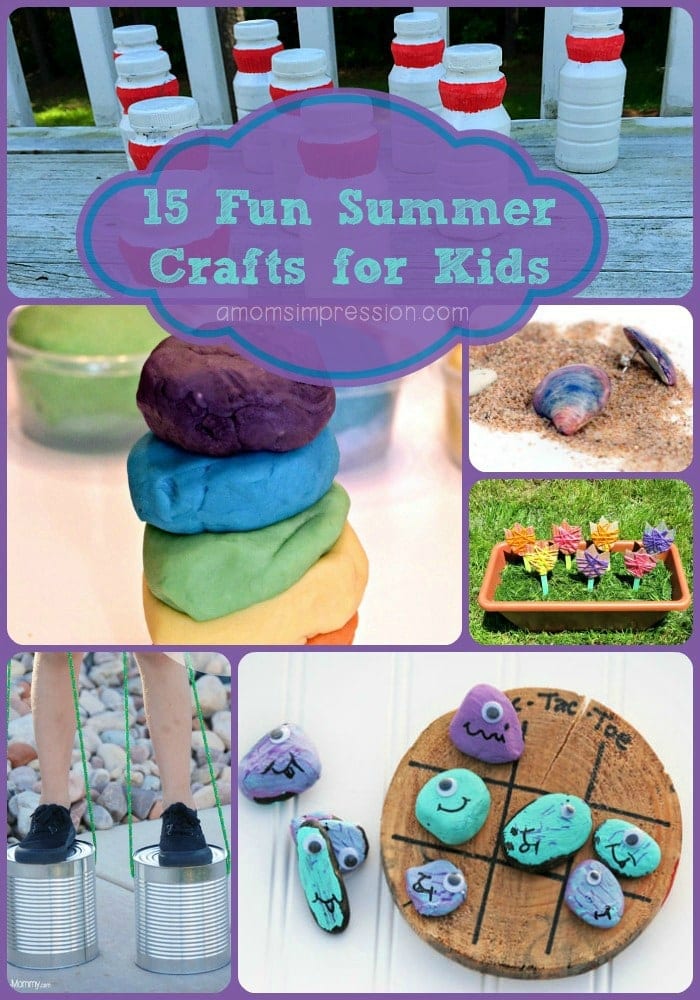 We are a few weeks into our summer break and I have to say that my kids and I are constantly looking for ways we can beat the heat and get our craft on.  Who doesn't love to create something fun with the kids and keep them engaged this summer.  We have been having fun painting rocks (more on how those turned out next week) making playdough and creating an arsenal of paper planes and boats!  If you are looking for Summer Crafts for Kids, look no further.   We have gathered 15 fun summer crafts that your kids are going to love!
15 Fun Summer Crafts for Kids
1. Clothespin/Popsicle Stick Airplain Magnets
2. Mini Beach
3. How to Make Marble Magnets
4. Aquarium Paper Plate Diorama
5. Jellyfish Craft
6. Yarn Block Prints
7. Clothespin Caterpillars
8. So Easy Kaleidoscope
9. Modern Stained Glass Vases
10. Cardboard Garden
11. Homemade Kool-Aid Playdough
12. How to Plan a Backyard Game Day + 3 DIY Games
13. DIY Seashell Earrings
14. Pet Rock Tic Tac Toe
15. Tin Can Stilts
I can't wait to hear how your family is spending the summer together.  We have some more fun ideas planed in the next few weeks that include not only crafts, but some fun cooking activities that you can do with your kids.  I love spending the summers together!
What fun activities do you enjoy doing with your family?